"MMTour TOUR REPORT 2016: Roll up Roll up for another magical tour! "
By Batya Selavan
We met with our amazing tour leader Charles F Rosenay!!!, who greeted us at the airport with goodie bags and name laminates. Upon arriving in London we were welcomed by Rene Van Haarlem, original editor/publisher of Beatles Unlimited magazine. The pair would be our tour-guides on our vacation. This was the thirty-third annual Magical History Tour, and it was certainly historic and definitely magical.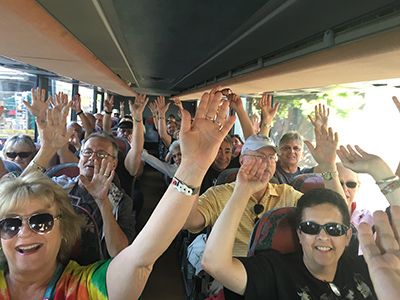 To begin our vacation, Rene took us around London to as many Beatle related spots as possible with a focus on "A Hard Day's Night" and "Help!" locales. But first we watched the promo videos of "Rain" and "Paperback Writer" aboard the coach. It was, after all, the 50th anniversary of those songs and their promo videos. We visited Chiswick Park, the site of these video shoots. They have a lovely greenhouse with a real pretty gazebo, and a plaque with pictures commemorating The Beatles' events there. Fortunately, "rain" was not in the forecast as we had picture-perfect weather under blue, suburban skies.
We headed to the City Barge Pub where Ringo fell through the floor and was seemingly face-to-face with a tiger. Some of the group stopped in for a pint. It was then on to Twickenham Studios and we took pictures of where The Beatles posed with a pram. We saw the spot where Ringo tossed a rock in the water ("Ringo's Theme") which some might think that silly, but to die-hards this was great.
Next up was Central London and Kensington Palace, Westminster Abbey, Tower Bridge and Big Ben (and the rosy red cheeks of the little children) for our panoramic, historic sightseeing tour of London. This made way to our epic trip the Abbey Road crossing. We smiled at the web-cam, and a lot of the newbies added their names to the wall. We were on cloud 9 as we went back and forth across the street countless times, smiled at the web cam, and visited the new Abbey Road gift-shop. At the entrance are plaques listing the history of the studio. The shop itself was packed with Abbey Road logo merchandise, CDs and books.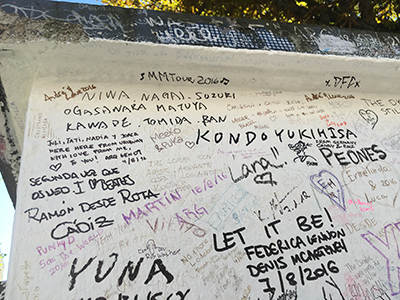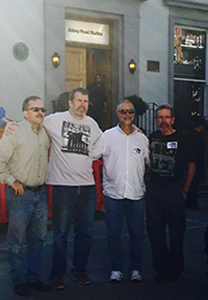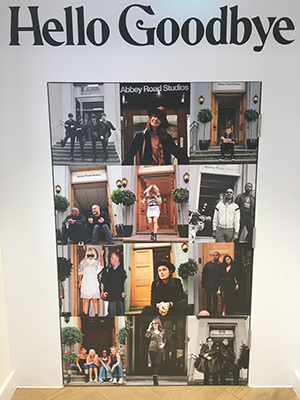 Around the corner, we spent some time outside Paul's Cavendish Avenue home. Later, we went inside the old Apple Boutique; it has a mural inside the building showing what the store front looked like and there's a blue plaque on the outside indicating that John and George worked there. Paul & Ringo worked there too, but it doesn't include them because they're still alive, so hopefully it will be that way for a long time. We then went to by the Marylebone Registry where Paul married Linda and also married Nancy. We saw The Palladium, where The Beatles performed, and endless other sites. Finally, we headed to our hotel and checked in.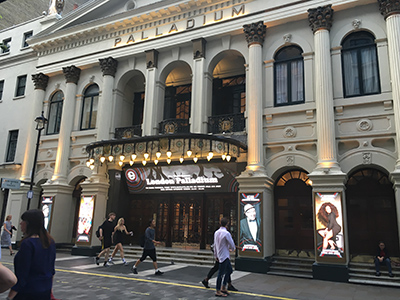 We all checked in to our hotel, a very fancy Hilton brand in a high-class area. After a quick break, some of the group went to Bill Wyman's restaurant Sticky Fingers, which is like a Rolling Stones-themed Hard Rock Café if you will. Some others went to the West End to see a live theater production, but most went to sleep early. It wasn't the same going to Sticky Fingers without our friend and tour regular Beatle Dave, who is the biggest Stones fan too.
The next day we took an exhaustive, world-wind walking tour with Rene. We began the morning with a lavish breakfast and hit the streets via the underground (train/tube). We tried to include as many more film locales as possible - too many to mention. But we will mention a few: Southwestern Row where Ringo posted a letter. Winchester Road where the first attempt to get Ringo's ring off in "Help!" and where Ringo stood on the weight scale. The Turks Head Pub where he threw darts in "AHDN." Alisa Avenue where the "Help!" apartments are located and all the doors lead into the same flat. One of the neighbors came out to speak to our group. She told us of them standing in the rain and than going to a neighbor's house and seeing that Johns pant leg was torn - so she asked him to take off his pants and she mended them and handed them back. We saw the manhole cover Leo McKern popped out of.
Next was Boston Place, where The Beatles were running in the beginning of "AHDN" and George tripped, so we recreated it with four guys and then four gals. We saw the train station used in the movie and we got to go in the offices to see a photo display. The staff let us take pictures inside. Next we went to see Brian Epstein's London home and the site of the police station used in AHDN (83 Portland Road) before visiting the old EMI Building, site of where the Red & Blue album covers were taken. Other stops were Aspreys Jewelry Store (where the guys bought jewelry for their wives) and 3 Saville Row - The Beatles Apple Offices - which is now an Abercrombie and Fitch. We walked in and they had Beatle books and guitars on display and the company is talking about coming out with a line of Beatles clothes.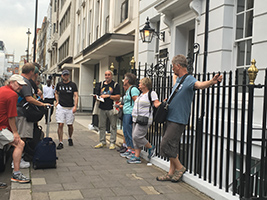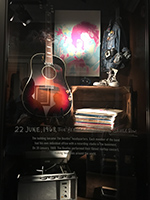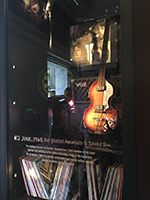 We passed a toy store called Hamleys (reportedly the largest and oldest toy store in the world) and Charles pointed out that one year a group of fans met Julian Lennon there. We saw the famed Bag o Nails where Paul met Linda, and our last stop was in Soho Square for Paul McCartney's offices, MPL. It was fun and a very full day but boy did we hoof it!
At night some went to the theater to catch a West End show but most went to the original London Hard Rock Cafe, where Paul McCartney played with Wings, and home of The Vault with some of the rarest pieces of Hard Rock's memorabilia
The next day we had another full breakfast, and it was on to Henley-on-Thames. We were joined by the members of the Mexican Beatles Fan Club, and on the way we watched videos and got excited to see "Crackerbox Palace." Going to George Harrison's estate, Friar Park is always special, and emotional. We took some group photos and then made our way to the center of town where we checked out the outdoor market bazaar and area used record shop. We visited the town church to pay respects to Dusty Springfield, who is buried there.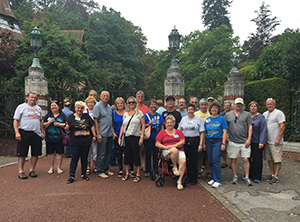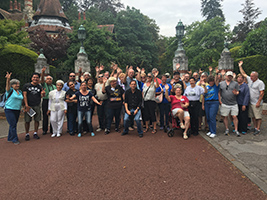 Group photo in front of Friar Park Front Gates, and Group Photo with Mexican Fan Club
One of our tour members, Jennifer Sandi, said she appreciated the kindness of the people. Others cited unexpected highlights being:
~Hearing one of the owners of one of the "Help!" apartments telling us about the lady down the street mending Johns pants.
~Getting surprised with "Aren't you guys gonna come in?" at Saville Row when we got there, and after all these years of just seeing the building from the outside, finally able to go inside.
~Running down Boston Place like The Beatles did in the opening of "A Hard Day's Night."
But the real highlights were coming our way, as we were en route to Liverpool!
On the long & not-so-winding road to Liverpool we watched some appropriate DVDs. One was Ringo visiting Liverpool. In the video, he had a nice family reunion at the Adelphi hotel where we were going to stay. We saw a similar special with Paul returning to his home-town for the "Liverpool 8" concert. After a few pit-stops for refreshments along the way, we made it to our home-away-from-home. We checked in and that evening we headed to Mathew Street to party at the Cavern Club.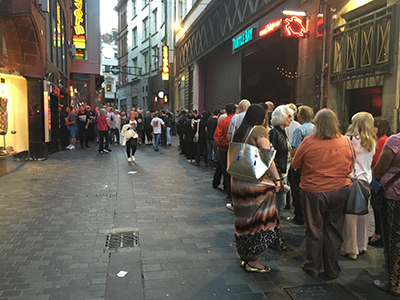 We were entertained by Jon Keats, one of the directors of the Cavern, and Mark Hudson. Guests in the crowd included Shannon, John's sister Julia Baird, and Laurence Juber with his wife Hope. Those of you who have never been there know it's small and sometimes crowded and sweaty, but who would want it any other way? It has an amazing atmosphere. If only the walls could talk. My roommate Carol said the Cavern was one of the highlights for her (she was one of the newbies on the tour). The next day we went on a walking tour with Rene van Haarlem from Beatles Unlimited.
The walking tour started at Lewis' department store that was across the street from the Adelphi Hotel. It still has the statue of the naked man in front, and locals, along with John, used to call this place "Dicky" Lewis. Paul worked there for a few months and the band played inside for the staff once. We headed up Mt Pleasant Street. The Beehive Club was owned by Paul's uncle. Further up, 64 Mt Pleasant was where John and Cyn got married. At 4 Rodney Street was where Brain Epstein was born. The hospital where John was born is now student housing. We saw the location of the 23 Club where Brian did some business, and the Philharmonic Hall where the world premiere re-release of "Yellow Submarine" took place in 1999. Other sites included the hospital where Ringo discovered his love of drums; the street where the video of "Free as a Bird" was filmed; Holylake where Cynthia lived, Ye Crake pub, the Art College; LIPA; Gambier Terrace where John and his friends lived; the Blue Angel; and the Jacaranda Club. We got to go inside the basement of that club that is blocked off with glass windows but you can still see the mural that was painted by the lads.
It was then on to St Georges Hall, which had a memorial for John (in the afternoon we attended a concert in honor of George there which I will get to later). We finished the walk at the Alma de Cuba Club with a concert in honor of Ringo and early Beatles music. This place was originally a church. We again saw Julia Baird in the crowd and Mark Hudson was there jamming. They had a patio outside where acoustic acts and solo artists performed John & Paul solos. Main stage featured Ringer Starr.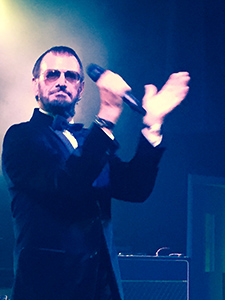 Ringer Starr capturing the look and sound of the real Ringo (2015 archive photo)
In the evening we all went to the Royal Court Theater to see a Paul McCartney Past & Present show. It started with a dedication to Sir George Martin. Various singers and bands interpreted Paul songs including Laurence Juber and Steve Holly and Howie Casey. They did some Wings tunes, and a tribute to Henry McCulloch. It was a splendid evening.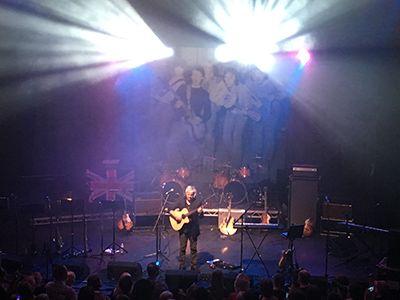 The next morning we enjoyed a full breakfast before touring inside John and Paul's childhood homes. My roommate said the pictures that Paul's brother Mike shot were just wonderful. They are on display in the house. Later that day she and I went to the Central Library to see Pattie Boyd and her sister Jenny Boyd. They were in a small room signing and selling their books and pictures.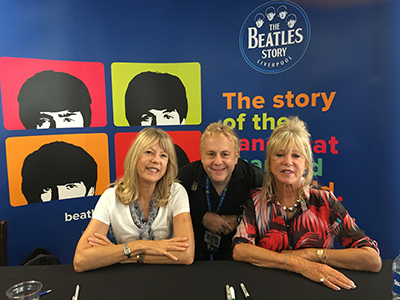 Tour-host Charles F. Rosenay!!! surrounded by Jenny Boyd and Pattie Boyd
In the afternoon, St Georges Hall hosted a George Harrison tribute concert. That was more like Hari Krishna Fest. The hall itself inside is beautiful but not good for concerts. The floor shakes and it's hard to hear the music properly. Good 'ol Freda Kelley was there.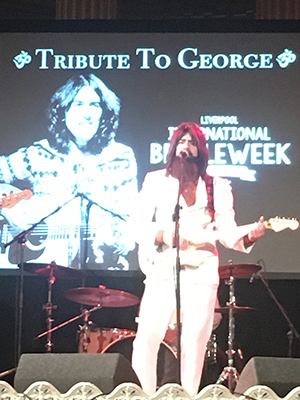 That evening we went to the Casbah. We saw Lee Curtis of Lee Curtis and the All Stars. In the backyard of the house they had seating with canopies. Most of the people there were friends and family of Pete and his brothers. They had a spot on the grounds in cement with Pete's name, his mom Mona's, John Lennon's and Neil Aspinall's. The club itself is small but again - if the walls could only talk! It has lots of atmosphere and so much history. It is packed with pictures of Pete and the Beatles and through his history with the band and the other bands he had been with.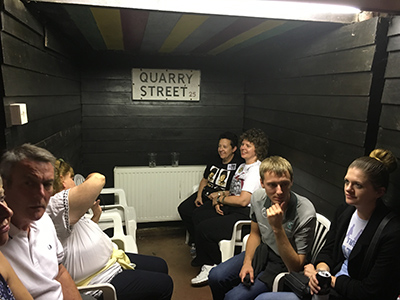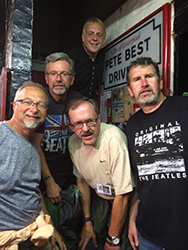 In the entrance was my friend Candy Wright helping to sell t-shirts, CDs and books for the Best family. As you walk through there is some seating and in the back part is a very small stage area behind a small black gate. Pete played two sets with his band. I'm sure it was amazing but I left before he went on. One of group met Pete and Freda Kelley on first floor of the family home.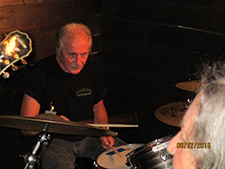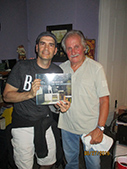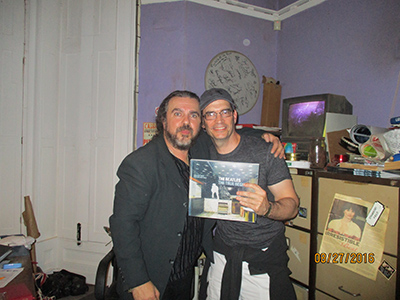 Pete Best drumming at the Casbah, Tour-member Steve Gentile meets Pete Best, Tour-member Steve Gentile meets Pete's younger brother Roag Best. Photos courtesy Steve Gentile
Finally it was convention day, as it is every year at the Adelphi Hotel. It started with Beatle author Mark Lewisohn interviewing Pattie and Jenny Boyd. They discussed their careers and the books they wrote; shown were a lot of pictures from their modeling days, with The Beatles in India, and even with Cynthia Lennon and Maureen Starkey. Next interviewed were Laurence Juber and Steve Holley. They spoke of how amazing it was to watch Paul in the studio and how he would over-dub guitars and solos. They did an impromptu version of Rockestra with Juber on guitar and Holley on a small drum. They talked about Paul getting arrested In Japan.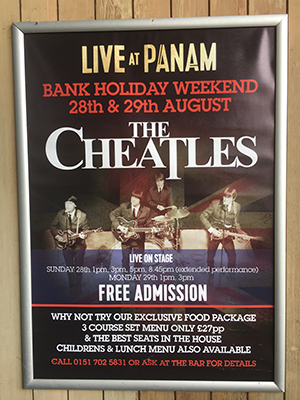 Liverpool was alive with the sound of Beatles everywhere, including The Cheatles (great name) at a Mersey venue
Next was Jurgen Vollmer. First there was a short film about his life in German with English subtitles. He talked about how he met the Beatles in Hamburg while attending the Hamburg institute of fashion, and he did the cover of John's Rock and Rock album. He wandered into a club where the Beatles were playing and became their photographer.
Andy Peebles then spoke about the last interview he did with John Lennon and about meeting the other Beatles. Next was Mickey Dolenz, discussing the connections between The Monkees and The Beatles, and his time watching them record at Abbey Road Studios. He talked of NEMS promoting The Monkees' Wembley Concert, and of a party for John in LA where Brian Wilson showed up in his bathrobe and flip flops. He remembered meeting Brian Epstein.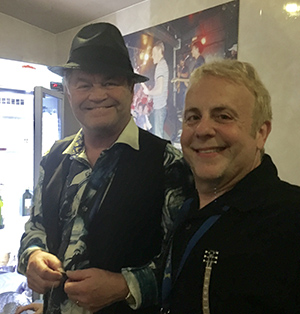 Micky Dolenz and Tour-host Charles F. Rosenay!!!
Now for Klaus Voorman, who designed album art for not just the Beatles but also the Bee Gees, Wet Wet Wet and others. He worked as a producer with the band Trio and was the bassist for Manfred Man 1966 to 1969, and session musician for Harry Nilsson, Eric Clapton, BB King and others. He won a Grammy for the Revolver LP cover. For a short time was a member of the Plastic Ono band and more recently did art work for the Anthology.
The convention itself was packed with fans, vendors from all over the world, and celebrities. Julia Baird, John's sister, was available for photos and autographs. Also, we were surprised to see Blondie drummer Clem Burke, a huge Beatles fan, who performed with the band The Tearaways. There were areas throughout the hotel where you could hear a band or see a video or hear some guests speak. Later in the evening was more music.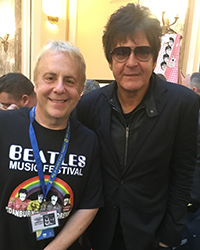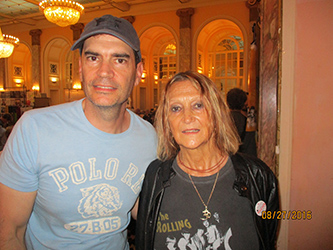 Tour-host Charles F. Rosenay!!! meets Blondie drummer Clem Burke (L) Tour-member Steve Gentile meets Julia Baird. Photo courtesy Steve Gentile (R)
The next day most of us went to Beatle story at the Albert Docks, which has some wonderful gift shops, cafes and museums. In the evening we all went to the Royal Court Theater for Part 1 of 1966 Music Concert Event, which started with a film about the history of fashion trends of the 60's. We enjoyed tribute bands for the Beach Boys, Sinatra, the Who, the Kinks and, oh yes, The Beatles. They put on amazing performances and the crowd loved them all.
Part 2 consisted of Dylan & Rolling Stones tributes followed by special guests Mickey Dolenz who really got the crowd cheering and clapping. Then the Beatles tribute band Cavern Beatles closed the show with selections from Revolver.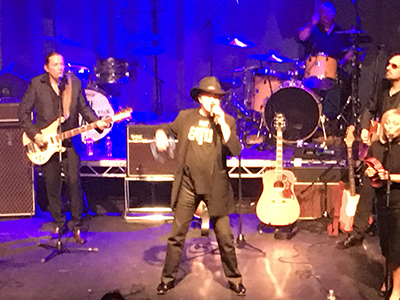 Our final full day of the ultimate Beatles tour was a special one. After breakfast at the Adelphi, we boarded the coach for tour with Beatles author David "Liddypool" Bedford who began our adventure at the new Beatles statues.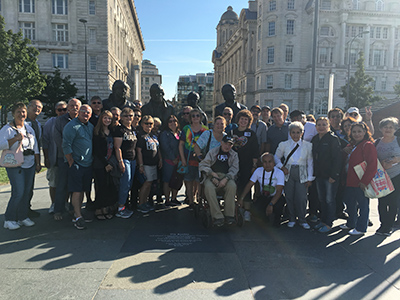 We then boarded the Mersey ferry recently renamed the Dazzle. We heard over the PA the early history of Liverpool and its ferries. Of course we heard the classic Gerry & The Pacemakers' song Ferry Cross the Mersey.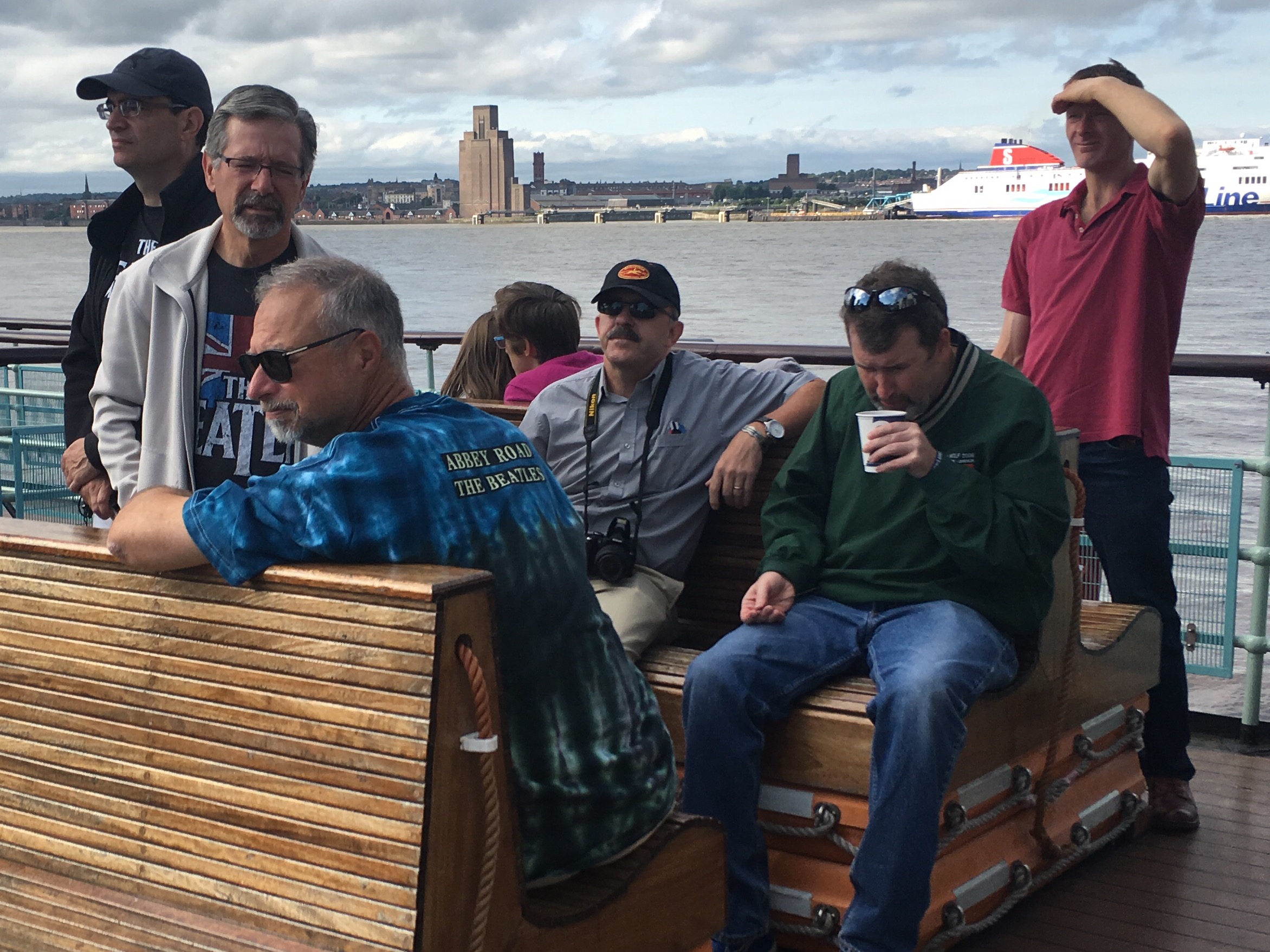 Once we landed we headed to Port Sunlight and saw some Beatle venues come and gone, including Hulme Hall where Ringo first played with The Beatles officially on Aug 18 1962. There is a plague on the building. Other venues like Victoria Hall, and Travellers rest (it's one of Paul's favorite ones). We passed by Rembrandt, the house that Paul bought for his dad, Holylake where Cynthia Lennon and her family lived, before stopping at Penny Lane for lunch. We went to St. Peter's church hall where Paul and John became Lennon and McCartney.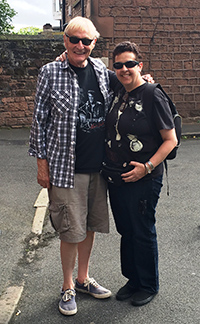 Quarrymen Len Garry and Tour-member Nancy Riley meet where John & Paul first met.
Photo courtesy Nancy Riley.
Len Garry of The Quarrymen was there to meet us. We went by the Epstein family home, more Beatles childhood homes and through the Dingle where Ringo grew up. We explored Penny Lane and stopped for photos at Strawberry Field. So many places I remember, but too many to list.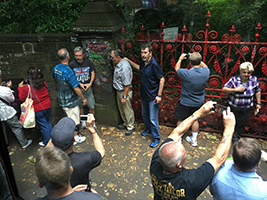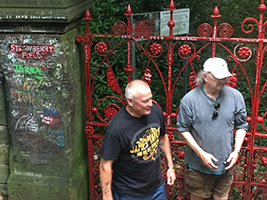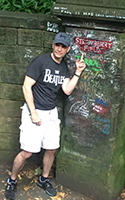 In the evening we went down The Cavern. There was great excitement about our final night in Liverpool, and what better place then the most famous cellar in the music world. There was a lot of buzz backstage as Mark Hudson hung out with Micky Dolenz. The opening acts were the Tearaways, Mark Hudson and then - the star of our show - Micky Dolenz. He sang all the Monkee hits, told stories and really seemed to be loving the experience. In the crowd was one of Davy's sisters, who came from Manchester especially for the occasion.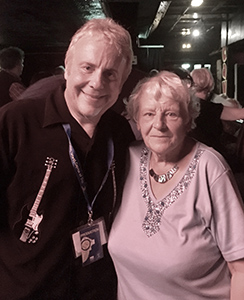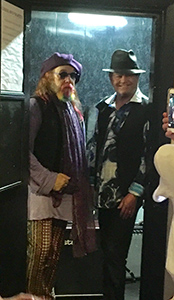 &nbsp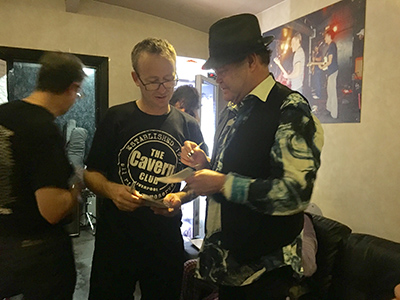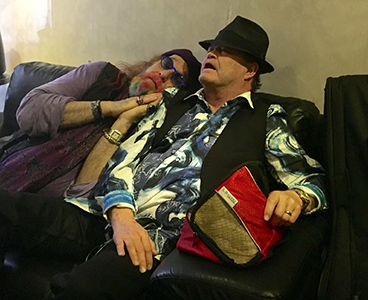 This was my 19th tour and just as fun and informative and wonderful as previous tours. I look forward to more great Magical History Tours with Charles and LiverpoolTours.
Batya