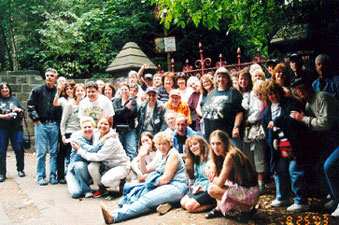 It's hard to believe that so many years have passed since the first organized tour for fans from the U.S. to Liverpool took place. As this was the 20th anniversary, we knew that this was going to be a special tour, and we were not disappointed in the least.

Most of the members of our tour-group departed New York aboard British Airways, where one of the male flight attendants happened to be originally from Liverpool. He was pleased to welcome our group of Beatles Fans, and he wished us a happy "Magical Mystery Tour" to the amusement of the rest of the passengers. Upon landing in London, we were greeted by our tour-guides and boarded a coach for our first stop, the lovely Henley-Upon-Thames. On the way, we were treated to some rare on-board videos including George live at the Royal Albert Hall.

Henley is the home of George Harrison's "Friar Park" mansion, and although we did not have access to the grounds proper, we spent ample time at the front gates to pay our respects, leave flowers, light candles, and also snap photos galore. Henley is also where Dusty Springfield is buried, at St. Mary's Church, which is ¼ mile down the lane. Many of us were repeat travelers, but few of us had been to George's estate before. This was very special, and a wonderful way to kick off our countless highlights.

We arrived in London and checked into the Holiday Inn - Forum Hotel, the largest Holiday Inn in Europe, and the tallest hotel in all of Great Britain. We stayed there for years when it was just the Forum, but it's been completely renovated, and nicer than ever. It was hard to believe this was a Holiday Inn!

As a group, it was great to "Come Together" for many repeat travelers and an equal amount of new (first-time) tour-members.

This first evening was free to go shopping (yes, some of us flocked to Harrods), go out to some clubs, or catch live theatre. At 6pm, we met in the outdoor garden of the hotel for our group orientation. We were introduced to our very special guest of honor, Alistair Taylor, a fan favorite for many years. Alistair was known as "Mr. Fixit" during his Beatle days, when he was Brian Epstein's right-hand man, and later on manager of Apple. A few of us went to see the Abba musical "Mamma Mia" and others saw the London extravaganza "Chitty Chitty Bang Bang." It may come to the states someday. More than a few of us just crashed early.

The next morning we grabbed breakfast and met up with Alistair Taylor. He told us some great stories, including one about a party in Brain Epstein's home. It was on the roof with huge tents all pink and white with carnations. He said there were real 'A' list people there like Judy Garland, not to mention lots of exotic foods (including caviar).

It was than time to take a coach tour of Beatle sites with Richard Porter. We made various stops including the Royal Albert Hall and some "A Hard Days Night" sites and even some "Help!" sites. We stopped at the Abbey Road cafe. Richard told us that the owner at one time bought the mixing console on Abbey Road. We saw various videos on our coach in-between stops.

Our lunch stop was at the City Barge (the pub used in "Help!"). Nobody reenacted the crashing through the window part, nor the scene with Ringo and the tiger. We went by the apartments used in "Help!" (where all the doors supposedly opened to the same flat), and were told that to this day, The Beatles still get mail addressed to them at this address.

Alistair Taylor was with us for the ride and shared numerous stories. One of the best was how he found the bus used for the "Magical Mystery Tour" film. He had been on vacation with his wife Leslie and they were eating dinner, when he looked out this window and through bucketing down rain he screamed, "That's it!" He recalled darting out the door in his best suit to ask if these coaches were still for hire. The rest is history. We returned briefly to the hotel to freshen up and time to grab a bite, before our delightful walking tour with either Richard or Dave Jones from Cavern City Tours.

First we got on the tube (subway) and got off at Green Park to check out the sites there. We went by the Ritz Hotel where Paul and Linda had their wedding reception, the Indica Gallery where John met Yoko and the Bag o' Nails where Paul and Linda met. We visited 3 Saville Row (the original Apple offices, no we didn't climb up the fire escape to get on the rooftop!), Paul's MPL offices in Soho and the London Palladium. We jumped into taxis and continued the fun at the London Hard Rock Café.

This is the first and greatest Hard Rock, and it's the home of our now-annual "Twist and Shout" party. Indeed we did all twist and shout the night away!!! This was quite the party! Our host Charles did an excellent job as DJ with a great mix of rare and classic Beatle (and solo tunes). Good music and good fun! We danced conga lines and we all kicked up our heels. At one point, one of our tour members put on a Mick Jagger mask and did the "Mick-walk" across the dance floor. We had inflatable guitars and saxophones. Some of the guests at the party were from Mexico and other parts of the world that had been invited to join our group there. The Ambassador from Peru was there with his family, and so were Alistair Taylor and Beatles tailor Gordon Millings. Two surprise guests were the infamous sisters from Italy who had stolen (and then returned) one of Paul's 1970's diaries. Bianka and Francesca DeFazi made the news over this, and they're now pursuing a recording career themselves.

We partied until about 1AM, when we all cut out to return to our hotel. About a dozen of us gathered in the hotel lobby for what was undoubtedly one of our finest sing-alongs in years. The foyer echoed with mostly Beatles tunes sprinkled in with some Kinks, Stones, Doors and
even some Monkees. One of our tour-members Nicole picked out a beautiful "Calico Skies" on the guitar, but it was the Perry Brothers who supplied most of the playing. Yeah!!

The next day some of our group went on the London Panoramic tour. This was ideal for first-timers who had never been to Big Ben, Parliament, the Tower of London, Trafalgar Square, St. Peter's Church, etc. I sat in the foyer late in the afternoon with some others from our group, where the one and only Alf Bicknell joined our group. He was the Beatles' driver and sometimes bodyguard in the early days, but prefers to be known as their friend. He shared some stories, and he was selling his 2 CD set (where he shares his memoirs of being with The Beatles for a few very exciting years).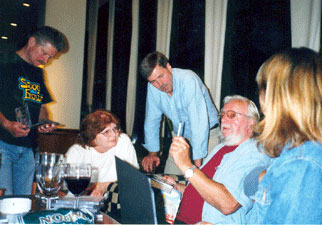 (Alf Meets our Tour Group at the London Hotel) photo by Batya Selavan


Than our group went to what happens to be the world's largest Krishna and Hindu gathering (outside of India). It's the Janmashtami Festival marking the birth of Lord Krishna. We drove via the British countryside. On the way, we got in the mood by listening to some Beatle demos and outtakes (tapes provided by tour-member Dave Carrow). Perhaps we should have listened to "Wonderwall Music." We arrived in a lovely city outside of Northern London known as Watford, and we went directly to the tent erected in tribute to George Harrison.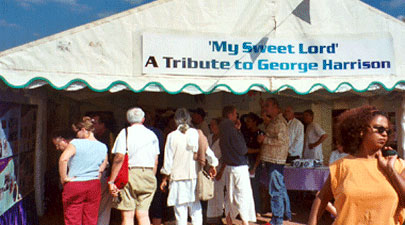 (Outside the Harrison Tribute Tent) photo by Marty Walsh


When we arrived we really didn't know what to expect. This was a first for the MMTour, and even Charles was excited about such a new and different attraction. It was like we just arrived in India. We were greeted warmly by some of the organizers of the event. They loved George dearly, and escorted us to this tent that was set up with pictures and stories written about from his time with The Beatles and his spiritual journey and devotion to Hindu. We viewed a video telling some of the same stories. This was quite a treat. It detailed how George donated this 120,000 pound estate to this group, and left 10% of his fortune to them upon his passing). The Krishnas stood by George's side in the final few days of his life and prayed for him and with him. They had a guest book in the tent for us to sign and put any personal messages.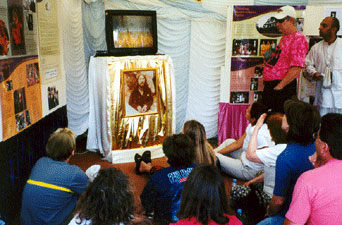 (Inside George Harrison Tribute Tent) photo by Jan & Ernie Scott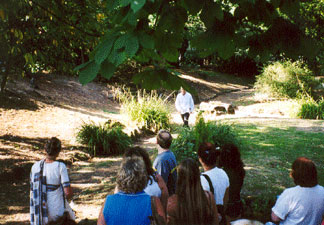 (The George Harrison Garden) photo by Jan & Ernie Scott


After the video presentation we were given a tour of the grounds and we walked through their dining areas, and temples where thousands came to worship. We arrived in the latter part of afternoon/early evening, but as the night was coming in, thousands more arriving to pray and celebrate. Our hosts were especially keen on taking us to the garden park that George loved so much. It's in the designing/landscaping stage, but in the future, the finished area is to be a garden dedicated to George. Actually, the garden was a small lake at one time until a small child drowned there and the owner had it drained. This was very emotional for us on many levels. The Harrison family has given their blessings to this project. We all had fun and thought it was worthwhile seeing the place.

Interestingly, the idea of visiting this festival was introduced to Charles by a writer for the now-defunct Beatles (Monthly) Magazine. In interviewing Charles for an article, journalist Simon Wells recounted his visit to the mansion, and what a wonderful experience he had. Several emails and conversations later, the official visit was arranged. Everyone who took this portion of the tour walked away with a deeper understanding and appreciation of a new culture, and we have Simon to thank. To put a nice epilogue to this story, Mr. Wells has been appointed to handle the press and publicity for the George Harrison Garden project.

On our way home we heard more music that Dave brought along, this time it was classical versions of Beatle music. We got back to the hotel just in time hear Alf Bicknell speak. He told some more stories and sold some photos and CDs. Most of the group made their way to Sticky Fingers, the Rolling Stones-themed restaurant owned by Bill Wyman. Again, some went to clubs while others went to the West End to see a live show. Some of us got tickets for a thriller called "Hitchcock Blonde." This thriller was ideal for any Alfred Hitchcock fans, and a fine example of modern British theatre.

The next day was one that most everyone was anxiously waiting for. We never know from year to year if we will definitely get into Abbey Road studios, although somehow we always manage to book a recording session. This year was no exception. We took dozens of photos on the front steps (after risking our necks crossing the street a la the "Abbey Road" album cover), and settled in to Studio 2. We were treated to anecdotes from Alf Bicknell, plus live music from three different bands.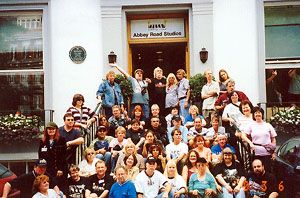 (Our Annual Group Photo Outside Abbey Road) by Lisa Nettles


We were fortunate enough to have a wonderful Beatles tribute band on the trip with us, The Return, from Atlanta. They performed the first set in full costume with wigs and appropriate mannerisms. It was like having a private concert by The Beatles in Abbey Road. Oddly enough, the band performed all Hamburg/BBC/Cavern material which was odd in the studio setting (it was even more odd when they later played none of that music in the Cavern, but instead did only early standards). Perhaps they just wanted a demo of the pre-1964 music recorded at Abbey Road? After The Return played, we were treated to some original tunes by a superb new band called "Reese." They had won the Cavern Battle of the Bands, and were awarded a recording session at Abbey Road as their prize. Not a bad prize at all! They reminded a few of us of BonJovi, but everyone was impressed with their style, their vocals, their musicianship, but mostly their solid original material and memorable pop hooks. They were very polished for such a young group. The last band to play was called the Black Olives, and we weren't nearly as impressed.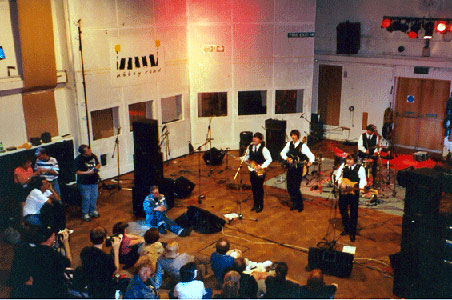 (The Return at Abbey Road Studios) photo by Nicole Nigh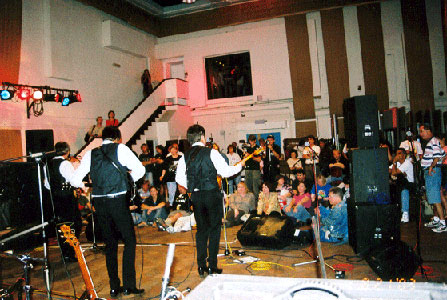 (Behind The Return at Abbey Road) photo by Candy Wright


Next we were than on our way to Liverpool!!!!
On the bus, Charles held his famous and funny penny auction, and a lot of us went home with some amazing stuff at ridiculously low prices. It made the trip fun, and fast.

While on the way to Liverpool we also watched the "MMT" movie and various early Beatles & solo clips, including a Buddy Holly tribute video with Paul. We checked into Liverpool's grand old dame, the Adelphi hotel without any hassle or delay. Some went to the Cavern while others went to bed.

The following morning we started our day with breakfast followed by trips to John and Paul's homes. Charles went to the John Lennon Airport ("above us only skies") for a photo shoot with the Lord Mayor (the picture appeared the next week in a local newspaper). Shortly thereafter, the rest of our group went to the Town Hall for an official civic meet and greet with the Lord Mayor Councilor and his wife. They served us juice and cookies, and we saw some of Town Hall. The Lord Mayor, Ron Gould, talked about leaving to go to New York to give them a Freedom of the City proclamation. Some members of our group took photos with the Lord Mayor, who was friendly and accommodating. It was a perfect welcome for us to Liverpool.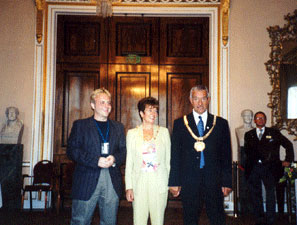 (Charles Introduces The Lord Mayor & His Wife to Our American Tour Group) photo by Mindy Brickhandler


Then it was down to the Cavern to see The Return. Some of us opted to go to the Barcelona Club instead to see Ringer.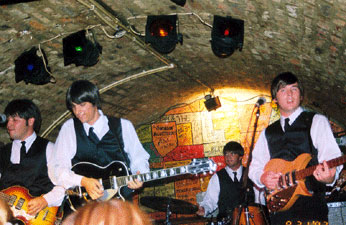 (The Return at The Cavern) photo by Candy Wright


In the evening it was the first of many concerts. We walked to the nearby Royal Court Theater to see former Wings members Steve Holly, Henry McCullough, Denny Siewell, Howie Casey and others in a Paul tribute headlined by Macca band, "Banned On The Run." The show opened with a band from Germany-called Chantal (they played instrumental versions of both Paul and Beatle songs). Very classy, they used flutes and harps and recorders and harmonicas. McCartney look-alike Lawrence Gilmore came on for a cameo appearance, performing "Little Willow" and "Yesterday." They had a mammoth screen that would flash huge pics of Paul. Another guest performer was Will Lee (from Late Night With David Letterman). Perhaps the most special unannounced guest was Chris Hall, who played with Paul on "Run Devil Run." The show opened with "Smile Away" and closed with "Rockestra Theme."

A few members of our group went to see a musical at the Empire Theatre called "Summer Holiday." It was a loose and airy "Grease"-ish touring production based on an old Cliff Richard film, and starring one of Britain's Pop Idols (their equivalent to our "American Idols").

Some of us returned to the Cavern to hear our friends "Itchycoo Park." They sang everything from "Doctor Robert" to Badfinger's "Come and Get It" (what? No Rutles?). The Return came on next, and played a great rocking set! It wasn't over yet. Finally, back at the Adelphi, we saw last year's tour band, British Export. They have two members, a new John and George. They wore their Shea Stadium suits, and Bill Heckle of Cavern City Tours joined them for "Roll Over Beethoven." Another band called "Beatless", from Norway, played in a smaller bar alsolocated in the hotel.

The next morning my roommate and I went on our own adventure. We bought a 3.20 pound all-day ticket and rode the local buses all over Liverpool. We went to the Speke Airport, and we found Paul's house on Eastern Avenue. We went to George's home on Upton Green and on to Mackets Lane. We sought out a Paul school "Joseph William Primary" then we trekked to Childwall to see the Epstein family home at 197 Queens Drive and one of John's schools on Mosspitts Lane (Infant School). We managed to walk the whole distance of Penny Lane twice!

We saw the Green Bank Synagogue (Brian Epstein's body was brought here before he was taken to be buried). While we were on our own Mystery Tour, other members of the group had a private meet & greet with the "man who gave The Beatles away," Allan Williams. He had just published a new book entitled "Fool On The Hill," and he was selling autographed copies.
(http://www.garlicpress.co.uk/pages/books/williams.html)
Coincidentally, Paul's brother Mike McCartney had also just published a new book of photos, and he was selling autographed copies as well. As if this wasn't enough, the most serious collectors in our tour-group were going ga-ga bidding on items at the Liverpool auction (held at LIPA). My roommate was ambitious enough to go jogging along the Mersey.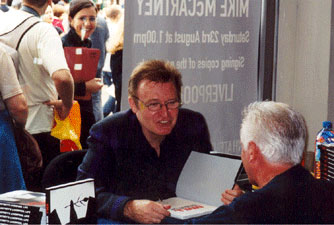 (Mike Mac Smiling & Signing) photo by Mindy Brickhandler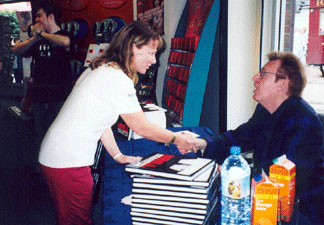 (Jan Scott meets the other McCartney) photo by Ernie Scott


After dinner, we flocked to the Royal Court Theatre for an evening of music from the movies... Beatles films, that is! Liverpool's "The Mersey Beatles" performed "A Hard Days Night. Scotland's Ringer did "Help!" Sweden's "Lenny Pane" dusted off their magnificent "Yellow Submarine." The "Australian Beatles" tackled "MMT" and "Let it Be."

In a different part of town, at a music venue called the Mask, one of the original "Merseycats," Mike Byrne, was playing a set of 50's and rockabilly rave-ups for a small but enthusiastic crowd. Over the years, Mike has hosted the Liverpool Beatles Convention and has MC'd at the Mathew Street festival, so he's well known to Beatles people in town. But it's obvious that his first love is the pre-Beatles rock & roll, and he sings a mix of Elvis and Carl Perkins and Jerry Lee Lewis with the best of em! One of the band members, Ritchie Prescott, played with The Beatles. Somehow, Mike convinced our own Charles to MC this event, so Charles introduced all the acts. Most notable was the closing band, which featured Paul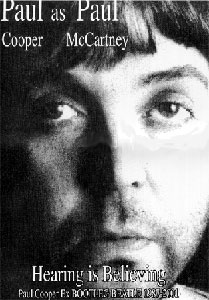 Cooper as its lead singer. Paul was a founding member of the beloved early/mid-80's Beatles band "Mojo Filter" until he graduated to play McCartney in the "Bootleg Beatles" from 1987-2001. His voice is still in great shape, as he proved on material from the Bee Gees to the Beatles to the Monkees and beyond. The band's not-so-groovy 60's garb was kind of corny, but they sure sounded great.

It was back to the hotel for everyone to again see the Return, our official tour band. They played the same set of early songs from `63-`64. The Americans and international audiences really seemed to like this band a lot. They didn't want them to stop, and the band didn't want to leave so they kept on playing. Does anyone get any sleep on these trips?

The next day it was time once again for Liverpool's International Mersey Beatles Convention, the best of its kind in the world. The best, in fact, across the universe! The convention is supposed to open at noon, but it was already buzzing with fans, dealers and media by 11am. This was the start of fifteen hours of non-stop convention activities, including Beatle dealers, bands, guests, videos and other attractions. The exhibitors' room at the side of the main dealers room had some very special people in it as vendors. There was Alf Bicknell (Beatles Chauffer and road manager from 1964-1966), Allan Williams (Beatles first manager), Ricardo (the President of the Mexican Beatles Fan Club), Rene from Holland's "Beatles Unlimited" Magazine, the Proprietor from the London Beatles shop, and even our tour-host Charles F. Rosenay!!!

While I was there I had the chance to see and hear some of the guests. One of them was Robert Whitaker, who, for three years, took photos of the boys and was staff photographer at NEMS. He even did the photo of the famous "Butcher Cover." He has since then covered world news and current events. He is now working on a digital archive of his work.

In-between interviews, fans were coming up to convention compere Spencer Leigh for him to sign some of the books he has written on The Beatles and Merseyside.

Next up was Jackie Lomax. He was the first artist to sign with Apple Records, and George Harrison wrote and produced his first single "Sour Milk Sea." He has a new CD out now.

One of our tour members, Mindy Brickhandler, was interviewed at the convention by a local radio station. She got so emotional during the interview that she began to cry. This prompted Charles to ask who was the person conducting the interview, Oprah or Barbara Walters?

Another special guest, direct from Hamburg, was the legendary Tony Sheridan. He had a new CD out called "Vagabond," and Tony mentioned that he still tours all over world. The fans seemed to like Tony better than the other guests.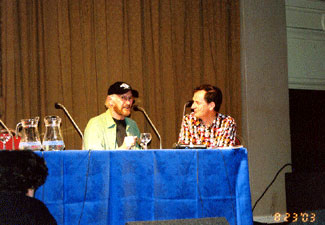 (Tony Sheridan Interviewed by Spencer Leigh) photo by Candy Wright


The next morning at breakfast we saw Tony Sheridan eating with some folks. He was cordial to all the fans. That's one of the magical aspects of the Liverpool Beatles Week experience; the special guests mingle with the fans because they all feel at home here. This was the day after the convention, also known as the Mathew Street Festival (talk about your Musical Manic Mondays!).

Julie Andrews sang that "the hills were alive with the sound of music." In Merseyside, every inch of the city is filled with the sound of music. From the tiniest pubs to the largest outdoor stages, bands of every shape & size & format rock the city inside and out. There are countless Beatles bands performing, but all music is represented. Original music can be heard alongside the cover music, and other tribute bands sometimes manage to steal the show (even if for only a set or two). This year's highlights included exact (or near-exact) tributes to Abba, The Rolling Stones, The Who, Eric Clapton (and how's this for a name? CLAPTONITE!), Queen, Oasis, REM, Run Devil Run (yes, a band played the entire McCartney album!) and dozens of others. Throughout the city, hundreds of thousands of fans flocked to the various venues to enjoy some of the best musical talent from all over the world.

In the evening we were treated to a unique live concert at the Royal Court Theatre by one of Beatledom's more unique acts. New York City's The Fab Faux (and isn't that possibly the most brilliant name since The Neatles?!) features such renowned musicians as Will Lee (from David Letterman), Jimmy Vevino (from Conan O'Brien), Jack Petruzzelli (from Joan Osborne's band) and other amazing players. So why was this show so unique? How often do you hear a band perform the White Album, in its entirety?!?!?! Yes, even "Revolution #9" with every vocal nuance and sound effect intact. It was incredible; they followed sheet music and cued each other for each noise, shout, screech, drumbeat, scratch, and whisper identical to the record. They said that it took over 50 hours to "choreograph" it all, and it showed.

After the breathtaking performance by The Fab Faux, who were already invited back to Liverpool for the following year, the seemingly drained crowd walked the few blocks back to the Adelphi Hotel where everyone got their proverbial second wind. It was time for more live bands (and some pints) including another set by The Return.

Tuesday was filled with our all-day sightseeing tours. We started out with the "fanatics" tour to Wirral and the outskirts of Liverpool proper with the magnificent Hilary Oxlade as our guide. On our way out of city center, she pointed out a few places like Liverpool University, where they have a John Lennon Scholarship program in place, the Albert Docks and the Empire Theater. She pointed out the park where a tree was planted in honor of John's 60th birthday. It was on to Birkenhead through the tunnel (Hilary says that Paul's family sings "Yellow Sub" when they go through it, so we did too!). We went through an area called Port Sunlight, where the Lever Brothers soap company got started and where Mr. Lever and his family lived. This was the area where Hume Hall was located, one of the more historic of The Beatles' earlier venues. Perhaps the highlight was the visit to The Woman's Institute. The Beatles played here; in fact, this was where they first wore their "suits" on stage. The lovely ladies of the institute greeted us with coffee, tea and scones, along with smiles and open arms. We stood on the stage where The Beatles played, explored the backstage area, and enjoyed the delicious amenities. They have an old piano there, so my roommate Nicole played a couple a tunes, "Live and Let Die," "Don't Pass Me By," "Wonderlust," and "Imagine." A nice touch was a pegboard where the gals of the Institute posted thank you notes from our last visit, when we traveled on a tour to see Paul McCartney in Liverpool. On the same bulletin board were photos of the ladies that were to be featured in the soon-to-be-released "Calendar Girls" movie, with a copy of the calendar (in case you're not familiar with it, as a fundraising event, these little "over 40" girls did a nude, albeit tasteful, calendar). Jan Scott was standing with another member of our tour group and one of the little ladies came up and said, "Love... there is no need to try and put our faces with them. Sorry to say we were not there." As you can surmise, this stop was a lot of fun.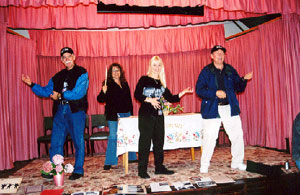 (Our Fab Four On The Women's Institute Stage) photo by Candy Wright


We continued on to see Paul's home in the Wirral called Rembrandt. Paul and his dad lived there until Jim McCartney died in March 1976. We passed Mike McCartney's home, and the Royal Liver Children's Hospital. Ringo was there at age 6 and learned to play the drums during his hospital stay.

It was than to Holylake where Cynthia Lennon's family lived at 18 Trinity Road. Next we went by Arrow Park, where Jim McCartney's funeral was held. After more stops, we made our way back to Liverpool where we caught the Ferry 'Cross the Mersey. It was such a treat! They played the song made famous by Gerry Marsden (Gerry & The Pacemakers) at the end of the ride.

Now, having seen the more obscure and out-of-the-way locales, we met up with our next tour-guide, Eddie ("The Walrus") Porter, for the traditional tour of the most significant Liverpool sites aboard the yellow Magical Mystery Tour bus. We went by many familiar places as Eddie recounted the tales that never grow old. We took endless photos. You could read some of my past tour reports to check out more of the places we visit.

Back at the hotel, most of us grabbed dinner and freshened up for our farewell gala concert. Down the Cavern history was being made again, as the stage features two historic figures from The Beatles' past: Tony Sheridan and Jackie Lomax. Legendary Tony Sheridan was as great as ever (http://www.tonysheridan.com) and Jackie Lomax showed us why he was one of the original Apple recording artists. Lomax never had hits or made it as big as label-mates Mary Hopkin, James Taylor or Badfinger, but he will always have a place at conventions and in our music collections (http://www.jackielomax.com). What a memorable finale to an unbelievable Beatles vacation!

The next morning we woke up in time to pack and check-out of the Adelphi. We boarded our coach for the airport, where goodbye hugs and kisses were exchanged, along with promises of future get-togethers.

Every MMTour gets better and offer new attractions, guests and pleasant surprises, and this year's tour was no exception. As always I went home with wonderful memories and Beatleful, good times!