2013 Magical History Tour Report by Barbara B.
If you've ever been on the Magical History Tour put on by Charles Rosenay!!! and Danny Levine, and thought "nothing can top this," you're wrong. What could possibly top their tour? Well, going again, of course! Although I was neither blasé nor ho-hum about my second time around, I was thoroughly unprepared for how wonderful, unpredictable, and magical my trip would be. Enticed by promises of an inside tour of Abbey Road Studios, I signed up for my repeat trip, having "just" been there in 2011.
We were a cross-generational collection of Beatle fans from all over the U.S., Canada (and later on, Brazil and Europe), including families with children (gifted musicians, each of them!), older folks (like me) and younger adult fans. We even had our own Ringo, "Ringer Star," a Ringo tribute artist (he really looks and sounds just like Ringo!), who was on the tour with us.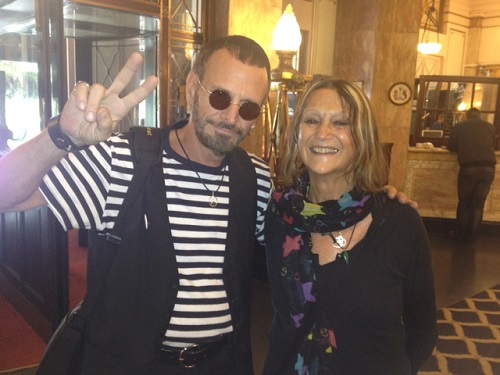 "Ringer Starr" meets John Lennon's sister Julia at the Adelphi. Photo by Charles F. Rosenay!!!
As we were to learn, this was a trip with two very different themes: (1) magical moments (as in unpredictable and serendipitous); and (2) construction (as in blocked roads and scaffolded buildings). We also quickly discovered what a great group of like minded travelers we were.
London
We arrived in London early in the morning, greeted by warm and sunny weather. Because we couldn't check in to our hotel until later in the afternoon, we were able to take a delightful panoramic sightseeing coach tour of historic London, seeing, among other things: Buckingham Palace, Big Ben, Royal Albert Hall, Museum of History, the London Eye, 10 Downing Street/Scotland Yard, the statues of Winston Churchill and Nelson Mandela and Westminster Abbey. We drove over the London Bridge and saw the Tower of London and Trafalgar square with the giant blue rooster - an imposing yet playful sculpture. We stopped and walked to the Hammersmith Odeon (now Apollo) theatre, where the Beatles played over 35 concerts from 1964-65. We then walked around the corner to the staircase that the Beatles burst out and down during "A Hard Day's Night ("We're out!"). Unfortunately, the entire back of the building was closed and gated and we couldn't get back there as we have every year in the past (due to construction - see theme #2, above). We could see a little sliver of the staircase and imagine the lads dashing down the steps.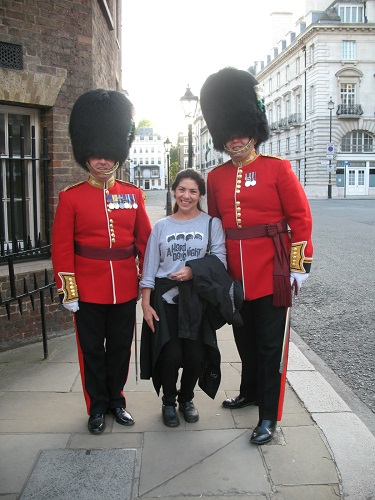 Judy surrounded by London scenery. Photo by Alex Fazzino
After checking into our room at the Park Royal Hotel in Acton (a very respectable Holiday Inn) with time to freshen up, we took the "tube" to the Sticky Fingers restaurant - owned by Bill Wyman of the Rolling Stones. Dave Carrow, who has been on the tour numerous times and is as huge a Stones fan as he is a Beatles fan, was our chaperone, and I definitely had sticky fingers after eating the pulled pork sandwich. Dessert was sublime -- apple pie with cinnamon vanilla ice cream. A lovely first evening with some beautiful fellow travelers!
Charles and Rene van Haarlem (editor of the international magazine "Beatles Unlimited") hosted our Tuesday full-day coach tour, while Danny was hard at work preparing for our forthcoming Abbey Road Recording Studios session.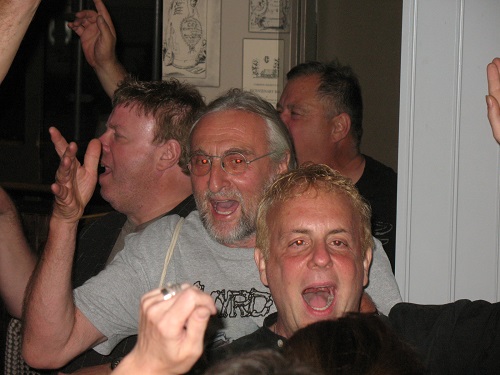 Danny Rene and Charles singing and dancing. Photo by Alex Fazzino
The Beatleful adventure began with a visit to Chiswick Gardens, the lovely park where the Beatles filmed their promo videos for "Paperback Writer" and "Rain." Again with stunningly beautiful weather, we walked around the park and the green house/conservatory, where there was (oh no) scaffolding and construction (see theme #2 again), although not enough to deter use from slipping inside the conservatory for photos. The remainder of the day was spent visiting sights and locations from the iconic Beatles films "A Hard Day's Night" and "Help!"Some AHDN locations we visited included the river Thames where Ringo went "parading." Due to the very low tide, we found a set of narrow and muddy steps, and the brave and nimble among us climbed down right to river's edge. Humming "This Boy," we took photos of the actual location where the little boy slid down the cobblestones and onto the river's edge. Of course, as two canoes paddled down, we had to shout, "Come in number seven, yer time's up!"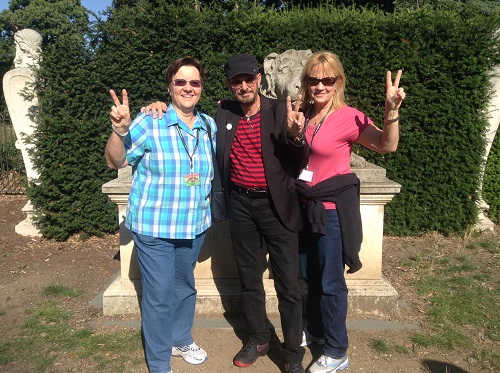 Nellie Ringer & Kathy soaking in the sun at Chiswick Park. Photo courtesy Kathy Talkin
Still walking, we went to Heathfield St., where the Beatles filmed the "AHDN" scene where they're running down a cul-de-sac while being chased by the police. On Clarendon Road, we saw the steps where the scene was filmed where they are running down the stairs out of the police station. Now a retirement home, an elderly woman came outside (in her stocking feet!) to see what all the hub-bub was about, and she was quite thrilled. One of the workers watched her from the doorway and then helped her inside.
We walked to Twickenham studios, but didn't go inside as they were filming. We photographed the brick wall where AHDN promo shots were taken. We also popped into Turk's Head pub for a brief bit, also seen in AHDN (where Ringo played darts). Iconic "Help!" locations included the Post Office Alley and City Barge pub on the Thames. We went into the City Barge pub where the "Help!" bar scenes were filmed. It's a beautiful bar/pub - lots of dark wood and British atmosphere. The windows where they burst out still look the same as they did in the film.
A hardy group of us followed René to try and find a location not previously visited on the tour -- the Madingley Club, which is now a housing site. It was here that a photo was taken of the Beatles in front of John's white Rolls-Royce, as well as photos of the Beatles on a houseboat, the Fritz Otto. It was a long, long, long walk! Stopping to ask a friendly couple for directions, René and the man consulted the map, while his wife regaled us with her "magical moment" story (see theme #1, above). Evidently, she holds the record for waiting the longest time in line to get tickets to an early Beatles concert: 54 hours!! She was written up in local papers, got her tickets and saw the Beatles concert in Bournemouth. It was amazing to hear her tell what it was like to camp out for tickets. The woman's Beatles story was worth our detour!
With Tuesday evening on our own, a few of us took the tube to the Prince of Wales Theatre (yes, the same theatre where the Beatles played the Royal Command Performance, perhaps best known for John's famous "rattle your jewelry" comment) to see the Tony-award winning musical, "Book of Mormon." It was brilliant! Others went to see the Beatles musical "Let It Be." Many ate a late dinner at the original London Hard Rock Café and explored "The Vault," where they bumped into our colleagues - the Mexican Beatles Fan Club tour-group.
W
ednesday arrived, the day many of us had been waiting for - Abbey Road. But since that was not scheduled until the evening, we spent the day seeing more Beatle-icious sights in London and environs. We saw even more AHDN locations including Marylebone where scenes from HDN were filmed (running through the train station, Track 1). Just around the corner is the street where the 4 boys were running down the road in the opening titles scene of AHDN). Some of us recreated the scene but nobody fell down like George did. We walked a ways to get to Portland Road, and the Portland Arms pub, the location of a deleted scene in AHDN in which the lads are running around the oval shaped building.
"Help!" locations included the 4 terrace houses in the Twickenham area where the Beatles walk in and out, and again we had an unpredictable serendipitous moment (theme #1). A young woman came out of one of the houses, holding a framed photo of John Lennon and Eleanor Bron, dressed in their "Help!" film costumes in front of that very same home Of course, the young woman instantly became our new superstar as she allowed us to photograph her with the photo. She shared that she had inherited the photo when she moved into the house.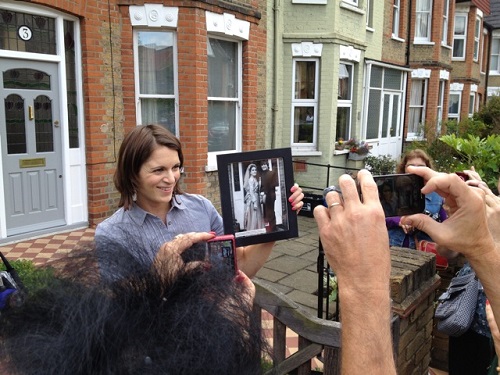 A Magic Moment! Photo by Lucille daCosta
We walked to the Soho park area, where we saw Paul's MPL Communications office (with scaffolding in front, theme #2 yet again), the Radha Krishna restaurant (George frequented and financed this vegan eatery), and the Bag O'Nails club where Paul met Linda. We also saw 3 Savile Row - the Apple offices - the storefront completely blocked off with a large black wall (you guessed it, theme #2). The rooftop was the location of the final Beatles concert - an historic event in Beatles history. The location is currently in great controversy for fans as it may possibly be turned into an Abercrombie & Fitch store.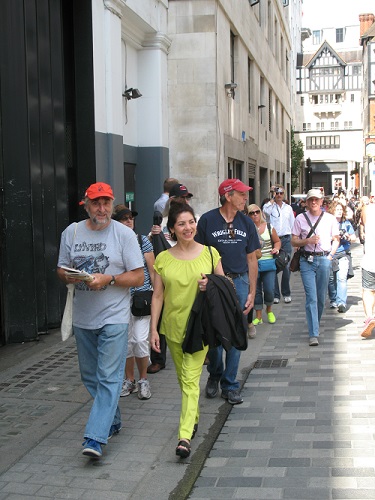 Rene leads our tour-group through the London Beatles sites. Photo by Alex Fazzino
We walked to Cavendish Avenue and Paul McCartney's house, protected by very high and quite impenetrable wooden gates. While our group was taking pictures of the gates, a car drove up and opened the gates! A young woman got out of the car and talked briefly with us, explaining she couldn't possibly open the gates for us. She grabbed her packages and went inside, closing the gates behind her. But then, unbelievably, SHE OPENED THE GATES!!!!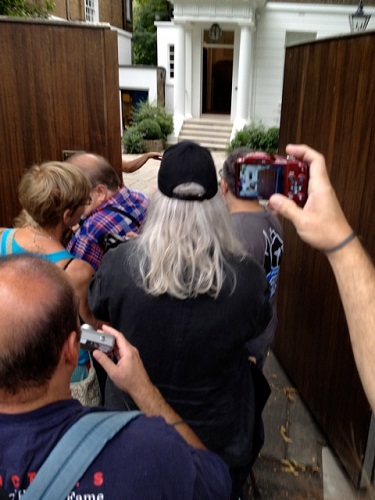 And the gates finally opened! Photo by Lucille daCosta
We all crowded around and took pictures of the whole front of the house - a wonderful "magic moment" (theme #1!!). We were stunned and couldn't believe it had happened. She left it open for us to take pics and was very kind to our group. Charles said the gates had never been opened like that in all the years he been doing tours.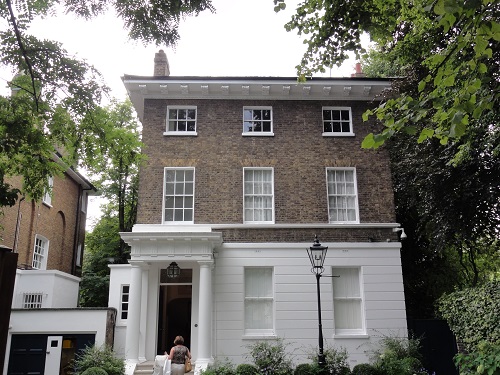 Paul's Cavendish home. Photo by Sue Murray
From Cavendish, our anticipation grew as we walked around the corner and down the street, finally arriving at Abbey Road. Our Ringer Star was a huge hit here, with people yelling his name, taking his picture with them, and of course he walked across the zebra crossing. We took turns walking across the road, dodging traffic, and taking each other's photos. We were given wrist bands (which I've saved!) for our trip inside.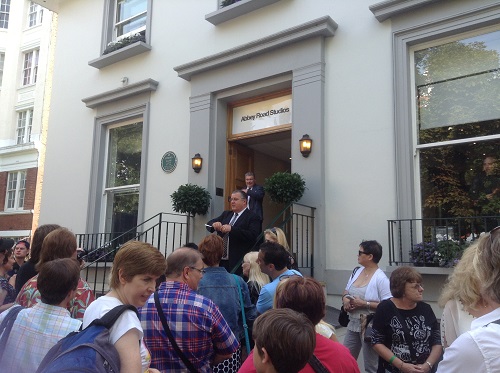 Awaiting our entry into Abbey Road Studios. Photo by Kathy Talkin
I don't think any of us really knew what to expect on our visit inside Abbey Road Studios. About 5pm, we were welcomed at the front steps, then escorted inside the studio. The lobby area is painted a deep red/claret color with a large black desk - quite modern-looking. In the waiting area of the lobby there is a large photo collage of various recording artists. There's one photo of Yoko standing with John lying on the floor, reclining on an elbow, in front of her. We were not allowed to take photos except in Studio 2. We walked down a long hallway, with large photos along the walls of various recording artists including Jimi Hendrix and others. There were black-suited "escorts" every few feet to keep us from straying outside our prescribed route. I used the restroom in the hallway (possibly the one place the Beatles never set foot in). We went downstairs, past walls filled with black/white photos of artists and engineers -- George Martin, the Beatles, Cilla Black and others.
Quickly becoming a surreal experience, we were led into Studio 2 - wow! It was set up for our arrival with about 3 long rows of red chairs on risers (I think they said the back 2 rows were original chairs dating from when the Beatles were there). On each chair was a handout of the lyrics for "All You Need Is Love," and on the back of each chair hung a set of pro earphones (the 1-sided kind). Microphones were set up at intervals across, in front of, and behind the risers. The famous staircase was there (painted kind of off-white with brown railing and trim) that led to the engineering booth. Some of the original recording equipment was on display for us, as well as an old Hammond organ and an upright piano. The tribute band Morsa had been there before us, so there were some instruments still set up -- a drum kit, a few guitars.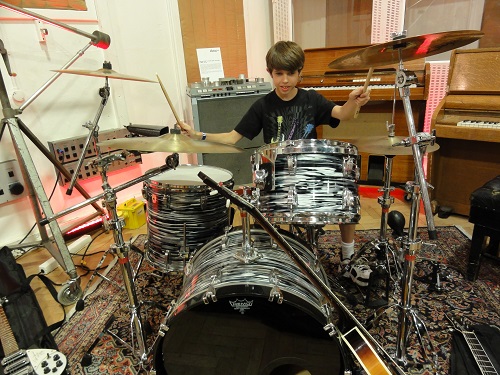 Young Kyle drumming for us all inside Abbey Road. Photo by Sue Murray
It was great to hear the kids in our group play "When I'm 64" and others. One of our younger tour members, Kyle, played some nice piano licks before moving over to piano. Then, Ringer play the drum solo from the "Abbey Road" album.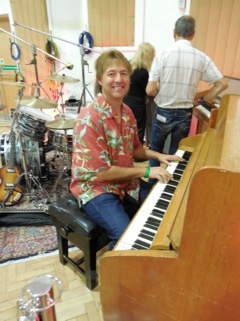 Jeff Smith beaming as he plays piano inside Abbey Road Studios. Photo courtesy Jeff Smith
A small concession stand was set up near the door selling mugs, key rings, and t-shirts; they did a very brisk business. Danny organized all the production aspects with the producers and engineers. George Martin's son Giles was recording next door and came by to visit Danny and see what we were doing there.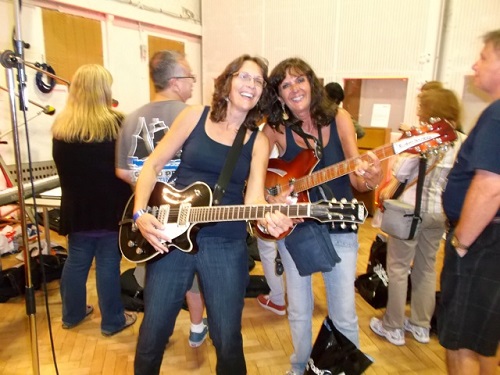 Gladys Sandman Lucille daCosta strap on guitars in Abbey Road Studios 2. Courtesy Lucille daCosta
We finally all took seats; I sat in the back row on one of the original chairs. Before we could jump right in to recording "AYNIL," we were told we first needed some vocal lessons from David, an AR staff person with an incredible resume. He had a great sense of humor as we went through breathing and vocal exercises (ee-ee-ee, oo-oo-oo). Donning our earphones, we listened to the basic instrumental tracks that Morsa had laid down. We then proceeded to record several tracks of choruses, intros and "outtros" for the song. After each take, we would listen back through the headphones. If it wasn't quite right we did it over. We then laid down the lyrics and the extraneous stuff like "all together now!," "everybody!" and the end with all the clapping, whistling, etc. (which we had to keep up for an entire minute).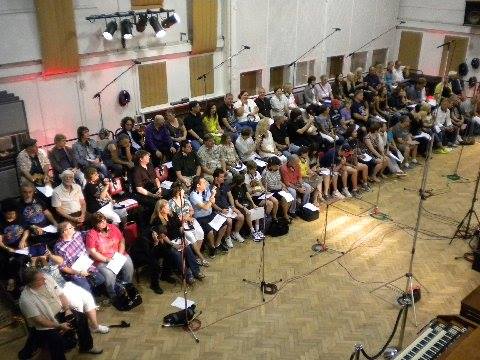 Photo by Daniel Levine
To be honest, I was so thunderstruck by where I was, the history of the place, and the sheer enormity of the experience, that my eyes welled with tears and I had to stop singing, collect myself, and start again. After the tracks were recorded to his satisfaction, David asked if anyone wanted to record a solo. Many people in our group did just that, each standing at one end of the studio with grey sound buffer screens and fancy mics, recording one line of verse. As we finished our recording experience, I developed a deep and new-found appreciation of the amount of work that goes into the audio recording process, and of the musical complexity of Beatles songs with their unique sounds, time signatures, and harmonies.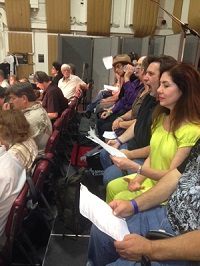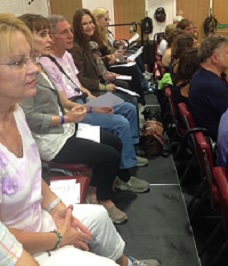 Let the recording begin! Photos by Charles F. Rosenay!!!
After the recording session, we continued to mill around the studio. Once again, my emotions got the best of me as I looked around the studio and had to pause and collect myself. I even took a photo of the heavy blue doors and the door handle - we're quite sure the Beatles touched the door handle, so I did, too! We were escorted out of the studio around 7:30pm. This was the ultimate magical moment the whole way through - fun, funny, emotional, surreal.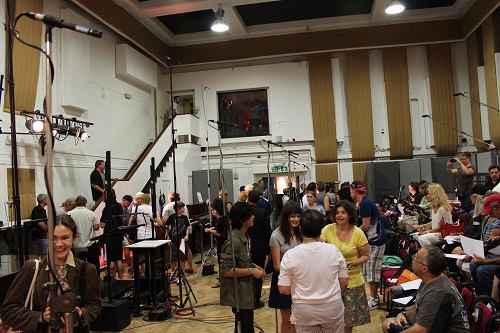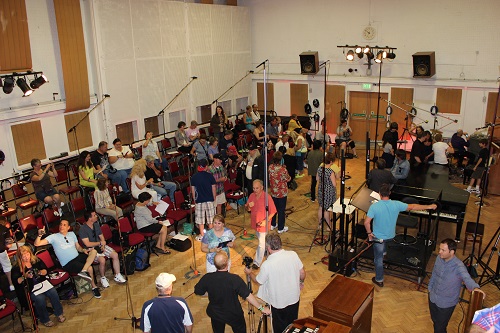 Inside Abbey Road. Photos by Marge Doherty
After we left, we walked to the Lord's Tavern venue, "the home of Cricket," for our Abbey Road after-party. We were joined by the Mexican tour group and two Beatle bands, Morsa and Wigby, entertained as we ate and drank. Both bands were excellent and played Beatles music from the early years to the later stuff. Still overcome and exhilarated by our Abbey Road experience, many people were dancing and singing along - a grand time was had by all! Not just magical moments, but a completely magical and truly unforgettable day.
Back at the hotel, I checked Twitter - CNN reported the death of Sid Bernstein. He was the catalyst in bringing the Beatles to America and played a huge part in their legacy. Our tour hosts, Charles and Danny, who were close friends to Sid, knew about his passing but refrained from telling the group because they didn't want to affect the magical mood of the day. In the following day's Beatles Examiner was an article wherin Charles wrote: "I'm standing inside Abbey Road Studios 2 with 70 fellow fans and friends on my Magical History Tour, and it should be one of my happiest days of the year. It's certainly one of the most unforgettable days many of the travelers' lives. Sadly, it's one of the most heartbreaking days if my life. I found out about Sid's passing before walking in to the session. He was a great guy, an amazing pioneer & promoter but mostly he was a 'mensch.' He only had nice things to say, always had a smile and would do anything for a friend (or for a White Castle burger). I've known Sid for about 30 years and he would always ask about my family before business. I was his 'boychik' (an endearing term - look it up!) and he was like family to me. The world lost one if its best today."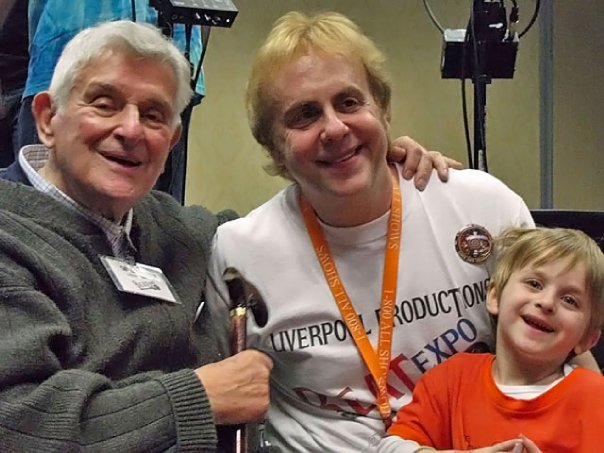 Sid Bernstein at the Liverpool Productions "BEATexpo" CT convention which Charles produced. That's Sid with Charles and Charles' son Harrison. Photo by Bill Dillane.
Henley
Thursday morning we took a double-decker coach to Henley-on-Thames, the lovely, quaint English town where George lived in Friar Park. I can see why George loved it so - quintessentially small British town, picturesquely positioned on the Thames River. We visited Friar Park (well the entry gates, anyway; no magical opening this time) and had ample time to have lunch, visit the church where Dusty Springfield is buried, browse the town bazaar marketplace and shop (especially at the used record store where you can often find great deals on vintage vinyl). A few of us had lunch at the Angel on the Bridge pub, one of George favorite hang outs. A brief walk along the Thames took us back to the coach and on to Liverpool.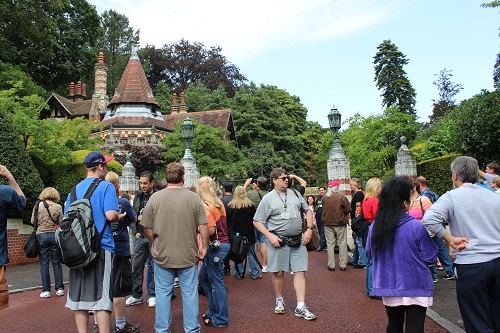 Outside Friar Park. Photo by Marge Doherty
Liverpool
For my 2nd trip, I developed a deeper sense of the history of Liverpool, its importance during WW II, and how this war affected (and continues to affect) this port city. This is primarily a working-class city, and its residents are a proud yet somewhat scruffy lot. René led a walking tour in the morning, with several highlights. We saw the former Registry Office on Mt. Pleasant Avenue where John and Cynthia were married. Another magical moment (theme #1!) - the office was open and we were invited inside. It is now a migrant/refugee assistance center, and the staff was most gracious in showing us around. There is even a small drawing (made by Cynthia Lennon?) showing the location of furniture and how it looked for John and Cyn's wedding. I spoke briefly with some staff about their work with refugees from Syria, Iraq and Iran.
The maternity hospital where John was born - complete with plaque ("You are not here"), is now a student dorm. We strolled past John and Cyn's honeymoon flat on Falkner St, Stuart Sutcliffe's flat on Percy St., John and Stu's flat on Gambier Terrace. We hiked up the hill to LIPA (Liverpool Institute for the Performing Arts), Paul's "Fame" school, and saw the suitcase sculpture with engraved nameplates of famous alumni, including Paul, Stu, and John. I popped into the LIPA auditorium to register for the Saturday auction and picked up my auction paddle (lucky #5?). For the afternoon, we partied at Alma de Cuba, listening to some wonderful Beatles tribute bands.
In the evening was our first of three concerts at the majestic Liverpool Philharmonic. Our group had VIP seats in the first few rows. The "Cavern Club Beatles" and "Them Beatles" performed and had us dancing and singing in the aisles. Marge Doherty, one of the members of our group also enjoying her second MMTour was celebrating her birthday, and the MC, Jon Keats, announced it from the stage.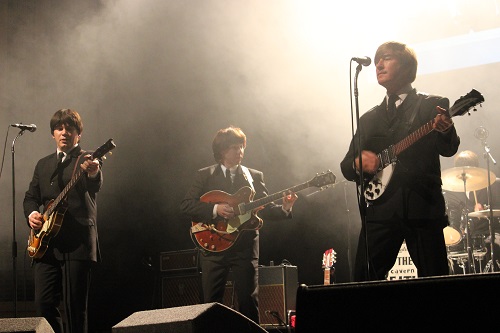 Them Beatles tribute band live in stage at the Liverpool Philharmonic. Photo by Marge Doherty
S
aturday was auction day and visits to John's and Paul's boyhood homes. I hit the auction early in the morning. Several items went for big bucks. The real surprise was a set of two John Lennon signatures inside a Quarry Bank School book. You could have heard a pin drop as the bidding war escalated, with the winning bid of £7400 (that's about $12,000!). Some folks in our group also were winning bidders on some items, including a set of full-size Sgt. Pepper's outfits worn by Beatles mannequins.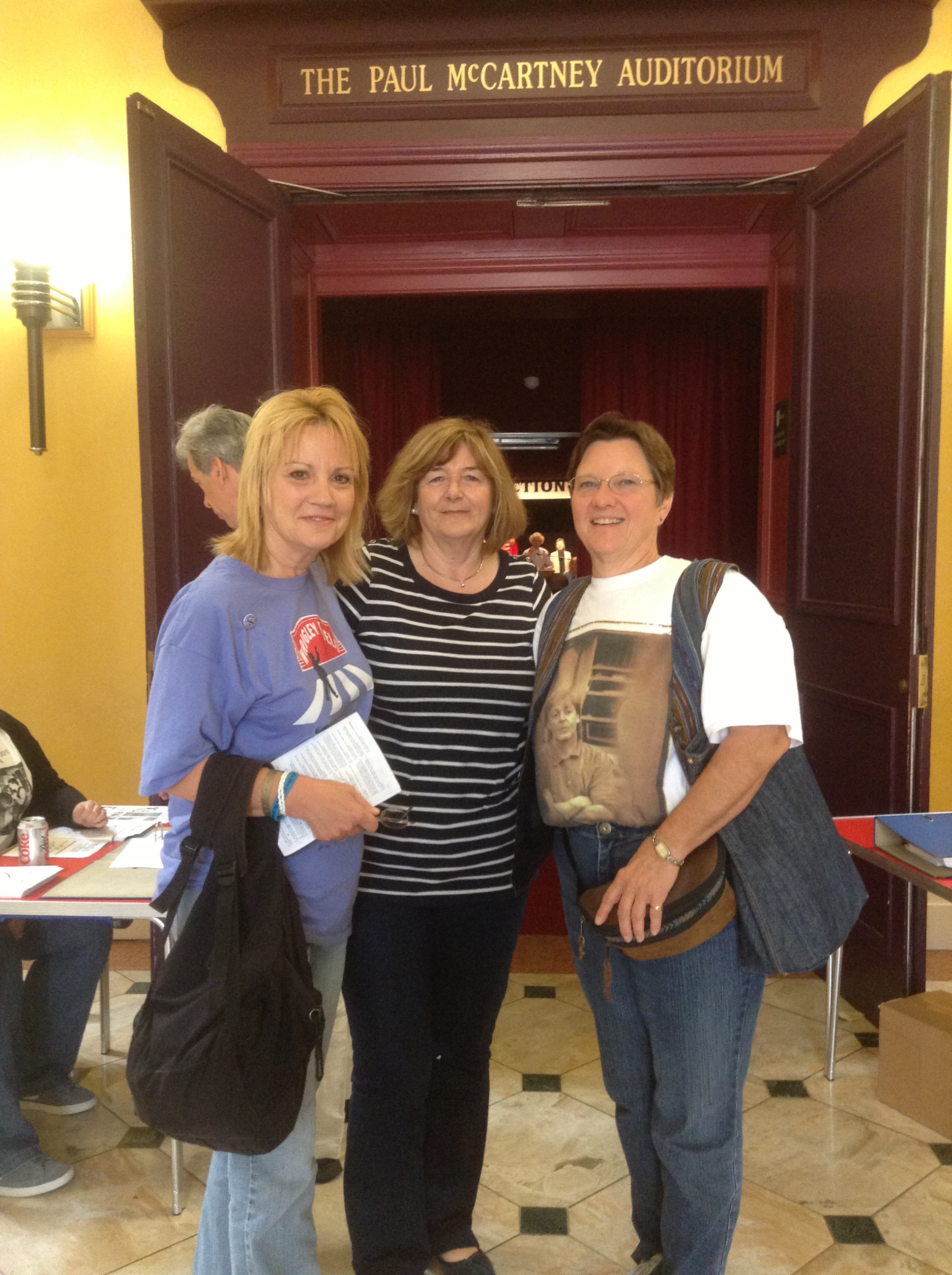 Kathy Talkin and Nellie Hastings meet "Good 'Ol Freda" (center), the President of The Beatles Fan Club who worked under Brian Epstein, at Liverpool's annual auction in LIPA. Photo courtesy Kathy Talkin
The visits to John's Mendips home and Paul's home on Forthlin Road remain a highlight of the tour. This is where some of the greatest Lennon/McCartney songs were composed, and the auras within the homes are palpable. Again, the history of Liverpool factors sharply into the story, as the post-WW II bleak economy affected both families. The personal histories of these 2 lads also intersect as they both lost their mothers at an early age. Another magical moment - three of us briefly commandeered the entry alcove to Mendips, closed the two doors, and sang (badly) "Love Me Do." John Lennon was right --the acoustics in there are great!
The evening concert at the Philharmonic, entitled "My Sweet George," was phenomenal. Again, our group were privy to some of the best seats in the house. The evening began with a Krishna group chanting and offering a mesmerizing performance by sitar and tabula players. The main show was Argentinian Beatles band Nube 9 accompanied by a variety of surprise special guests -- Gavin (George Harry'sSon) Pring, Hal Bruce, Mark Hudson, and "Legs" Larry Smith. Joey Molland (from Badfinger) got the largest ovation, and he played guitar and sang with Nube 9 on "Isn't It a Pity" and "What is Life." Our own "Ringer Star" surprised everyone when he came out to sing a perfect "Never Without You" - later telling me it was a dream come true for him. Ringo himself couldn't have done it much better! Beatles friend Tony Bramwell made a brief, somewhat intelligible speech. The grand finale was all the guest musicians playing "My Sweet Lord" to a standing ovation. Overall, it was one of the best shows ever. While this historic concert was being staged, the Quarrymen were entertaining visitors at the Casbah as part of the "BestFest." Back at the Adelphi Hotel where we stayed, the party continued through the wee hours with Beatles tribute bands.
S
unday was Convention day, filled with Beatle energy everywhere as people visited the various vendor booths and enjoyed the festivities. The artist Shannon had her area set up and worked on a painting of George. There were a number of Special Guest celebrity speakers at the convention, including Joey Molland, "Legs" Larry Smith, and Mark Lewisohn (who shared details of his upcoming trilogy of Beatles history, with the first volume weighing in at over 900 pages). The evening was spent rocking out to the bands playing in the various rooms of the Adelphi. The main ballroom had Nube 9, Clube Beatles, and Morsa, with each band playing the entire album of Sgt. Pepper's, the White Album, and Abbey Road, respectively. Brilliant performances, all of them!
M
onday we walked to Albert Dock and went through the Beatles Story exhibit - a good overview of the history of the Beatles with an audio narration by John Lennon's sister, Julia Baird. We also did the 4D animated motion ride - very cute. The must-see of the whole thing (see theme #1, again) is the "Hidden Gallery" - a group of photographs by a then 16-year-old Paul Berriff who had unprecedented access to the Beatles backstage early in their career. We also visited the Beatles exhibit at Liverpool Museum, also on the docks.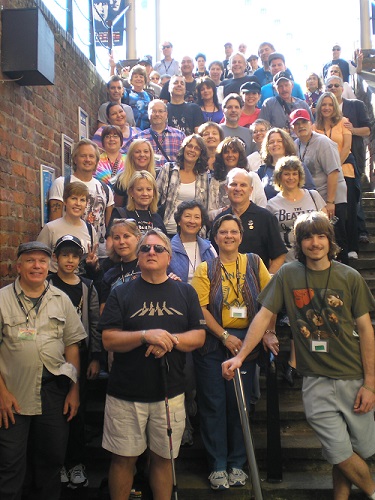 Group photo outside The Beatles Story exhibit. Photo courtesy Nellie Hastings
The afternoon matinee concert was at avenue called the O2 Academy. There we laughed, danced and sang along to an "Afternoon of Absolute Frolics" featuring Neil Innes' Rutles Reunion, Mike McCartney's Scaffold Reunion and more. Some loved it, although the goofy British humor was not everyone's cup of tea.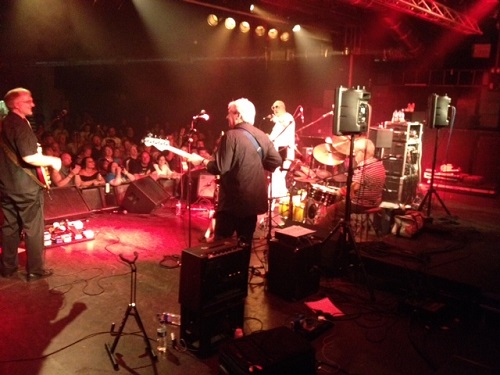 Neil Innes reunites The Rutles onstage at Liverpool's 02. Photo by Charles F. Rosenay!!!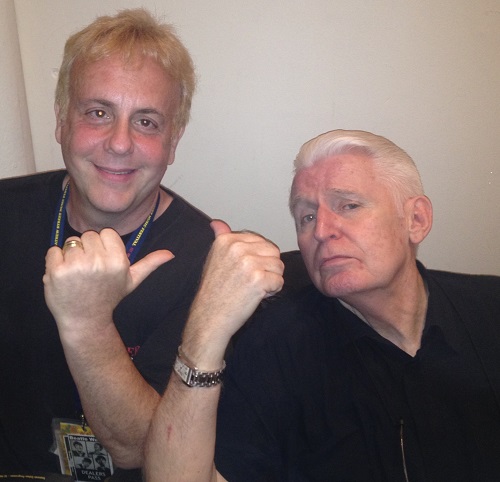 Tour leader Charles and Paul's brother Mike McCartney reunite backstage after Mike reunites the Scaffold onstage.
Monday night, we returned to the Philharmonic for the "Cavern Legacy Show," featuring The Overtures with opening solo acts by Mark Hudson and Hal Bruce. By now we were spoiled by our amazing up-close seats. The main event was The Overtures who did a salute to the Cavern - a brilliant walk-through (complete with Power Point slides!) of the history of acts who have performed at the Cavern, with songs from The Beatles and others who have played there, up to present day (e.g., Stones, Who, Cilla Black, Kinks, Searchers, Queen, Jessie J, Oasis, Adele). Ron and Sid Patterson of our tour-group were celebrating their 40th anniversary this weekend, and the tour was sort of a personal celebration for them. One of their daughters had tipped us off so Jon Keats was nice enough to make a big deal out of it from the stage. More magical moments on so many levels.
Back at the Adelphi's hotel grand ballroom, we were treated to the BeatleWeek VIP party with one great band after another. Sandwiched within the Beatles tribute bands were two very special showcases, one from Cavern City Tour's Victoria performing Mary Hopkin's "Those Were The Days" and the Paulie-penned "Goodbye" and also a full set of Badfinger classics by the band's only surviving member, Joey Molland, back by the great West Coast band, The Tearaways.
T
uesday, a truly rare treat was our coach tour tour with David Bedford (author of "Liddypool") as our guide and narrator. Possessed with congeniality and a great sense of humor, David took us on wild ride of Beatles history. We could spend an entire tour report just telling about the places we visited on this comprehensive 8-hour city tour. From a "Ferry Cross The Mersey" to the lovely town of Port Sunlight and Hulme Hall (where Ringo performed with the Beatles for the first time) to Litherland (ah, so many concerts at Litherland Town Hall) to Brian Epstein's family home, we were seeing all the places we've always read about in books or dreamt about visiting in our childhoods.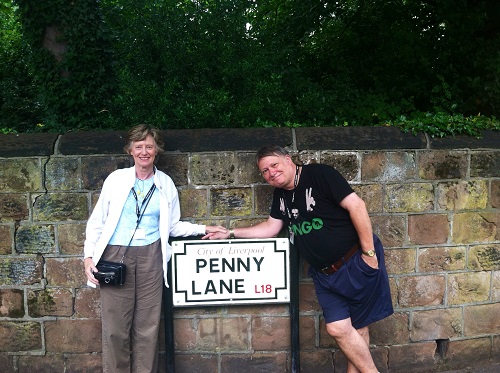 Martha and Bob Gagnon at Penny Lane. Photo courtesy the Gagnons.
We had lunch at Penny Lane, as the song's lyrics literally came alive before our eyes.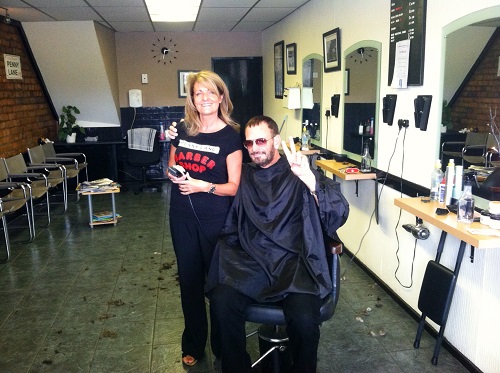 Ringer gets a haircut at the Penny Lane Barber Shop. Photo by Bob Gagnon.
We continued on to the Strawberry Fields gates, Ringo's homes on Madryn Street and Admiral Grove and also George's boyhood home on Arnold Grove. Just listing these places does not do justice to the aura and depth of history in these locations. David's detailed stories provided the accurate background information we needed to synthesize and integrate it all into our knowledge of Beatles history.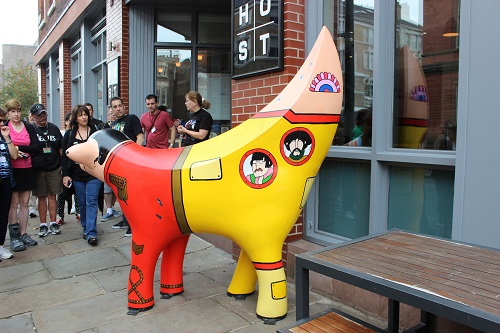 Our group finds a Yellow Sub "lambanana" in the streets of Liverpool. Photo by Marge Doherty
Interestingly, two days after our visit to Strawberry Field, the gates were painted a hideous yellow by some local pranksters (they were quickly painted back to their red color).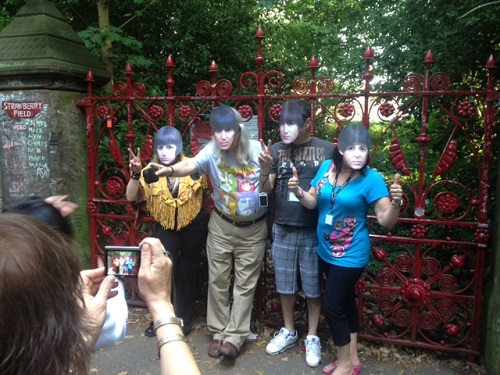 Four of our tour members follow Dave Carrow's lead by donning Beatle masks in front of the Strawberry Field gates. Below: Taking photos in front of the famous SF gates. Photos by Charles F. Rosenay!!!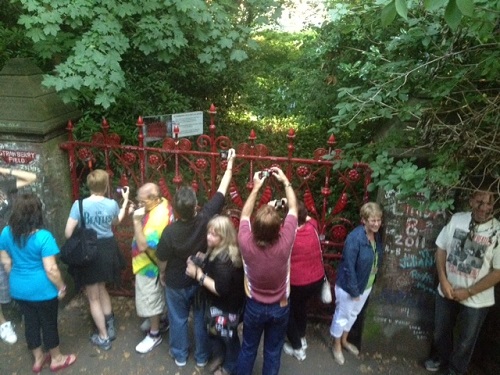 Tuesday night was the final show at the Cavern, with legendary British singer/musician Joe Brown. He closed the Concert for George with "I'll See You in My Dreams," and his delightful Cavern performance concluded with the same tearjerker.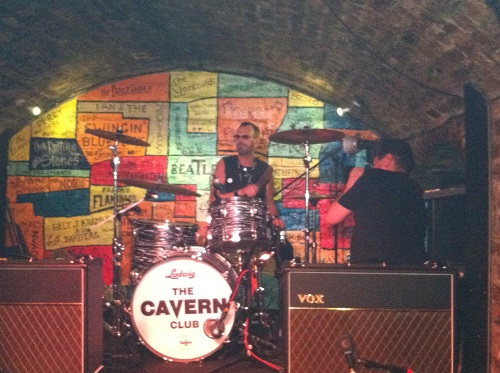 Ringer Star gets behind the kit at the Cavern Club. Photo by Bob Gagnon
Back at the Adelphi, our group bonded one last time as we had a late night sing-along before taking our early-morning transfer to Manchester Airport and the trip home. Danny surprised us all by returning from London with a box full of custom CDs with our recording of "All You Need is Love" from our Abbey Road Studios 2 recording session. Special thanks to Danny for all he did to ensure our recording at Abbey Road went so perfectly; he and Charles deserve all the credit in the world along with Cavern City Tours for all they do to make BeatleWeek happen.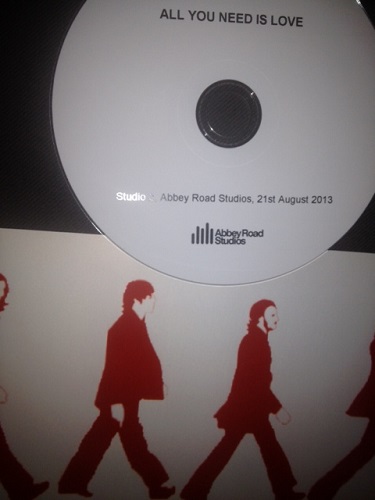 The finished Abbey Road disc of our group's recording experience.
What a magical, unpredictable, serendipitous, awesome trip! What a great group of travelers! The magical moments - the gates opening to Paul's house, the woman who waited in line 54 hours for a 1963 Beatles concert, recording inside Studio 2 at Abbey Road (I still can't believe it), David Bedford's tour, the Hidden Gallery - and all the other activities, events, people, and memorabilia. What could possibly top this? Well, ask me again after tour #3!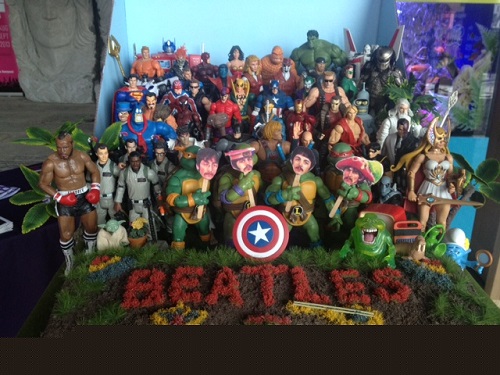 Sgt. Pepper's Super Hero Club Band spotted at Albert Dock around the corner from The Beatles Story.