I was alone I took a plane, I didn't know what I would find there...

The magical journey begins at JFK International Airport, where in February 1964, before it was named Kennedy Airport, The Beatles landed in America and conquered the land of plenty. Each traveler was greeted by our tour host, founder and guide Charles F. Rosenay!!!, who presented us with our tickets to ride and a personal souvenir laminated name badge branding us as official MMT2001 guests. We boarded our British Airways flight on Aug 18 to fly off to the country where dreams become reality. This year was a special one, with our tour starting off in the beautiful country of Scotland. Upon arriving in London, we meet up with the rest of the tour group, who flew in from Chicago, and LA. There were travelers of all agesand ethnicities, from all walks of life. The youngest were in their teens, the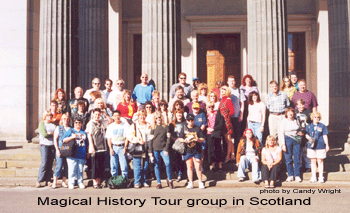 oldest in the fifties. There were some married couples, a mom and son, a bunch of repeat tourmembers, and a whole lot of new ones on their own.

Due to uncooperative weather conditions (it rains 60 percent of the time in Scotland), our flight was delayed from Heathrow to Edinburgh. A group singalong started at the airport by MMT traveler Nicole, who got out her guitar and began the ball rolling with "Eight Days a Week." She then started taking requests. Though our plane was delayed our spirits were high. Soon we were off and bound for Northern Scotland. Landing in Edinburgh, the capitol of Scotland, one of our hosts, Andy, welcomed us to Scotland with open arms. Grabbing our luggage and heading for the coach, Vic our driver got us loaded in the rain and we were on our way. It was an hour drive to Dundee from the airport, most of us feeling a little tired grabbed a few winks, while others enjoyed the vast countryside of Scotland. Our hotel accommodations were at the Swallow Hotel. Once arriving there, we had time for a quick check-in and we loaded our bus again. The tour had begun!

The Caird Hall was our stop this evening for a night of Beatles music and live performances by Johnny Gentle and Dougie Martin. It was in May of 1960 that Beatles manager Allan Williams arranged with impresario Larry Parnes for the Silver Beatles to do a 9-day tour of Northern Scotland backing Johnny Gentle. On May 20, the tour began and the rest, as they say, is history. The promoter who organized the shows in Scotland, Andy Lothian, was the MC and special guest that evening, relating a few stories and taking claim to be the man who coined the name "Beatlemania." Dougie Martin & The Poor Souls opened the show. He is one of Dundee's best-known musicians, but more importantly, his band opened for The Beatles when they played Caird Hall in 1963. This was pretty historic! His repertoire was a mix if 50's and 60's classics, with some scorching versions of Beatle hits. He can still rock! Johnny Gentle didn't sing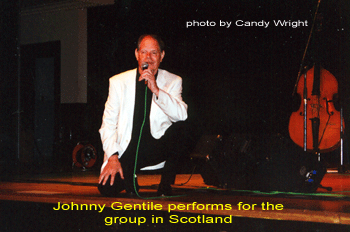 any Beatle numbers, but we were entertained with songs such as "Runaway" and "Poor Little Fool," which were songs he sang while on tour with the Silver Beatles. Johnny is very classy and reserved, and he told us some stories of The Beatles' first tour ever in between songs. Also performing this first evening was Dead Ringer, members from Tripper and The Shoes, combined with the group Ringer. Live Beatles music at last! Nicole and I were invited to jump up the very same stage that The Beatles had performed on, and we were the go-go girls for Dead Ringer's last song, "I Saw Her Standing There." Glasgow's sixties tribute band "Itchycoo Park" closed the show.

After the show, we had a one-on-one meet & greet with Johnny Gentle. We were able to buy his book, snap photos and get autographs. One of our more exuberant tourmembers, Clare, gushed over Johnny for a short while before she took her picture with him - sitting on his lap!

A group of us had a midnight dinner with the members of the band Tripper, while a few of the more adventurous continued the late-night partying at an area hotspot, Oxygen, where we were invited to be v.i.p. guests.

I read the news today oh boy...

After our Scottish breakfast, tourmember Bob started off our day by handing out Beatle cards to all his fellow travelers. We were then we were given a guided tour by musician Steve MacDonald, a native of Scotland, and the McCartney-lookalike from the bands Tripper, The Shoes and, for many years, Ringer. He is the same guy who played with Denny Laine, Laurence Juber and Steve Holly on their semi-Wings reunion in Liverpool some years ago. We took a scenic tour of Dundee, stopping off at a park where The Beatles did a photo shoot while on their tour of Scotland. On the coach, we had some world-class singalongs, with great vocal harmonies by Meredith, Lisa and the Themelis sisters. Running over some "sleeping policeman" (speed bumps in the road) we headed down the coast and back to the Caird Hall for a private tour of the famous venue. We were allowed to go back stage and see, walk around, and absorb the dressing rooms that the Beatles had once gotten ready for the show. Just to think they had their trousers down in those rooms, CHA CHA BOOM!!! We were able to roam around the theater and then, finally, stand on the same stage as The Beatles. What a thrill. For lunch, we went to a local pub where we were able to relax and eat. Charles organized a scavenger hunt game at the pub involving several of our tour buds, sending them searchin' around the room for various items. Marlon won the game by being the first to find a bra He was so excited that he even modeled it for us ("Dude, let me touch your arm"). His prize was a Scottish plaid apron and a Silver Beatles CD. Congratulations. We were unleashed to walk the streets of Dundee to tour the city on our own. Many of us walked the narrow streets shopping, discovering, snapping photos and taking in the beauty of this marvelous city. There were some excellent collectors shops. Meeting back at the pub, we were welcomed back aboard our coach by Vic and Andy, who hurried us back to the Swallow Hotel, to unload our souvenirs, take a brief breather and head back out for some more partying at the Caird Hall.

On the second night of their quasi-Beatles Convention, we were treated to live music by The Junkyard Dogs (alternative versions of Beatles), Tripper (one of Scotland's top tribute bands, who supported Paul McCartney at the Cavern Club and who played the Liverpool Beatles Convention), The Fabz (another top Scottish Beatles band who play the Liverpool Convention every year), Ian Cussick & Steve Cooney (a unique vocal performance of Beatle tunes) and a finale with all the bands.

After our show, we headed to Yates, another pub, where we danced the night away with Tripper. We were treated to a rare performance of "Money" by Tripper with our own Charles F. Rosenay!!! on lead vocals! Supposedly, that was a MMT first!

Bright and early looking very much alive, we left the Swallow Hotel with baggage in hand. Vic cruised us along the country side of Scotland towards the airport in Glasgow, also known as "Dear Green Place" for all of it's magnificent gardens. Every person was given departing some gifts from Scotland: a souvenir commemorative poster of the 1st ever Dundee Beatles Convention (courtesy of Steve and Andy) and a great cassette tape of the band Itchycoo Park, courtesy of the bands' members (with some covers of Rutles tracks, no less!). Along the way to the airport, we did a little sightseeing and even took pictures of some glorious castles, one of which was William Wallace's ("Braveheart"). Before too long we were in the blue suburban skies headed for London.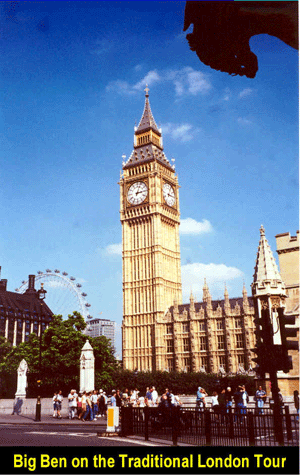 Back at Heathrow Airport, Dave Jones from Cavern City Tours was waiting with open arms to welcome us with. Our fabulous hotel in London was the Forum Hotel, currently renovating for a name change. After checking in and not quiet even situated yet, a few of us stopped into the hotel pub and made a toast to surviving the last couple days and to more enthusiastic days to come.

With some free time to ourselves, we broke off into small groups to do our own thing. Some went souvenir shopping, others went CD hunting, while a few headed for Leicester Square. I took a double-decker bus around Piccadilly Circle and roamed the city a little on my own. Then I had to Get Back to my room to change and take yet another deep breath. Alice was heading down towards the rabbit hole and she was taking our group with her. It seems as though its something you'll only read about, yet, after being there, it's more breathtaking than anything else in the world: ABBEY ROAD!! First a quick stop at Paul's house in Cavendish, where my jacket made quiet an impression. It features a striking shot of Paul rendered by the internationally acclaimed artist Shannon. Several tour guests posed at the gates of 7 Cavendish wearing my jacket. A few blocks to the left, we made it to the zebra-crossing, the mother road where on August 8, 1969 The Beatles made their famous crossing and on Aug 21, 2001 our group recreated it several times (all the while dodging cars and risking our lives all for the love of The Beatles). AHH!!! We crossed one last time and then went to the studio. Gathering on the stairway to heaven, we posed for a group shot. The doors opened and we were allowed to enter.

There was a table at the bottom of the stairs inside, with merchandise from the studio, t-shirts, key-chains, books, and other gifts with the Abbey Road logo. We were escorted down the hall, and into Studio 2, where the Beatles recorded 95% of their 200-plus songs between 1962 and 1970. As you enter through the doors, a chill runs up your arms, your heart begins to pound to the beat of "All You Need Is Love," than increases to "Helter Skelter." The happiness you feel forms a daisy chain around you and it seems that you'll never quit smiling. As I looked around the room, some of my fellow Beatle pals had tears accumulating in their eyes, some were in a state of shock-meets-bliss, some simply smiled. One (but we won't mention her name, because we wouldn't want to embarrass Clare) was crying before she even got inside. There was no reason for her to speak, I had just seen a face, and the joyful expression was all she needed.

Comitatus, a Beatle band from Brazil was in the studio when we entered. Gathering around the piano, embracing one and other, and swaying back and forth, we began singing "Let It Be," and several other songs. Fans were taking pictures standing at the various microphones and instruments, capturing memories that will be with them forever. You pray that the walls would begin replaying moments from time. To be able to hear John, Paul, George, Ringo and George Martin hard at work rehearsing, laughing, and molding their sound that they produced for all of us to cling to and love. We wanted to stay there forever. Now it's time to say goodnight, and we climb the stairs to the toppermost of the poppermost, the control room. You take one last glance back at the studio, and enter the room where Sir George Martin used his ears and ingenuous musical technique to put our boys onto vinyl and into our lives. Then we're gone, hopefully not for the last time.

Back at the Forum a small group of us gathered to listen to a surprise guest Alistair Taylor, "Mr. Fix-it, "Brian Epstein's assistant. He was at the hotel visiting perennial traveler Patti Seckers, and he was there to share with us his tears and memories he shared with the boys. It was a beautiful night.

Woke up fell out of bed dragged a comb across my head, found my way downstairs and grabbed some English breakfast.
Waiting for us outside was our tour coach, which would take us on our panoramic guided tour of scenic London. Look kids: Big Ben, Parliament, London Bridge, Tower of London, Harrah's, Westminster Abbey, Oh London Town! With a little help from my friends and a little lunch, we're rejuvenated once again and ready for our walking tour of London, with the famous Richard Porter. The author of "Guide to the Beatles London," and a recent guest at U.S. conventions, Richard took us to sites where the Beatles met the loves of their lives, their London offices, homes, and even famous venues where they performed. We visited MPL, the Apple building, Miranda Club, the Indica Gallery, and even had time for a stop at London's Beatles shop. A special treat for our group was when we visited the Rahnah Krishna Temple. We removed our shoes, got to our knees and we prayed for our George. Afterward, rice and veggies were served which we ate with our hands. Now, everyone in the cheaper seats clap your hands and the rest of you just rattle your jewelry. GRIN!

Our group loved to party so much, we headed out for the London nightlife. Down to the London Hard Rock Café, which was the first Café to open their doors to the public 30 years ago, for our very own private Beatle party on the lower level. Shortly after we arrived, we were joined by our Mexican Beatle fan club friends. Our special guest is Gordon Millings, who,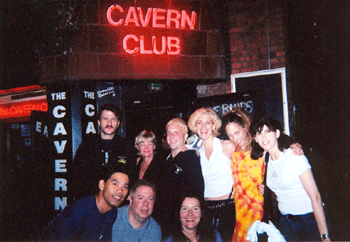 along with his father Dougie (as seen in the film "A Hard Day's Night") produced 500 variations for the Beatles, including the beloved collar-less jackets. Gordon carries on the family tradition with style and panache.

It won't be long before we do some twisting and shouting, but first most of us do some Hard Rock souvenir shopping, and visit "The Vault," containing the rarest items of the Café. Our host with the most, Charles F. Rosenay!!!, is our DJ for the evening, and the party starts with some special introductions. Along with Gordon Millings, we discover that there are some other notables amongst us this evening. Radio personality Joe Johnson of "BeatleBrunch" fame joined our group with his family and members of his staff. Carmen Salmon, head of the "Come Together" Beatles fan club and producer of the San Diego "Beatles Fair" convention, was there with her husband. Lynda Murphy of Club Beatles of New England is also introduced (she helped produce the last "Boston Beatles Convention" a few years back). We also meet the London/Liverpool-only travelers who didn't start off with us in Scotland, including radio station winners Joyce & Dan, and also party animals Shaun, Steve and Wayne, and they all fit in immediately.

At the Hard Rock, we rocked and rolled into the night, jamming to Beatles and solo Beatles tunes. We caused a commotion by doing the "locomotion" to Obladi Oblada and celebrated some travelers' birthdays with a rousing singalong version of "Birthday." A few non-Beatle songs are sneaked in by request, and Batya acts out songs from "Grease" while Bob (the "cool" guy), Jeff (not too happy about playing the nerd role) and Charles does the song "Strokin'!" (no further comment). There's a twist contest and Steve S. and Jennifer are named winners. After more dancing and raucous fun, including air guitars and even a vocal of "All My Luggage" by Lynda (don't ask), we finally end the night with "In My Life" and it was back on the coach and home to the hotel.

The Magical Mystery Tour is hoping to take you awayyyyyyy...

If you were ready to cool your heals, don't even think about taking those dancing shoes off. We had breakfast and headed up M6 to the birthplace of The Beatles, LIVERPOOL. Richard Porter rode along with us pointing out important sites, including Chiswick House and Gardens, where promo films for "Rain" and "Paperback Writer" were filmed. Along the way, Charles we took part in an on-board "penny auction," and several of the travelers bid on some really great Beatles merchandise. A splendid time was had by all. Arriving the right way, we ferried 'cross the Mersey and ported at the dock. At last, the holy land, Liverpool, home of Liverpudlians and a certain fab four. We were here at last. Pools of sorrow, waves of joy, can only describe what you feel inside. Mixed emotions of various stages of happiness are on everyone's faces. Back aboard the coach,we take the short and winding road to our home-away-from-home, the Adelphi Hotel. This magnificent olde hotel, designed by the White Star Line, still glows with the elegance of the early 20th century. Spectacular! We check in and find our way to the room, but we leave until tomorrow to unpack our case, kick off the shoes and begin to relax. We love being in NY, wait it's Liverpool, is that the place, ok then Liverpool, we were moving so fast. Some of us grab some fish and chips and some rush to visit familiar haunts.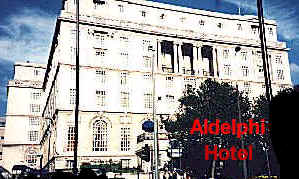 In the evening the entire group marches en masse through the streets of the 'Pool as we head on down to the Liverpool Town Hall. Bill Heckle of Cavern City Tours greets everyone with sparkling wine and properly welcomes us to Liverpool. We take pictures outside where The Beatles saluted their Liverpool neighbors all those years ago. Back inside and situated in the royal hall, The Lord Mayor of Liverpool gives us a very warm welcome from the stage. We all burst into applause as Charles receives specialrecognition from the Lord Mayor for bringing the Americans over to Liverpool every year. This took Charles by surprise! Los Beat 3 and Club Big Beatles are the warm-up acts, but the highlight is the rousing performance by A Hard Night's Day. What a show, if you closed your eyes, you would swear you were hearing the Beatles live, this group from Dallas, TX is that good. Many of us got the opportunity to meet The Beatles' first manager, Allan Williams, who is recovering from quadruple by-pass heart surgery. He was in great spirits. Best wishes to Allan for a speedy recovery.

Look into these eyes now, tell me what you see...

...A Magical Mystery Tour bus waiting out in front of my hotel for me. Although we are far away from our real homes we are made to feel right at home as we board the MMT bus with Les and Eddie "The Walrus" Porter. A select few of us, who had been on the tour many other times, went off with cheerful guide Hilary, for a very special MMT. Hilary is the tourguide's guide, the ultimate pro and she was the person who took many of us on our first tours many years ago. She takes these multiple-repeat travelers to uncommon locales seldom seen, including Julia's gravesite and the newly named John Lennon Airport at Speke. The rest of us Rolled Up, and let them take us away. As you can imagine we were all smiles. We began our journey, where any Beatle journey should, at the Maternity Hospital on Oxford Street where at 6:30 p.m. on Wednesday, October 9, 1940, John Winston Lennon was born. It is now flats (dormitory) for students from the local colleges, but there is a plaque on the wall marking this building as the birthplace of our one and only John. Traveling through the streets of Liverpool we are taken to many significant places, including places where the other beloved Beatles were born, lived and attended school. Other must sees: Paul and Johns meeting place, Eleanor Rigby's grave, Woolton Parish Church (where Katie from our group went on her own and even walked on the stage at the church).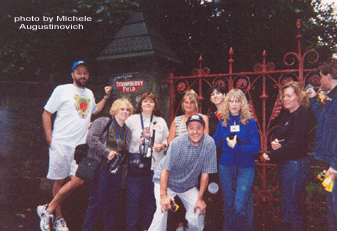 Margaret Grose, who now lives at 10 Admiral Grove, opened her doors to our group and allowed us to enter Ringo's boyhood home and take photos. It was simply lovely of her to do this for us, for only the second time on a MMT. Lots of love to Margaret. Penny Lane and Strawberry Fields soon followed. We all felt like we were flying. Last stops were at John Lennon Drive, Paul McCartney Way, George Harrison Close, Ringo Starr Close, Epstein Court, Apple Court, Cavern Court, and even Sutcliffe Road. Eddie Porter entranced our group with his warm, humorous and enlightening stories about our boys. Driver Les even recreated his "Free As A Bird" performance. Love to both of them, thanks for sharing your memories.

That evening we attended the concert at the Royal Court Theater starring British favorites The Overtures. Their show was embellished by a superb multi-media slide & video show. Their energy, musicianship, vocals and stage presentation with the video screens taking us through the amazing journey of the sixties were just some of the few reasons they are the best 60's cover band. Their versions of classics by the Byrds, Searchers, Stones, Who and others were as strong as their Beatles material. Opening for The Overtures was Brazilian tribute band Club Big Beatles (complete with Beatle marionette) Japan's The Parrots and Canadian soloist Hal Bruce. After the concert, it was on to the Adelphi for some more live Beatles music to carry us into the wee morning hours.

Good Morning, Good Morning... Sitting on a cornflake, a small group of us gathered early to wait for the van that would take us from Speke Hall and then onto 20 Forthlin Road, Paul McCartney's boyhood home (where, if I had lived in Liverpool in those days, I would have spent many hours). To be able to enter the house where my favorite Beatle composed with his friend John Lennon was a most memorable experience. Not to mention that we got to go to Paul's Bedroom, we also toured the kitchen, living room, and dining area. John Halliday, who is paid to by the National Trust to live in Paul 's house, greeted us at the door and handed out headsets, with commentary by both Mike and Paul McCartney. For 30 glorious minutes we were allowed to wander the house, and hear the stories behind the photos on the walls and the history in each of the rooms. The feelings I had were so tremendous, I shook, I shivered I exploded with joy. We were not allowed to photograph inside the house. After touring the back yard and attempting to climb the same pole that Paul did when he lived there, we were let out the front door, where we were permitted to snap away. My fave poses were knocking on Paul's door, skipping on his sidewalk and rolling around in his front yard. YEAH, YEAH, YEAH!!!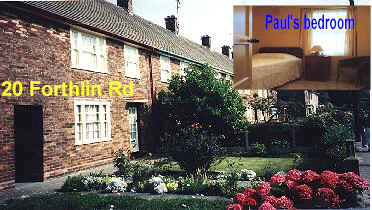 Most of the tour group attended the annual Liverpool auction, held at LIPA, the Liverpool Institute for Performing Arts (often called Paul's "Fame" school). One member of our group, Greg, got some true rarities at very decent prices. Others visited the Liverpool Record & Collectors convention at the Blue Coat Chambers, where they also had a Lennon lithos exhibition (and next door was a comic Book convention).

The afternoon was simply beautiful, the definitive summer weather. That was perfect, because at a local grassy area near the Albert Docks, Chavesse Park, from 2pm until 7pm, musical acts recreated the "Rock & Roll Circus." This was just one of many performances at several different parks and venues. The Rock & Roll Circus featured Kyra (Jethro Tull tribute band), Maximum Who (Who tribute band), the Counterfeit Stones (self-explanatory), New York's Fab Faux and local legend Gary Gibson, a John Lennon impersonator, who gave only one performance this year. As described by some of our other guests, it was like being at a live John Lennon show. With carnival rides, beer gardens and food & ice cream vendors, it was a great atmosphere.

There was Beatles everywhere: live music in the park, recorded music in the pubs (including the John Lennon Memorial Bar) memorabilia in the shops (especially The Beatles Shop on Mathew Street and the new From Me To You store in Cavern Walks) and there was joy & laughter in the streets. Atop the Beatles Shop, the Mathew Street Gallery was exhibiting artwork by Klaus Voorman and Astrid Kirscher, and at The Beatles
Story, the Lennon piano was back in the White Room. For us on the tour, and the people in this city, all was right in the world. Even on the television that afternoon, longtime Beatle-buddy and fellow NEMS recording artist Cilla Black was the host of a stupid human tricks-type of game show called "Moment of Truth."

In the evening, we returned to the Royal Court Theater, where we were once again entertained by live music with the theme of The Beatles' live years, featuring Hollywood Bowl, Candlestick Park, Rooftop Concert, Hamburg days and the Cavern Club. Several of our favorite Beatle sound alike bands performed these memorable performances, including the amazingly versatile A Hard Night's Day (who played an incredible set of BBC/Decca/Hamburg/Cavern ravers), the Australian Beatles (first-ever Beatles tribute band from down-under at the Liverpool fest) and another set by the Overtures, who were called in last-minute to fill in for The Snails. The running joke was that The Snails were still on their way, but they were just slow.

Get out the maracas, because it was Samba time at the Adelphi for the Brazilian party that followed. The trio of Beatle bands were Comitatus (who were with us at Abbey Road), Sgt. Pepper and Hocus Pocus.

Picture yourself in a ballroom of Beatles...

It was finally Convention Day! Picture yourself in the ballroom of the Adelphi, with crystal chandeliers, tapestries on the walls, elegance at its finest and amidst it all: Europe's Largest Beatles Marketplace crammed with merchandise from all over the world (from across the universe, actually!). A collectors dream, and a reason to leave room in your suitcase when packing for the tour. 25 bands in a day, rare video room, art exhibitions, autograph sessions, interviews, etc. Special guests on the bill: Pete Best, Julia Baird, Allan Williams, Bob Wooler, Klaus Voorman, Astrid Kirchner, Alf Bicknell, authors Keith Badman and Mark Featherstone-Witty, BBC Merseyside's Spencer Leigh, artist Shannon and Gordon Millings. I (Michele)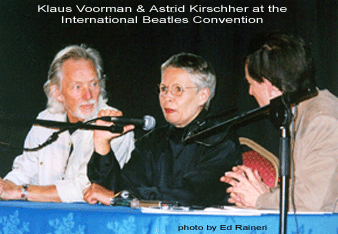 was fortunate enough to have Gordon Millings ask me to model one of his jackets that Paul McCartney wore during the 1963 tour to France. Also there as a special guest, making his first-ever convention appearance, was Mike Smith, the man at Decca Records who turned down The Beatles. After a full day of shopping, shmoozing, socializing, waiting for autographs, listening to guest speakers, and having the time of one's life, you'd think the day was done. Not nearly!

We meet at the Adelphi restaurant, the Crompton, for a very special and exclusive "unplugged" singalong party. This extraordinary happening is by invitation only and is open only to our American tour group and guests. We welcomed the Irish Beatles fan club and some others from different countries. Boston musician/singer/story-teller Scott Wheeler opened with his mix of music and comedy, and great renditions of Beatles and Roy Orbison standards. What a personality! Clone Farm, from North Carolina, is scheduled to play next, but they're squeezed out by the next two acts: A Hard Night's Day and on their first English Tour, British Export. We've said enough about A Hard Night's Day, but British Export, led by drummer Jim Martin, were quite a treat. Well known from the Chicago Beatlefest, we are sure to see and hear more from this young, crowd-pleasing. In fact, "Ringo" Jim and our tour leader, Charles, had a meeting and it was agreed that British Export would be the official band of next year's MMT. A grand evening - and all of it exclusively for our tour group.

Let me take you down now to Mathew Street...

Where the Mathew Street Festival is going on, and over 300,000 people have gathered from all over the world to celebrate with hundreds of live bands in every club & pub, every eatery and café, every nook and cranny. Most of the music heard is from the ones who stared it all, The Beatles. You can hear the music and feel the energy echoing off the buildings as you find your way past famous places such as the Grapes, and, of course, the Cavern Club. Winding through the streets one feels as if they are happily being pulled in every direction trying to absorb everything. At the Albert Docks, an all-female band, the Beladies are playing to a full crowd gathered around the edge of the docks. There are bands of all ages, skin colors, shapes and sizes, including the Mini-Beats, young lads performing Beatle songs.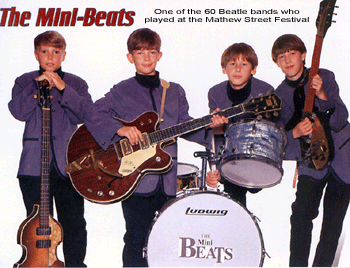 In the evening, the fabulous Fab Faux rocked our night at the Royal Court with their fab finale performance of the more obscure or lesser-performed cuts: "Tomorrow Never Knows," "Helter Skelter," and "Lovely Rita" to name a few. This is the band that strives to deliver the most difficult songs that no other band will attempt. Will Lee from the David Letterman Late Show and Jimmy Vivino from Late Night with Conan O'Brien head up this ultimate ROCK SHOW!
We adjourn back to the Adelphi for yet more Beatles music by the Overtures and other bands. By now, our tour group is feeling like a tight-knit family. We find ourselves sitting together sharing memories and laughs from the past week, while making plans for staying in touch in the future. Lasting friendships are now having the finishing touches put on them.

...Don't say it, don't say it, don't say goodnight tonight.

Our last full day in Liverpool comes too soon, and though the crowds have died down, excitement is still in the air. Our group splits off and people spend their last day shopping, doing private tours, re-visiting some landmarks and just enjoying the city after the mad rush of the Bank Holiday. Some of us choose to sleep in and enjoy this very relaxing day. For the fifth day in a row, the weather is simply beautiful. As mentioned before this is a party group and we showed it every night. This night was no exception. The gala farewell concert is by none other than 1964 The Tribute, recognized as one of the top Beatle bands in the world. They are from Ohio, but now they are performing where it all began, at the Cavern Club. Mathew Street itself has a feeling about it unlike any other street in Liverpool, but when you see those neon red lights beaming above the door calling all the cave dwellers, you know you are at the heart of it all. Circling down the flights of stairs you enter the dark, musty "new" Cavern. The glow from the stage, the cloud hanging in the air, and the overwhelming feeling that you're actually at the same Cavern that Paul McCartney performed at during his live Internet broadcast on Dec 14, 1999, is a sensation you have to experience yourself at least once in your life. You realize that this rebuilt Cavern is an exact replica of the place where The Beatles themselves played more than anywhere else. You notice familiar faces amongst the crowded room, not just of members from the tour, but also of travelers from other nations who have all "come together" this week to celebrate the same music and memories as you. Smiling faces, warm embraces, handshakes and hugs make you feel right at home - even with people who speak languages foreign from yours.

Once situated, after you've taken in all the visual aspects of the club, the lights dim, a hush floats across the room, then you hear the opening chord to "A Hard Days Night," and the room comes alive. The stage lights cast out among the crowd and you notice that bodies are packed in like sardines. It's hard to envision it unless you've been there. Bobbing back and forth, having drinks with friends and dancing to the Beatles music by one of the finest soundalike bands ever, you're not even thinking about packing and the fact that this is your last night in Liverpool.

Sadly, though, it is. And like all wonderful dreams this one too must end. But not without a final singalong back at the hotel! After a small group of about 20 of us belt out some Beatles tunes, we grab a few winks of sleep, and then we are up bright and early for our departure. Breakfast is provided and we board our coach to Manchester Airport.

Hearts are heavy as we say our farewells to Liverpool, our guides, and our new Beatle friends. It was back to America for us. Photographs will be swapped and memories will be shared. Everyone we have come into contact with on our journey has touched our lives. When we see members of the group again at fests and on future tours, we will always recall the love we share for The Beatles, and the unforgettable time we shared with each other on our Magical History Tour