"2014 MAGICAL HISTORY TOUR REPORT"
By Batya Selavan
Roll up Roll up for another great tour. This was my personal 17th tour, and I was just as excited as I when I went on first one back in 1986!
We met at JFK airport with our wonderful tour-host Charles F. Rosenay!!! who greeted us with a warm smile and some goodie bags filled with nice mementos for our journey plus an updated itinerary. We also were given nice lanyards with our name tag IDs. We were ready to celebrate 50th Anniversary of The Beatles invading America with our invasion of The Beatles' Britain!
LONDON TOWN
We landed at London's Heathrow Airport and met with Rene Haarlem, editor of the Beatles Unlimited zine from Holland. He started our adventure with a panoramic tour of some London historic sites mixed in with Beatle sites along the way. We went by Earls Court where Paul performed some concerts and Hyde Park where Paul (and the Rolling Stones, and others) performed.
We passed the original Hard Rock Café, and the Royal Albert Hall, plus the Ritz Hotel where Paul and Linda had their wedding reception. We saw the London Palladuim where "A Hard Days Night" and "Help!" premiered and Lower Regent Street where the BBC Studios were. We saw Tower Bridge (in "Give my Regards to Broad Street" Paul drove across it. There were so many other great sites.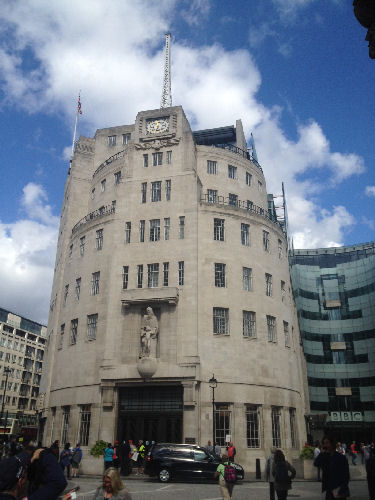 London's BBC Building Photo by Charles F. Rosenay!!!
In the afternoon, we checked into our hotel and were pleasantly surprised that it was a fancy Doubletree by Hilton in a great central location. My friend Rosemary and I took the tube to a pub called the Grapes (not the one in Liverpool) in the east end of London. One the owners is actor Sir Ian Mckellen of "Lord of The Rings" and "X-Men" fame. It's a very charming old pub where Charles Dickens drank back in his day. The wooden floors and tables are unfinished, and past the tiny bar is a patio that sees out to the Thames River. We had a great time chatting with the locals. Most of the rest of our group spent their first evening in London at a pary hosted by "BeatleDave," an MMTour veteran, at the Rolling Stones-themed restaurant/lounge owned by Bill Wyman - Sticky Fingers. They had a blast -- my roommate Robyn said it was like a Hard Rock Cafe with 60s memorabilia.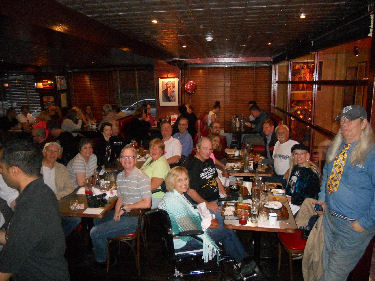 Sticky Fingers party hosted by BeatleDave (far right) Photo by Vickie Ramoni
Our second day in London started with a coach ride where we watched the rare Ed Sullivan rehearsals from February 16 1964 en route to lovely Chiswick Park, where The Beatles' "Rain" and "Paperback Writer" promo films (videos) were filmed. We took photos by the tree and the statues where The Beatles' posed. We also had a wild time posing on a lion statue - you had to be there to see it. We walked the grounds until we got to the conservatory which has been refurbished and contains photos of The Beatles. The last time the group went by it was closed to the public as it was being renovated.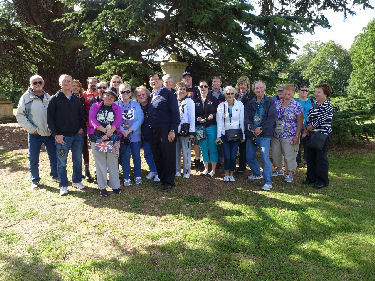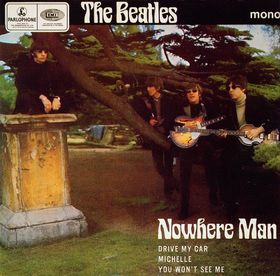 Group photo at The Beatles' tree in Chiswick Park Photo by Frank Branchini
We went to some key "Help!" and "A Hard Day's Night" and "Let It Be" locales. We saw the City Barge Pub where the guys flee from a band of hostile bagpipers and Ringo falls through a trap door and encounters a tiger. We walked the river bank where Ringo walked along in "Hard Days Night" and then it was on to a real surprise for those of us who hadn't been on this tour in a while: we went to Twickenham Studios where staffers showed us around. This is where "Let It Be" was filmed and most of us recalled the scene in the film where John and Yoko waltz around (it's also where the tiger scene was filmed by the way). The main studio is a sound stage with high ceilings and large, dark brown walls -- but I bet if they could talk…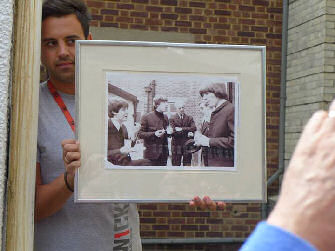 A Twickenham Studio staffer holds up a photo of The Beatles for us at Twickenham Studios in front of the same brick wall Photo by Frank Branchini
We ventured to more important sites like the "Help!" scenes where the four lads entered the four separate doors, the spot of where Leo McKern came up from the street wearing a manhole cover, and to where John and Ringo tried to post a letter. At each spot everyone wanted pictures, and the cameras flashed away. We went by The Turks Head Pub where Ringo goes in for a pint and a sandwich, and an unfortunate game of darts, and then on to some HDN landmarks: Boston Place where George tripped in the opening scene, and Marylebone Station where guys got on the train. It's still a very busy train station with lots of small shops and places to eat.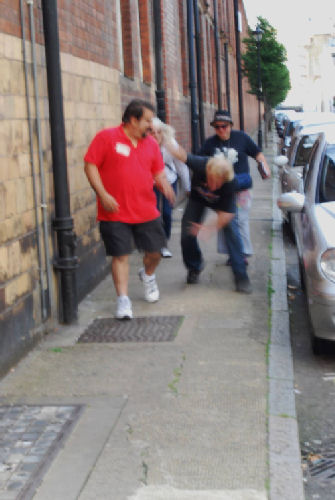 Four of our group recreate the scene from "A Hard Day's Night" where George fall down
Photo by Vickie Ramoni
On Baker Street we saw the old Apple Boutique building which has an official blue plaque indicating that John Lennon and George Harrison worked there. Why don't they include Ringo and Paul? Because they are both still alive! On the lower floor is a poster of what the front of the place looked like when The Beatles ran it.
We stopped for lunch near London's Beatles Store and did a lot of shopping. It was fairly near the theater where we would have our evening activity - a play on the West End about Brian Epstein titled "Epstein: The Man Who Made The Beatles."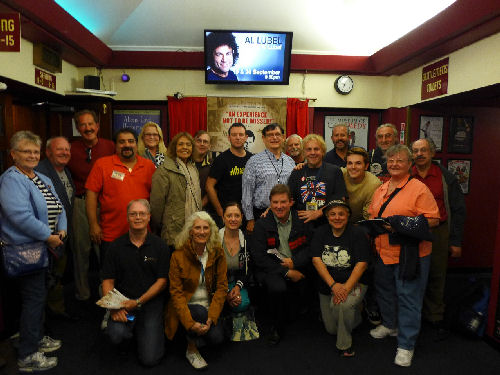 Our group meets the cast of "Epstein" after the play Photo by Frank Branchini
The intense play about Eppy at the Leicester Square Theater was produced by Bill Elms & Jen Heyes and starred Andrew Lancel (he has quite a list of movie and TV credits) and Will Finlason as "this boy." Although it didn't reveal anything we didn't already know as fans, still found myself feeling sorry for Brian who was so busy taking care of others that he didn't care for himself. After the show we had an exclusive meet & greet/photo session with the actors that was pre-arranged, and we posed with the stars and got autographs. It was a wonderful night of theatre with friends at a show which originally opened in Liverpool and ran one month in London from August -Sept. 6, 2014.
The next day the group went on a very complete Beatles walking tour where we traveled foot and by tube to sites such as the Apple office at Saville Row (where The Beatles played their last set together atop the rooftop), Paul's Cavendish Avenue home and, of course, Abbey Road Studios. We crossed the street over and over and took countless photos.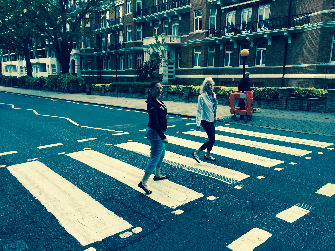 Is it possible? Crossing Abbey Road with no traffic?! Photo courtesy Karen Walsh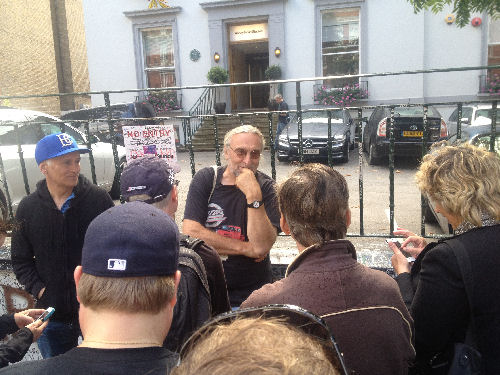 Rene fills us in on some of the secrets of Abbey Road Studios Photo by Charles F. Rosenay!!!
We also went to Trident Studios, EMI and MPL, which meant we got to most every important recording studio in England. I went with some friends on a boat ride up the Thames River.
In the evening we met in the hotel's small conference room for our Hello/Goodbye party: goodbye to London and hello to Liverpool, with music from our resident DJ Paul. We went around the room and introduced ourselves and told what our favorite Beatles song were, and what our first Beatles memory was or what inspired us to become fans. DJ Paul would play whatever song someone mentioned, and Rene was kind enough to hand out complimentary issues of Beatles Unlimited magazine.
HARRISON'S HENLEY
We boarded our coach and picked up our friends/colleagues in travel: the Mexican Beatles Fan Club led by Ricardo. We all went to Georg'es hometown of Henley-On-Thames, where on the way we were treated to an on-board "Penny Auction." Great Beatles were bid on, and some of our group got some ridiculously great deals (or should I say 'steals'). It was such fun!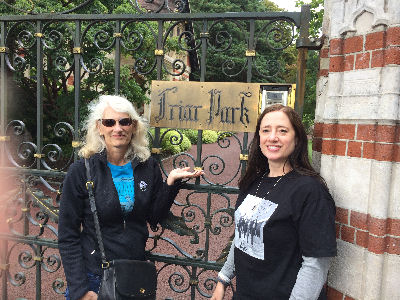 In front of Friar Park gates: Linda Severson and Karen Walsh Photo courtesy Karen Walsh
Once we got to Henley we stopped for an emotional and heartfelt visit to George's Friar Park mansion which he affectionately called "Crackerbox Palace"). We posed for pictures outside the gates before we headed into town. Once there, we were able to shop at the bazaar/marketplace in the Town Green, the numerous second-hand stores, the vintage record shop or hang out at pub or two. Some went to the Angel, where George loved to have a drink, and that was right next to the church where Dusty Springfield is buried. Two of our tour group members, Phil and Kevin left flowers at Dusty's grave.
Back onboard, we were entertained by the musicians of the Mexico band The Wigs. We had a great singalong, and then watched videos of Paul's Liverpool concert, plus the Disney Special about Ringo and his journey to Liverpool with his son Zack and with his step-dad Harry Graves whom we had met on prior tours years before. We also viewed the Travel Channel's special they did on our tour group one year.
YEAH YEAH YEAH LIVERPOOL!
Before we knew it, we were in Liverpool! We checked in to the majestic Adelphi Britannia Hotel, pretty much the same as I remembered it from years past. There were two differences: the famed Lewis' department store across the street (where John & Cynthia rendezvoused on occasion) was now barren, and the hotel made the leap into the twentieth century with key cards - no more real keys. It is a grand ol hotel, and it was nice to see that the rooms had newer bathrooms and telephones.
After we all checked-in and refreshed, we met in the lobby and our tour-host Charles escorted us to the famed Cavern Club which was a dream-come-true for those who have never been there. As we strolled down Mathew Street we passed the Grapes where the Beatles drank and went by the Beatles Shop. In the Cavern Shops mall there was a temporary pop-up that was selling Beatles t-shirts for only 10 pounds at the original spot where the original entry of the Cavern was.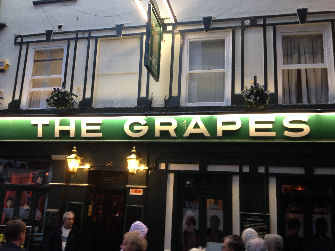 Liverpool's The Grapes, a favorite hangout of The Beatles on Mathew Street Photo by Paul Sorber
We descended the spiral steps down the cellar-full of noise (title of Brian Epstein's book). When you first walk in there is the stage area with the back drop of the names of bands that played there. It was still hot and sweaty, but that's okay, because there's no smoking there nowadays, and that made it easier for me to hang out. It was filled with tourist and locals.
The next day was very special as we would be visiting Paul and John's childhood homes. I was part of the first group, and we met with Charles in the lobby to head over to the Albert Docks. On our way we saw this zip line thing overhead in the middle of the street, and we walked through a new modern shopping area called Liverpool One. Several of us were having our 20-year-reunion, having traveled together on the MMTour 1994, and we had to take picture by the Humped Zebra Crossing sign.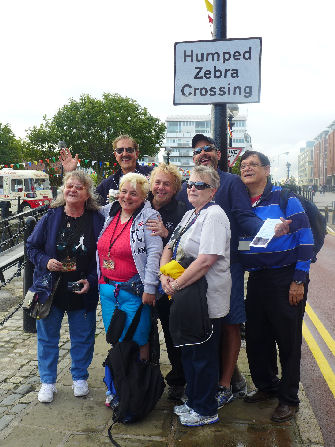 A reunion of travelers who had been on the tour 20 years prior. Photo by Frank Branchini
Below us in the water we saw docked yachts and boats with various themes: the Joker from Batman, the Titanic and a Yellow Sub with your captain Alfred Bubbles. There was also a peace monument in honor of John Lennon - it has a globe and a guitar wrapped round it.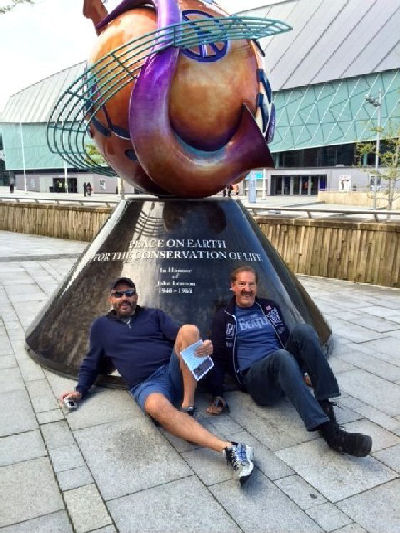 Kevin & Phil lounge at the base of the John Lennon Peace Monument Photo by Frank Branchini
We boarded a small bus to Mendips where we were met at the gate by guide Colin Hall. He let us take pictures outside and but not inside as per National Trust rules. We strolled around the back garden first and there was an old bike similar to the one John got as a prize for passing some exams. We than went into the small kitchen set as close as it was when John was a boy. The window leads out to the garden and there is a small sink and small stove and some shelves with tea cups and saucers. Colin told us that Aunt Mimi took in students to help make ends meet after his Uncle George passed away. She always wanted to be home when John got home from school. John's bedroom is very small it has a twin bed and wardrobe and small table. We also saw Mimi and George's room. We also allowed also into the garden foyer area where Paul and John would sing and play. We saw photos that the family donated and there was a guest book that you could sign.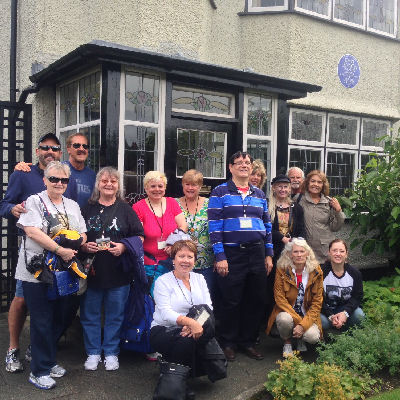 In front of John's Mendips home Photo courtesy Frank Branchini
It was then on to Paul's home on Forthlin Road where the guide is Colin's wife Sylvia. We took pictures outside and entered the sitting room as Sylvia and played us tape of Paul talking about growing there. There were pictures on the wall that Paul's brother Mike took. The next room had instruments set up its made to look as it did when Paul was there. His bedroom and Mike's room are also small. Sylvia was telling us that "Let it Be" was a saying their mum would say. We got out to the back garden and we allowed to pick the fresh rosemary.
We followed the homes with our afternoon at Town Hall. This was the site of the civic reception for The Beatles on July 10, 1964. While we were there, our tour-host Charles got a proclamation from the Lord Mayor of Liverpool, Councillor Erica Kemp, for bringing tourists and fans to Liverpool for over 30 years!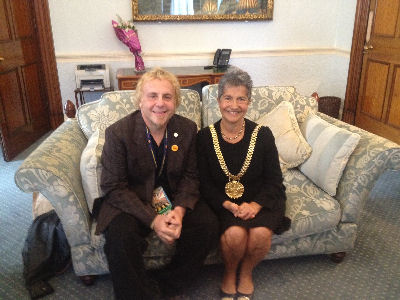 Charles F. Rosenay!!! honoured by the Lord Mayor of Liverpool, Erica Kemp
Liverpool Town Hall is a very grandiose building with numerous oil paintings, high ceilings and large chandeliers. They offered tea, coffee and soft drinks for us, and as we gathered in one of the large reception halls the Lord Mayor came out and spoke to the crowd. After that, the Brazilian band Clube Big Beatles put on a show for us that included Oh Darling and Strawberry Fields. They had a special guest singer with them who is reported to be a huge star in Brazil, Ivan Lins. He butchered Something, Let It Be and Imagine but we were handed cue cards with "NA NA" on them for Hey Jude and that salvaged the set. We took many pictures of ourselves holding up the signs. Afterwards we went to the back part of the building for a festival they were having that included some food booths and a local guitar player who sang a variety of tunes from The Beatles to the Mamas & Papas. It was a nice transition from a big professional band inside to a nice acoustic set outside.
Better than any of these was our evening activity. We went to the Royal Court Theater to see a Paul McCartney Career Concert Retrospective. The opener was a Ukulele Orchestra, then a band called the Yesterdays and some other acts playing many deep cuts that you don't hear very often, such as Every Night and Junk. Special guests Howie Casey and Steve Holley joined for many tunes, and there were some students from LIPA who performed. As each band played, rare pictures of Paul were projected onto the giant screen. One special highlight had Len Gerry form the Quarrymen take the stage "In Spite of all the Danger" and Chris Hall, who played with Paul on "Brown Eyed Handsome Man" the from the "Run Devil Run" sessions. A Swedish quartet played "Warm and Beautiful" and then an all-star band rocked out "Maybe I'm Amazed" with Beatle artist Shannon on bass - I had no idea she could rock and roll so well! Howie Casey joined in on sax for a soulful "Bluebird" and George Hogg joined in on piccolo trumpet for "Penny Lane." They played "Magneto and Titanium Man" and "Jet." Than it was back to the hotel for more fab four music with "The Threetles," a Beatles celebration band. The music continued well into the wee hours.
The next morning, before any of our activities began, one of our group requested that Charles take us to visit the synagogue that Brain Epstein prayed in. It was closed but we went to a nearby temple for services, and there were congregants who were friends of the Epstein family. I did some personal shopping in a retro store called The Hippy Hole where I bought a dress and skirt and ankle bracelet. They just about everything tie-dye. It's a very cool store and very reasonably priced. The rest of our group joined Rene on an exclusive walking tour of Beatle sites. They saw the flat where John and Cyn lived, the Jacaranda Club and the Everyman theater. Some made their way to the Casbah for a private tour while others attended the annual auction at LIPA.
In the afternoon, many of us went to the Alma de Cuba venue, a church turned into restaurant and bar. The theme of the event was "Songs that the Beatles Gave Away" performed by a myriad of bands and artists from different nations.
In the evening we returned to The Royal Court Theater for a concert by New York's The Fab Faux who were making their triumphant return to Liverpool's Beatle Week. A Fab Faux concert isn't a Beatlemania clone band show, it's a true musician's concerto with members Will Lee (from the CBS Orchestra/David Letterman show), Jimmy Vivino (Music Director/Guitarist for Conan O'Brien), Frank Angello, Jack Petruzzelli and Rich Pagano, who was the music director for the NYC Fab 50 extravaganza at Manhattan's Town Hall in New York on February 8, 1014.
Opening act for the Fab Faux was a duo, Gleison Tulio and Keilla Jovi. They did "Don't Let Me Down" and "When I'm 64" but the crowd went wild when Fab Faux came on with "Hello Goodbye." They play with such power and gusto but no wigs or costume changes - they don't need them. They did many numbers like "Paperback Writer," "Strawberry Fields," "I Me Mine," "Baby You're a Rich Man" with such an effort to sound just like the records. People from the U.S. who have seen them often commented how they always sound best when they play Liverpool. They played the whole second side of the Abbey Road album to perfection! Awesome job!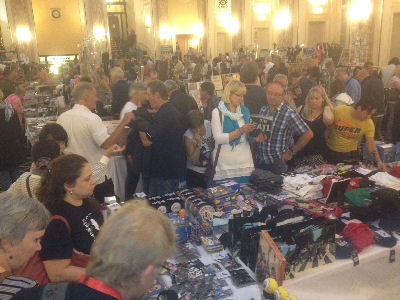 Beatles For Sale at the Liverpool Convention Photo by Charles F. Rosenay!!!
The following day was one of the highlights of Beatle Week -- the annual Liverpool Convention. Guests were Freda Kelly, Mark Hudson, Julia Baird and Geoff Baker. Hamburg's Horst Facher was there too and the world's greatest Beatles artist, Shannon, had her display.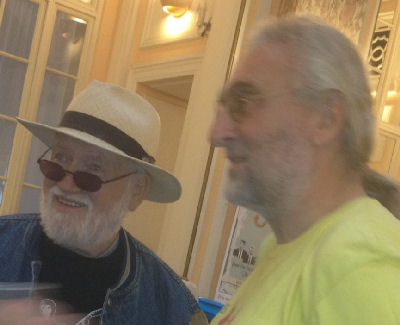 Hamburg's Horst Fashcer and the Netherland's Rene van Haarlem at the Liverpool Convention
Photo by Charles F. Rosenay!!!
Len Gerry from the Quarryman was there with his family signing copies of his new book called "John, Paul and Me: Before the Beatles." The really cool thing about this convention is that these folks will mingle with the crowd not just sit at a table. When you are part of this vacation group you can get in before the general public, which is great for getting first crack at the vendors. You can buy anything from a button to a purse to a high price collectable - they not only have vendors from across the universe but they also show rare vidoes you can watch all day and non-stop bands to listen and dance to. There is always a bar open so you can drink and just socialize with other fans.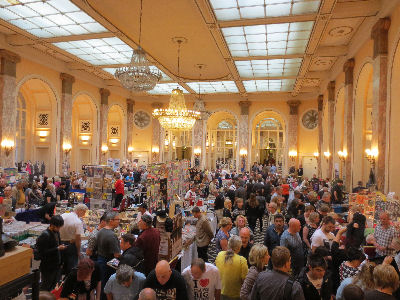 Hotel ballroom filled with vendors and buyer at the Liverpool Convention Photo by David Beaty
During the afternoon I went out for a bit and ran into some Beatle people, and we all went to the Liverpool Museum and saw the exhibits there - everything from Liverpool history from day one through The Beatles years (even a display that includes the stage from St. Peters Church where John & Paul met).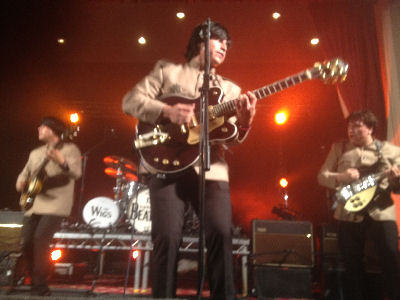 The Wigs play the Liverpool Convention stage at the Adelphi Ballroom Photo by Charles F. Rosenay!!!
We returned to the convention to see The Wigs from Mexico, and I was pleasantly surprised to see The Beatles' first manager Allan Williams alive and chatting with some fans. Sam Leach had been at the convention early but slipped and was rushed to the hospital with a broken rib. He is doing better. It was a fun convention with something for everyone. It continued on with on-stage interviews and live bands shows late into the night.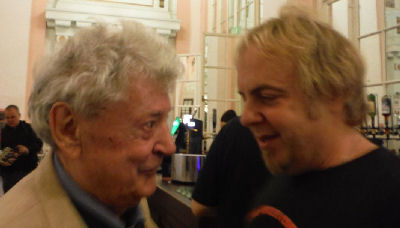 Old friends Allan Williams and Charles F. Rosenay!!! catch up at the convention.
The next day we met up to go the Beatles Story exhibit at Albert Docks which was very cool and seems to be getting larger. They provide audio head phones and you listen to Julia Baird telling you about everything you see, from the time they start in Hamburg to when they play the Cavern and then on to America and Abbey Road and Let it Be. There are even solo exhibits for each of the guys and videos of them. At the end of the exhibit is a fully-stocked gift shop and a Starbucks! Some of us strolled to the other side of the dock for another Beatles Story photo exhibit and their 4-D animated motion ride which is great for all ages.
The Royal Court Theater was our home for two concerts this day: a 1pm matinee show devoted to Love and Peace headlined by our friend Ringer Star. His band did about 7 numbers while great pictures of Ringo were projected onto the giant screen in the background. He got everyone dancing and clapping and at one point released balloons with stars on them. Mark Hudson opened the show with a story about meeting Ringo and Paul. Hudson joined the band for "It Don't Come Easy" and "Matchbox."
Ringer Starr live in Liverpool! Photo by Cathy Motyka
After lookalike/soundalike Ringer Star was a band called All You Need is Love. They sang "She Loves You" and did a version of "Yesterday" with a string section. It was bit faster than the record but very tasty. Their second half featured latter songs like "Revolution" with video footage of the band at Abbey Road studios. Their version of "Helter Skelter" was like thunder pounding during a storm. For their closing number, "Hey Jude," Ringer Starr joined in on drums. His real name is Michael and he is from the Detroit area. He has shared the stage with Stan Perkins (Carl's son) and Al Jardine of the Beach Boys in February at the NYC FAB 50 concert in February.
After the afternoon concert we had some time to shop and or just relax and hang out before returning to the Royal Court for a final concert event: a gala British Invasion all-star show dedicated to one of the catalysts of that invasion…Brian Epstein.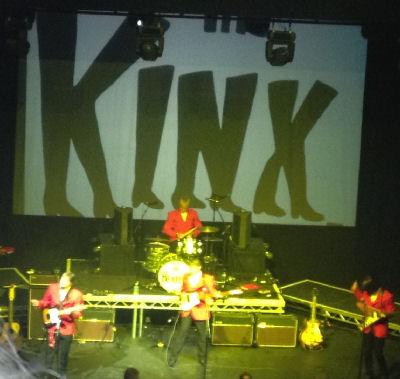 The Kinx perform Photo by Charles F. Rosenay!!!
The first act was a Kinks tribute band called the Kinx who played their greatest hits on target. Next was a Who tribute band called Who's Next, who played the early classics through Tommy and beyond. Next up was a Rolling Stone Tribute band called Rocks Off - they too played a lot of the greatest hits like Lets Spend the Night together and Paint it Black plus a rousing version of Chuck Berrys Carol (I like Paul McCartney's version better). The lead singer of the group is better looking than Mick and he sings better. Sorry Jagger fans. He danced around and did the strut. In this case you can say he moves like Jagger!
Next was a Beatles tribute band called Cavern Club Beatles. While they played, videos were screened of them arriving at JFK for the 50th anniversary of The Beatles' U.S. arrival. My roommate Robin Smit was there and saw herself on the screen with the sign she was holding up. Also shown was The Beatles on the two Ed Sullivan shows with cut-ins of the tribute band doing the same thing.
It was hard to believe our final day in Liverpool had arrived. But it was worth the wait for our comprehensive Magical Mystery Tour of Liverpool with author David Bedford as our host. We started our adventure aboard the Ferry Cross the Mersey where we were told some history of Liverpool; how the Titanic was built in Ireland but was registered in Liverpool. On the ferry we heard the famous Gerry Marsden classic - it was wonderful! The weather it was blustery and cool - pure Liverpool We posed for group photos and heard more history of Liverpool from the captain.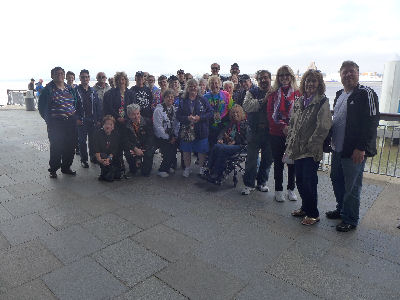 Time for a Ferry 'cross the Mersey Photo by Frank Branchini
Once off the boat we boarded our yellow Magical Mystery Tour bus and ventured across the river to the Wirral. We went to a little village called Port Sunlight and into a venue called Hulme Hall, where Ringo played his first official gig with The Beatles August 18, 1962. We went inside (this was a first for me) - it was big room with blue colored wallpaper and wood floors. David Bedford showed us the area behind a curtain that they used for dressing rooms. The ceilings were yellow and blue. We left for the next Beatle venue, Victoria Hall, which held about 100 people.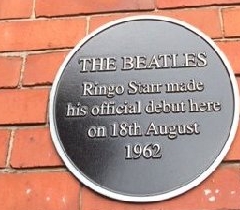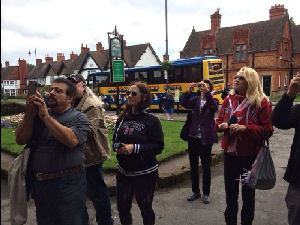 The official blue plaque outside Hulme Hall, Our group gets ready to enter Hulme Hall
Photos by Lynn Baker
We then drove near the River Dee and saw Paul's Merseyside house that he bought for his Dad in Heswall, a home named Rembrandt. He still owns this private residence; it's where Paul stays when he comes to Liverpool. Paul's brother Mike is the cultural ambassador for the Wirral. We went by more of the smaller clubs The Beatles played: Neston Civic Hall, a club called the Institute where Allan William booked them in 1961, and McDonald Hall. We saw Heswall Childrens Hospital and learned that Ringo was there for 18 months. There was a music teacher who brought him drums there; when he got out his step-dad Harry Graves bought him a set (and the rest is history). It was on to West Derby and Pete Best's home, which was the Casbah Club. The boys opened the club with John-Paul-George-Ken Brown-Pete. Pete's mom Mona Best got the name from the 1938 American movie "Algiers" where actor Charles Boyer delivered the famous line "Come with me to the Casbah"). The basement coffee club helped to keep kids off the streets, and Mona was coined the Mother of Mersey Side.
We saw so many sites it's hard to note them all. In 1961 The Beatles played the YMCA in Birkenhead and would you believe they were booed off the stage?! We passed by the original site of Nems which is now a Forever 21 store and Melody Inn and Tower Ballrooms which have been burned down (the site now is called Tower Grounds). Trinity Church where Julian was Christened. Then we were off to the Grosvenor Ballroom in Wallasey where Allan Williams booked them June 1960. It still has the original dance floor and Allan Williams' 80th birthday party was held there.
Then we saw the Majestic Ballroom where Pete Best played with Lee Curtis & the All Stars. Next we traveled through the Birkenhead Tunnel to St. Georges Hall and Walker Gallery where Stu submitted a painting, then on to Brain Epstein's home at 197 Queens Drive and to Childwall.

At the Penny Lane street sign Photo by Charles F. Rosenay!!!
We stopped at Penny Lane for a lunch break and saw every bit of what Paul described in his song, "Penny Lane. We took photos at one of the Penny Lane street signs and loved every minute of our time there. What had been the Sgt. Pepper's Bistro in the center of the roundabout was now closed, but the barber shop and other landmarks are still there. In addition, there's a new Penny Lane Hotel with a great little theme restaurant. Along with an awesome wall mural, there are many photos inside, and interestingly enough the tables we ate at all had album covers - but the odd thing is they used the U.S. LPs instead of the British versions.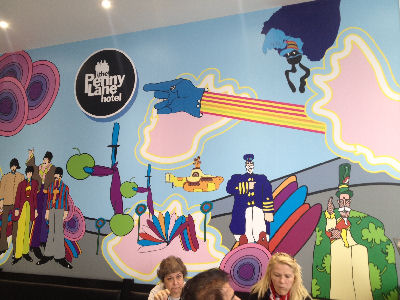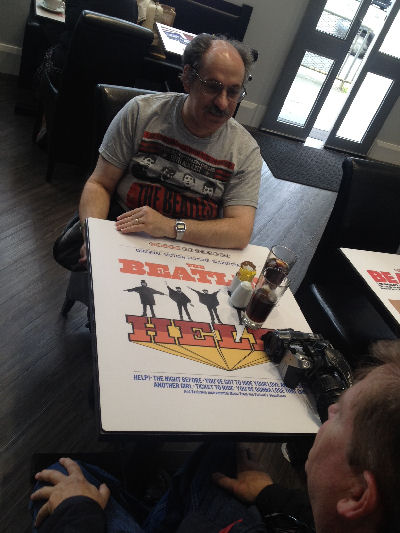 Penny Lane Hotel Mural and our own Martin dining at one of the Penny Lane Hotel designer tables Photo by Charles F. Rosenay!!!
We continued on to Dovedale School and passed the Woolworth where Cynthia worked behind the cosmetic counter (it is now a Tesco food market) and nearby is St Barnabas Church where Paul was a choir boy and where Mike McCartney got married.
After the Penny Lane area, it was on to George Harrison's home at 12 Arnold Grove, from the time he was born until age 7. Georges first band the Rebels played only one time at a place Legion Hall, which we passed. Then we visited St Peters Church Hall where John and Paul became Lennon and McCartney (the stage is at the Liverpool Museum by the way).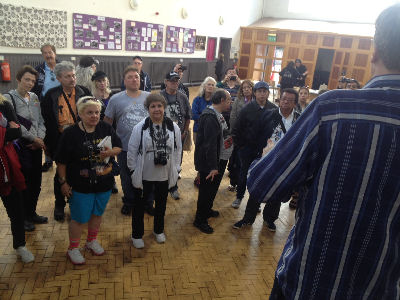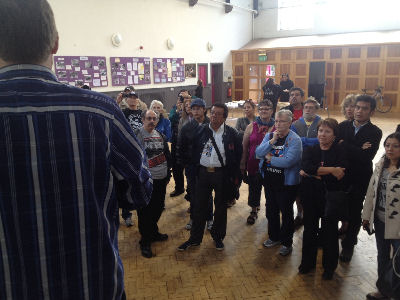 Listening to David Bedford inside St Peters Hall Photos by Charles F. Rosenay!!!
The hall itself has wooden floors and we took many photos inside. Across the street is the church cemetery with Eleanor Rigby's grave on it with other names too. Someone asked why there were several names on tombstones, and David Bedford said that's how some families were buried - on top of the other. In back of the graveyard is the field where John played the Church Fete with the Quarrymen.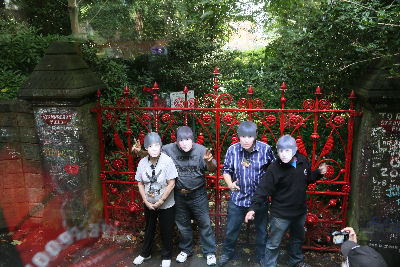 4 masked Beatles pose at the Strawberry Field gates Photo by David Beaty
We were in all our glory by the time we pulled up to Strawberry Field and took pictures in front of the gates. There was a new sign from a company that will reproduce similar gates them for your home or yard. I'm sure it costs quite a bit.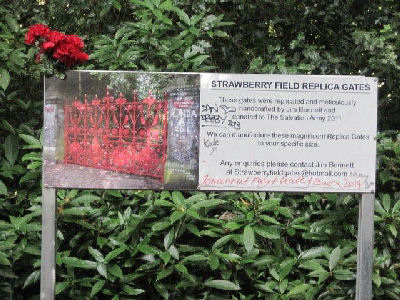 Commercialism hits the SFF gates Photo by Paul Sorber
We passed Mendips, Menlove Ave and made our way to Madryn Street where Ringo was born. On the corner is the Empress Pub that was made famous as the cover of Ringo's first solo album "Sentimental Journey." Next was Admiral Grove where Ringo lived from age 5 until he left for The Beatles. We went by the Anglican Cathedral where Paul failed his audition as choir boy. However, in 2001, when Paul presented his Liverpool Oratorio there, Paul invited the choir master from that audition. We then went by LIPA, the Liverpool Institute for Performing Arts (Paul's "Fame" school), and we learned that every July Paul is there for Graduation Day. We went by the flat on 64 Mt Pleasant where Cyn and John lived and went by the hospital where John was born. It was than time to go back to the hotel and get ready for the evening at the Cavern Club.
The legendary club was where we would have our vacation finale. There were some celebs in the crowd including Lennon lookalike Gary Gibson, Shannon, Pete Best's brother Roag Best and Freda Kelly who was dancing the night away. We enjoyed a band called the Shakers who sang such Cavern staples as "From a Window" by Billy J Kramer and The Searchers' "Love Potion Number 9." Brian Griffith from the Big Three followed and sang 3 songs. Horst Fasher was there too. Finally, Chris Montez and Tommy Roe, who played on the same touring bill as The Beatles, came on stage. Both guys put on good shows and the crowd seemed to like them. Local legend P.J. Proby was there too to see Tommy and Chris. The place was packed.
AND IN THE END…
The next day was the only part of the trip I didn't enjoy-having to say so long to Liverpool and goodbye to old & new friends as the tour ended. Until the next one, that is!
Photo by Cathy Motyka
This article was written by Batya Selavan, who interviewed a few other tour members to find out what their trip highlights were…
Martin Selditch - going to Mendips
Frank Branchini - Mendips and Twickenham Studios, seeing Mark McGann in the "In My Life" play and Dusty Springfield's grave in Henley
Paul Sorber - seeing MPL and Saville Row
John Monzo - walking down Mathew Street for the first time and seeing fans at the airport
Marilyn Gerber - Henley
Lynn Baker - John and Paul's homes
David McBee - going to Paul's home and walking down the stairs and hearing Let it Be
Nina McBee - going to Chiswick Park
Dana Rice - the Liverpool Beatles convention and the childhood homes & just hanging out with Beatles fans
Karen Walsh - going to the Casbah and having Roag Best as the guide
Linda Severson - going to the Casbah and going to John and Paul's childhood homes
Phil Wesemann - touring the vault at the Hard Rock Cafe and hanging out with a great group of fans
Phil Biebl - getting engaged to his partner Kevin in John Lennon's bedroom
Rosemary Reiman - going to two pubs called the Grapes: one in the East End of London owned by Sir Ian Mckellen and the one on Mathew Street. Also going to three of Paul's homes especially Rembrandt
Robyn Smit - seeing herself on the video and the walking tour with Rene