We assembled at JFK airport to join the Magical History Tour on a trip to Hamburg, London and Liverpool - all with endless Beatles connections! While waiting at JFK, we introduced ourselves and started to get to know each other. Charles handed out our plane tickets and some goodies, and Danny came along as our tour guide. We made very good time getting to London Heathrow - about 5 ½ hours. At Heathrow, we transferred to Hamburg, Germany, where we met Rene van Harlem, our guide. By coach, we went to the Monopol Hotel directly on the Reeperbahn in Hamburg. Before too long, we were meeting in the lobby to take our first walking tour with Rene (no jet-lag sleep for this group)!

Rene is the editor of the international magazine Beatles Unlimited, and his knowledge of the history and locations is endless. We saw the famous places in Hamburg involving The Beatles. Rene pointed out to us the police station where Paul and Pete Best were arrested for supposedly trying to burn down the Bambi Kino, where they stayed. We also saw what was left of the Bambi Kino. We walked past the Indra (the first club the Beatles played) and the Kaiserkeller (the second one). We saw the spot where the Star Club stood (there is a plaque to mark the spot).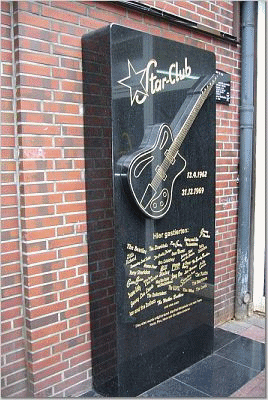 Star Club Plaque


We saw the Top Ten Club where the boys were living and playing when George was deported for being underage. Other sites were shops that the Beatles frequented for guitar strings, clothes or food as well as the hotel where they stayed during their last gig at the Star Club. One of the best places was the doorway where the photo of John (on his "Rock N Roll" album) was taken. Our tour lasted about 3 hours, but we could've gone on for another three. Mind you, we hadn't had much time to sleep or eat until this tour was over. So we broke up into smaller groups to eat. Cindy, Pat, Candy and I went to an Italian restaurant across the street from our hotel while others had authentic German food for dinner. We had a table on the sidewalk and really enjoyed the atmospheres and the food.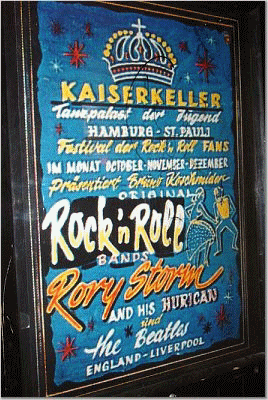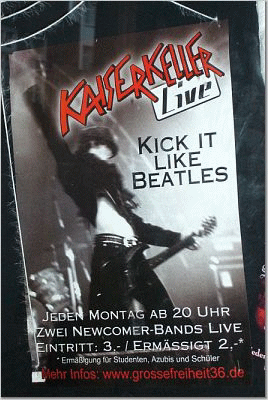 Kaiserkeller Beatle Posters


Walking on the cobblestone streets and seeing the sites of the St. Pauli area was very interesting. After dinner we headed across the wide Reeperbahn street to our hotel. On the sidewalk were tables and chairs set up for people to sit and have drinks and food. We sat there till about 12:30am when we finally called it a night, or a night and a day, as I realized I had been up for about 42 hours at this point. I really needed a shower and some sleep. Some of the group (the crazy ones) somehow stayed up until 3 am!

The outside noises all night had been different than we are use to back home: people partying, clinking glass bottles on the pavement and traffic. Yet my roommate Candy and I slept just fine.

Our buffet breakfast was quite a spread. Croissants, eggs, toast, fresh fruit, yogurts, salami, other lunchmeat, a variety of cereals and sliced cheese was just some of the food they offered. By 10am, we were off to another walking. On our way to the Hamburg Harbor, Rene pointed out more historical sites like the Seaman's Mission where the Beatles often went to catch up on the news from Liverpool. At the harbor we boarded a Ferry boat for a wonderful cruise. It took us in some canals and in the harbor so that we could see Hamburg from afar. This was the identical route traveled by The Beatles when they took the same canal trip.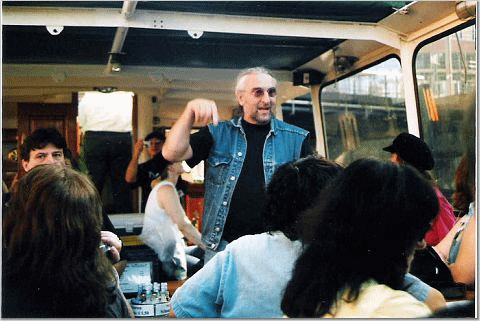 Rene leads our canal trip


We soon boarded a bus to continue our tour. We saw the school auditorium were the Beatles recorded "My Bonnie" with Tony Sheridan. We all stood on the very stage where it was recorded and took MANY group pictures. It still has the original organ, stage floor, walls, stained glass windows and storage room (where the actual recording equipment was kept). All we needed was producer Bert Kaempfert.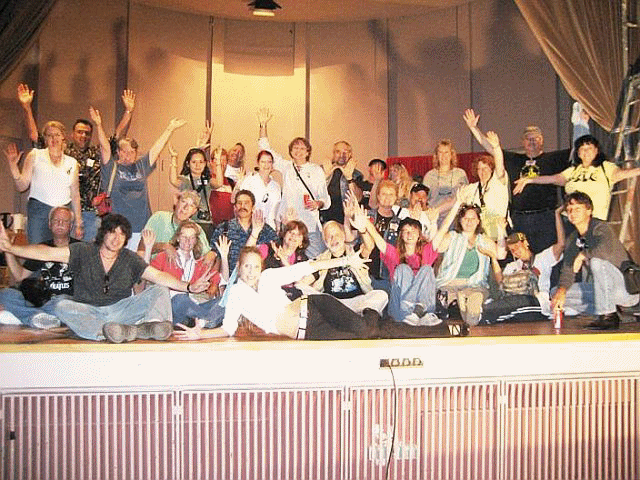 Our Tour Group onstage


On one of our longer coach rides between sites we played trivia and some people came up to the mic to introduce themselves. We were so lucky to have the tribute band "Penny Lane" from New Orleans with us. Gary, who plays drums, told us the history of the band. We also had Sydney Smith, famed rock photo-journalist, who was a photographer for Paul McCartney when Paul was recording "Venus and Mars," and joined in the Mardi Gras festival in New Orleans. He shared some awesome pictures, some never seen before, and told us some neat stories. Roger, from LA, works on the set of the TV show Boston Legal. Jim and Nicole also have a band, "The Yellow SubMorons" (Rutles music). Other new friends told stories about close encounters with, or meeting the Beatles. Two from our group had been on the MMTour 9 times! Dave from Arizona and Candy from TX. This was my 3rd time. Most everyone else was experiencing their first time on a Beatles tour.

Along the way we saw the Castle where the Beatles stayed in 1966, the last time they played in concert in Hamburg. We also saw the Dom where Astrid took pictures of the Beatles. We got to see the house where Astrid and Stu lived in an attic apartment and where many of her famous pictures were taken.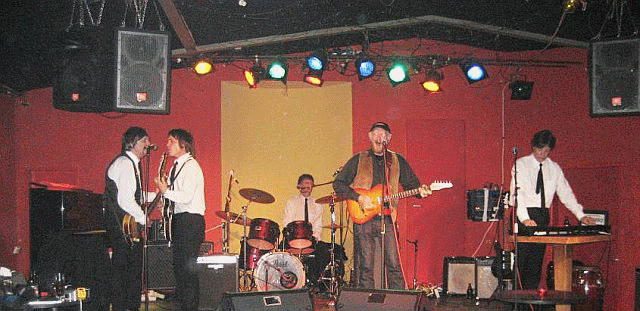 Penny Lane & Tony Sheridan Live!


On our second night there, we were treated to a wonderful evening at the Indra -- yes, the same venue where The Beatles played all those years ago! Penny Lane played live, with special guest Tony Sheridan. Beatles bodyguard/friend/confidante Horst Fascher showed up as surprise guest of honor. Horst signed autographs and told us many amazing stories about the days he was the Beatles' manager in Hamburg. A few of us also walked over to the Kaiserkeller and were allowed to go downstairs and see the other infamous nightclub where the Beatles honed their playing skills. Penny Lane gave us a GREAT concert and many of us danced 'til we dropped!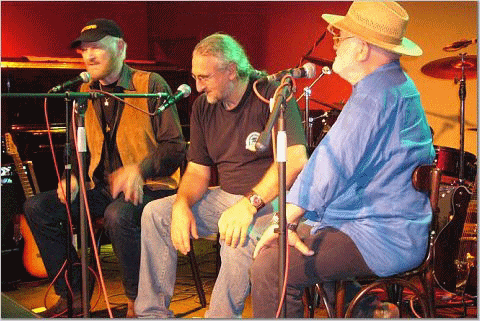 Rene interviews Tony Sheridan and Horst Fascher at the Indra


Our last day in Hamburg was a rainy one. We had some free time before transferring to the airport, so some went shopping and some went on to see really out-of-the-way sites, while the most tired among us just hung out at the hotel lobby until the coach came.

Before we knew it we were back in London. Landing at Heathrow, Richard Porter, Beatle tour guide for 15 years, met us at the airport. We checked in our hotel, the Thistle Euston. It was our only free night in London so some went to see a play in London's West End, some went walking around Piccadilly, others went out to eat & drink. A few wound up at Sticky Fingers, the Rolling Stones themed eatery owned by Bill Wyman. Candy knows her way around London and we found an awesome restaurant and had a delicious dinner.

The next morning, we boarded our bus early to head out for our tour of London Town. Our first stop was Abbey Road. We crossed the famous crosswalk and took endless pictures!

Tomm and his wife Linda couldn't be happier when they posed on the Abeby Road steps under the famous sign.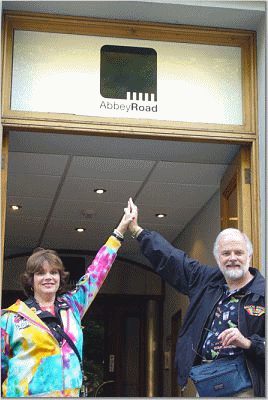 Outside the famous studios, Amanda was one of the members of our group who signed the Abbey Road wall.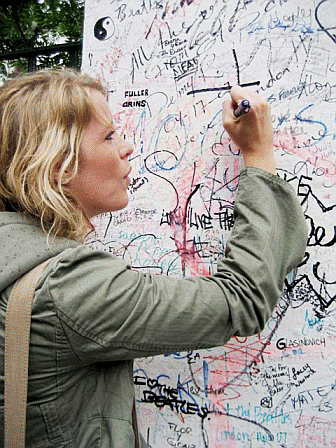 We were very lucky that a platoon of military personnel (the Calvary) came by on their horses. What a neat site. We visited Richard's new Beatles coffee shop, and then we passed the Richeau Restaurant that is a favorite of Paul's when he is in town. We passed Paul's house on Cavendish, the Apple Building, and 34 Montagu where Ringo lived for a while (as did John and Yoko). The famous "Two Virgins" album cover was photographed in this flat. We visited the Marylebone train station where "A Hard Day's Night" was filmed; we took a break and ate lunch here. Then off we were again on our tour. We saw the Odeon Theater, now the Apollo Theater, where the Beatles performed the 1964 Christmas show. In the rear of the building is the fire escape where they were filmed running down in "A Hard Day's Night." We saw Twickenham Studios where all the Beatles films were made, and the Turks Head (the pub that Ringo played darts in). We went inside and were able to take pictures and have a pint if we wanted to.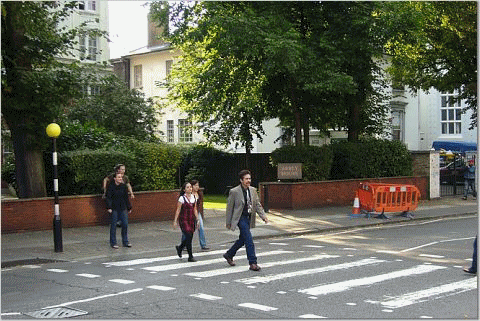 Crossing Abbey Road


From the "HELP!" film, we saw the street where they are each entering a different doorway only to walk into the same house. The most beautiful spot we visited was Chiswick House, a park where the "Paperback Writer" and "Rain" promos were filmed. We stopped at Royal Albert Hall where Paul met Jane Asher. Alas, we still don't know how many holes it takes to fill the Albert Hall. There were so many sites, too many to list.

After the coach tour, the fab fun continued on a walking tour. We saw Paul's MPL Soho office, the former Bag 'o Nails Club where Paul and Linda met, the former Indica Gallery where John and Yoko met, the former Asher home, 3 Saville Row where the rooftop concert was held and MANY more great places! It was like a never-ending tour of dreams come true for any true Beatles fan.

Tonight was the "Twist & Shout" party at the original London Hard Rock Cafe, an annual tradition for the MMTour. The first thing we did was to visit their shop. They opened the vault for us to see the rarest items few people get to see. Some of us had our pictures taken with John Lennon's green army jacket. We could touch it but not try it on. I guess that's the closest I will ever get to touching anything he actually owned and wore. Danny, our great guide, DJ'd for us after dinner and we danced the night away. We partied and rocked the Hard Rock well past midnight. As a special treat, Liverpool Productions arranged for everyone in our group to get a limited edition souvenir Hard Rock laniard as a free gift.

The next morning we had breakfast and boarded the coach to Liverpool. Megan was able to hook her MP3 player up to the radio so we could hear her choices of Beatles' tunes on the way. We made an unforgettable stop at "Crackerbox Palace," Friar Park, George Harrison's home in Henley-on-Thames. We took pictures at the front gate. A few of us lit candles and some left flowers. One girl left a note to Olivia and Dhani.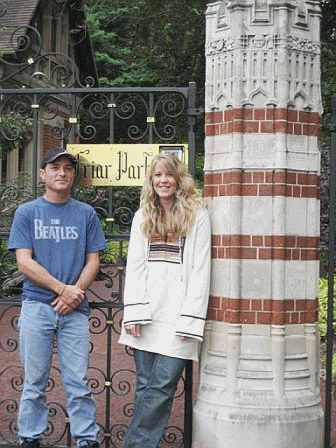 Outside Friar Park gates
The first-timers on the coach roared when we passed our first Liverpool sign on the highway. We checked into the famous Adelphi Hotel, where The Beatles stayed when they returned to tow after they were famous. Our tour host #1, Danny, had remained in London to take care of business, and we were greeted in Liverpool by our tour host Charles. After quick updates on the itinerary, most of us headed to Mathew Street.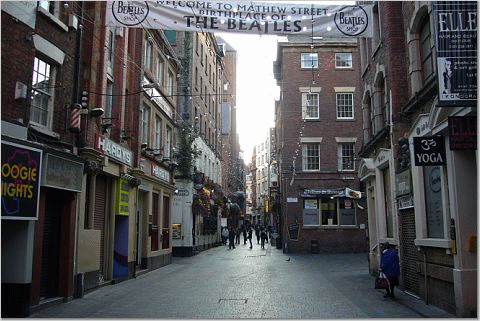 Mathew Street


Some of us stopped at the Lennon Pub to see Phil from the Pete Best Band, and then we checked to see if Allen Williams was at the Grapes Pub (but he wasn't). A group of us had dinner at the Hogs Head, across from the soon-to-be completed Hard Day's Night Hotel. After dinner we went down to the Cavern Club where a tribute band was playing Traveling Wilbury's music. They were pretty good. Across the street, we visited the Cavern Pub, where Penny Lane played their first Liverpool set. They sounded awesome. It was a delight to jump from pub to pub, place to place, show to show, all included in our package. We met fans from other countries and quickly made new friends.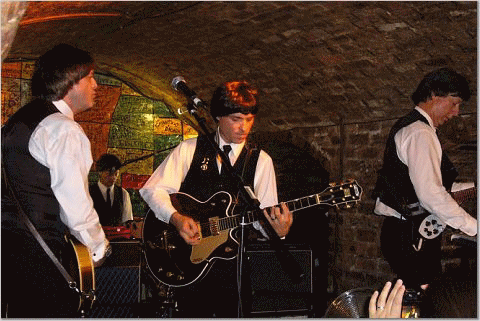 Penny Lane live at the Cavern


The next morning was one nobody will ever forget. We had the honor of having our tour of Liverpool hosted by Julia Baird, John Lennon's half sister. It was so cool, and such an honor, being in her company.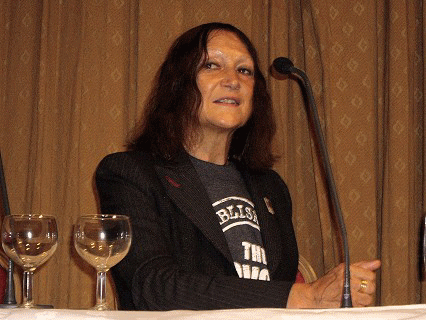 We loved hearing her stories as much as she enjoyed telling them. We stopped where the Oxford Maternity Hospital use to be, where John was born, we saw the flat that Brian Epstein let John and Cynthia use after they were married and where John wrote "You've Got to Hide Your Love Away." She pointed out us Ye Crack Pub where the Beatles would hang out and the "Case History" display of cement luggage & instrument cases from many people, including the Beatles. We passed Rosebery Street, where John's younger sisters Julia and Jackie heard John play for the first time outside of their home, with the Quarrymen.

We went to Sefton Park where John's parents Alf and Julia first met. At this same park was the Palm House, which George had donated funds to save this building. We stopped here and Julia made time for anyone wishing to get her autograph or pose for photos. It was ideal weather and a perfect setting. The publisher of Julia's newly-published book arranged for copies to be available for those of us wishing to purchase it.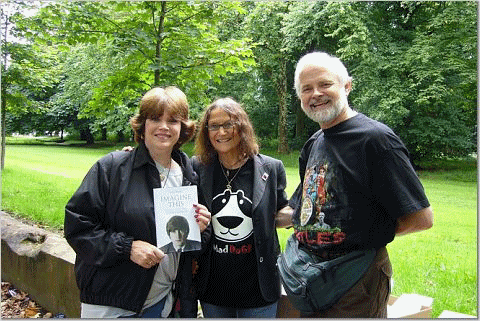 Julia poses with book and Tomm & Linda Sprick in Sefton Park


It should be noted that Julia was accompanied by Jean Catharell of the Liverpool Scene. She is a professional guide, but more importantly, a life-long fan like the rest of us. Many of us see Jean as not just a fellow fan, but a friend. We stopped at #9 Newcastle Rd, childhood home where John lived till he was 5 ½ years old; Julia was 2 years 2 months. We visited Arnold Grove, one of George's homes, and St. Peters in Woolton where John and Paul meet for the very first time. Our timing was perfect -- we were invited inside. We took a group picture on a platform inside the hall where they met, and we were able to ask questions of Dave, who was the custodian there on the day that John & Paul met. He still works there to this day.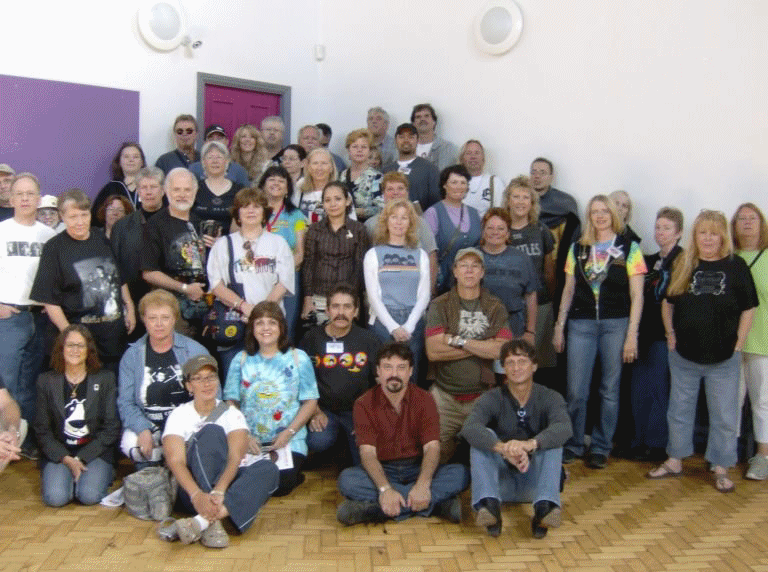 Our group inside St. Peters


We stopped at Strawberry Fields for some classic pictures, and passed Brian Epstein's house where Paul's 21st birthday celebration took place. We passed Quarry Bank School and the Dovedale School, and Admiral Grove where Ringo grew up. We saw other landmarks and agreed that this was another day that could've gone on forever. We thanked Julia and Jean and returned to the hotel.

That evening at the Carling Academy in Hotham Street was the Cavern Club's 50th Anniversary Celebration Concert which featured music of the Beatles and other great bands that played the Cavern. My clique went in for a while but we opted to explore Liverpool at night away from the group. Charles walked some of us back to the hotel, but on the way, we all stopped at St. George's Hall for a unique photo op of Ivonne sitting upon the lion statue there.

Saturday morning was the ever-so-popular memorabilia auction at LIPA. I heard it was great, but knowing how carried away I get buying things, I chose to stay away. Many from our group bid and won some incredible items. Starting after 11am, buses transported guests to the all-day Penny Lane Music Festival in that area to celebrate the 40th anniversary of the release of the "Penny Lane/Strawberry Field" single in 1967. There were bands playing in many different locations and it was a beautiful day to walk around to see the bank, firehouse, barber shop, and the pub with the words to the song Penny Lane inscribed on it. This event pretty much took the place of the Mathew Street Festival.

Julia was also walking about and was mingling with many of the guests; she even had coffee with one of our mates, Sydney. It was an awesome day beneath the blue suburban skies.

In the evening, we enjoyed a concert at the Empire Theatre on Lime Street where the Beatles played their last performance in Liverpool on Dec. 5th 1965. Liverpool Productions secured us great seats up close. The tribute band "RAIN" performed their complete stage show for us, and it was spectacular. Hal Bruce opened for them and also put on a terrific show. Back at the hotel, countless bands from across the universe played in different halls, bars and ballrooms throughout the giant facility. The members of RAIN hung out in the lobby with fans and members of other bands.

Sunday is always Convention Day in the city. It is the largest and most famous Beatles convention in Europe, if not the world. The main ballroom and smaller rooms off of it are filled with vendors selling their Beatles memorabilia, CDs and collectibles. It gets quite crowded and there is so much to see and purchase, so it's especially nice that our tour-group gets early access.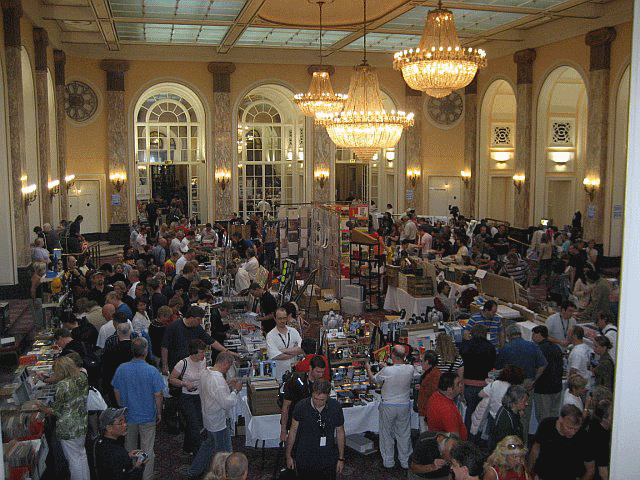 The International MerseyBeatle Convention


Even celebrities like Allan Williams, the Beatles' first manager, had a dealer table there. I purchased another Pete Best book and Allan Williams' book and poster. I found myself sitting at the Pete Best table with Teri and the Best family members. It's really like one big family in Liverpool. It also kept me from wandering around and spending too much money. Again, I know myself; I need to stay away from the temptation of wanting to have everything there is out there.

Along with the dealers, there were other exhibits, videos shows, live performances by bands and solo artists, special guests and other convention features. Denny Laine was just one of the many guests who spoke to the audience from the main stage.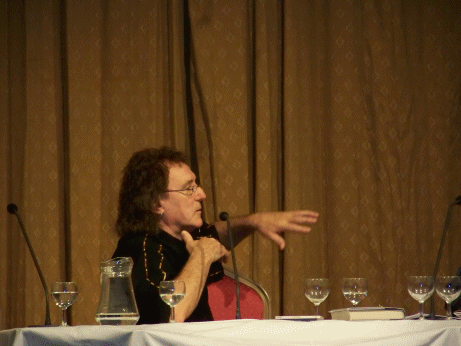 We had the privilege of going on the tours of John and Paul's childhood homes. What a highlight -- getting INSIDE John's Mendips home and his bedroom, and then Sir Paul's childhood home (and bedroom). It doesn't get much better than this.

Monday is traditionally Mathew Street Festival Day. The actual Festival wasn't officially held this year, but we didn't miss it because of the Penny Lane festival two days earlier. Besides, all the bands to play originally booked were placed at different venues around the area of Mathew Street. It was almost as good as the years of the outdoor stages.

We were treated to something very special to start off our day, however. Charles arranged for our group to meet Rene for an exclusive walking tour around Liverpool. This was very interesting - it was probably the first walking tour of Liverpool's city sites not covered on other tours. Of course we saw where Stu and John lived, the Jacaranda, Brian's birthplace and some more obvious sites, but we visited MUCH more! This may very well be an added attraction to forthcoming tours, so we'll save the surprises for future travelers.

My friends and I hired a taxi in the afternoon to take us to Beatle sites that are way, way off the beaten track - Paul and George's early homes and some places most people wouldn't care or think to see. They were mostly in the Speke area.

That evening we attended the Mersey-Beat concert at the Empire Theater. Again, we had phenomenal seats up front (thank you Charles & Danny and Cavern City Tours) to enjoy vintage bands like The Searchers, the Undertakers, The Fourmost, and Gerry and the Pacemakers performed. What an AWESOME show that was. We stayed afterwards and were able to get some autographs and photos taken with Gerry Marsden. The evening continued with more live Beatles music and partying. For those who wanted to stay up late, the music was everywhere to enjoy. Was that our tour MVP, Dave from Arizona, wearing a Mick Jagger mask and dancing onstage with the Stones cover band, Rocks Off?

Tuesday morning was the long awaited Magical Mystery Tour of the outskirts of the city. Our wonderful guide, Hilary Oxlade, showed us so many spots of interest. Charles had left in the morning and we now had Karen from Liverpool Productions as our host. This was the second year in a row that Karen joined to oversee things for the final days of the tour, and it was nice to have had three different hosts this year.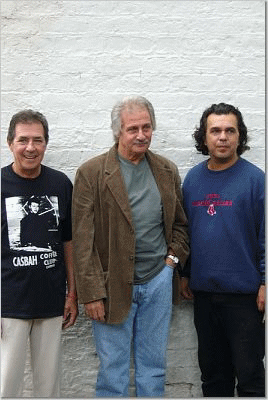 The Best Brothers: Rory, Pete & Roag


We saw venues they The Beatles played in, places where they lived and went to schools. The highlight of this tour was the visit to the Casbah Club - the home of the Pete Best family, and the night club where the bands from back in the day played. The Beatles all helped to paint the walls and ceilings there. All the original paintings are still there, along with some of the equipment they used. Pete came by to meet everyone, to sign autographs and pose for pictures. His brothers Roag and Rory were on hand to give the tour and answer questions as well as pose for pictures. We learned that Pete's appearance was one of the main reasons a few of the people came on this trip! It's not surprising - the Beatles' drummer before Ringo Starr is such a fine gentleman.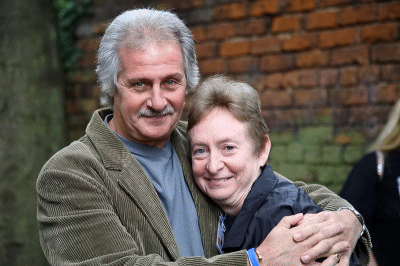 Nancy Wilkens meets Pete Best


In the evening it was off to the Cavern Club to see Penny Lane on the front stage, and the BeatleWeek finale with Denny Laine backed by Ringer on the back showcase stage. It was well worth the sweat to experience. We went back stage for autographs and photos with Denny Laine.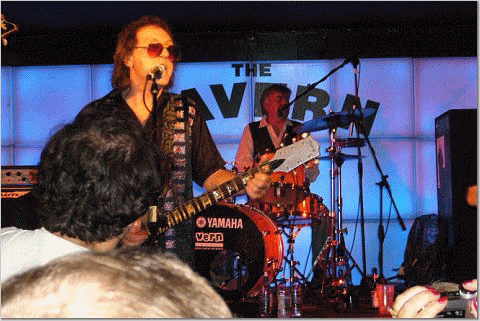 Denny Laine Live at the Cavern!


I should mention that another highlight on this day was that it was the exact 800th birthday of the chartering of Liverpool. There were extensive fireworks at the dock and near both cathedrals. The fireworks were synced to music such as "Lucy in the Sky with Diamonds," and the closing of the display was choreographed with the "Sgt. Peppers Reprise." YES, we did enjoy the show!

All too soon it was our final day in Liverpool. We said goodbye to the city that changed our lives growing up, and we soon found ourselves checking out of the hotel and on the coach back to London. On the ride, Karen provided rare Beatles movies and videos for us to watch.

In London, some of us took a ride on the London Eye to see some of the London sites from 200+ feet in the air. It seems that Paul McCartney himself was the first to experience the London Eye, since seen by thousands of tourists, so we followed good company. With extra minutes in London, people in our group didn't delay doing more shopping and sight-seeing.

Before our flight home on our final day in England, some of us ventured off to see yet more Beatles sites. We found Decca Studios, where the Beatles were refused a contract - it wouldn't have worked anyway as there was no crosswalk nearby! We made it back in time to check out and get on the coach for our transfer to Heathrow airport. Karen did a great job seeing to it that we all got to our terminals for departure. The farewells began at Heathrow and continued until we parted ways back home in America. It was sad to say goodbye to such wonderful people, but the bright side is that there will be more trips on which to re-unite. It was truly a Magical tour!!!!!!!!

Signed Cathy Motyka (New Jersey)

with the help of Candy Wright (Texas) ("I couldn't have done it without her")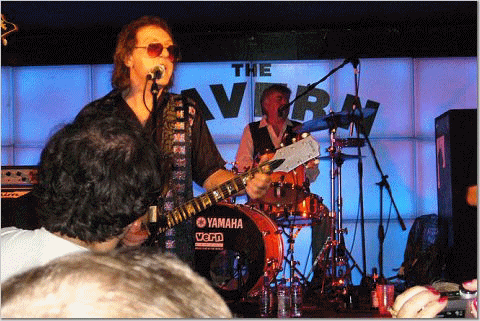 By Cathy Motyka with Candy Wright
Photography by: Tomm & Linda Sprick, Amanda Sly, Kim Nelson, Frank Longobardi and Nancy Wilkens