Part 2 - London (Abbey Road Studio)


Even though we had left the Keiserkeller in the wee hours of the morning to return to our hotel rooms, some of us wandered back to Grosse Freiheit for one final farewell before flying back to London. At Heathrow Airport, we were greeted by our London hosts, Dave Jones from Cavern City Tours and surprise guest Alf Bicknell, who was The Beatles' chauffeur and road manager during their touring years of 1964-1966. By 3:00 p.m., we were checked into our rooms at the luxurious Forum Hotel in Kensington. Having a few hours on our hands before our evening engagement, we ventured out in small groups for our late afternoon tea. Some explored local pubs like the Stanhope for steak and kidney pie; others braved the city buses or Underground for a seat at Sticky Fingers, Fashion Café or Planet Hollywood, all of which are located around Piccadilly Circus and Leicester Square, or the Hard Rock Café on Old Park Lane.

Our double-decker bus ride that evening took us to St. John's Wood for one of the highlights of the Magical Historyy Tour. We briefly stopped at Paul's home at 7 Cavendish Avenue, trying to peer unsuccessfully over the 8-foot brick wall at the 3-story home that he purchased for £40,000 in 1966. After a 5-minute walk, we found ourselves outside the most famous recording studio in the world: EMI's Abbey Road Studios, where The Beatles recorded almost all of their songs. A detached residence built in 1830, it was converted into recording studios and officially opened in 1931. The Beatles first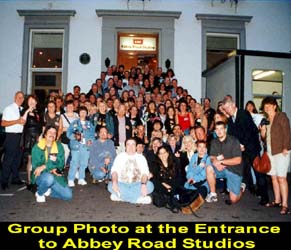 entered Abbey Road Studios for an audition on 6 June 1962, and then for the following seven years, became regular users. Fifteen of their singles became No. 1 hits.

Of course we took the obligatory pictures fighting traffic and taking our lives into our hands while crossing Abbey Road. But we soon gathered patiently on the steps leading up to the front doors, waiting for the magical moment to arrive: when we would be escorted inside Studio 2 for our very own recording session.

Abbey Road is a busy recording complex, and tourists are not normally allowed inside, but once again Charles and Danny, via Cavern City Tours, worked their magic. Because the foyer was being renovated, we were escorted to Studio 2 through a side entrance. The air filled with wonder as we made our way down the corridor past Studio 1, where All You Need Is Love was beamed to a satellite audience of 400 million on 25 June 1967. As we entered Studio 2, a hush fell over the crowd. Just being inside the studio where the Fab 4 recorded most of their songs was a surreal, even spiritual experience, and the silence that enveloped us all was easily explained by the awe on all of our faces.

Some dispersed to a corner of the room, quietly reflection on the experience. Others sat at the drum kit or one of the pianos, even daring to play a tune. Walking around the studio, one phrase stuck in my mind, a line from a Lennon t-shirt that I own: "You should'a been there..." What would it have been like to be there, to have been part of history in the making? Being in Studio 2 made the stories come to life... like finding the door to the closet full of instruments that Paul credited for their creativity... or not being allowed into the control room until they had earned the right. For Alistair Taylor, Brian's personal assistant and Apple's Office Manager, standing in Studio 2 must have been a bittersweet moment full of memories of the times spent as 'Mr. Fixit' until being sacked by Alan Klein in 1969.

For one Londoner, our John look-alike Mark became part of The Beatles' history earlier that evening. Mark recounted how he ran back to the bus from Cavendish Avenue to retrieve his camera, then headed towards Abbey Road Studios. He stopped an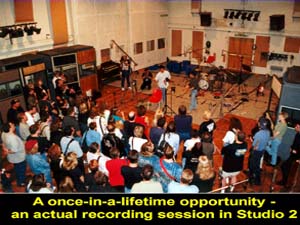 elderly gentleman along the way to confirm that he was heading in the right direction. The man looked at Mark quizzically and said: "You've been there before!" Without losing a beat, Mark replied: "It's been a long time." The gentleman paused to reflect on this, and then answered: "Right! Well, continue down this road..." and proceeded to give Mark the directions. He concluded by adding: "Keep up the good work!" Undoubtedly no one will be able to dissuade him that he did not see John in the flesh that evening; this could be the beginning of many Lennon sightings for years to come.

After singing backup for A Hard Night's Day, our official tour band, and adding creative acoustics (OK, clapping) to I Want to Hold Your Hand, we spent some three hours in blissful harmony with our new-found friends, taking pictures and reflecting on days gone by, until one by one we climbed the stairs to the control room. Slowly we made our way back outside and to the waiting buses, where all of our pent-up energy was released chattering all the way back to the Forum Hotel. This was truly a solemn occasion, and one that would stay with us for a long, long time. And we hope that we passed the audition.

Back at the Forum, many of us lingered in the lobby visiting with Alf and Alistair, and taking in some of the stories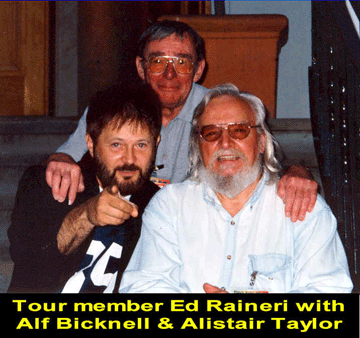 they recollected from the 60's. Others talked of the theater productions they had attended during the day. No one could beat the two tour mates who saw Jane Asher in her West End play and came away with her autograph. Behind Alf's table stood a fashionable gentleman stood in the background, with two jackets hanging from the window ledge. The man was none other than Gordon Millings, son of show business tailor D. A. (Dougie) Millings, who provided The Beatles with their stage wear for several years. Gordon was 14 years old when his father started designing and fitting The Beatles with more than 500 garments, including their collarless jackets. He had brought along a gray suit jacket with velvet collar that John wore on the set of A Hard Day's Night, and a dark gray tuxedo that belonged to Paul, similar to the one he wore to the premiere of the movie. What a thrill it was for my roommate and I to be invited to try them on! What an exciting ending to a perfect day.

Beneath the blue suburban skies we ventured out to tour the city that became The Beatles' adopted home in 1963. Our host for the historic London tour was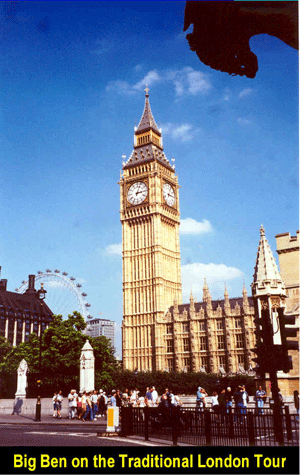 by Anne Jowitt; her wit and knowledge blended a touch of history with British culture. We drove past such treasures as the Victoria & Albert Museum, Harrods, The Ritz, Hide Park, The Royal Academy, Trafalgar Square, #10 Downing Street, home of Prime Minister Tony Blair, The Tower of London, The Royal Courts, Tower Bridge, the new London Eye, St. Paul's Cathedral, Westminster Abbey and of course the House of Parliament, home of Big Ben. Anne punctuated each history lesson with interesting facts. Did you know that Bobbies were named after Sir Robert 'Bobby' Peele, who founded the London Police Force? Or that the London Eye, one of two millennium projects in the city, is the world's largest Ferris wheel, rotates every 30 minutes and provides a spectacular view of the River Thames? Spotting a newspaper taxi resulted in a few questions about the proliferation of cabs in London, and Anne explained that taxi drivers own their own cabs, which accounts for their cleanliness and low accident rate. In order to pay for them, more and more driver/owners solicit sponsorship from local businesses, a new phenomenon over the past couple of years. A taxi driver's training program can take up to two years and starts off on a motorbike, equipped with holders for maps so they can acquire a "learning knowledge of the streets". The City of London will not license them until they know the city inside out and can converse in English with their clients.

Following a quick lunch and brief bus trip to London's West End, we embarked on our Beatles' Tour of London with host Dave Jones from Cavern City Tours. The Beatles and their entourage have lived on-and-off in London for 37 years, and have left their mark on so many parts of the city that it's impossible to see all of them. Some are peripheral, like Fortnum & Mason where Paul continues to order Christmas hampers each year, and Asprey & Garrard through which John ran to escape fans and spent a quick £600, while others are core to their lives here, 3 Saville Row, for instance, headquarters of Apple Corps in the 60's and home of the Rooftop Concert in 1969. It's impossible to visit all the London places associated with The Beatles, but Dave made a valiant effort to give us a broad spectrum of traditional sights mixed in with a few surprises.

We paid homage to the Indica Gallery in Masons Yard, owned by Miles and John Dunbar, where John first met Yoko by hammering an imaginary nail during the preview of her November 1966 exhibition; the neighboring Director's Lodge, formerly St. John's Pub, frequented so regularly by The Beatles that they had their own table; the site of the BBC Paris Studios on Regent Street, from where they broadcast fifteen live radio shows from June to September 1963; the New London Gallery on Bond Street, where John's Bag One exhibit was confiscated by the Metropolitan Police in 1973; Sotheby's down the street, known for its numerous Beatle memorabilia auctions; the Miranda Club, formerly the Bag O' Nails, where Paul and Linda met in 1967; the London Palladium on Argyll Street, site of the ATV variety show 'Sunday Night at the London Palladium', where their debut on 13 October 1963 saw the birth of Beatlemania; Sutherland House, three doors down from the Palladium, where Brian had his London offices; the London Pavillion in Piccadilly Circus, where all Beatle films premiered, as well as John's How I Won the War; the Prince of Wales Theatre on Coventry Street, where the 'Royal Variety Performance' took place on 4 November 1963; Carnaby Street, the fashion center of the 60's, with the public W.C. where John played a lavatory attendant in a Duddley Moore TV show; Trident Studios in St. Anne's Court, now known as Sound Studio, where some of the tracks from The Beatles white album were recorded; MPL Communications Ltd., 1 Soho Square, home of Paul's London offices; and Dick James's Northern Song offices on Charring Cross Road, where he published The Beatles' songs beginning in 1963, only to sell them to Sir Lew Grade five years later.