Haunted Cuba: The Forbidden Tour

Tour Report by Traci Burton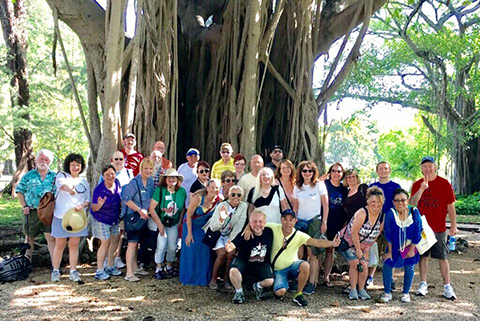 There was an unmistakable air of electric excitement as our GhostGang group gathered at JFK airport in New York as part of the first haunted theme tour to Cuba. I'm sure there was like excitement amongst the Miami group as well.
Upon meeting up with our host Charles ("Cryptmaster Chucky"), we were handed our information packets that included our travel Visas. We read a bunch of governmentese on traveling to Cuba before boarding our three-hour flight to Havana. Once in the air, the Haunted Vacation had officially begun!
The heat and humidity hit us when we landed but it was a pleasant respite from the cold, damp and rainy weather back in New York. We were greeted by some guides who brought us to the hotel Memories Miramar Habana, where we met up with the Miami group and with Carlos, our local guide for the week. Our Miami friends went to lunch at a waterfront restaurant and visited the Plaza de la Revolucion while waiting our arrival. There was a welcome drink of refreshing pineapple juice as we received for our room keys, and many took advantage of the time to change dollars into CUCs (Cuban Convertible Peso).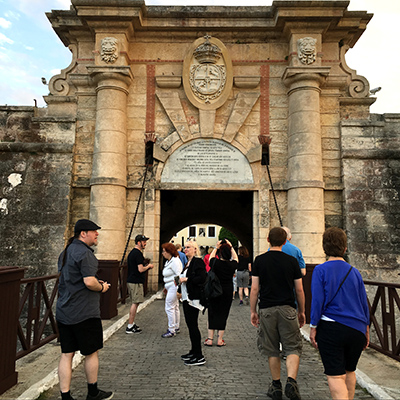 After getting settled in our rooms, we met up again in the lobby to leave for dinner and our evening activities. We visited Morro Castle and saw the changing of the guard ceremony. Morro Castle is an 18th century fortress said to be haunted, though we did not have any activity. Charles had an EVP/EMF app on his phone that could be heard beeping in the background at times throughout our tour, but it didn't register anything paranormal. We did get to see an amazing sunset and beautiful views of Old Havana, though!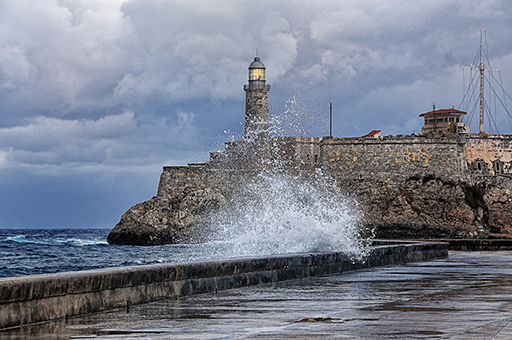 Morro Castle
Day two started with a little surprise stop at the "Peace" park where there is a statue of John Lennon! The artist outfitted him with a pair of the signature round glasses, but since they kept getting stolen, now it is someone's job to come and put the glasses on when tourists visit. Lynn and Charles noted that the last GHOSTour to Prague had the Lennon Peace Wall near Charles Bridge, and now this Lennon Peace Park in Havana. Back on the coach we ventured off for our walking tour of Old Havana.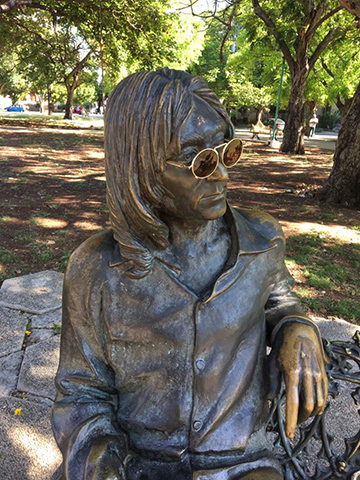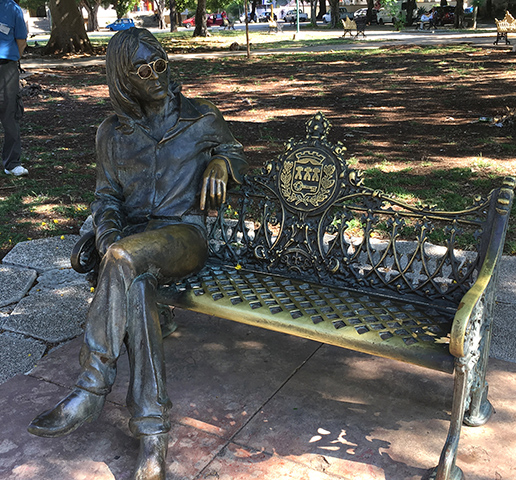 Lennon in Havana photo by Lynn Baker
| | |
| --- | --- |
| The colors of the buildings were striking against the blue sky as we made our way to Cathedral Square. The Cathedral is said to be haunted, but we didn't detect any activity. We went to the Old Square on which sits the original Presidential Palace from when Cuba became a nation in 1902. The road in front of the building is made of wooden bricks because horse hooves and buggy wheels would have made too much noise on cobblestones. The wood kept the area as quiet as possible, enabling the politicians to work undistracted. | Joe Meets a Local photo by Kelly McGill |
We also visited the San Francisco de Asis Square before having lunch at the hotel Ambos Mundos. The Ambos Mundos is the hotel in which Ernest Hemingway resided for ten years - in Room 511. We did get to tour the room before having lunch on the terrace. To get upstairs we either walked up the stairs or rode the haunted elevator, or was that the Hell-ovator?! We also passed La Florida, Hemingway's famed watering hole.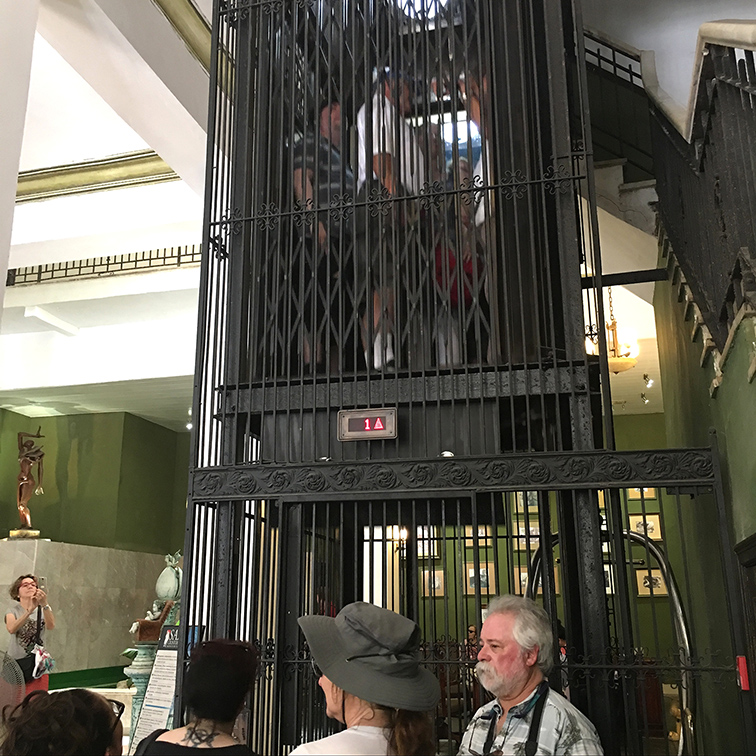 Hemingway Hotel Haunted Hell-ovator
The coach took us to the home of an Espiritista named Matilde. She practices Santeria, and it was arranged for us to come and experience a ceremony honoring her deceased mother, and mothers in general. Before this experience, some of us thought of Santeria as a Cuban cousin to Voodoo. In the background we saw what was left of some animal carcasses, including dogs and boars. The first part of the visit featured reading and explaining Santeria, and other religions in Cuba. The dry delivery of the presentation coupled with the heat in the small space rendered it difficult to pay attention. BUT THEN! They had us stand and clear our chairs - and rousing singing and dancing commenced. Water, coffee, coconut water, rum, food and fruit started flowing in abundance as the music and dancing literally spirited us away. Two local women were overcome by spirits and started spinning out of control and were escorted into the house. Those outside at our coach actually viewed how the spirit was removed from one of the ladies; she sat while another prayed and used water infused with natural oils. That did not work so a third woman actually palmed the possessed woman in the forehead four or five times! She came around, shook it off and eventually rejoined the ceremony.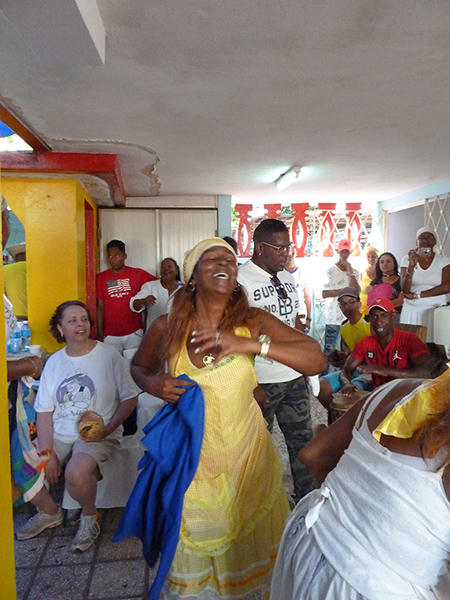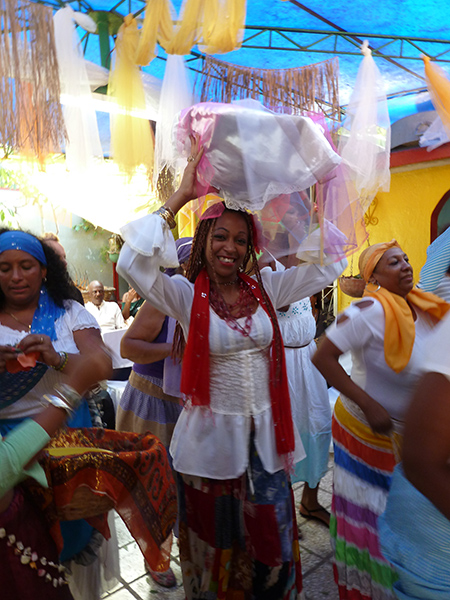 Santeria Session photos by Esther Benenson
Meanwhile, the food and drink kept coming! Rum in a ceremonial cup was passed around and one of the Santeria practitioners, after putting the entire contents of the cup in her mouth, sprayed it about. All the while the singing and dancing continued, as yet more food and drink kept appearing. We were blessed by a woman who brushed us with a bushel of leaves. After a couple hours, Carlos and Charles collected us as we really did have to leave. We were given gifts of incense, nuts and a hand-rolled Cuban cigar. This was an amazing experience, one we would not have had on any other tour!
Because we stayed so much longer at Matilde's, we did not get to La Mansion Catalina but Carlos filled us in on the famed story. Catalina's first marriage was arranged and she did not love her first husband. He was wealthy and treated her well, but she just didn't love him. At a party she met and fell in love with Eduardo, and the feeling was mutual. Catalina wanted a divorce, but at the time it was illegal in Cuba. Eduardo was also rich, even more so than the first husband, so he and Catalina went to the Pope, who granted a divorce (and since then, divorce is no longer illegal in Cuba). But now the paranormal twist! When Catalina died, her first husband built her a monument and wanted it to be the tallest in the cemetery. When the Monument to the Firefighters was built and was taller, the first husband wanted the monument torn down and a taller one built. The architect, however, talked him into planting two palm trees that would in time grow taller than any monument in the cemetery, and that is what happened. However it is said that when the first husband died, he can still be heard in Catalina's house crying and grieving. It seems he really did love Catalina, and haunts the house and monument to this day.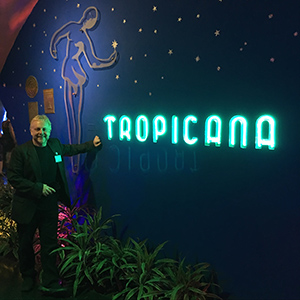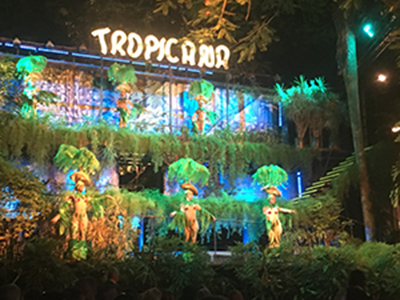 Charles Welcomes Us to the Tropicana: Photo by Lynn Baker
After a quick stop at the hotel to freshen up, we were off to dinner - as if any of us could eat after the feast at the Santeria ceremony! Another plentiful and delicious meal greeted us before we were privy to an evening at the famed Tropicana entertainment palace. At the "Trop," we were treated to non-stop singing, dancing and dazzling costumes including Carmen Miranda-esque outfits and chandelier headresses. All that was missing was the ghost of Ricky Ricardo. The beverages flowed and each group of four people got to take a bottle of rum home with us!
On day three Matilde met us at our first stop, the Colon Cemetery, to answer any questions that we may have had from the ceremony the day before. Our tour-guide Carlos translated for us.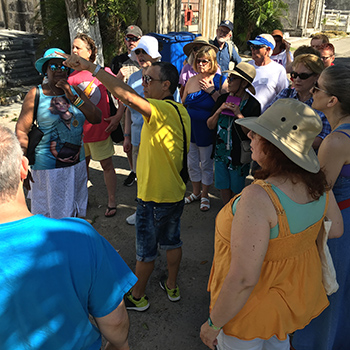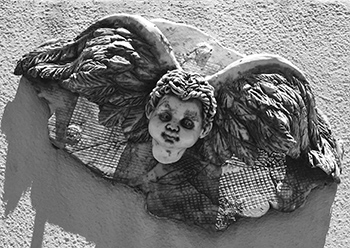 Colon Cemetery
She also explained about Amelia, whose grave we visited. Amelia died during child birth and was buried with her baby; as was the custom at the time. Her baby was placed between her legs in the coffin. Because bodies were not, and still are not embalmed, coupled with the heat, they decompose quickly and two years after burial the body is exhumed to be cremated. The remains are then placed in a crypt where there is then space for the next person to be buried. When Amelia was exhumed, both she and her baby had not decomposed, and the baby was found up on her chest over her heart (!). This is a miracle that is still celebrated today by folks visiting her grave to make requests of her, or to thank her. Hers is the only grave in the 140 acre cemetery where you will see flowers. No flowers means no standing water, which helps keep the bugs and mosquitos under control. We also saw Catalina's grave, and the two palm trees are indeed taller than any monument in the cemetery.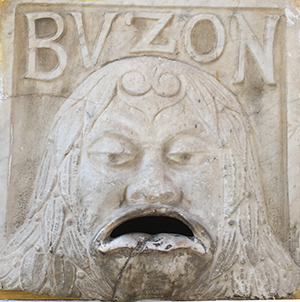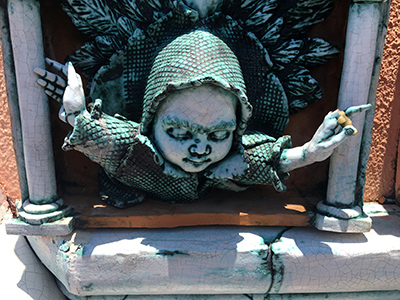 Buzon photo by Bruce Fishman
Finca Vijia, Ernest Hemingway's former residence, was next. Nobody except the cleaning crew is permitted in the house proper, but the doors and windows are open which allowed us to peer in and take pictures. We saw the 1,000+ books library, his boat El Pilar, the Pet Cemetery (ok, it was only four dogs - trying to stick with a spooky tour theme here), and the room at the top of the tower that houses the telescope Hemingway gave to his fourth wife. The only two rooms off limits are the kitchen and bedroom. Hemingway loved Cuba and lived there for more than twenty years.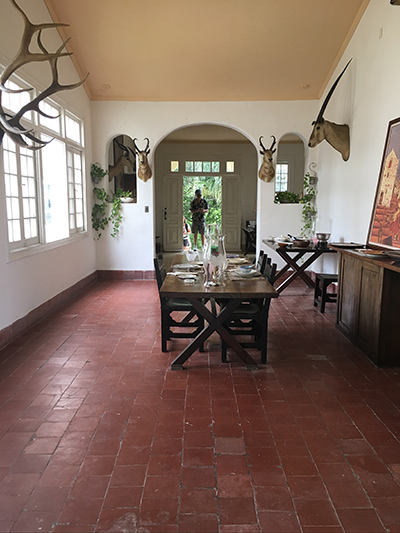 After eating a wonderful lunch, we visited the Monument of the Medical Students. In the late 1800's, eight medical students were executed by the Spanish for allegedly disrespecting a Spanish officer. The students, though, were chosen at random, and one was not even in Havana at the time of the incident! The monument is the section of the city wall, in its original position, where the students were shot two by two. Giant bullet holes are very visible. The site is reputed to be haunted.
After another exquisite dinner, we returned to the hotel to pack for our early morning departure, and that early departure arrived quickly! On day four we had breakfast and checked out of the Memories Miramar Habana to sojourn on a journey to Cienfuegos. Carlos spent a solid two hours answering our endless questions about Cuba. His knowledge is amazing, and because of the lack of wi-fi and cell service in general, he fielded our questions without Google! We learned so much. The average monthly income is $20, $50 if you are a doctor. We learned about the sense of community the Cubans have, people helping people. We learned about the Left-Handed Markets (or Black Market) that range in goods from electronics, cigars, clothes, and even on up to restaurants inside peoples' homes. Many political questions were asked and answered. We learned some Cuban slang, and that the Cuban people say that Americans do two things right: movies, and everything else.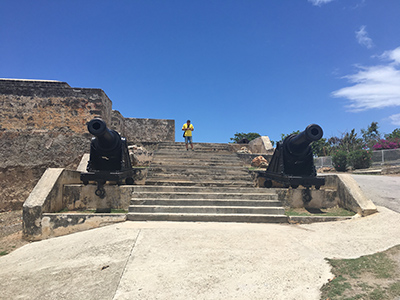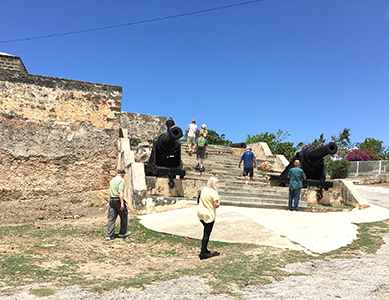 Front of El Castillo Fortress photo by Bruce Fishman
El Castillo de Jagua Fortress was our first stop and it is here that the "Lady in Blue" has been seen and photographed. It is said that the silhouette of a tall, elegant woman, dressed in blue, and covered with a transparent veil of the same color, flutters in the air and passes through the walls of the chapel of the castle. In the eighteenth century the soldiers at the castle were frightened and refused to cover night guard duties. A skeptical second lieutenant placed himself on guard and he did indeed see the Lady in Blue rise from the wall of the chapel after the clock struck midnight. The following morning the second lieutenant was found on the floor, having fainted, and his faculties forever unbalanced. Next to him the soldiers found his sword broken in two pieces, a skull and a mysterious blue cloak. The woman at the desk during our visit shared a photo of an American family who had the Lady in Blue appear in their photo! We loved the visit but, alas, this was one more site at which we did not have any other-worldly activity.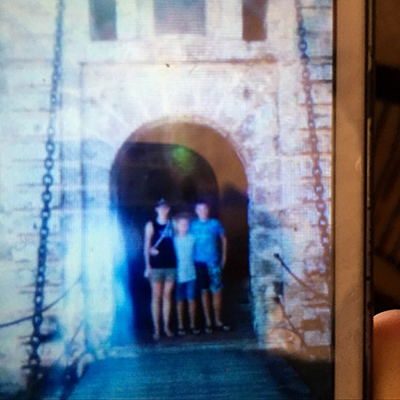 Lady In Blue photo
We arrived in Cienfuegos and it was time to digest yet another delicious meal. We took photos from the eatery's balcony, not unlike a scene at New Orleans during Mardi-Gras. We then walked along the Punta Gorda, which is a large pedestrian street, and saw the Valle Place. The main theater and City Hall are located on the Valle Place.
Before checking into our hotel, we had one more stop. Reina Cemetery is one of the oldest cemeteries in Cuba and is home to the most photographed statue called "Sleeping Beauty." Not very Disney-esque, this Sleeping beauty statue is on the grave of a woman who could not conceive and may have taken her own life with an opium overdose. Sleeping Beauty is holding three poppies, which lends to this belief. Some come to this gravesite to pray and ask for fertility.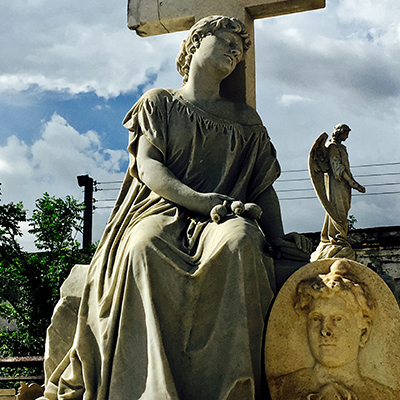 Reina Cemetery's Sleeping Beauty
We checked into the Hotel Jagua, where some of us went on a pre-dinner sunset boat ride that was offered by the hotel as part of our stay. The boat went up & down the coast and provided beautiful views. After another gourmet dinner, most of our group went inside the Moroccan mansion adjacent to the hotel. The rooftop not only had a bar, but provided more beautiful views of the Caribbean Sea, even at night. Finally, several of the group gathering to tell ghost stories on the back patio of the hotel. There were some good ones! The stories ranged from a horned skull found on a fence and its effects on the founder, to psychic communication, to a departed father popping up every now and again to say hello to his daughter.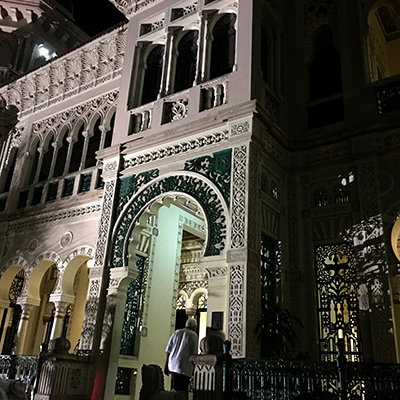 Moroccan Mansion
Day five had us back on our coach making the trip back to Havana. While watching on-board horror films, we took a different route and stopped by the Bay of Pigs, or La Playa Giron as the Cubans call it. On the way I noted many signs and small billboards with quotes from Che and Castro, and some signs depicting Cuban soldiers with fists raised in victory, waving the Cuban flag and letting us know that we are in the vicinity of a Cuban Victory. Unlike Westernized nations, there weren't any commercial billboards with advertisements. We made a pit stop where there was a Killer Crocodile waiting to attack.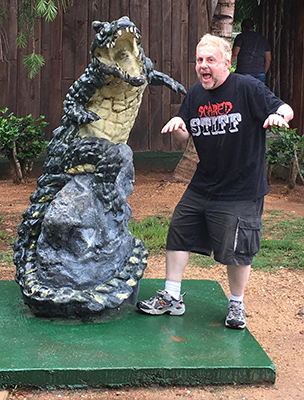 After lunch we were unleashed like rabid shoppers into the San Jose Warehouse Market where we greatly contributed to the Cuban economy! Hundreds of booths were offering all kinds of wares like leather goods, wooden and shell jewelry, cultural musical instruments such as guiro and claves, paintings and other types of art, food (of course!) and the list goes on. We could have spent ever more hours there spending our CUCs, but we had other great activities planned.
We checked back into the hotel Memories Miramar Habana to freshen up and had dinner at an eclectic restaurant called Atellier, which in French means "the studio of an artist." And this is what this place looks like! All kinds of antiques around, including a wall of radios, and vintage typewriters. Outside were toilet bowls recycled into planters. Fun decor, great food. And then we danced off all that great food at the famous Buena Vista Social Club! Many of our group got up on stage at the end and danced with the performers. We all enjoyed the hour and a half of traditional Cuban musicians and performers. Amazing music! Amazing night!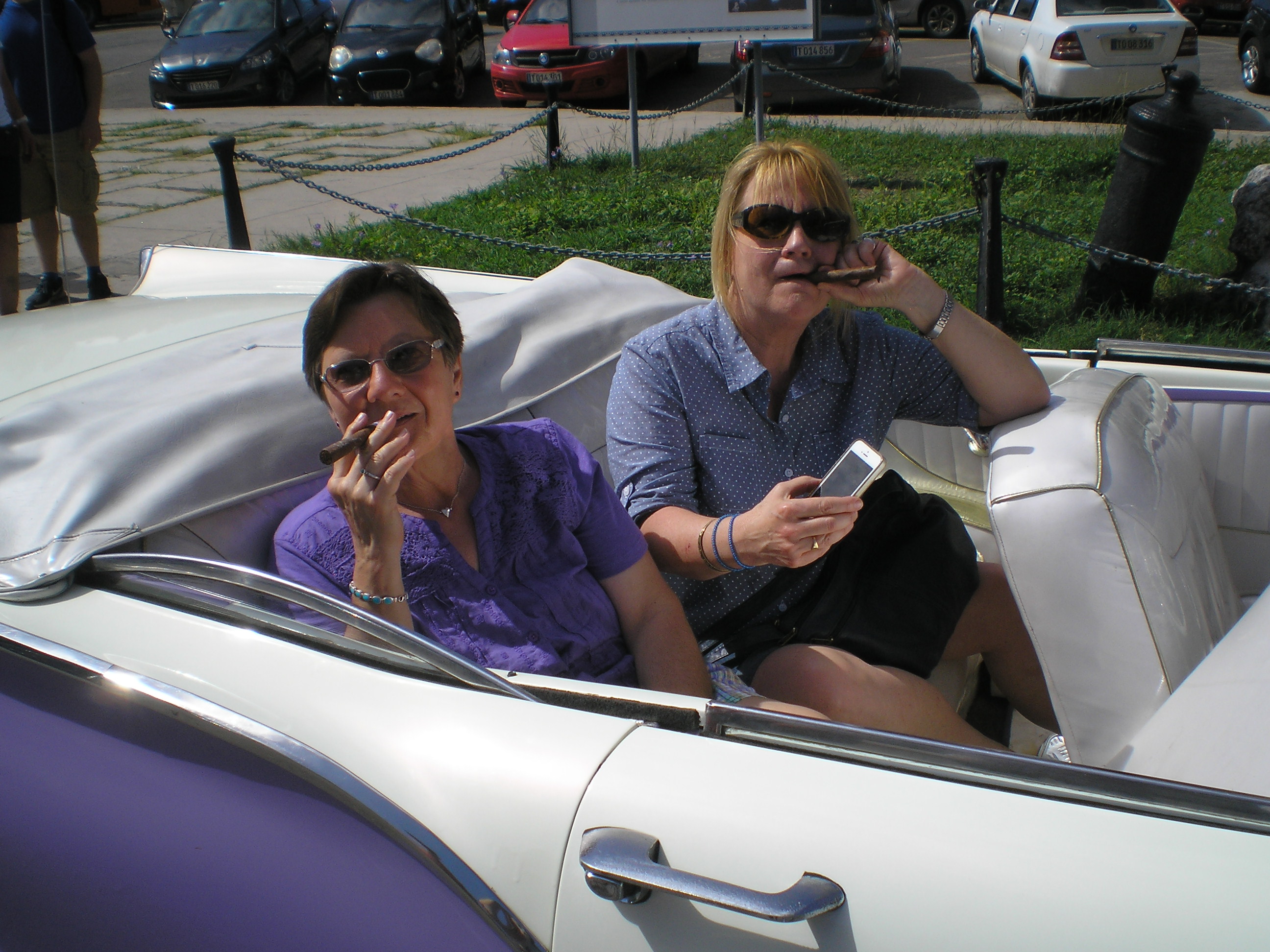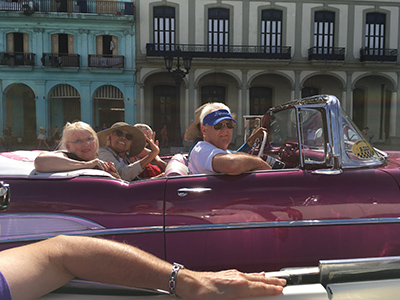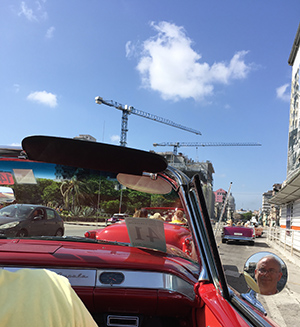 Left: Thelma & Louise Revisited, except it's Kathy & Nellie in Cuba with Cigars! Center: Lynn Phyllis and Craig go Cruisin in Havana - photos by Kathy Talkin Right: Notice the Ghostly Head of Bruce Fishman appear in the rear-view mirror! Photo by Kelly McGills
Our last full day in Cuba started with the Classic Car Ride! Like a colorized episode of Twilight Zone meets the Time Tunnel, all thirty-two of us became giddy as we selected our vintage cars. Our drivers would honk as we waved at each other passing one another on the road. Many a photo and video were taken with each tick of the odometer. We arrived at a park where we posed for a group photo in front of a wicked-looking ficus tree. We then piled back into our classic, iconic cars again and enjoyed an hour-long ride through Old Havana, Miramar and Vedado. We had been transported back in time. The tour ended at the Museum of the Revolution and we started missing the cars as soon as we realized we would not be getting back in them.
The Museum of the Revolution, once the Presidential Palace, featured several works of art, and we got to see the Presidential office, ballroom, board room and the courtyard. Out back of the museum was the Granma Monument, which features the yacht and many military vehicles and planes from the Revolution, as well as the eternal flame lit by Castro in 1989 to honor those who made "possible the New Homeland."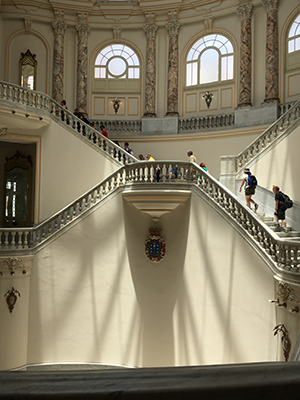 Inside the Haunted Gran Teatro photo by Kelly McGills
We walked to the Gran Teatro de la Habana, the Cuban opera house and home to the National Ballet of Cuba. In 2016, the theater was renamed in honor of Alicia Alonso, the company's prima ballerina. Alonso stopped dancing professionally at age 76 but still choreographs today, at age 96. The theater building is palatial and beautiful. Of course it is also very haunted, and our theater guide confided about her encounters with ghosts there. Well, don't you know, on our last haunted site of the trip we FINALLY got an EMF spike up by the stage! Charles' app went off like crazy, and our poor guide lost us for a moment in all the excitement. Adjacent to the Gran Teatro de la Habana, which had been restored, was an abandoned theater. Some of us would have loved to get into there for some paranormal investigating, but it was locked.
We walked off another fantastic meal when we visited the Callejon of Hammel, which is a unique social cultural project with very unique street art and Rumba music. The art was bright and colorful, but with some very macabre and horror themes. All the street musicians had CDs with their music. It was a great stop.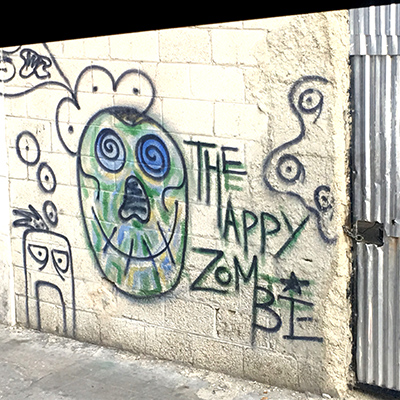 There's no Zombie epidemic in Cuba - they're all Happy Zombies!
After this we spent a short time at the Hotel Nacional, where the rich and famous stayed (and still stay) when they come to Havana. Al Capone was one such guest! It's a beautiful and glorious hotel with gorgeous views, but it reminded some of the Stanley Hotel from "The Shining." It also is home to a very proud peacock who loved having its photo taken.
The final night of any Tour of Terror means costumes and shenanigans, and this trip was no different! Our farewell dinner and masquerade ball was at the exclusive outdoor restaurant El Mamis.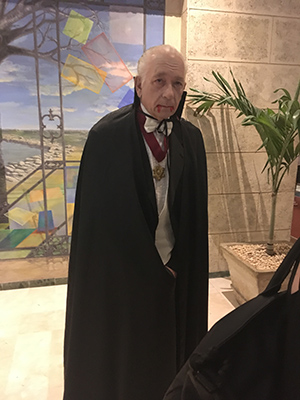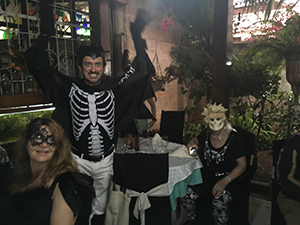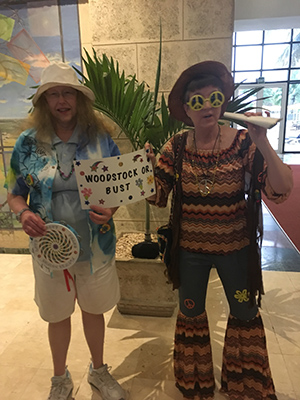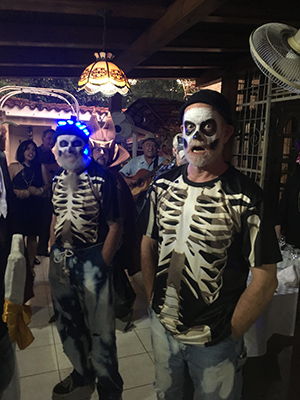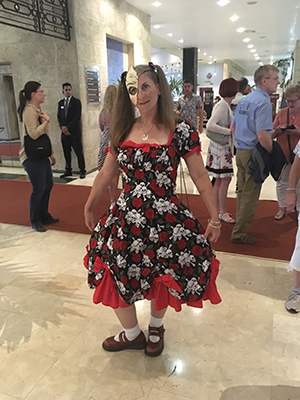 All Costumes Photos by Kathy Talkin
We danced off our extravagant meal with both a live band and a DJ providing the music. Everyone looked great!! The awards for best costumes were announced on the bus on our way back to the hotel, and I don't know how the judges decided - there were so many great costumes! Zombie Skeleton Pirates, Bela Lugosi as Dracula, the Phantom of Havana, Svengoolie, a sexy black cat...and even Count Chocula! The top prize of most original/creative, though, went to Esther and her "Psycho" Shower! Well deserved congratulations, Esther!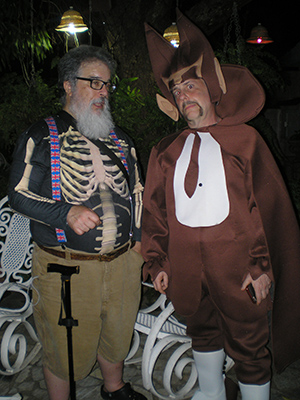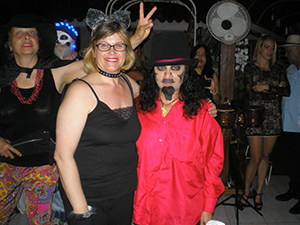 (Left) Skeletal Craig & Count Charles Chocula discuss facial hair (Right) Sheila & Yvonne Meet Svengoolie Vique photos by Nellie Hastings
Lest you feel I am sidestepping the food... In a word, it was FLAN-tastic!! And could easily have its own write-up equally long as this. Menus of shrimp, lobster, beef, pork and chicken at most lunches AND dinner with sides of rice, beans, and salads accompanied each meal. Flan seems to be the dessert of choice, though we did have ice cream a couple of times and a chocolate custard one night, which we immediately dubbed chocolate flan. Our last lunch was tacos, which was a nice change of pace. There was such an abundance of food that after the second or third meal someone asked Carlos if we were being fed based on a stereotype of Americans but he stated that this is how Cubans eat! They eat a lot and then walk everywhere, thus burning off the calories. There were no clowns or kings peddling their burgers and fries, no one announced that it was time to make the donuts, and I don't remember seeing anyone walk around with a coffee! Everything was farm to table and was, therefore, fresh and tasted so much better without any added chemicals. We ate like royalty for a week and if anyone left hungry, it is their own fault! We were grateful to Carlos for being such a great tourguide, and to our tourhost Charles ("Cryptmaster Chucky") for over-seeing everything.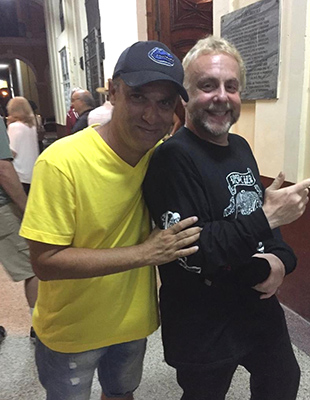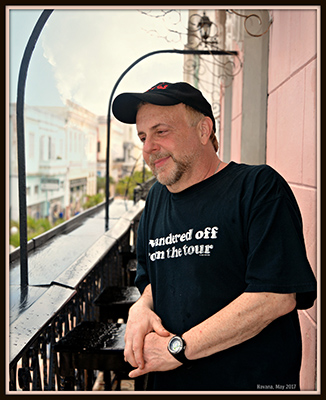 Carlos & Charles (left) and Charles "Overseeing" Things" photo by Sheila Burke
Our final day saw us departing from our adventure, and back to reality. This was an amazing trip and the most important lesson is that it was only politicians who could not play nice, making the Cuban and American citizens a sort of forbidden fruit to one another. The Cuban people are warm and quite friendly. They were as excited to meet us as we were them! Not so much the Cuban ghosts, but that didn't detract from this unbelievable journey. Several of the group expressed that this is not our last trip to Cuba! It certainly isn't our last "Tour of Terror."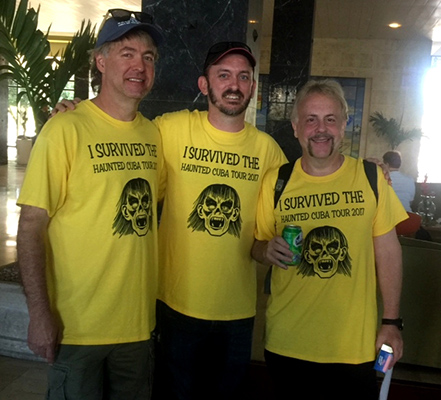 3 Survivors photo by Sylvia Schmall
Back to Tour Reports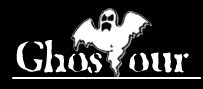 Click Here For Free Color Brochure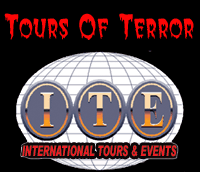 Tel: (203) 795-4737 Fax: (203) 891-8433




TOURSofTERROR@aol.com