SCOTLAND GHOSTour:
"WASNíT THAT THE BEST "HAUNTED" TOUR EVER?! Thanks for a great trip - really looking forward to Ireland!
Jane McKenna, Calgary, AB, Canada
"Had a great time on my trip to Scotland. Danny did an amazing job of craming as much as possible into our time, Charles did a great job making sure we got our meals and into every tour and castle visit we were scheduled to do plus some, and they both did a wonderful job of entertainment during our farewell masquarade party. We had a great group of people and we all felt like part of the family, a family I definitely want to have a reunion with every year because I miss them already.
Krys Crawford - Lawrenceville, GA
Dear Charles and Danny,
I had a great time in Scotland and cant wait for Ireland. Count me in and I will try to bring new people. Thanks again for everything you did to make our trip special.
Cindy Lee - Phoenix, AZ
I had a blast in Scotland! This was a trip of a lifetime. I can't wait till London next year and Ireland in 2013! Thanks for putting this awesome trip together!"
Lindsey Fertitta - Shreveport, LA
Thank you so much, I had an amazing time and can't wait for Ireland.
Mandy Mazzei - Red Deer, Alberta
I just want to say again what an amazing job you guys did putting the Scotland trip together & keeping everything running so smoothly! A great time was had by all, & we can't wait for Ireland!"
Rose Bean Schledwitz - Lancaster, SC
GHOSTestimonials
"I see myself as a somewhat seasoned travel and believe these are the best tours I have been on. You have to understand that when you have a group of people traveling you are not all going to share the same views and values. The fact is the Dracula Tour and the GHOSTour get a lot done in a short amount of time. These are not sitting around restful type vacations, which is frankly why I like them. I personally think Charles does a great job trying to keep everyone happy, which is an impossible job in its self. I recommend them toanyone who asks. I have some very cherished memories from both my tours, not to mention some lasting friendships."
Heather Poole - Nashua, NH
I had a blast on the trip. I LOVE HAUNTED ENGLAND!! The hosts were great, and I had a blast with them. I can't really think of anything negative! Over all this is a trip that I want to do again…and again...and again.
Alan Dobbs - Marietta, GA
The GHOSTour of England was the best thing, to this day, that I have ever done in my life. I loved the Dracula Tour, but this haunted vacation exceeded all my expectations. I will never be the same. There is nothing that compares with getting together with a bunch of people from all walks of life who share similar passions. It makes those of us with a taste for the macabre feel like we are a part of something bigger than just ourselves. The tour is an experience of a lifetime... a magical, majestic fairytale. Leaving to go home left me with a sadness like no other. I yearn to return!
Laurie Sherman - Las Vegas, NV
What can I say about the GHOSTour, aside that it was the greatest experience that I have had in my life. Every place and everything we did in England was over and above my expectations. Our tour guide Alan was the best. I couldn't have asked for a better guide through England. Thanks to Charles and everyone at "Tours of Terror" for another awesome, wonderful, fantastic tour. The tours just keep getting better and better. They work so hard to put together one hell of a tour and they don't disappoint at all. I enjoyed every moment with everyone. This is a trip that I will remember for the rest of my life and I will definitely come back and do it again many more times.
Shannon Werner - Kennesaw, GA
Hello Charles, Danny and the GhostGang,
Jen and I had a terrific time and we needed an extra recovery day from work. Charles and Danny were very nice and made us feel comfortable along the journey.
The highlights were learning the history of the country and the specific areas we traveled through. The folks we shared the trip with were also great, everyone was friendly and helped each other. We had never been to England before and this gave us a nice overview of the country and the parts we would visit again. Whitby was our favorite town - the beauty of it and the Ghost and Dracula walks with Harry were particularly enjoyable. Margaret in Lincoln was our second favorite - she had a great storytellers voice and made the tour very interesting.
Our medium, Yvette, also in Lincoln, was a very interesting person and I am sure she is very successful in her practice. It was an emotional evening. What can I say about Richard Felix - very much the entertainer and a decent storyteller. Although I didn't agree with some of the explanations he had for the phenomenon going around in York, he was very fun to be with (but he walked very fast). Alan Murdie was very knowledgeable about the history of his country and he was very interesting. I could have listened to Robert Rietti all day, very nice man and quite the showman. He drew everyone in with his stories.
Overall again we had a really good time and look forward to going on another adventure.
Ed Snell & Jen Kennedy - Somerset, NJ
Hello Charles and Dan,
I just want to say thank you so much for one of the best times ever. It was my first time to be on a tour and I did not know what to expect. After mingling with everyone I realized "what a great adventure." Thank you again,
Cindy Lee - Phoenix, Az
First, let me say I had a blast! My favorite part of the trip was York. The town was smaller and more quaint and I thoroughly enjoyed the day and evening touring with Richard Felix. Alan was so knowledgeable of England and itís history. Besides, he has a really great accent next to my Texan accent. Thanks for a great week of Terror!
Lisa Rounsaville - Dallas, TX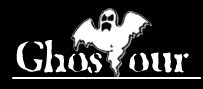 Click Here For Free Color Brochure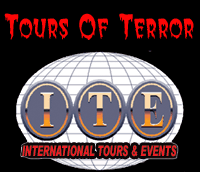 315 Derby Avenue, Orange, CT 06477 USA
Tel: (203) 795-4737 Fax: (203) 891-8433




TOURSofTERROR@aol.com