Frankenstein Castle Tour Halloween 2016:

Tour Report by Russell Kracke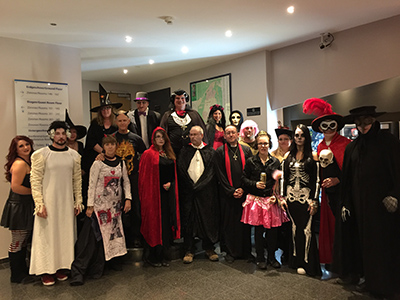 Tuesday, Oct. 25, 2016
Our group trickled in at JFK airport, welcomed by tour organizer
Charles
(aka "Cryptmaster Chucky") and tour host
Matthias
(from Colorado). Our group was:
Diana
(Georgia),
Chris
(Minnesota), and
Patrick
(Ohio);
Arm
&
Russell
(Illinois),
Bruce
(PA) &
Kelly
(TX);
Deb
&
Jesus
(California),
Joe
&
Peggy
(TX) and young
Randy
&
Kristin
(friends from California and Texas, both arrived wearing skull gloves). Through security we met up with
John
(Utah), who arrived in combat boots. The rest of the group would meet us in Prague.
Wednesday, Oct. 26, 2016
Under the guidance of Matthias, we were led like lost lambs until we arrived in a
Prague
blanketed with thick morning fog. Outside the airport, Matthias introduced us to
Dana
, our professional Czech-speaking tour guide, who patiently awaited our arrival. "Are you tired?" she asked. "Yes," we replied. "Well, you'll be more tired at end of evening because of everything planned for you."
Before we knew it, we were at Prague Castle, an extravagant complex of palaces, churches and towers. It is the largest ancient castle in the world, founded around 880 C.E. We walked through the winding streets of Prague to the bedeviled Absinthe Shop at Úvoz 228/5. Some of us bought bottles of absinthe; other tasted the absinthe-flavored ice cream. Anything with absinthe in it, here it was. We wanted to consume more...fully feel the absinthe and its psychedelic effects, but continued the old city tour. We came upon the great Lennon Wall, what with its crazy colorful graffiti, where youthful Czech slackers, students and tourists filled the sidewalk. We lunched on soup, salad and refreshing Czechen pivo (beer) at the Kolkovna restaurant. Around this time, the remaining tour group members, who'd already been touring Prague on their own, appeared on the sidewalk outside the restaurant: Henry & Michele (Ontario, Canada) and Eunice & Momo (CA).
We strolled past the Waterman Bridge (where, legend has it, a man steals baby souls) and then the Charles Bridge, lined with 30 exquisite bronze statues and where well-dressed beggars prostrated themselves before the masses for alms. We meandered like lost souls through the Old Town, spied the new city hall, gazed upon the statue of a hideous priest statue (onto whose vestments a naked woman clung) and stood at the foot of the grand city's grand Astronomical Clock, where whimsical medieval figurines emerged from its bowels. Mechanical peasants danced as a grinning skeleton played his musical instrument.
Dana led us to a market where someone in our starving group discovered a small stand selling Trdlníks: chocolate funnel cakes. Like manna from heaven, our Frankenstein Tour friends scarfed down the cakes - dripping with a Nuttella-like chocolate - during a 30-minute feeding fest. With a new lease on life, Dana our rejuvenated group past the Josef Manes Bridge and into the amazing Wallenstein Palace where, in an enclosed utopian garden, fluorescent koi and albino peacocks graced the water and grounds. We turned a garden corner and, there before us, appeared the magnificently creepy dripstone wall of ashen grey grotesquery.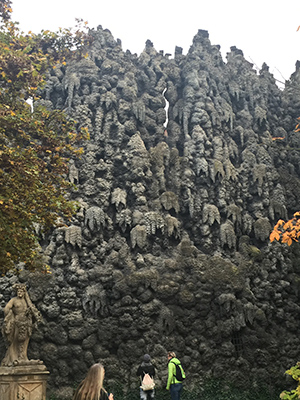 Credit: Wallenstein Walls of Tortured Souls photo by Deborah Barragan
As the sun began to set, we crept up a steep cobblestone street to the Krcma Medieval Restaurant. It is here that the Frankenstein Group quickly bonded: in this insane underground pit, we dined on medieval food, drank delicious homemade pilsner beer, and were entertained: by a fellow with a huge, very much alive snake that wrapped around his body like a coat; a crazy, belly-dancing, sitar-playing singer; a tawdry juggler; and a dancer with kazoo. The night ended with high spirits and gaiety. Yes, we were getting a little drunk. Since we'd left the U.S., we'd now been up almost 48 hours. But what a fine way to end one of the longest, coolest days of our lives!
Thursday, October 27, 2016
The Prague Pension Hotel, where we overnighted, was stark, but clean and the minimalist beds were fitted with plain white sheets. It had its own ghost story. Some of us arose for an early buffet breakfast at the Bistro Sullivan, located just outside the Pension. Back on the coach, we headed into a forest in the middle of nowhere. Then, rising out of the forest mists, appeared the legendary Houska Castle, also known as "The Gateway to Hell."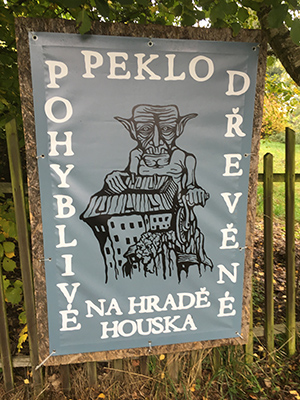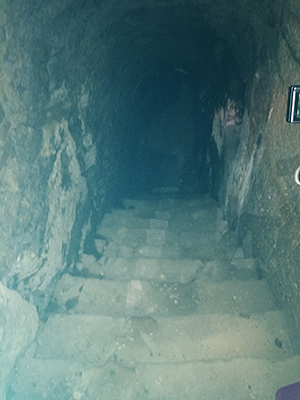 Houska Castle Welcomes You (left) Inside Houska and Down the Stairway to Hell (right) photo by Bruce Fishman
This 13th-century Gothic wonder was built, not to keep enemies out, but to seal hell's demons in! The chapel was built over a presumably endless gaping hole in the ground that led to hell and from which half-man, half-human creatures reportedly crawled and dark-winged creatures emerged and flew about. The castle's caretaker, a man of long grey hair and beard, sporting shoes that curled into a point, showed us the chapel with its deteriorating frescoes, and castle rooms with the heads of dead animals on the walls, deranged artwork, and an unusual bicycle collection. Most frightening were the outside corridors which led into lightless, underground dungeon-like rooms where, using our flashlights, we saw deep, desperate scratches covering the stone walls and bats hovering above us, rocking themselves in dream-like slumber. We discovered that in these gloomy underground rooms secret Nazi occult experiments on humans took place. As we bid the Houska Castle's caretaker adieu, he reciprocated by pointing silently toward a shack-like structure at the edge of the castle grounds. Once inside, the Frankenstein Tour friends were deluged with a shocking series of scenes from hell in miniature. This was Houska Castle's Animatronics Attraction. Mesmerized, we passed by each scene where tiny, terrified mechanical human figures were tortured in hell using various methods (eternal fire, dunking, and paddling) by a gleeful Satan and his chortling minions. On that happy note, we re-boarded the bus.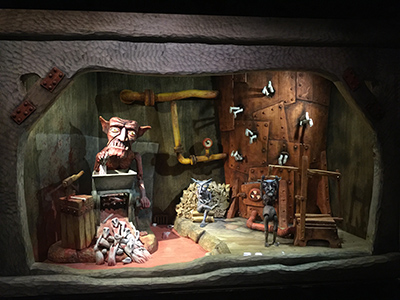 Houska Castle Miniature Monsters Exhibition photo by Deborah Barragan
What whets the appetite like exposure to scenes of torture (real or imagined), followed by an hour-and-a-half bus ride through the gloomy hills? A private delicious lunch at Peklem na Housce did the trick: salmon, chicken or veggie with couscous…and some tasty Bernard pivo. Right around the corner, after lunch, we descended into the remarkable Sedlec Ossuary - the Bone Church - in Kutna Hora. In this charming Roman Catholic chapel, tens of thousands of human bones have been tenderly arranged into artistic decorations and chapel furnishings. These delightful bones are the remnants of the many thousands killed by the Black Death and the Hussite Wars of the 14th and 15th century and later exhumed and stacked by a half-blind monk. After exiting the chapel and circling through the Ossuary's cemetery (where we actually saw - six feet under, in an open grave - a femur protruding from the earth!), we contemplating the mysteries of life, death, and the morbid creativity of the Roman Catholic clergy at Kutna Hora.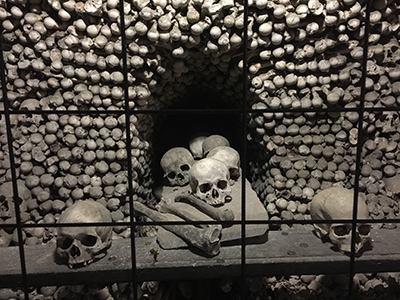 Sedlec Ossuary "The Bone Church" photo by Deborah Barragan
Before the day was out, we found ourselves back in Prague's Old Town and holding Stammtisch at the cozy Krcma, where our entire group, seated at a long, wooden table, dined on dumplings, goulash and half-n-half beer. After this jolly meal of heavy, delicious Czech-style fare, we sojourned into the Prague night to McGee's Ghost Tour of Prague. A handsome tour guide, dressed in a black period cloak and hat, led us into the bowels of city hall where he channeled Jan Mydlá? , the executioner, who offed 27 protestants in 1621 at the behest of the Catholic Church.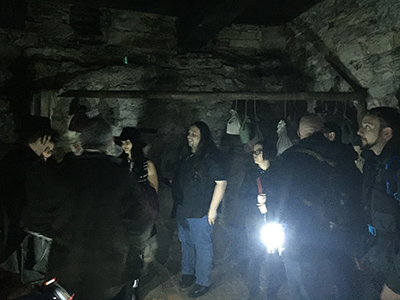 Underground - Beneath Prague's Old Town Hall photo by Deborah Barragan
We emerged back into the town square and, following our guide, weaved through dark back streets of Prague. We learned the tale of the unlucky lady who accidentally married her son and became first victim of the plague; the ghosts associated with St. Agnes (who wear wedding dresses or black nun habits); the bloody doctors of Mercy Hospital; and the ghost near Tyn Church (the impetuous widow who strangled her servant girl). A highlight of the evening was rubbing the bronze bulge of the headless Franz Kafka statue. Matthias got us safely back to our hotel at 11pm.
Friday, October 28, 2016
Wake-up alarms sounded early and we were soon off to Prague's haunted Olsany Cemetery, first built in 1680 for victims of the plague. As the colorful leaves of fall fell upon the graves, we wandered about this atmospheric cemetery filled with stunning, often grim, art-nouveau memorials and statues. Next stop, the Alchemy Museum, where hidden behind a decoy bookcase, a stairwell descends into 16th-century alchemical laboratories, which, after being abandoned and forgotten, were only rediscovered at the end of the 19th century.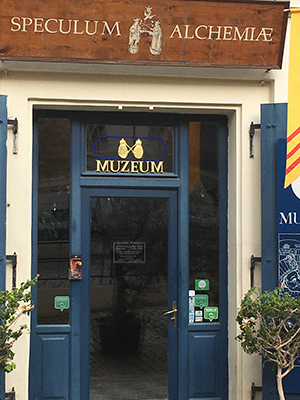 Alchemy Museum Entrance photo by Bruce Fishman
Now, as we drove through the countryside of the Czech Republic, our tour guide, Dana, talked of growing up under Hitler's influence and, later, communism. In the afternoon, we arrived at the Zvikov Castle, located on a steep hill at the convergence of two rivers. Originally built in 1278, its continuous expansion through the 1840s included Renaissance-style construction. With small windows for light, yet large arched entries, it makes for the perfect "haunted" castle. One Frankenstein Tour member believes to have captured an orb in a photograph in a room where many of our friends felt a particularly strange, inexplicable sensation. Another noted an unusual reading on his spiritometer. Our last road-trip stop was Gothic Svihov Castle (built 1480-1489), encircled by a lovely moat of water. The air crisp and fields of green stretching into the distance, we leisurely strolled along the path surrounding the water, laughing and joking with our new travel friends-what fun!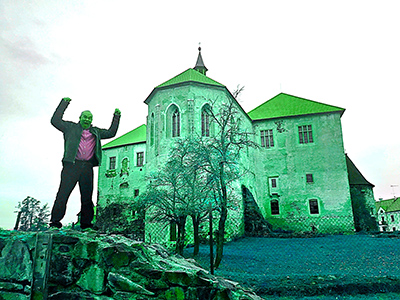 Svihov Castle photo by Bruce Fishman
The evening ended in Klatovy, a town of over 87,000 that approaches the border of Germany. After a lively dinner at the Hotel Ennius' restaurant, Matthias took some of the group (who still had the energy) for an intimate, walking tour through the back streets of this quiet town-but late at night, when most locals were getting ready for bed and shades were pulled.
Saturday, October 29, 2016
After breakfast, Dana led us to the Mummies of Klatovy Catacombs-an underground crypt where over 200 Jesuit priests were laid to rest in the 17th and 18th centuries and, thanks to the crypt's engineering, their bodies were magnificently mummified…with garments intact around them! Those mummified priests that have survived until now rest on a red-velvet lining and are enclosed in glass coffins. Back at the bus, our tour friends bid farewell to Dana, as the Czech-language part of our tour came to an end. At the bidding of one tour member, and to a round of applause, Dana repeated (in her endearing way) the word "spooky" for our amusement and, amidst hugs and tears, the group said goodbye to our lovely guide. The Czech Republic slipped behind us and we crossed the border without fanfare into Germany.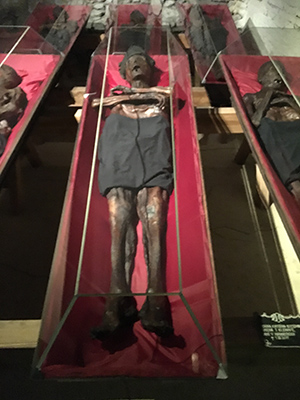 The Mummies of Klatovy photo by Bruce Fishman
A film played on the video screen as the bus passed miles of autumn forests, woods, green fields and German Dörfer (towns). The sun finally broke through the clouds as we passed wind turbines and roadside solar panels. We checked into Hotel Noris in Nuremberg and then descended into the Medieval Nuremburg Dungeons (complete with torture rooms and accompanying instruments) under Nuremberg City Hall. It made us prematurely grateful to be living in the 21st century. Our visit to the Nazi Rally Grounds was a bleak reminder that even today, perhaps we're not as safe as we'd like to believe: the monsters that our brains conjure up from the imagination for entertainment are also reflections of the true inner monsters that humans beings might and have become. After being coached back to town, as the sun set below the horizon, our evening concluded with dinner, shopping and sightseeing in downtown Nuremberg.
Sunday, October 30, 2016
For the author, the charming town of Rothenburg was, in many ways, a highlight of the sightseeing tours. It is the quintessential European town, splendid and fairytale-like in architecture and magnificent for chilling out and mingling with the locals. We arrived around 10am at the Gasthaus Schranne Hotel. The Torture and Criminal Museum featured, among other devilish delights, an iron maiden, ghastly Mundbirne, and unthinkable chastity devices. Rothenburg was ours to explore and enjoy for the rest of the day.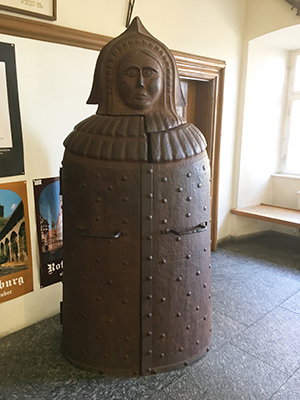 Iron Maiden inside Rothenburg's Torture Criminal Museum photo by Bruce Fishman
Right outside our hotel was a delightful Volksfest: locals and visitors gathered to enjoy Bratwurst, Schneeballen, Schaumküsse, and Glühwein galore (!), served at plethora booths, these decorated with glittering holiday lights that set the Rothenburg Stadtmitte aglow. After a picture-perfect beautiful afternoon, dinner at the hotel featured Knödel soup, pork, green beans, fries, plumb ice cream, pilsner beers, and topped off with Kirschwasser and plum brandy. One group member found a strange pink egg in the men's restroom and, returning to the table, the tour group entertained itself while trying to figure out how its innards worked. Relaxed and enjoying ourselves, we set out for a series of amusing tours: the Dungeon at city hall, the whimsical Executioner's and Watchman's Tour, and finally Matthias' late-night walk across the Rothenburg Wall. Gute Nacht und Schlafen Sie wohl!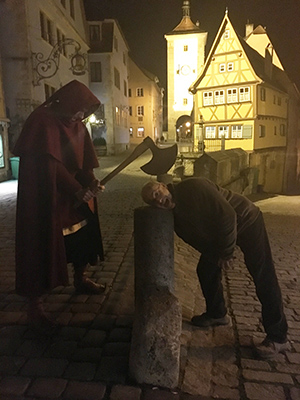 The Executioner Doing What He Does Best photo by Bruce Fishman
Monday, October 31, Halloween, 2016
On Halloween day, we arrived in romantic Heidelberg. We lunched in the town square before riding the haunted funicular up to Heidelberger Schloss. The castle, set high upon the hillside, was founded in 1214, partially destroyed by lightning in 1764, and was considered a ruin by 1800. Now a tourist destination, the view overlooking the Neckar River is spectacular.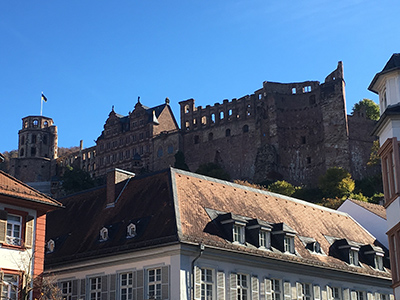 Heidelberg Castle in the Castle photo by Bruce Fishman
Our time in this impressive city was not nearly long enough, but with good reason: just hours away, the Mother of all Halloween parties awaited us in Darmstadt, so we hit the German highway. At the utilization but clearly un-haunted Frankfurt Holiday Inn Express, we donned our costumes for the Halloween party at "Frankenstein Castle." We had no idea, really, what to expect.
Our group began to congregate in the hotel lobby-dressed to the ghoulish nines. Our friend and tour guide, Matthias, was the Bride of Frankenstein. Chris wore a slasher mask with Savatage sweatshirt. Patrick made for a fantastic Penguin (from Batman). Russell was a steam punk variation of the plague doctor & Arn was a variation of the Mask of the Red Death; Deborah was a gypsy and Jesus a priest. Randall & Kristen were voluptuous black-clad creatures of the night; Henry & Michelle were handsomely-dressed as a vampiric couple. John wore a candy-pink wig and hot leather pants; others shined in their Halloween best.
We loaded ourselves into the coach and, as night fell, we turned onto a road and began an unexpected ascent, winding its way up the steep precipice toward the Frankenstein Castle. Finally arriving at the top of the mountain-the foot of the ruins-we were ushered into the dining hall for a VIP buffet dinner. We ate somewhat humorously and even clumsily - costumes are not exactly conducive to fine dining - but the food was delicious and our spirits rose. We finished our plates, took more swigs of the wine, and headed out for the Frankenstein Castle "Halloween Party" … still unsure what to expect.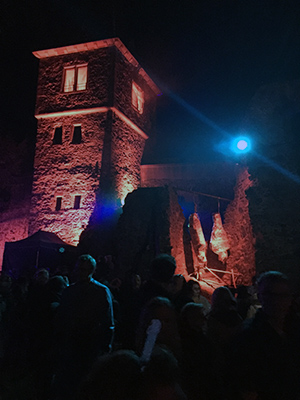 Frankenstein Castle! photo by Deborah Barragan
What followed is something from which nightmares are made! We exited out of the restaurant, turned the corner, and everything changed. Everywhere, a white dense fog and eerie green & red lights reflected off the stone walls of the castle ruins. Not too far off in the distance, wild screams (yes, seriously) filled the night air! Suddenly, we were part of a dystopian nightmare, meaningless human pieces surviving an other-worldly medieval village filled with peasants, zombies and unseemly monsters. Tents set-up to the left and right provided some refuge from this other world…but we chose to ignore the tents and immerse ourselves in the terror of it all. Frightening music blared from the forests rising from the mountainside while we meandered past horrifying party-goers in costume. Like humans amongst the aliens in Invasion of the Body Snatchers, it was nearly impossible to tell the difference between the party-goers and the actors…until the latter went on grizzly, mock attacks. One member of our group was tackled by an overly aggressive werewolf; the author's hat was whisked from his head by a quick-moving insane-asylum patient. We watched hopelessly as willing party-goers subjected themselves to mock electrocutions or passed by a cemetery to see a zombie, who'd been sitting, rocking itself on the ground in the foggy graveyard, slowly arise, open the graveyard gate and drag itself toward terrified and excited revelers.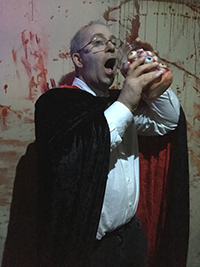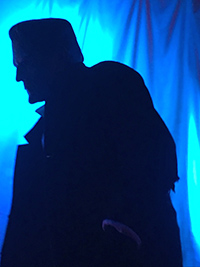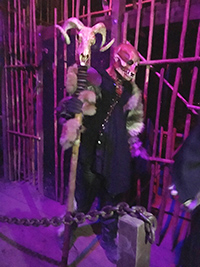 Scenes From Frankenstein Castle on Halloween photos by Bruce Fishman
The night continued in this fashion, as unrelenting terror unfolded before us at every corner and turn. It was a cross between Night of the Living Dead, The Hunger Games, and Game of Thrones-with every classic monster (werewolves, mummies, Frankenstein monsters) represented to the more contemporary types (zombies, slasher-movie villains, and steam punk characters). Girls screamed and boys hugged their terrified girls, while monsters lumbered around, dragged themselves about or burst into attack at lightning speed, touching, invading, and terrorizing party-goers with or without warning. And whereas there was escape, all the guests stayed to enjoy the fright. The Halloween Party at Frankenstein Castle was the most incredible and joyously frightening Halloween experience I've ever witnessed. It was the pinnacle of the terror experience, but you're able to smile because you know you're (mostly) safe: it's a show, created to speak to our fears and pleasure by masterful actors and designers of special effects.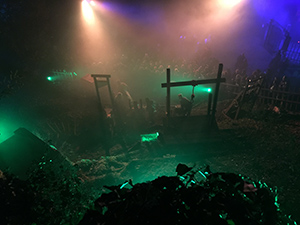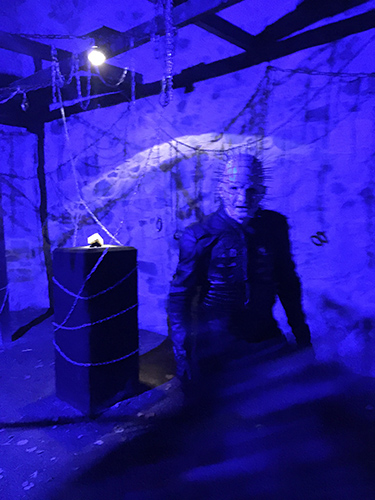 Halloween at Frankenstein Castle photos by Deborah Barragan
We regrouped at the coach before midnight and headed back to the hotel in Frankfurt. The Halloween Party at Frankenstein's Castle was everything and more than we might have expected…a perfect ending to a sometimes rigorous, but unforgettable week-long vacation of pleasure and fear from Tours of Terror.
Back to Tour Reports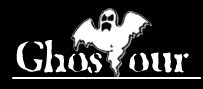 Click Here For Free Color Brochure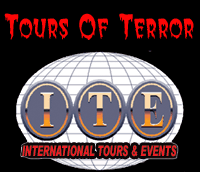 Tel: (203) 795-4737 Fax: (203) 891-8433




TOURSofTERROR@aol.com