2007 Tour Report by Russell Dreher
A
couple of years ago I went on an amazing Dracula Tour to Transylvania in Romania. The next year, I gathered some of my friends from that trip to hang out in Salem on Halloween. This year, some of my friends from those trips decided to tour England on the
GHOSTour
, organized by Charles Rosenay.
M
y friends flew into town and we had a great time on the nights before we left town. On Friday night we did a little bar-hopping, followed by a trip to NYC's original Halloween activity,
The Rocky Horror Picture Show.
As always, it was a "jump to the left", and my friend who had never seen it before thought he was going to lose his mind.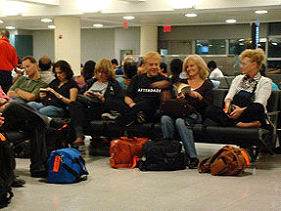 W
e gathered at the airport, where we were welcomed by tour-host Charles. We were handed our tickets plus some goody bags, and the adventure had begun. After a wait at the airport, and our flight, we had made it to Great Britain in one piece, and I was glad to be out in the fresh air. Charles introduced us to Alan Murdie, who was also the British tourguide for GHOSTour the year prior. We hopped on our coach and began our drive into London. On the way through town, we passed Madame Tussaud's Wax Museum. I have been to both the London and the Vegas versions of this, so I did not feel like we were missing anything as we drove past. I would much rather see new places and things. And we did!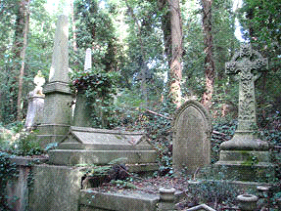 O
ur first stop was
Highgate Cemetery
, one of the oldest and most outstanding cemeteries I have ever seen. This place was beautiful! You can only visit it on a tour, so if you wish to go, make sure you look into when they offer tours and try to prearrange your visit so you can be sure to get in. There is an old and a new half, and I recommend you make sure you can see the older half.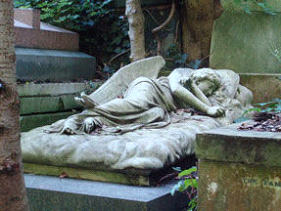 I
n the older half are many famous people's graves and many beautiful examples of gravestones such as this one with the fallen angel on it. The scenery in Highgate is out of this world. Just don't mention the
Highgate vampire
or ghosts to the tour guides or the Friends of Highgate members, as they frown upon anyone interested in this part of the cemetery's more recent history.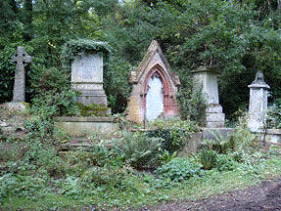 I
f you visit Highgate, the woman at the main gate who is in charge will inspect you for cameras that are not allowed inside. "No video cameras, and no large cameras" she told us. "Only small personal cameras, and no using the flash!" On the way out she yelled at one member of our group because she decided his camera was too large. She said that if she had seen him go inside with it, she never would have allowed it. Of course, it was nothing more than a standard SLR style digital camera. How she decides what is too large, I will never know.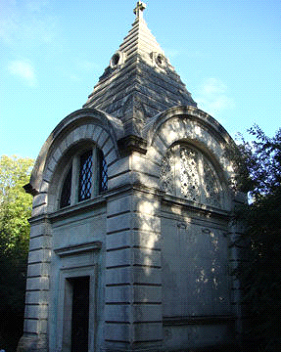 A
s a part of the tour, we visited the mausoleum of Julius Beer. In the Victorian era, the Jewish Beer family migrated to London from Frankfurt. Julius Beer owned the London Observer, but society shunned him because of his religion. In order to be buried in Highgate, he converted to the Church of England in the 1880s. Before this time, people came to Highgate on weekends to picnic on the land above the Circle of Lebanon. Beer's revenge on society was to construct his mausoleum to obstruct their view and so they had to look at him forever. Rumor insinuated that he had killed his family. His wife died first, followed by their 8-year-old consumptive daughter. Inside the mausoleum, a marble angel stoops to kiss a life-sized child -- whose face was modeled on the death mask of Beer's little girl. Beer himself died of apoplexy in his early 40s. His son Frederick took over the Observer and slid into madness.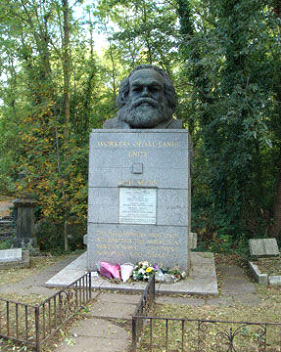 H
ighgate is home to the graves of many famous people. In the newer section you can find Karl Marx (photo above).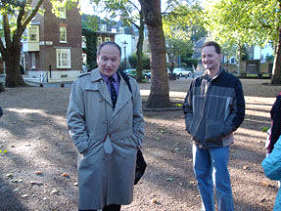 A
fter we left Highgate, we walked up the hill to Pond Square Gardens. This is the location of the famous
Ghost Chicken
of Francis Bacon. Or as I like to call it, The Poultrygeist! Don't believe me? Then just spend a cold winter's night here and see what happens. Or you can just read more about the Ghost Chicken on the internet.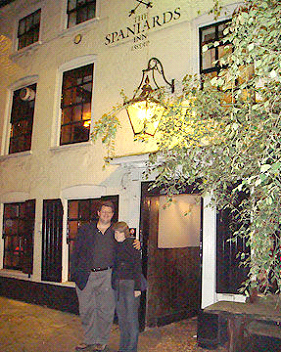 I
n the evening, we traveled to the
Spaniards Inn
for dinner. The Spaniards Inn is a famous old pub that highway men used to frequent, including the notorious
Dick Turpin
. Aside from having the reputation of being haunted, the Spaniards Inn has a large number of literary connections: from the Pickwick Papers to "Ode to a Nightingale," but most importantly
Bram Stoker's
Dracula
and many late-19th century novels. At the Inn, we met one another, and shared some insights as to who we all were, and why we were on this fascinating journey.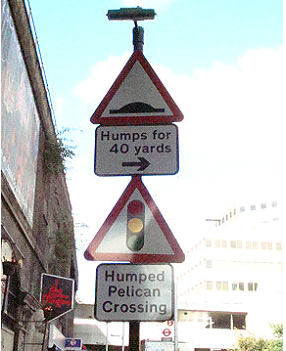 O
ur next day of the GHOSTour started with an early morning trip across town. Along the way, we spotted some unusual signs. Now while I am all in favor of humps for forty yards, I do have to worry about London's pelican population. If PETA ever sees this, there will be a real stink.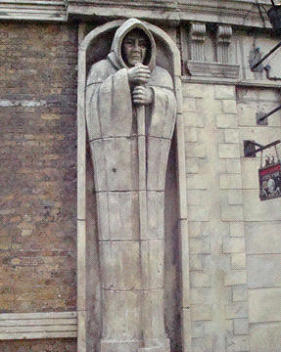 W
e knew we must be at the sight of some ancient temple deep in the heart of London by the old statues we saw on the building. These giant and scary works of art must have been put there to scare off evil spirits and invaders.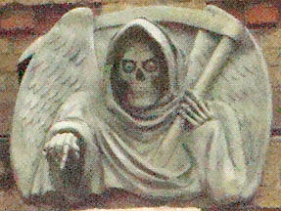 J
ust imagine what it must have been like to ride for days to invade a place, only to come across a place covered in such works. Who would have wanted to disturb it?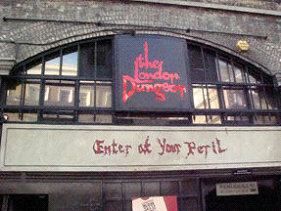 W
ell, we sure did! After all, this was our group visit to the
London Dungeon
, a touristy place filled with images and tales of yore and gore. Enter at your peril, well, really at your wallet's peril. The London Dungeon is not cheap with prices ranging from 15 pounds and up for an adult. Right now, that's over $30 (but, fortunately, as with all the sites, it was included in our tour price). It is fun, and you do hear an overview of the bloody history of London, including Jack the Ripper and other such lovely people. And you even get a chance to get hung! Not unlike an amusement park, at the end of the visit to the London Dungeon, there is an actual free-fall which tried to make you feel like you've just been hung at the gallows.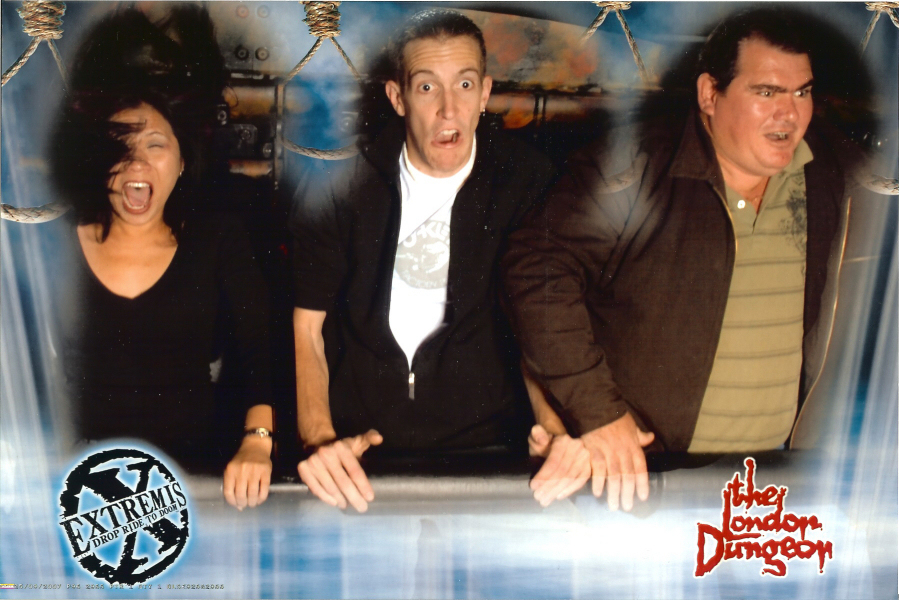 A
nd, like Disney, on the way out, you have to walk through the gift shop, their London Shop of Horrors. Okay, we admit, we bought a ton of souvenirs.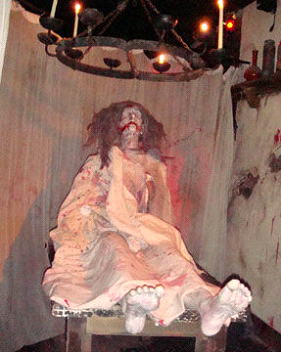 S
o before you feel like the poor soul above, keep your wallet in check and venture into the dungeon.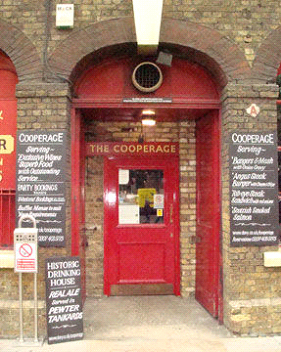 A
fter the dungeon, we walked a few feet down the street to the closest pub we could find. It had great ambiance and a reasonably-priced menu. The Cooperage offered a nice selection of bitters and food to keep us going the rest of the afternoon.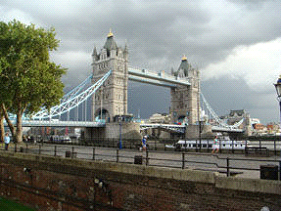 W
e arrived at
Tower Bridge
, which was close to our next stop. Tower Bridge is a combined bascule and suspension bridge in London, England over the River Thames. It is close to the Tower of London, which gives it its name. It has become an iconic symbol of London and is sometimes mistakenly called London Bridge, though London Bridge is in fact the next bridge upstream.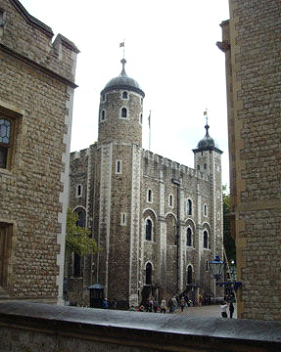 O
ur real stop however was "Her Majesty's Royal Palace and Fortress The Tower of London," more commonly known as the Tower of London. It is often identified with the White Tower, the original stark square fortress built by William the Conqueror in 1078. However, the Tower as a whole is a complex of several buildings set within two concentric rings of defensive walls and a moat. The Tower's primary function was a fortress, a royal palace, and a prison (particularly for high status and royal prisoners, such as the Princes in the Tower and the future Queen Elizabeth I). This last use has led to the phrase "sent to the Tower" (meaning "imprisoned"). It has also served as a place of execution and torture, an armoury, a treasury, a zoo, a mint, a public records office, an observatory, and, since 1303, the home of the Crown Jewels of the United Kingdom. With all the history here it is no wonder that it is said to be haunted by numerous ghosts.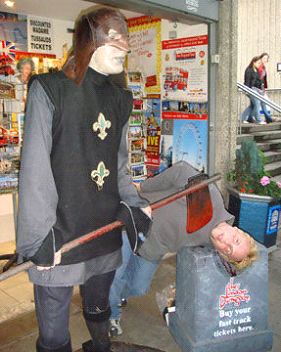 A
fter touring the tower, and watching the famous ravens guard it from the onslaught of seagulls, we stopped for a moment to chop our tour-host Charles' head off. By this point in the tour, I am sure he felt like it anyway. LOL.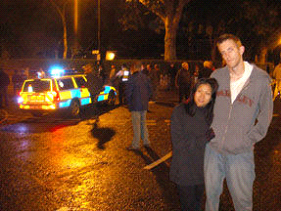 T
here was a pleasant announcement after we left the Tower. Jeff and Samrith, both Dracula Tour alumnus, found their way onto the roof of the Tower (not open to the public), where Jeff proposed to Samrith. Although couples have gotten married in Dracula's Castle on the Drac Tour, they are the first couple to get engaged on the GHOSTour (no, the police car wasn't there to haul them away for sneaking up to the Tower's roof).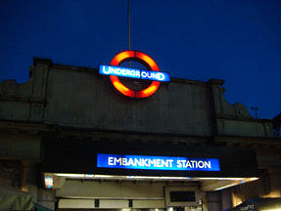 I
t was now time to meet one of London's most famous, and yet unknown, residents: Jack the Ripper. We took a fascinating Jack the Ripper tour, though not for the reasons you might imagine. Just think of a small man, with an incomprehensible Cockney accent, who told racist jokes, and did a one man Laurel and Hardy routine with his toy microphone, and you get a picture of our walking tour-guide for this evening. You had to see it to believe it. I think our much more proper English tour guide, Alan Murdie, was about to melt into the ground with embarrassment for his country. Despite all this, it was still fun, especially when we stopped at some of Jack's favorite pubs for meeting his victims. After all, this was a seedy part of town, even then.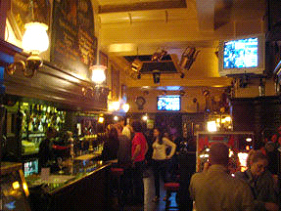 L
ate at night, on our way home from the Jack The Ripper tour, we stopped off at platform 9 3/4 to pose as we made our way through the wall to the Hogwarts Express. Little did we know we were in for a couple of surprises sometime early the next day!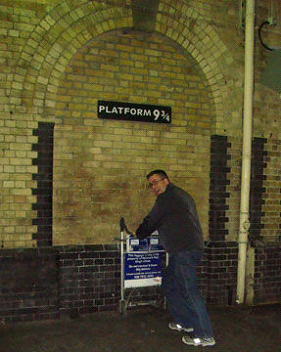 O
ur next GHOSTour day started off with a bang. Well, an alarm, really. A fire alarm went off at our hotel about an hour before we should have gotten our wake-up calls. Later, we climbed aboard our coach and headed out of London to one of the most haunted sites in England, The
Borley Rectory
, where the first known reports of paranormal events appear to date from about 1863.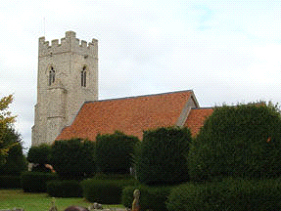 A
bove is the Borley Church, which has also been home to hauntings related to its rectory. Strange sounds and even music have been heard in the church, often thought to be coming from beneath it. The original rectory stood to the left of the building that is still there today and is presently used as the rectory. We got yelled at by the lovely woman who lives there, simply because we were taking pictures of her house. It was quite a scene, and had she just stayed inside, would have been a much less interesting story.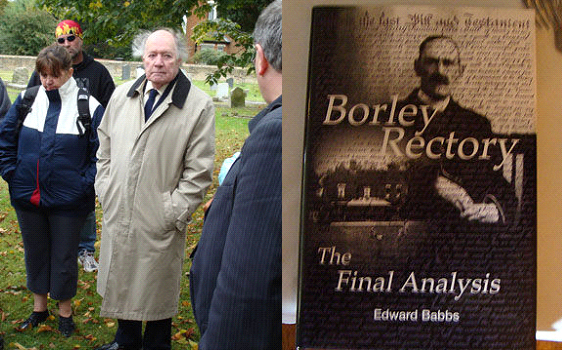 W
e were met at the site of the Rectory by Edward Babbs, an expert on the hauntings at Borley, who has written a book on it. He told us the stories, pointed out the important sites, and even took us to a church were some unidentified skeletons were moved and secretly buried in the church yard.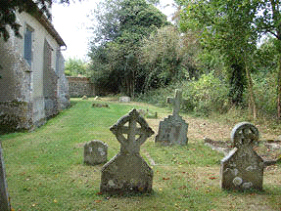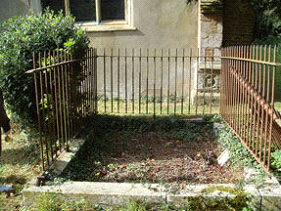 O
utside in the graveyard, a site still is marked where a fake gravestone used to stand. When they dug this up, they found an entrance to the tombs under the church, some of which were locked and couldn't be opened.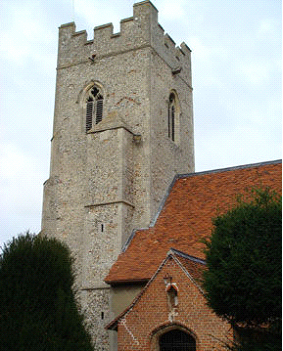 A
fter Borley, our coach took us to the Mill Hotel for lunch and a glimpse at the mummified cat that protects the hotel. The cat was buried alive here, many years ago when it was thought that the cat would protect the building. Once when the cat was removed, all sorts of bad things started happening, so the cat was replaced and has not been disturbed since.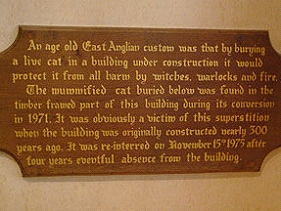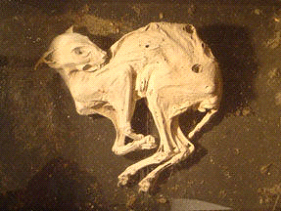 W
e left our friend the cat behind and headed north to Nottingham where we stopped at the oldest Inn in England for dinner.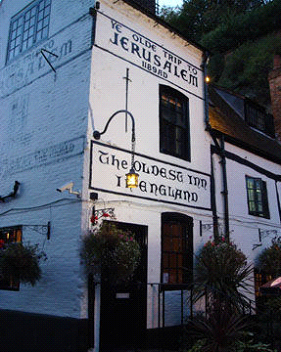 I
nside was the Cursed Galleon. It is covered in filth from over the years because no one will touch it, for fear that they will be its next victim and die. That's the curse and the legend, and none of us tempted fate.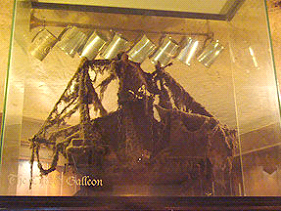 A
fter hearty dinner of Steak and Ale pie, along with a few pints of bitters, we were ready to go again. This time we were off to Lincoln.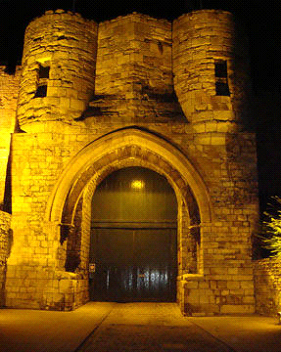 L
incoln is an incredible town and has wonderful
Ghost Walks
hosted by Marge ret. The Lincoln Castle above has its own ghost rider. The rider is thought to be a man who was carrying a pardon for a condemned man. The condemned man and the rider were friends and the rider was trying to get to the castle in time to stop the execution. Unfortunately, the rider, exhausted, stopped for dinner and accidentally fell asleep. This delayed him and his friend was put to death. To this day, many mornings at around 5 am, a ghostly man on his horse has been seen riding through the town and up to the gates of the castle before he disappears into the castle. Doomed to ride again and again, he will never save his friend's life.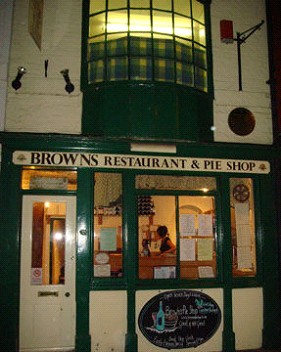 T
his restaurant, picture above, has a ghost of its own: a little boy named Humphry. Humphry loves to poke people in the back while they eat here, and sometimes he even appears to customers who mistake him for the son of a member of the staff. If you ignore Humphry he gets angry and has slammed doors and he has even thrown a knife or two. Makes eating at this locale quite an adventure in dining.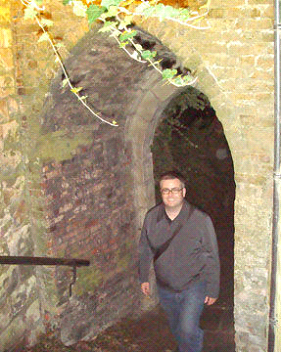 T
his haunted arch in Lincoln is a place where many have been tripped by a hand grabbing them as they passed through. In addition, mysterious figures are sometimes seen in pictures of the arch and orbs often appear the photos. Notice the orb just above my head and to the right of me in the picture above.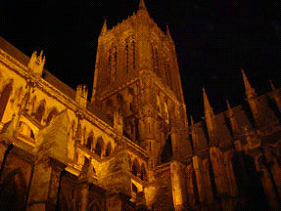 T
he Lincoln Minster is a beautiful church used in as many movies as Westminster Abbey. While we were visiting it was closed for the filming of "Young Elizabeth." It was also seen in The Da Vinci Code.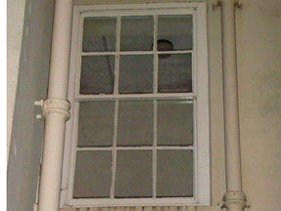 T
his window near the church looks into a haunted hall. Many times when a photo is taken of the window a face appears in the photo that was not there before. No such luck for me, and no photoshop cheating!.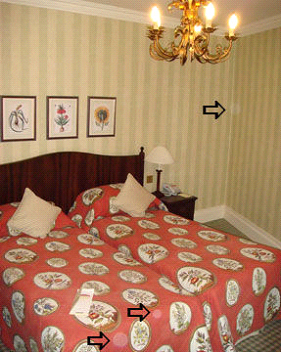 A
fter the walk, we were exhausted and returned to the haunted White Hart Hotel where we stayed overnight. It was the most haunted of our accommodations. Many orbs showed up in the photos I and others took of the rooms.
A
dditionally, a strange round reflection of a table seems to be floating above the table in the photo below. However, if you look closely, it does not appear to have exactly the same items on it. Hmmm.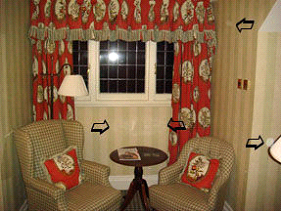 A
fter breakfast in Lincoln, and a quick daylight walk around town, we loaded up and headed for York. York is a beautiful town, mixing old and new in a charming way that has obviously made it popular with both tourists and students. By day it has an active walking market, and at night it has an active nightlife.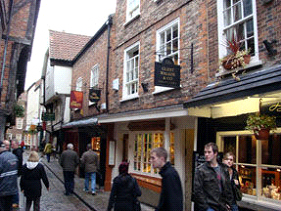 A
fter walking the narrow streets, we visited the
York Minster
, a grand old church with an incredible history.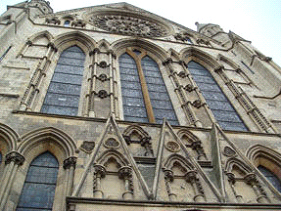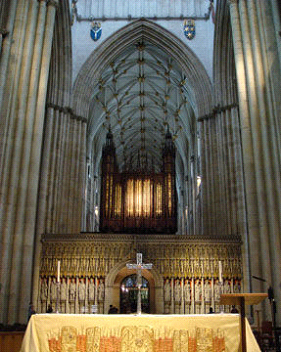 ...
n
ot to mention incredible views both inside and out.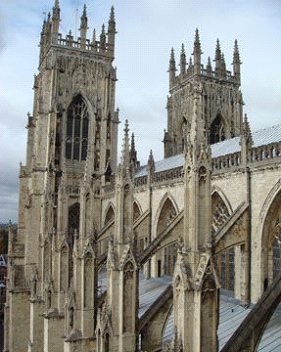 W
e hiked the stairs to the top to take in the views of both the church and the surrounding city of York.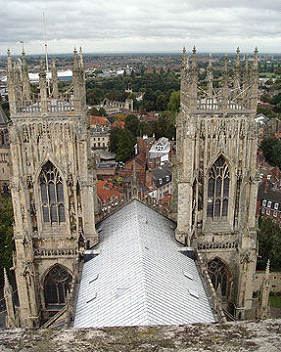 A
fterwards, we decided to have some lunch at Russell's where Russell (the author of this article) decided to try out Yorkshire pudding. On the way to York, Allan Murdie had listed what he considered the oddest foods from his country... black pudding, haggis, etc. The only one I hadn't ever tried was Yorkshire pudding, so I gave it a go. Basically, it's like having biscuits and gravy -- not nearly as strange as haggis.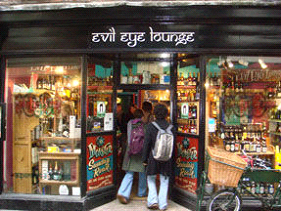 T
o round out the afternoon, we stopped off at the Evil Eye Lounge and had a shot of the world's strongest Absinthe. 89.9% by volume, this stuff took a layer of cells with it as it went down your throat. WOW. Goooood. Tony approves. Again and again.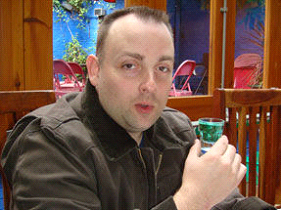 I
n the evening, we had a real treat in York.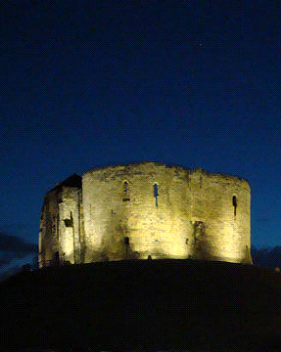 W
hereas our tourguide, Alan Murdie, is a ghost expert and professional tour-guide, in York we had the privilege of a ghost tour with professional ghost celebrity, historian, and British TV star,
Richard Felix
. While we were worried going into the tour that it might be a little too sensational, he did a great job telling the tales of the various haunted locations in York, taking us into a dark room at a haunted pub to discuss its haunts, and explaining his own theories on haunts, ghosts and poltergeists.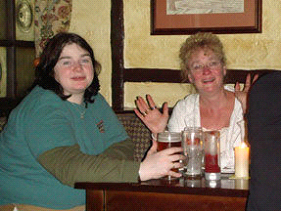 A
long the way we stopped at a few pubs for some drinks and a chance to warm up. Pictured above are Heather and Inga, also from past Dracula Tours. We had a chance to talk, eat, and drink with Richard Felix at our last stop. Surprisingly, he also had his DVDs for sale.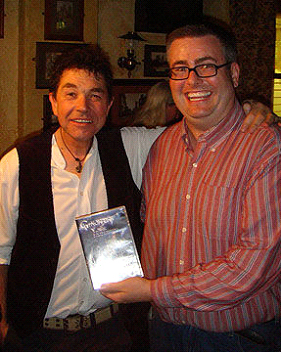 W
e climbed on the luxury coach and headed off for Whitby. Along the way, we passed through the area of England that had once been noted as the location in the UK where the most UFO sightings occurred. Allan Murdie explained to us that unlike ghost hunters, UFO chasers really are crazy. He went on to tell us about his few experiences with them, including an off the wall funeral, and how it had driven him back to ghost hunting.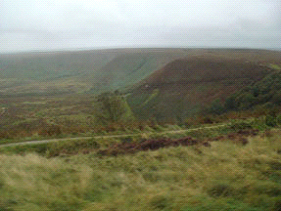 W
hitby is a small and very quaint fishing village that is also a summer tourist destination. Allan said that for about 6 weeks in the summer it is the most crowded while tourists roam the town. There is lots of shopping in town and even a few historical sights.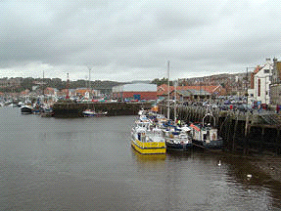 W
ith our tourguide Alan Murdie leading the way, we began the short climb to Whitby's most famous sight: the churchyard and abbey that are written about by Bram Stoker in the novel "Dracula."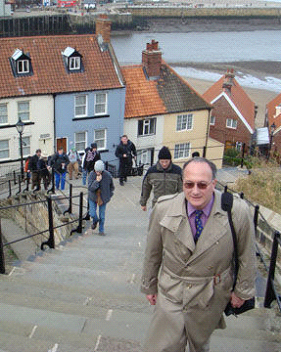 B
elow is the church, an amazing structure with an outstanding graveyard around it.

T
he church is overshadowed by the ruins of Whitby Abbey. This structure will leave even the most hardened horror fan breathless as they imagine the event that occurred here over the centuries and the events from Dracula that took place here.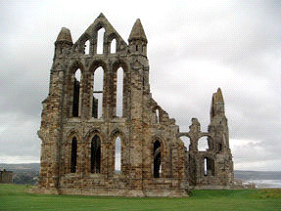 T
here is a pre-recorded walking tour of the abbey ruins that you can take which goes into all of the historical aspects of the structure.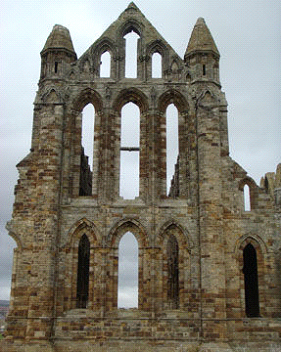 W
hitby Abbey has over the years been a bustling settlement, a kings' burial place, the setting for a historic meeting between Celtic and Roman clerics, the home of saints including the poet Caedmon, and, as mentioned, inspiration for Bram Stoker, author of Dracula, who stayed at the Royal Hotel directly across the way...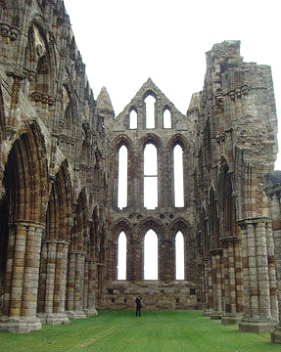 A
fter our trip to the abbey it was time for some well earned lunch. Of course, you had to have the fish and chips, which are exquisite in Whitby.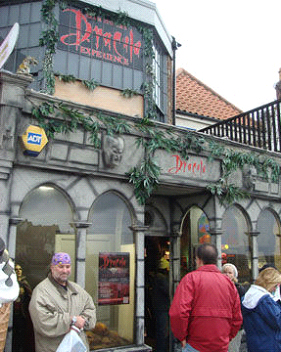 L
ater in the afternoon, we broke ourselves away from Whitby Abbey for the horrifying "Dracula Experience." No, I did not say scary, I said horrifying. This place is pretty funny, and if you have time left in Whitby, give it a shot. It's actually fun. Or, you can head over to the "amusements," to try and win some money. I won seven pounds on one slot machine, and then I ran out before I lost it all again. Behind the Dracula Experience is a wonderful goth shop, but I think the giant ice cream cone standing next to the Dracula experience may just have been more frightening than the contents of the experience. The cone was bigger than Mark, one of the travelers on our tour.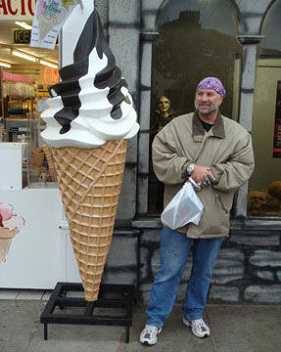 A
s evening approached, we headed up the hill to the Royal Hotel to meet our tour guide for the evening, Harry, who was presenting a tour on Whitby, Dracula and Bram Stoker.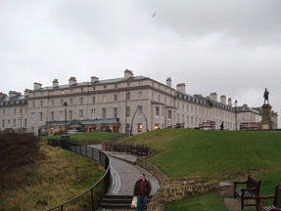 U
nfortunately a wild storm was coming in and the cold wind and rain made it rather unpleasant to be outside.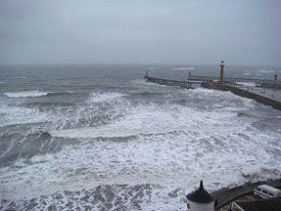 T
hat's an easy problem to solve in England. Hit a pub. Some of us opted to stay inside. Unfortunately, food was not as easy to come by. The staff wouldn't let us eat at the hotel restaurant as it was for guests only, and when someone ran to get fish and chips, they were thrown out of the hotel because you can't bring in outside food. Not a very polite staff, especially when we were giving their bar all kinds of business.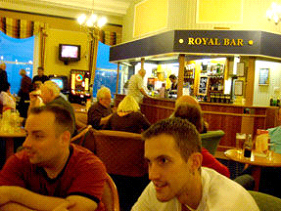 F
inally, when our wet members of the tour who went on the walking tour returned, we got back on the coach and headed for our hotel in Hell. I mean, Hull. We were told that the town was kind of like hell, and last year Allan Murdie was propositioned three times by hookers just getting from off the bus into the hotel. However, some friendly folks we met in York had said the town had in fact cleaned itself up since last year. And guess what - it had. When we arrived at the fairly decent Hotel Ibis, right in our room was a picture of the Hotel Ibis in Bucharest, Romania. I took this as a good sign as many of us had originally met on the Dracula Tour to Romania. And Hull turned out to be pretty nice after all.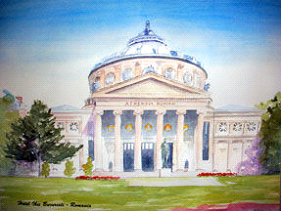 O
ur first stop the next day was to Castle Rising, a town with a castle. Thus the castle in Castle Rising is called the Castle Rising Castle.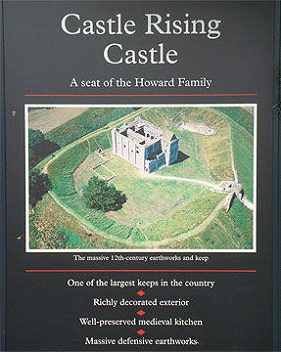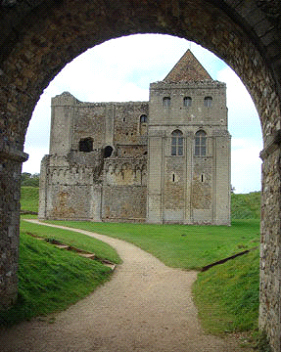 T
he castle keep at Castle Rising is one of the most famous twelfth-century hall-keeps in the country, and it is likely that it is modeled on Norwich Castle.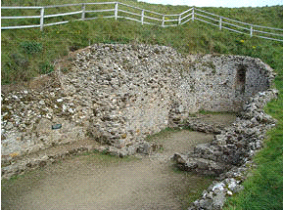 T
o the north side of the castle is a ruined church that dates to around 1100, and both this church and the keepappear to have been rendered and whitewashed during the early medieval period.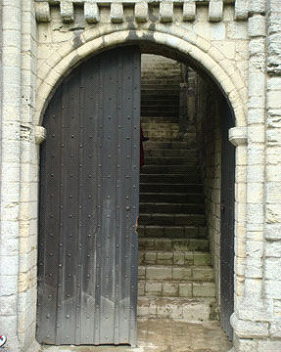 E
ven in the daylight, there is a sense of spookiness inside.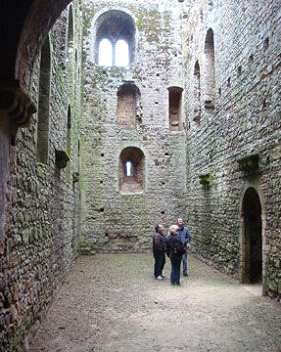 O
ne of the most striking features is the earthwork surrounding the moat. The built up soil is now covered in grass for aesthetic reasons, but the grass features many delicate wild flowers and butterflies in spring or summer.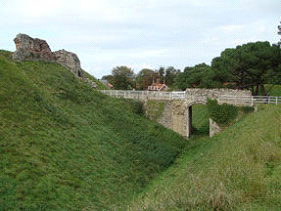 T
here is a gravel path at the top of the built-up area, which enables the visitor to walk right round the building, getting not only a good view of the castle, but also of the town of Castle Rising and its neighbours. The photo below was taken from the top of the gravel path and is of the back side of the castle.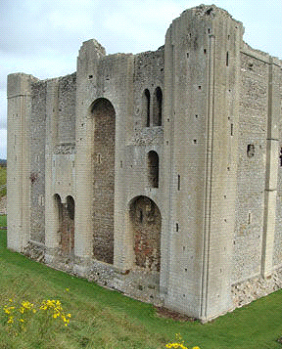 A
fter spending some time at the Castle Rising Castle, we headed to our hotel to prepare for the night. A costume ball with special guest Ingrid Pitt was planned and we had much work to do to get into our elaborate outfits.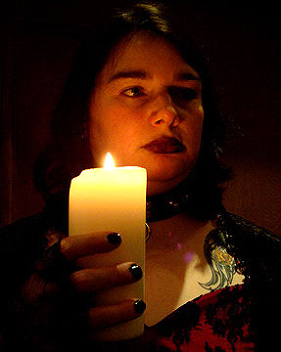 B
y candle light we made ourselves ready as the sun set, and soon the festivities began.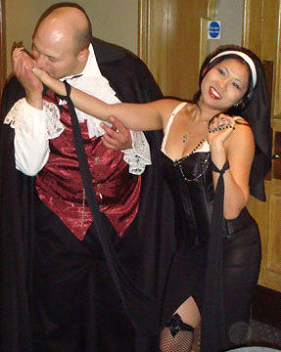 N
umber One Sexy Vampire showed up as, well, a vampire. He immediately began to suck. Blood that is. Even innocent nuns were not safe.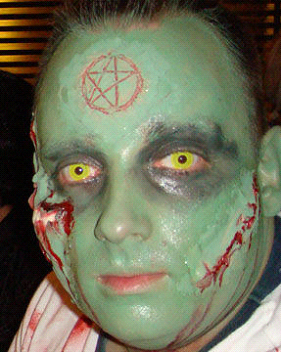 T
he undead were among us.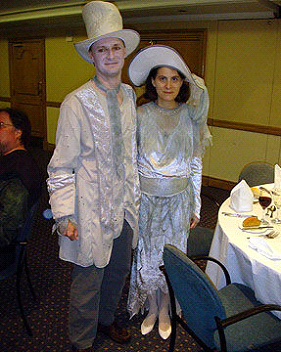 G
hosts appeared out of nowhere. After all, this was a ghost tour.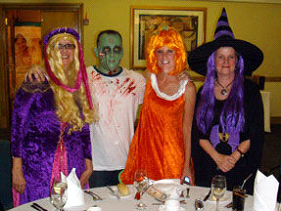 A
nd even a witch or two showed up.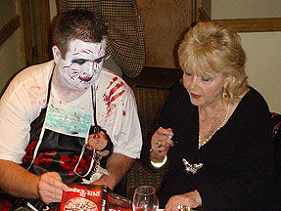 G
HOSTour Special Guest of Honour film actress Ingrid Pitt stayed, chatted, and signed autographs for all.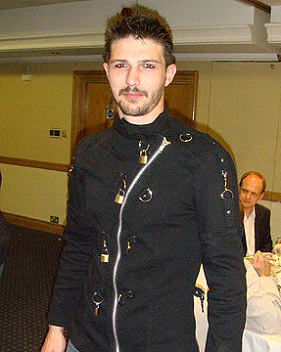 A
few inmates from the asylum next door found their way over. We tried to send them back, but they turned out to have invites.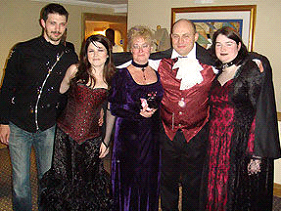 T
he chef kept bringing out fresh meat all night. We have no idea where he got it.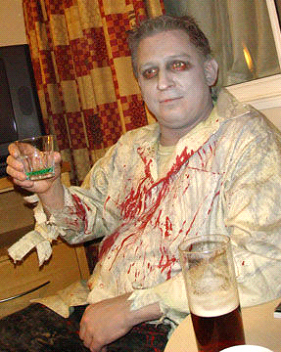 L
ate at night, after we had been kicked out of the ballroom for too much partying, we were left on our own devices to keep the party going. While watching "Death Proof" on a small DVD screen, we discovered that even zombies need a little green fairy every now and then.
T
he sun seemed to rise early on our final day of horror. It was telling us it was time to get up and get on the road to return to the USA, or at least to rush to the airport. Some of us seemed a little worse for the wear that morning. Maybe it was the transformation to undead and back, or perhaps it was the alcohol and late night fun among the spirits.
W
e bid farewell to our tourguide Alan Murdie, who was a wonderful host, ghosthunter and friend to us all. Before we knew it the tour was ending. Sharing stories and souvenirs, we hung out at the airport.
S
itting next to me on the flight was a bear I didn't know. He was rather quiet, but didn't take up too much space, so I didn't complain. He believed in ghosts.
W
e landed safely at JFK. It was a great trip, and I think we all had a lot of fun.
Back to Tour Reports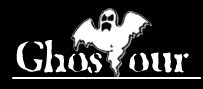 Click Here For Free Color Brochure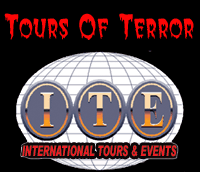 315 Derby Avenue, Orange, CT 06477 USA
Tel: (203) 795-4737 Fax: (203) 891-8433




TOURSofTERROR@aol.com