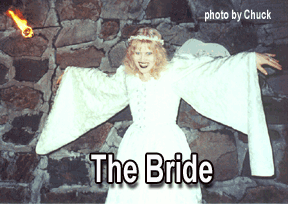 My travel log in Transylvania shall begin on October 31st, 2001, better know as Halloween. They don't celebrate the greatest holiday of the year in Transylvania. I suppose that's because it's Transylvania, and in the land of Dracula anything is possible and everyday is Halloween.
7:30 am
I awoke with a monster (no pun intended) headache. I decided to retire early the evening before while my groom gallivanted in go-go bars with other members of the tour. I wanted to take a hot bath, curl my hair and get a good night sleep. I did everything except get a good night sleep. I had a horrible case of the wedding jitters and couldn't rest knowing my husband-to-be, Chuck, had naked women at his disposal and a pocket full of lei (pun intended). I was also locked in the room (old European locks), which made me feel as if I were in a cage.
So I have a headache and really don't want to get out of bed. But Chuck gives me a guilt trip about the group waiting for me on the bus, and how sightseeing is more important than the bags under my eyes, the puffy face and the sudden break out. Of course, he was wrong but I went anyway. It turned out we weren't even taking the bus that morning. Our tour-guide Radu took us to the center of town, which was going through some major renovations. He then left us to do as we wished. We headed up the street and admired the architecture and bright colors of some of the facades. It was a fantastic little town with lots of bakeries and small shops. We walked around for about an hour and headed back to our hotel. We had a couple of hours before we had to meet on the bus for our special luncheon at the Jonathan Harker Restaurant.
12:00 pm
I awoke with a monster headache.
1:00 pm
We arrive at the Jonathan Harker Restaurant and stop for a group photo before entering. We stay in our positions while everyone passes their cameras to Radu for a shot. It's a non-stop stream of frustrated grunts when another camera came his way, then big smiles.
The restaurant is one large room. We are given a shot of blood brandy as we enter. The décor is fantastic. The entire space is candlelit. There are thick red tapestries covering the windows that cast a bloody shadow over everything. Paintings of The Master adorn almost every wall. A variety of taxidermies and bearskin rugs are hung throughout the room. We are told to sit at the head table in the center of the room. There is a thrown-like chair that I am to sit in with Chuck on my right and our best man, Ryan on my left. I do not want to be the center of attention so I make Chuck sit in the thrown. It seems appropriate.
The luncheon is great. Like most meals in Romania everything is brought out one course at a time. I'm a vegetarian, but I am told the Beggar's Steak is delicious. Throughout the meal, tour-host Charles forces each of us to make a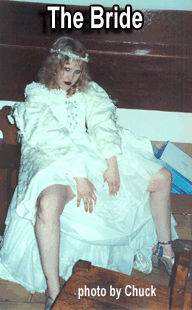 toast. Some are short, some amusing, some confusing but none boring. Afterwards, we take photos of each other wearing the restaurant's official Dracula Cape and holding their golden pitchfork. Cameras are flashing from every side of the room. There are so many cool things to photograph. I especially love all of the paintings.
3:30 pm
We arrive back at the hotel. I'm told to get all my things together by 4:00 pm so I can be taxied up to Dracula's Castle Hotel. My headache gives way to light headedness and nausea as I frantically get everything together. I find that I am continually talking to myself like I had multiple personalities. "Do you have your shoes?" "Yes, I do." "Do you have your new underwear?" "Yes, I do." And so on. I say goodbye to my fiancé for the last time and continue talking to myself as I go down to the lobby.
4:00 pm
Radu is waiting by the cab with a big box in his hands that turns out to be our wedding cake. It is 2- tiered with white frosting and little yellow and blue roses. There is a bride and groom on the top made of sugar. Although it is amazingly detailed and very cute, it soon be replaced with our Day of the Dead cake topper.
There is a lot of fast-talking between Radu and the cab driver. They take my wedding dress and put it in the trunk, assuring me that it would be fine. After lugging that dress through 3 countries, 3 airports, 3 x-ray machines and onto a bus, at this point I'm no longer too concerned.
I am waiting in the cab when a woman I've never met gets in, smiles at me, and starts talking to the driver in Romanian. She closes the door and the cab drives away. Radu and Charles wave goodbye. I return the wave even though I am very puzzled. I learn that the woman's name is Lucy and she works for the tour company. She says that she is going to make sure everything is perfect. We make about 3 stops where she whisks in and out of the cab, not once clueing me in on where she is going or what she is doing. I decide to just sit there and not worry about it. I try instead to figure out what colors of eye shadow will look best with my wedding gown.
We end up back at the hotel where we pick up Radu and Charles. I feel a little more at ease. The sun is just beginning to set as we head up to the Borgo Pass. I have very good conversations with Lucy and Radu about the history of Romania and the fall of communism. All the while, I am in awe by the spectacular beauty of the mountains and landscape. The setting sun gives everything a fiery glow. Although I have never been here before, I feel like I am returning after being away for a long time. My excitement somehow seems old and comforting. Charles snores.
5:30 pm
We arrive at the hotel, which is atop a mountain with a spectacular view. There are a few shops that sell souvenirs and a variety of hand-made pieces. There is also one small house with a tiny family graveyard in the back of it. The whole scene is like a fairytale.
We gather all of my things and Radu leads me through many hallways and many turns up a dark flight of stairs to room 3A, which is in the highest tower of the hotel. I become giddy once we enter. There is a small foyer and the bedroom is off to the left. The color scheme is gold and white. There is an antique loveseat against a hideously wonderful mural with couples having sex on horses, centaurs and angels running on beaches. It really makes no sense but I still love it. The best part of the bedroom to me is the small vanity table. I've always wanted one, so it was nice to have one on my wedding night. There is another door in the bedroom that opens to a short hallway with a small flight of stairs at the end. They lead to a nook with 2 wicker chairs and a table placed in front of a window with another magnificent view. The luxury ends when I check out the bathroom. There is a flickering fluorescent light that takes a few minutes to actually turn on once the switch is clicked up. It is a gray/blue that looks even worse with the lighting. Although it is clean, it is old, cracking and in much need of a makeover. Oh well, I plan on getting dressed at the vanity anyway. If you walk straight through the foyer you come to a dining room. There are 2 chairs, a television, a china cabinet with glasses and dishes, a dining table for 4, plus 2 awful portraits, one of a man and one of a woman. I don't have a dining room nor do I have paintings that I could put in one so I still love them. To the right of the dining room is an enclosed terrace with another gorgeous view. It is dusk and the mountains are just starting to fade into the night. I open one of the windows and stick my head way out taking in a lungful of the fresh, cool breeze. This is when I hear wolves (okay maybe it was dogs) howling. I am overwhelmed by it all. I feel as if I am an actress in a Hammer Film. I have to get ready so I close all of the windows as the mountains disappear with the sun. I am just about to sit down when the windows of the terrace blow open and shoot a draft of wind so strong it blows every door closed. It jolts me straight up and whisks my overactive imagination deep into la-la land. I slowly walk through the dining room and then onto the terrace. I truly feel like I am in a Hammer Film now. Christopher Lee come and bite me baby! Alas, I have to tell the Count that I cannot invite him in and I'd appreciate it if he would come back later because I am busy.
6:00 pm
I check out my wedding gown, slowly unzipping the garment bag, expecting it to look awful and to my amazement there is barely a wrinkle. Now if only I can get my makeup on without too much trouble, all would be well. I am amazed again when I get my makeup done without any trouble. This actually has me believing that zits on the bride are good luck after all!
6:30 pm
I knew just as I began painting my nails someone would come by. It was Charles needing a place to do his makeup. I'm not dressed properly... as a matter of fact I'm not dressed at all! I unlock the door and dash into the dining room. We chat loudly through the closed door about the upcoming evening events. I was originally supposed to come down the isle to a funeral march, but instead Charles found a medieval version of "Here Comes the Bride." It would have to do.
Charles soon transforms into the Las Vegas vampire version of Beetle Juice. He takes all the wedding items I had been carrying for days down to the party room. I was so glad I wouldn't have to worry about them anymore.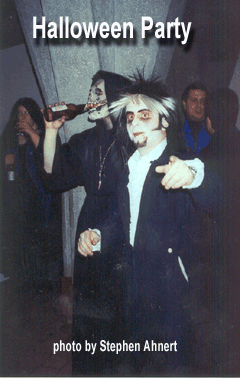 7:30 pm
I am a little worried that I won't be able to get my wedding wings on by myself, but my lucky zits once again come through for me. There are only two mishaps. The first is when I fell getting into my petticoat. The second is when I had to take off the entire gown because I wanted to look a little more buxom and put on a water bra along with a thickly padded bra. They look great, but I just can't lace up the dress. I take off the padded bra, get dressed again and am ready to be married. I feel like a princess on the verge of a royal puke.
Radu and our best man Ryan (dressed as a very scary grim reaper) knock on the door just as I finish dressing. It's a good thing Radu notices the large safety pin holding up the train of my gown. I thought it was longer. I remember that I need "something borrowed" so I asked Radu if he has anything (I decline Charles' offer to borrow his laser pointer) and he produces a stamp. Good enough. I stick it in my bra and am good to go. They escort down the dark flight of stairs and keep telling me that I look lovely and that I'm not going to throw up. Ryan stops to take the first photo of me as a bride and the last photo of me as a fiancé.
Else, a.k.a. "Satan's Cheerleader," and our tour's honeymooner, meets me at the bottom of the stairs. She has only been married a couple of weeks so she knows how nervous I am. She says all the things I needs to hear. "You'll be fine." " You look beautiful." "Your not gonna vomit."
The music starts and I step through the threshold. I try to walk down the aisle as slow as possible but it is only about 15 feet long. Everyone is dressed in costumes and blowing bubbles. The room is candlelit with cobwebs everywhere. Everyone and everything looks great including our ring bearer, another grim reaper, that I didn't realize was one of our fellow travelers, Mario.
Chuck looks so handsome in his black leather pants, long velvet overcoat with an ivory satin shirt that matches my dress. My heart skips a beat when he smiles and I see his gleaming fangs. I look into his eyes and know that beneath the contacts with hourglass shaped pupils are the most amazing blue eyes. I want to cry, but didn't want to ruin my makeup, so I hold it in, which makes my throat hurt.
We turn to face the Ukrainian Orthodox priest and 3 nuns, appropriately, all dressed in black. I mentioned to Radu earlier in the trip that I was Ukrainian, which is why they were chosen to perform the ceremony. We are of no religious denomination so it doesn't matter to us. One of the nuns, without fault, reads a passage from the bible in Romanian or Ukrainian, I can't understand it either way. I'm sure it is full of good wishes and blessings. They probably throw in a few extra because we all look like we need them. She continues for what seems like forever and I am getting more and more nervous. Every time I think I would lose it, I just look at Mireya dressed as Nosferatu. Her scary little face is sitting in between two of the nun's heads. Of course, then I have to hold back laughter. I manage to hold back everything and just shake uncontrollably under my dress. The priest begins speaking and Radu translates. All I hear is something about singing a song. I miss the part when he says that the song is the actual marriage sermon and we would be married when it ends. So I am pretty surprised when he finishes and pronounces us man and wife. We hold off kissing until we read the vows we wrote for one another. Before we even do that, Charles has Chuck stomp on a glass wrapped in tin foil, a Jewish tradition. It is to represent the last thing broken in our lives, no broken hearts, no broken promises. I think it's pretty cool. Then we spend about 5 minutes trying to untie the rings, which are "loosely" tied to the ring pillow. Finally, with rings on fingers, we kiss as husband and wife for the first time.
8:30 pm
We both get a plate of food from the huge and beautifully presented feast laid out for the party. Neither of us could eat so we sit at our table with our grim reaper and skeleton trolls. After lots of photos and congratulations, we decide we should sneak off to our room. Chuck hasn't seen it yet so he follows behind me with the video camera as I guide him through the halls, making only one wrong turn up to the dark staircase that lead to our chamber. He is also very impressed with the size and décor of the room. I trollop around as happy as can be, showing him everything. We go out onto the enclosed terrace and open all the windows. We stand silently, side-by-side and listen to wolves howling under the full moon of Transylvania. It is a magical Halloween, one that will be impossible to forget. It is then that my husband's blood lust transforms me into the evil bride I am destined to become. I am one with all creatures of the night, ready to partake in any and all festivities until the sun comes up. I emerge from our lair dead and loving it.
9:30 pm
We rejoin everyone at the bonfire that had been raging for a while when we arrived. The Dracula Society are also having a party at the hotel so there is quite a crowd. It is a tradition to leap through the fire for good luck in the coming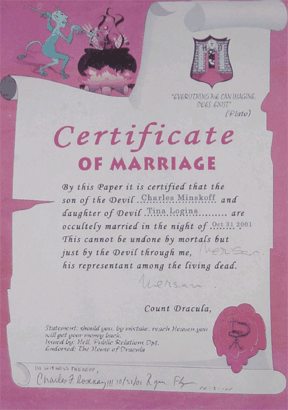 year. My husband easily flies over the fire, but I cannot jump for fear of going up in flames and ruining my dress. Satan's Cheerleader is being hit on by "the shadow." The Nosferatus are eating flames with forks and knives, and I, the new bride, with black lips and new sharp teeth, am looking for a victim but everyone is already dead. So instead I spin in circles until I get dizzy and fall down. It is all so great that I don't think anyone there would have wanted to be anywhere else at that moment.
We all go back into the dungeon and the party continues. We do the Hora. It is a lot of fun, full of energy. I am a little nervous about being lifted up in a chair and being carried around. But the big strong men manage to do it without killing Chuck or me. Then we have our first dance to "I Got You Babe," yes, the Sonny and Cher version. Don't laugh; the lyrics are great and they were in love when they sang it. How romantic is that?
A few members of the Dracula Society crash our party because the dead at our bash know how to live. We are a bunch of happy dancing fools. At one point Charles makes Chuck and Ryan do a "traditional" risqué dance called "Strokin'." Charles lip-syncs the lyrics, which is hilarious because the person singing was obviously not a little white guy.
11:00 pm
While I sit down enjoying a cold drink and laughing at the guys "stroking" as hard and as fast as they can, Lucy approaches me and says I am to follow her. I ask her where she is taking me, but she won't answer. I follow her up to a small room where she locks me in. I can't believe I am locked in a room again. She says I have been kidnapped and my husband would have to pay a ransom for me (she says this is a Romanian tradition). A note is sent down to Chuck and a few moments later I am told to give up one of my shoes as proof they have me hostage. The messenger comes back and says Chuck offers 2 bottles of red wine for my return. I find this quite an insult and demand that he also pay 1 million lei on top of the wine. The messenger returns and says he agrees to lay me 1 million times. My abductor says it would have to be one million and one. The messenger comes back again and says the final offer is one million lays and 1 tongue. I agree and am then safely returned to my husband.
Midnight
Charles realizes the wedding cake was never brought out. We give him our wobbly-headed, bride and groom skeleton cake topper to put onto it. It is brought out with little dishes of fire at each corner of the tray. We are given a giant butcher knife (okay, it is plastic, but does glow in the dark and it's from the Michael Myers collection) to cut the cake, which we do with no grace. We proceed to do the traditional cake smash (as the DJ plays "Hit Me With Your Best Shot") which leaves the both of us covered in chocolate cake and frosting.
12:30 am
It is getting kind of warm so Chuck and I take a break from the crowd for a walk around the grounds of the hotel. The full moon and faint glow of shadows are the only things visible in the darkness. Occasionally we see the silhouette of a bat flutter by.
We sit down on the wall that surrounds the castle. Even though it is too dark to see anything I know there are endless green fields and forests waiting to come forth with the sun. Chuck hasn't seen the Borgo Pass in the daylight so I describe to him how beautiful it is. We both look forward to awaking the next morning.
While basking in the moonlight we are approached by a friendly white and orange dog with a thick coat of dusty fur. I remember the table full of uneaten food and run inside to get some for him. I return with handfuls of meat and cheeses. Chuck decides to go back in as I finish feeding my new friend. I give him a last piece of ham and follow Chuck. Just as I get to the doorway of the party I turn back around for a last look at the dog and there is a dirty peasant man standing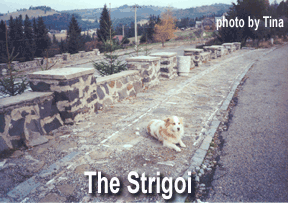 there. He doesn't come beyond the entrance way but just stares at me. I look beyond him and do not see the dog, which was just there seconds before, gobbling every last morsel he could. I am convinced he is a strigoi, or a shape shifter. I go in to ask Lucy if she knows who is this man is. She says that she doesn't, but adds "anything is possible in the land of Dracula." I get goose bumps as she says these words very slowly and seriously. A few moments later the man is gone. I go back outside and don't see him anywhere but the dog is once again sitting where I had last seen him. Creepy.
3:00 am
I return a very stiff stamp to Radu, who has a good laugh watching me peel it off. Then we retire to our room, sticky, sore and sleepy. We manage to stay up for a little while longer.
8:00 am
We awake achy from the lumpy mattress. Our double bed had actually been 2 twin mattresses pushed together, and as usual I slept on that center space. But we ignore our pain so we could take in the layer of gold that covers the Carpathian Mountains.It is a true thrill to be here. It is just what I picture the land in the fairytales to look like, and here I am on the terrace of the castle looking at it with my prince.
10:00 am
We buy a few souvenirs from the shops outside of the hotel. I see the strigoi dog from the night before hanging out with one of the tours members. I approach him and say "I know what you are." He looks at me, turns, walks away and lies down in the sun. I take a photo of him that does print but I believe anything is possible in the land of Dracula, and I pet a strigoi at Castle Dracula.
We leave the Borgo Pass with the greatest memories of our lives. We love every moment we are there and every moment of the rest of our journey.
Copyright © International Tours & Events LLC. All rights reserved