"I did this tour last Halloween and I can guarantee that every location we went to was "real." Some of the locations had actual historical relation to Vlad to Impaler, some had historical significance to Bram Stoker and the novel Dracula, but all the locations were amazing and worth the travel to see. Our tour guide Radu was fantastic and explained in detail what we were seeing and why. I would recommend this tour to anyone!
Rebecca Melson (Mill Creek, TN)
"The Romanian trip was terrific. Thought it would be good, but had no idea it would be THAT good. Couldn't have imagined a better time, a better mix of people, a better foreign guide (Radu), or a better tour organizer (you guys).
The planned things were terrific, the last minute ideas were fantastic and the whole trip was unforgettable.
Thanks again and Happy Trails."
Kathryn Felice (Mayslick, KY)
""We just wanted to send you a quick note to say that Nick and I and our friends Heather and Rob had the best time in Romania. In fact, we were so impressed with the country that we all want to go back to rent out an chalet in Braslow for our next vacation. It is so beautiful there and so cheap. We travel all over Europe and found Romania modern, traditional and people very friendly and most speak English. Definitely going back soon.
As for the trip, Radu was the best! He was very witty and told lots of great stories. We totally appreciated his humor and his knowledge of history. He definitely knows his stuff. We hope to be in touch with him especially if we go back to Braslow where he is from.
The hotels we stayed at were great. Dracula's Castle was fun. We had a little celebration for our 10th anniversary that Radu officiated. We even were interviewed by a few local TV stations. One of the highlights was visiting the next door Monastery. Other highlights were Bram Castle. Wonderful place. We went off on our own and visited Rasnov Castle. The place was amazing as well as the castles in Sibiu. Breathtaking.
Stay tuned and I will send you pictures soon. Thanks for organizing a great tour."
Barb Abglisz + Nick Cordua (Brooklyn, NY)
"I just wanted to say THANK YOU for organizing such an amazing tour! I first saw this tour online about 6 years ago and knew I had to go. Finally I set a date and asked my friend if she wanted to go with me and we started saving up. It was my first time out of North America, and I have to say I absolutely loved it there! If I could only go one place in the world, Transylvania was it. After seeing how beautiful it is...it is one of the only places I could be convinced to leave Canada for. I loved every minute of the tour and will definitely be joining you guys on future ones. I would love to do a ghost tour and the Salem weekend.
"Everyone on the tour seemed very very normal, so I kept my personality in check and behaved. Hah! So thank you again for setting up such a fun filled week. All the extras to make it extra Halloweenish were fabulous and Radu is simply amazing! He went above and beyond to make it the experience of a lifetime.
Thanks again."
Cindy Heigh (Edmonton, Alberta, Canada)
"Just wanted to let you know how much Russell and I enjoyed the trip. Much more than the website/promo material outlines. Radu was excellent - his knowledge of the country, history of the sites and history in general puts Americans to shame. We enjoyed his vast knowledge of Vlad Tepes and how it was tied in to all our stops. Eastern Europe was not at all what I expected, I thought there would be a lot of post-communism oppression, but to my surprise I thought Romania was totally hip, charming and felt very safe and was glad to have some evenings to explore on our own.
There was just the right amount of vampire kitsch, at least for our group -- we were all into the genre but not over the top. I have been wanting to go on this trip for a few years now and was not disappointed and would recommend DracTours highly and would consider another trip someday. "
Arn Ahsltrom (Evanston, IL)
"Our guide, Radu, was incredible -- a great knowledge of his country's history and willing to share with all of us (unlike some Americans, who can't even tell who we got our independence from!). The tour was not at all what I expected, it was MUCH better. I was a little concerned about going on a "cheesy vampire vacation", but Radu made it an interesting and informative trip.
I would definitely go back to Romania. I've already told a number of people about the tour and recommended that they go in the summer, with the smaller group. I really felt we got a better trip that way. I loved the historical aspects of the trip and would like to go on a tour that focuses on the history of the place and the real Vlad. On our first day, we were walking around and I commented on "that lovely old church." Radu looked at me, puzzled, and said "That's not old, its only 17th century." What a reminder about the extremely rich history of the region!
I especially loved Castle Ponari and made it all the way up to the top. Just to let you know -- when I went, I was afraid of heights and had vertigo. After that climb, both were gone!"
Peggy Helminiak (San Antonio, TX)
"I wanted to thank you all for providing such a terrific trip! I had a great time and I wasn't ready to go home. I travel a lot and this was the best trip I have made. Romania was beautiful and I loved hearing about the history. Our Romanian tour-guides and historians Radu and Raz were wonderful, and special thanks to tour-host Charles, who took such good care of us and made sure we had fun."
Beth Riley (Baltimore, MD)
"What a GREAT trip. I loved every minute of it. It was much more than I expected -- and I expected to have a good time. I would definitely recommend it to anyone even if they aren't a Dracula or horror fan. It was a great week and you especially helped to make the week more fun. Thanks for all you did at the Halloween party. I wish you had other trips available in other countries. I'd definitely go! What's your next adventure?"
Nancy Gaubatz (Boston, MA)
"I am writing to you, having just returned from your October tour of Transylvania. Let me just say that I had the time of my life. It will be extremely hard for me to have a vacation that topped this one. The things I saw and experienced, as well as the people that I met, will be a part of me forever. I can't wait until I go again (and I most CERTAINLY will go again)! I plan to take your GHOSTour of England. There are not enough positive things that can be said about the trip. It's too bad that the tour wasn't for two weeks instead of one. Again, thank you to everyone involved in pulling off this incredible trip."
Michael Henry aka Morbius (Durham, NC)
"I can't put into words the impact the trip to Transylvania, Romania and the people I met had on me. I truly had the time of my life and am so happy I made the choice to get out there and just DO IT! The place itself is magical in its own right. The country, the towns and villages I visited were amazing and I learned so much of the region's history - not to mention the history of Dracula!! (otherwise known as Vlad Tepes the Impaler)! Each and every day was an adventure in itself. The people I met along the way made a huge impact on me in a way that I can't even describe. So many people from so many places all meeting together on the other side of the world in an attempt to explore the unknown and understand it better. The people on the trip were amazing. The trip wouldn't have been the same without the large cast of characters who saved and planned for this wacky vacation from reality. It truly was amazing. I took hundreds of photos that I now have to weed through, edit, and post. Oh, what FUN we had! Let me just say that I had the time of my freaking life.
"It was more than I could have asked for and I am thankful that each and everyone of you were there to share this more than amazing experience with me. Thanks to everyone on the tour who shares this same sentiment... It was the experience of a lifetime!!!"
Rebecca Farley (Brooklyn, NY)
"It was a once in a lifetime event I'll treasure and the friends I made as well. We got closer really quickly and became like family I thought. From the late night events around every city we visited (some can elaborate on that more than others) to the friendships forged, it was truly a once in a lifetime event. Radu was great, packing as much as possible into every day -- even some things not scheduled: Micea the Elder (Dracula's Grandfather) for example on the way to Poenari Citadel, or taking those of us who wanted to walk around Bucharest late on the last evening after the farewell dinner to see the remains of Dracula's residence. I may be a bit biased but I do believe this was the best group ever, I wish it could have lasted longer and that we weren't all spread out over the United States."
Matt Burr (Sand Spring, OK)
"Radu and Razvan deserve BIG bonuses! No kidding. They will always be first and foremost in my praise about this trip----and recommended reasons to anyone else for signing up. I am an inveterate traveler (Oxford University summer school, Windjammer Barefoot Cruises, Princess to Alaska and the Caribbean with many shore excursions, just to name a few), and I have never elsewhere experienced guides as well-versed, patient, funny, personable, and encouraging!"
Susan McMurray (St. Augustine, FL)
"DREADFULLY WICKEDLY MORBIDLYICIOUS!
Was a "thriller" to see and read our report (the funk of 40,000 years). I felt the pulse of Dracula out for a bite. Suddenly many memories were right back -- it made me miss being there in that strange and romantic land I am still haunted by.
Nice goretraits! Thunderous rounds of Multzu Mesc to you and the gHOSTS for your deep kindness. The Dracula Tour was a vessel to "cross oceans of time" to be together again.
We owe you eternally for having had the time of our death!"
Putting z ROMANCE in ROMANIA,
The Bloomndoomers
Curtis & Andrija Bloom (Alta Loma, CA)
"We travel a lot and we both agreed that you gave us the best experience so far. We look forward to the GHOSTour."
Tom and Bev Roberts (Birmingham, Michigan)
"Thanks for a wonderful time. I was totally impressed with every aspect of the trip. Everything was meticulously planned. Radu was the perfect tour guide. He has a passion for his country and it shows during his discussions.
Hope to travel with you again."
Penny Whitaker (London, KY)
"I have to tell you how much my husband, Tony, and I loved this trip - it was the experience of a lifetime. We had a hunch it would be great based on the previous tour reports, but I must say that experiencing all of this in person was even better than I had anticipated..... words cannot express what an incredible journey this was for us.... the most amazing Halloween we've ever had.... the most amazing anniversary and birthday I've ever had!! THANK YOU THANK YOU THANK YOU!!!!!!!
Kudos to you and Radu for making this such a wonderful trip. The fact that you were able to enthrall people from such diverse backgrounds speaks volumes, I think. Radu is a genius, and I could listen to him for hours. It was such an honor to learn about Romania from someone as brilliant and passionate about his country as he is. And you, Charles, sure as hell know how to throw a party! You were born with a gift for making people feel comfortable AND highly entertained. I thought that the balance between humor and history, between the very American love of Halloween and the respect for authentic Romanian culture, was delivered in an amazing alchemistic blend ala the both of you.
And what a great group we had to travel with!! It was such fun to hang out with such diverse people - and we got along so well - it was amazing. I don't think I've ever heard of a tour group bonding so well! So thank you again for making this experience even more amazing than I had bargained for, and please sign Tony and I up for the ghostly reunion in London!"
Rita Bellanca Kay (Seattle, WA)
"I've been on such a high since I got back and I keep replaying the memories and smiling. And I've been having the most vivid dreams! They seem to be a continuation of our adventures. (One week was not enough!)
Now that I'm back everyone around me seems so, well... ordinary. Several people have told me how jealous they are that I went on this trip. So I recommended it to them! When I'm talking about it, it's almost as if the sites were secondary, "Yeah, we saw Vlad the Impaler's grave but the PEOPLE were so much fun!" I miss everyone!"
Until the dawn,
Jansen Fernald (Boston, MA)
"I wish I was back in Romania running with my new found family ("pack"). The wolf howl at the ruins was priceless! From the top, middle and bottom you could hear our "family" communicate. I miss them all. Radu, our tourguide, included. He was by far the best anyone could ever hope for. He went way above and beyond to make that trip memorable as did our host Charles."
Scott Goodall (Providence, Rhode Island)
"Hello Boils and Ghouls,
This is a message to let you know that this boy has made it back to the States. All went well considering I got bitten by a vampiress on Halloween night. My memory has cut out a little so I do not know if I have fed yet, but I can feel the changes taking place. The sun is starting to burn my eyes and I feel more alive at night. Soon I will have to feast on blood. I was able to conduct a gypsy band on Halloween night outside Dracula's castle (photo by Dorota "D"), using a sparkler as my rythm stick and a skeleton clacker to count beats. I met many interesting creatures on this trip from all over the world."
Kurt Van Ulmer (Denver, CO)
"Not even the Greenwich Village Halloween Parade can favorably compare with spending Halloween in Transylvania with such a fantastic tour director, guide/translator, driver and group of people as were on the tour! Had the time of my life(!) in Dracula Country and can't wait to do it again .... maybe next year?"
Tony Scheinman (Astoria, New York)
"I want to thank you and all your staff who made the trip so fantastic. I had an amazing time and have made some really wonderful friends that I can't wait to see again. I cannot begin to tell you what this trip has meant to me. I hope that maybe my son and I can do it next year but if not I am so looking forward to a reunion.
Romania was everything that I expected and more. The people are so nice and the place so amazingly beautiful. It has such an interesting history that Radu made come alive. I again appreciate all you did to make a trip of a lifetime possible."
Ellen Arnold (Arlov, Sweden)
"Thank you for what will remain with me a most unusual adventure. I was particularly moved by the magnificent monastaries and countryside. Of course, the dark side was so interesting and fun. I met some curious and some interesting and some quite memorable personalities. And I count them all as a blessing. Accommodations were fine, food was fine, all the prices were more than fair. All in all it was a great value. Thank you for egging me on to the 1500 stair march (up to the ruins of Vlad's Castle)... I did it!
I'm recommending the trip to everyone!"
Melinda Sharp (Glendale, CA)
"I have had the pleasure of taking this delightful trip twice!! I was in the summer group last year and this year! This is the most incredible vacation I have ever been on! Both groups were filled with an amazing variety of mortals, and I know I've made some good friends for "life" (so to speak)! I love remembering
the great time I had on both of these trips!"
Cheers,
Kitty Burns aka Mina Harker (San Francisco, CA)
"What a Great Vacation!!!!! I enjoyed everything. The hotels were good. The people on the Tour were great and we are planning a trip to New Orleans with a few of them. Radu and Stefan were the BEST!!! I really can't think of any problems. Thanks again for a great vacation and looking forward to going on the Ghost Tour."
Krys Crawford (Gainesville, GA)
"Omygosh I am not sure where to begin; Lets start with that was the best vacation my family has ever been on! Radu rocks!!! We never had to worry about anything. He was so kind with our daughter, we just really appreciate everything he and Stefan did."
Sherry Loggins (Gainesville, GA)
"I wanted to say what a great time I had. I have done a lot of solo travel, but on this trip I never felt like I was alone. I have also been to many weddings, but this one was by far the most fun. Thanks to everyone who let me hang out with them. I am planning on going on the GHOSTour."
Heather Poole (Nashua, NH)
"We just wanted to write you a quick note to tell you about how wonderful our trip was to Romania, full of adventure and suspense. Our trip started in the South of Romania in Bucharest, before we headed North to the Transylvanian Alps. The Carpathian Mountains in Romania were absolutely extraordinary. It's hard to believe that there are still such places left untouched by modern civilization.
The Romanian people were all very friendly. They always waved to us in passing. We felt rich using their currency system in which our dollar equals 29,000 lei. We also felt very fortunate for all that we have, and for the trip we were on. Seeing how poor other countries are makes you really appreciate how great the USA is.
One adventure was visiting the ruins of Dracula's real castle, which entailed climbing some 1500 steps up a hilltop. Superb view from the top. Another adventure was when we went to Snagov Island by means of row boat (a few at a time) where the tomb of Dracula lies in the Monastery. That was very cool. We also visited Sighisoara, the birthplace of Vlad Tepes (Dracula); we saw the house he was born in, and a 13th century Sighisoara citadel. It was pretty impressive. It really put us in a medieval mystical place upon entering the citadel. Bran Castle was great to visit also.
Along the way, there were some skeleton bones which surfaced (see photo below).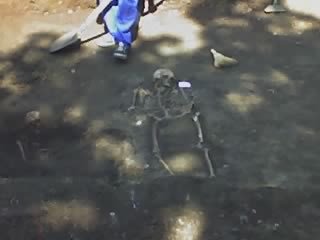 We stayed in Dracula's Castle one night. It was very isolated from modern civilization besides a few farmers and construction workers. That is where we had a fantastic Halloween party. We were kept awake by the dogs howling all night long.
The tour guide Radu was very knowledgeable and nice. The tour bus driver was very skillful and polite. They guided us through their country and made our visit really special.
Our special guest Butch Patrick aka Eddie Munster was a funny, candid, and very personable guy. I was happy to have met him and hang out with him. Everyone we toured with was fun."
Craig & Marge Murphy (West Hartford, CT)
"The tour far exceeded my already high expectations! Great tour director, and driver. Great people to travel with, hope to do it again. Thanks."
Tony Hart-Wilden (Winchester, Hampshire, England)
"The trip was amazing!!!!!!!!!!!!!!!!!!!!!!!!!!!!"
Brenda Lee-Wood (Anaheim, CA)
"Radu was the most wonderful host for the Halloween tour in Transylvania. He was amazing and I just wanted to thank him for all he did. I would go on that tour again - it was awesome!!!!!!!!!!"
Kim Paterson (Aindrie, Alberta, Canada)
"It was a once in a lifetime event I'll treasure and the friends I made as well. We got closer really quickly and became like family I thought. From the late night events around every city we visited (some can elaborate on that more than others) to the friendships forged, it was truly a once in a lifetime event. Radu was great, packing as much as possible into every day -- even some things not scheduled: Micea the Elder (Dracula's Grandfather) for example on the way to Poenari Citadel, or taking those of us who wanted to walk around Burcharest late on the last evening after the farewell dinner to see the remains of Dracula's residence. I may be a bit biast but I do believe this was the best group ever, I wish it could have lasted longer and that we weren't all spread out over the United States."
Matt Burr (Sand Spring, OK)
"The tour was awesome. My wife and I were a little disappointed (at first) that the Summer group was smaller than we anticipated, but this turned out to be a blessing in disguise. Radu was incredible, and with the smaller size, "tailored" the tour for us, asking for things we were interested in and working them in whenever possible. For instance, the day we arrived, as we drove into town, we saw an ad for the art gallery in Bucharest having an exhibit on Vlad Tepes, including the only known painting actually made of him. We made time, and got to go through the museum and see that, as well as some books from hundreds of years ago, including some supernatural themes.
The hotels were great, my wife and I both enjoyed staying in places that were different from the typical "Holiday Inn" found in America. It is always interesting to see how other cultures approach life differently from what we are used to. I would like to mention that I re-read Dracula during the trip, and it is truly amazing how accurate Bram Stoker's depiction of rural Romania/Transilvania were, with his never having actually been there. Radu's knowledge of the area is remarkable. I had a Romanian tour guide with me, and whenever I used it to read up on where we were, I found Radu's comments and explanations to be accurate, with plenty of local color thrown in. He is excellent; we would take another tour with him.
Thanks for the terrific time, we are definitely considering taking another tour with your company."
Joe Helminiak (San Antonio, TX)
"We had a great time. Radu was a great tour guide, and Stephan was a great driver. The best thing about the trip was pretty much everything. All the different sites and the history behind it all was excellent. Thanks for a great time!"
Rebecka Marple & Joe Matthews (St. Cloud, FL)
"The real magic to a trip like this is doing your homework before leaving. I read Dracula: Prince of Many Faces by Florescu and McNally two times prior to leaving for Romania. There are moments that become nearly sublime when what you've read and what Radu is telling you and what you're seeing in front of you all cross paths which, to a person seasoned in these sorts of trips, certainly seems obvious. This was my first overseas trip so that wasn't me. However, when you think you know exactly where Radu is going with a story he will deftly drop in really great unexpected information...sort of like an Easter Egg in a DVD, maybe? It's much cooler than how I'm describing it. We actually managed to see three additional locations that were not in the itinerary. Of everything that we saw the one thing I might never forget was sitting alone outside our hotel on the first night on the lookout for Radu's arrival to meet us. I was wearing my Lucio Fulci's Zombi 3 shirt for him to spot me. He must've seen me first because as I looked up I saw this man happily bounding across the street waving at me. Almost like this Don Juan Matus shaman energy from the Carlos Castaneda books. But that's how I'll remember him, happily bounding..."
Jim Mentzer Jr. (Moon Township, PA)
"One thing I think you miss in this description is the fact that through the tour we saw the beautiful country of Romania and the Transylvania area. The towns are delightful--even without the vampires! I don't remember which was which, but driving thru the countryside, joining the throngs sipping cappuccinos at the outdoor cafes, strolling the town centers and enjoying the lovely architecture, entering the small village with the villagers sitting on time-worn steps and passing the day...these are memories that even we non-vampire-lovers cherish.
This tour, taken with my vampire loving brother two summers ago, opened my eyes to the splendor of Romania. The vampire events were fun; the beauty of Romania was a bonus that made the trip a delight for those outside the vampire aura.
Sharing this with your readers may encourage some couples to join where one is a vampire lover and the other is only vampire tolerant.
We had fun. And saying I went on the Dracula Tour of Terror is a great attention grabber at cocktail parties! Keep up the good work!"
Hallie (Harriet) Peterson (San Marcos, CA)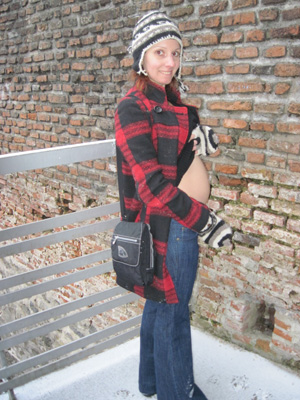 "My name is Kelly Smyntek, and I went on the Romania tour in October 2009. You may remember me as the passenger who was 5 months pregnant at the time. Thought I'd share that I had my baby boy Alexander on March 22 (Radu was wrong, he thought it was a girl)!! Attached are a picture of me a top Mount Poenari (quite possibly the best belly shot in the world). Now, you can have the slogan: Romania & Mount Poenari so safe you can do it pregnant! I had an awesome time on the trip. Some day I hope to take Alexi on one of your tours (out of my belly that is). Thanks for such a good time!"
Kelly (& Alexi) Smyntek (Royal Oak, MI)
Copyright © International Tours & Events LLC. All rights reserved