We understand the current world environment and we pray for good health and safety (and peace!). Although nobody is traveling now, let's hope life gets back to normal soon. All our tours are currently still on, and all reservations are in place. Bookings still being accepted, and everyone's payments are guaranteed
/table>


Dracula Tours to Transylvania
The Haunted Halloween Horror Vampire Vacation for travelers of all ages.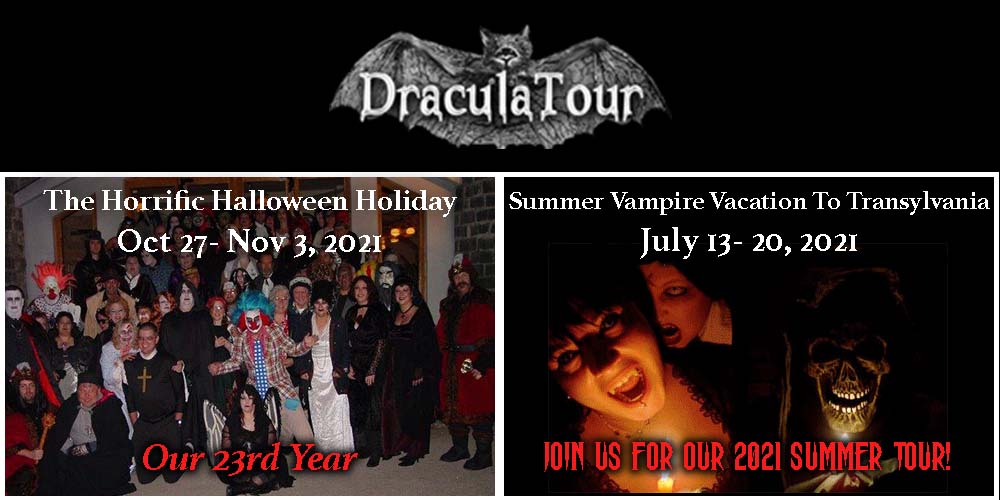 Dracula Tour is the great travel adventure which takes you to Eastern Europe's most infamous land of the unholy, Transylvania (Romania). For one full week, experience the ultimate monster haunted holiday with fellow fans, friends & followers of the macabre on a vampire vacation that is scary, spooky, campy - but most of all - fun for couples, families and solo travelers, vampire lovers and vampire slayers alike.

Dracula Tour follows Jonathan Harker's trail from the Bram Stoker novel "Dracula," the highlight of which is spending a night at Dracula's Castle with a gala Halloween-style masquerade ball. This journey to Vlad's land is both entertaining and informative, revealing the history and the myths, but most of all, all the fun. Tour package includes round-trip airfare, transfers, luxury coach transportation, deluxe hotel accommodations, all breakfasts, full-course dinners, plus all attractions, events, parties, banquets, guests and entertainment. DracTours are presented and hosted by Dracula fans for fellow fans. Rated #1 by vampire fans and endorsed by the Romanian Tourism Board.


Fully Escorted Tours Includes:
Roundtrip Airfare, Deluxe Hotel Accommodations
All Transfers, Ground Transportation
All Events, Attractions, Admissions, Parties

Tel: (203) 795-4737

Fax: (203) 891-8433

DracTours@aol.com

or

DraculaTours@earthlink.net
Copyright © International Tours & Events LLC. All rights reserved