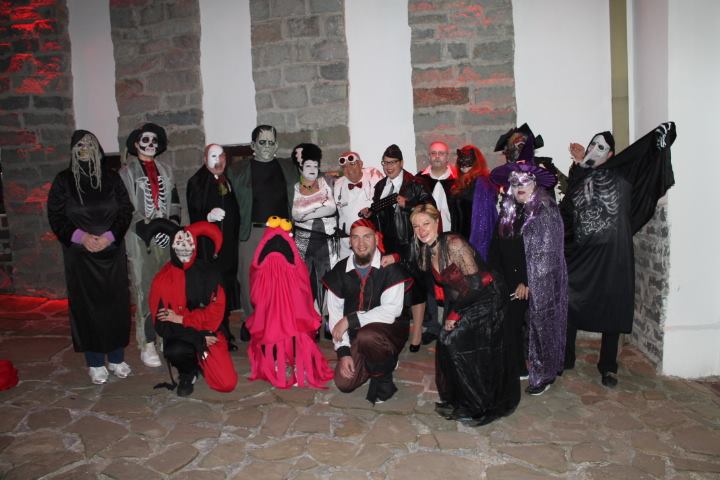 DracPack 2014 Group Photo. Courtesy Traci Burton
Our adventure began on October 27, 2014 when a group of like-minded individuals met in the international terminal of JFK Airport. Tour producers Charles and Danny met us there to hand out our goodie swag bags, as well as our flight itineraries, and to assist as we checked in for our flight to Romania. The energy of our group was amazing and this was sure to be a good time!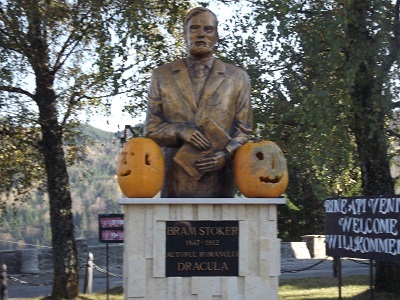 Transylvania's Bram Stoker Statue awaits us. Photo courtesy Steven Lits.
The journey to Bucharest took us through Vienna, which was fittingly foggy. It set the mood and despite any jetlag and travel fatigue some of us may have had. Actually, it energized us.

Some of us need a plane to fly. Others use their wings. Photo courtesy Traci Burton.
Upon arriving in Bucharest we were met by Radu, our guide. The first day in Bucharest involved a panoramic city tour on the way to our hotel, an historic walking tour that night which included some sites from Vlad Tepes' time, and the group welcome orientation dinner at a most picturesque restaurant called the Cau' cu Bere. We met up with the other members of our group there who didn't fly with us, and we and had a wonderful meal. Then it was back to the hotel for some sleep!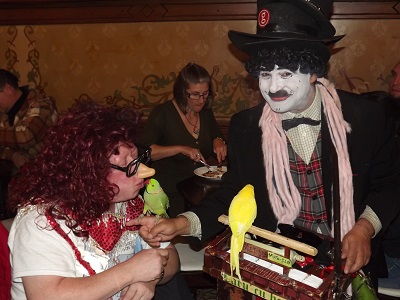 Halloween seemed to come early at our Welcome Orientation Dinner Party. Photo courtesy Steve Lits.
We boarded our bus the next morning and the Snagov Monastery was our first stop. It is here that Vlad Tepes is believed to be buried.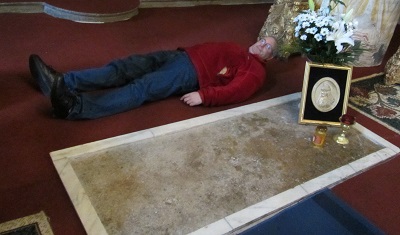 Getting comfy next to Vlad's burial place. Um, we didn't leave him resting there when we left, did we? Photo courtesy Bruce Fishman.
He was killed and beheaded near this location and the burial site was found to contain human and horse bones. Also found was a silver button emblazoned with the family symbol - a dragon in the shape of an 8 biting its tail. We walked the beautiful grounds and, of course, went inside the chapel to see the grave site.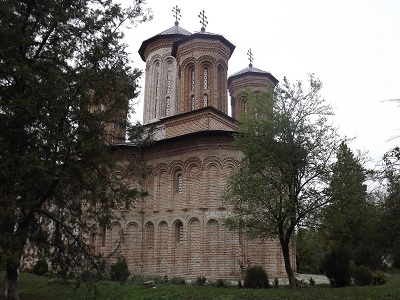 Snagov Monestary. Photo courtesy Steve Lits.
From here we traveled on to Bran Castle, which Radu informed us has been purchased by Disney who will take ownership in 2016. It is a beautiful fortress, and it's easy to understand its appeal to filmmakers (and it had, in fact, been in many films, including Francis Ford Coppola's Dracula), but as one of our group noted in the guest book: "Do not allow mouse ears on these grounds!"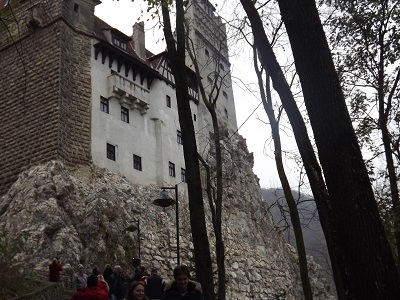 Bran Castle. Photo courtesy Steven Lits.
We visited every room and corridor, and took many photos of Bran Castle, along the way learning its history and importance.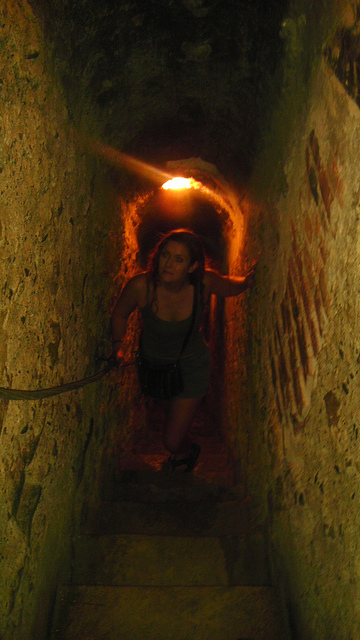 Bran Castle's "Secret Staircase." Photo by Steve Audia.
Brasov was where we stopped for the night and our hotel was in the Romanian side of the city. A small group of us ate in the German portion, and for those readers who are interested in karaoke, there is an easy to find karaoke bar in the German area.
Our next morning began with a walking tour of Brasov, the Hollywood of Romania complete with its own sign up on a mountain. We learned how eighteen German soldiers were impaled on the street for cutting the hair of Vlad's mistress - now THAT'S sending a message! - and the tour concluded with the infamous Black Church.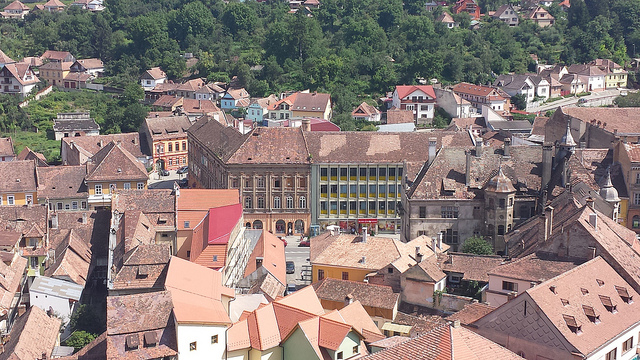 Aerial view of Sighisoara. Photo courtesy Steve Audia.
From here we went to Sighisoara, the birthplace of Vlad the Impaler. We visited his birth home and toured the quaint citadel with its colorful buildings and eclectic gift shops. The "Black Stairs" took us up to the Church on the Hill where we brought in Mischief (Devil's) Night in style by touring the grounds of the haunted Saxon cemetery.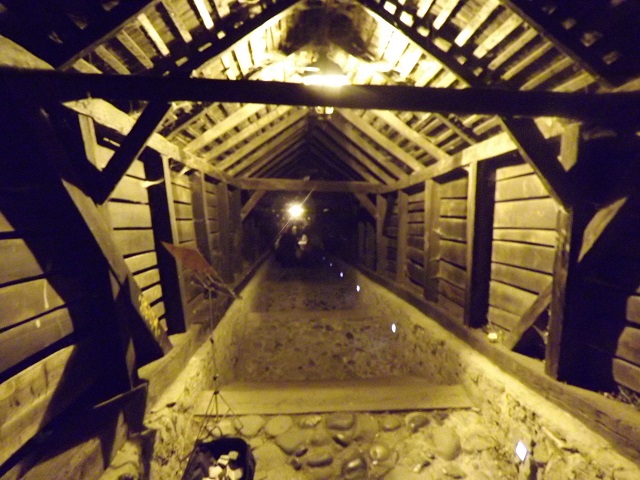 Yes, the haunted staircase leading to the cemetery is really this spooky. Photo courtesy Steven Lits.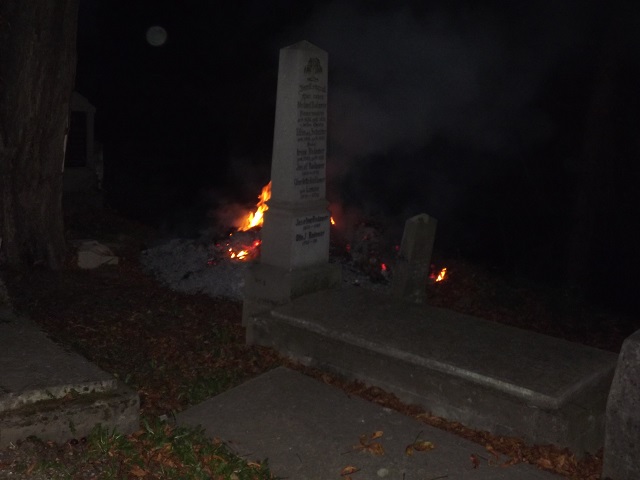 The graveyard in Sighisoara. Photo courtesy Steven Lits.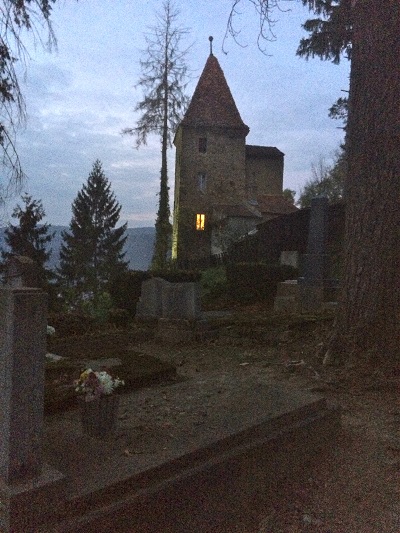 : There's never been a light in that building before. Not in centuries! Hmmm. Photo courtesy Bruce Fishman.
Our time in Sighisoara ended with a good, old fashioned witch trial performed by locals - and involving a tourist or two.
We spent the night in Bistrita and our hotel was located behind the Golden Crown Hotel, as it was known in Bram Stoker's day. In the Dracula novel, Jonathan Harker stayed at the Golden Crown before starting his journey to the Castle Dracula.
Halloween morning had a tangible electric energy as we were finally going to the castle immortalized by Bram Stoker! As we traveled up the Borgo Pass we saw the original dirt road that was driven until very recently.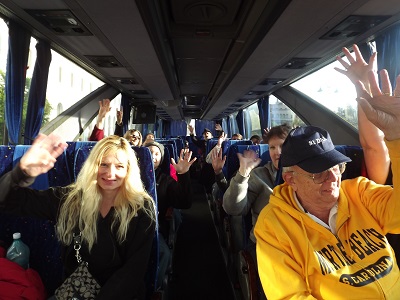 Perfectly normal sightseeing group on our coach not too excited about Halloween. Photo courtesy Steven Lits.
All of us were like kids in a candy shop as we caught our first glimpse of the Hotel Castle Dracula. Once we arrived we could not get checked in to our rooms quick enough so we could explore this structure! We roamed the castle and grounds, shopped in the bazaar down the hill, and small groups of us made our way to the Manastirea Patra Fintinele, where Jonathan and Mina were married and Jonathan convalesced in Stoker's Dracula. Our excitement had us in our costumes and ready for the party an hour before it began and the excitement was contagious!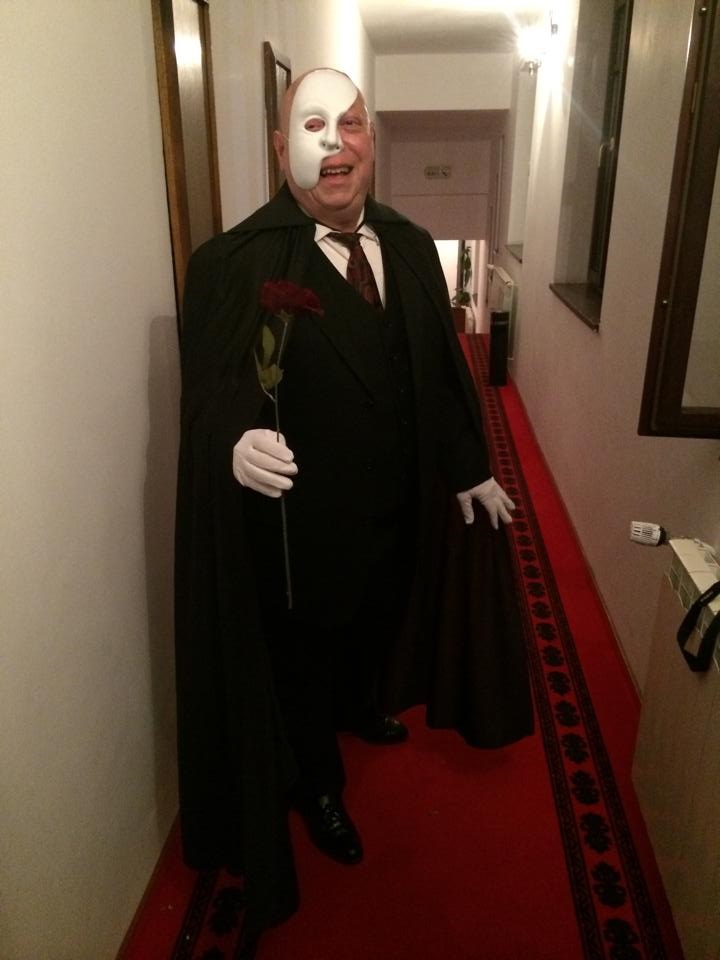 Phantom of The Opera Steven ready to party on Halloween. Photo courtesy Steven Lits.
Amongst us were vampires, vampire victims, zombies, mad doctors, phantoms, skeletons, temptresses, a Maleficent witch, Frankenstein's monster, Bride of Frankenstein and other amazing characters ready for our Horror Holiday.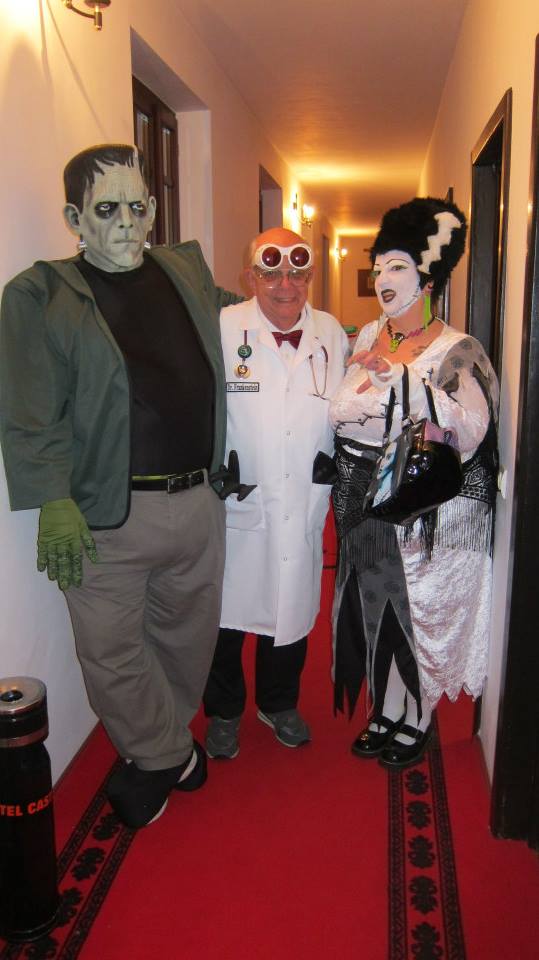 Frankenstein, the Bride and a mad Doctor ready for monster madness. Photo courtesy Beverly SalingerWolf/Dawn Sirekis.
Villagers came up to the castle to see us, there was a TV news crew filming the festivities, and finally we were lead down to walk through a haunted house that ended in the courtyard where we were greeted by a band of gypsy musicians, the television crew, the villagers, and a Flambeaux.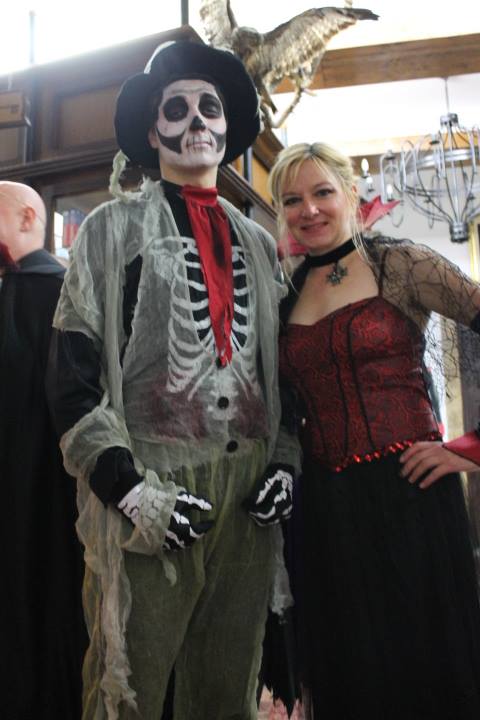 More monster merriment moments away. Photo courtesy Beverly Salinger Wolf/Dawn Sirekis.
We were taken down to the bon fire where we cooked meat on the open flame before being led inside for more courses and dancing. We laughed, we ate, we danced, we had a great time and all agreed this was the best Halloween ever!
The Day of the Dead began with the thick fog one associates with the Castle, so it was a fitting farewell and a dead fly on a window sill let us know that Renfield had also joined us the night before. We traveled through a gypsy town and stopped at a cemetery to pay respects on the Day of the Dead.
Sibiu was our next destination and Radu guided us on a walking tour of this cultural center of Romania. We discovered the connections with Sibiu and Frankenstein, and the tour ended at Bat Park, which was next to the hotel. My roomie and I decided to close our window once we learned that our room faced the park! Thankfully we had no surprise visitors.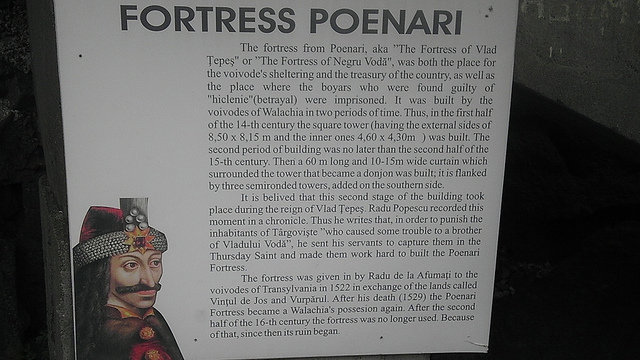 Plaque at Poenari Castle. Photo courtesy Steve Audia
We started with a hearty breakfast as today was a full one. We toured Cozia, a monastery from 1386 and used as a set for the recent film "Dracula Untold." Poenari Fortress was next and most of the group climbed the 1,480 steps to the 13th century citadel. As this is associated with Vlad, there were two impaled mannequins to greet us!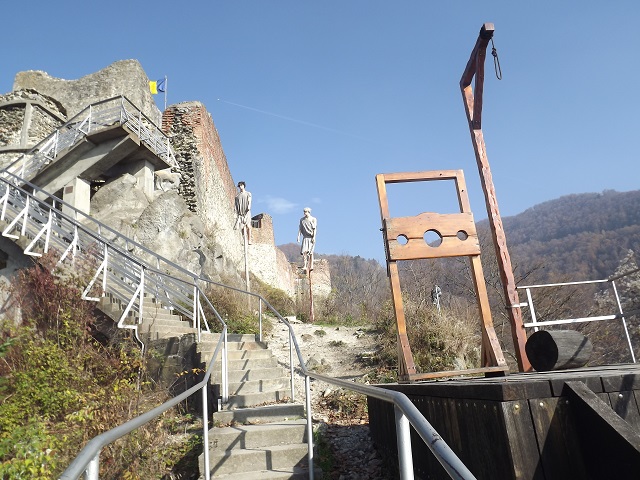 Greeted by two mannequin shish kabobs. They are mannequins right? Photo courtesy Steven Lits.
It was a beautiful day and the views were stunning. The mint lemonade and grilled chicken in the restaurant when we got back to the bottom was reward to the body for a job well done.

Some of us atop Poenari Castle. Photo courtesy Traci Burton.
From here we returned to Bucharest and enjoyed our gala farewell dinner at Club Dracula. The fun started immediately as we were served smoking cocktails upon arrival, and continued with the main course of "rat," hot lava cake and ice cream, the one-man Dracula show, and the trip to the dungeon.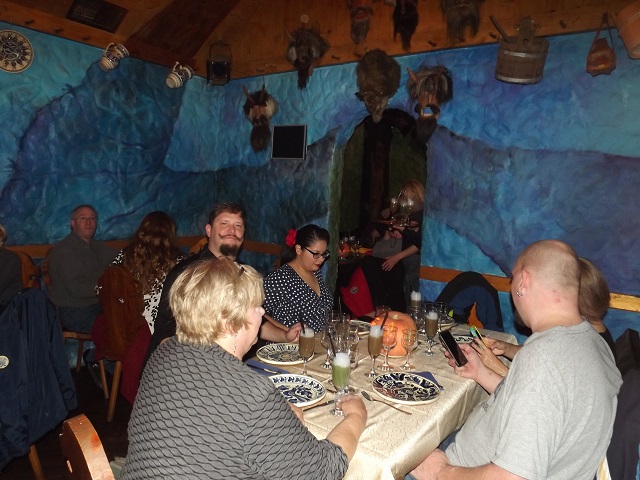 Theme dining in Bucharest's Club Dracula restuarant. Photo courtesy Steven Lits.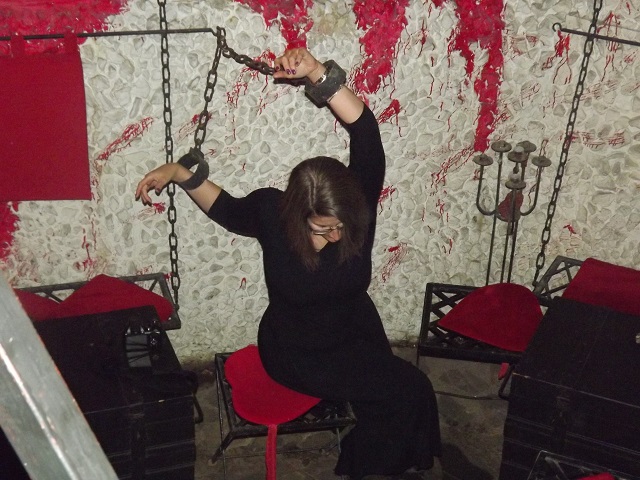 Dracula's dungeon enslaves a new victim. Photo courtesy Steven Lits.
The final day was our trip home, which was uneventful and therefore, wonderful. After collecting our bags at JFK, we stood around talking some more and not really wanting to believe that this epic journey was over. Alas, this chapter may be over but this group will reunite and embark on another adventure in the not-too-distant future. Of this I am certain.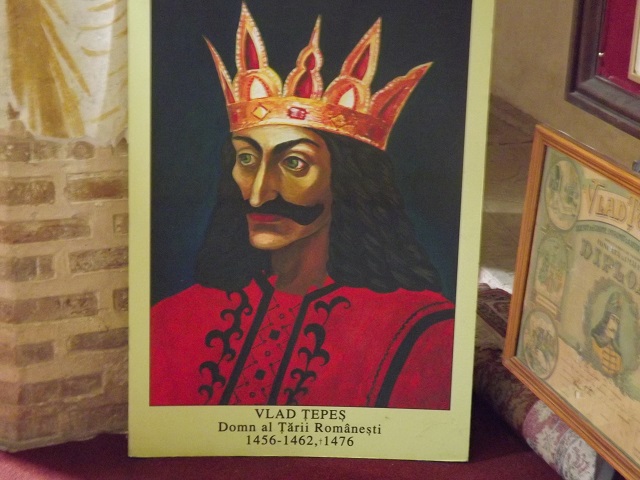 Thanks to DracTours' Charles, Danny & Radu... and to Vlad. Photo courtesy Steven Lits.
Tel: (203) 795-4737

Fax: (203) 891-8433

DracTours@aol.com

or

DraculaTours@earthlink.net
Copyright © International Tours & Events LLC. All rights reserved