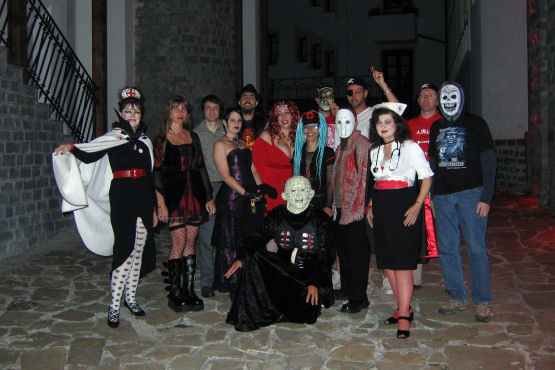 photo credit: Monica Gabor




Tania Hummel
edited by Anne-Marie Gabor
photos by Tania Hummel, Rebecka Marple and Joe Matthews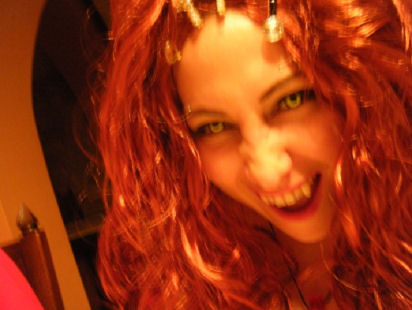 Arriving at JFK Airport, I made my way to the departure terminal. The first thing I spotted was a tee shirt featuring fangs, so I immediately knew that I was in the right place. Everyone on the trip met each other while receiving goodie bags from Charles ("Cryptmaster Chiler Chucky") and Danny. We were thirsty (for blood?) and couldnít wait to take our first bite out of Transylvania!
We arrived in Bucharest. After collecting our luggage at baggage claim, we found our guide Radu, who took us to our tour bus. We named it the "doom buggy" because of the many hours we spent traveling in it, like the Irish spirit coach that transports departed souls to the afterlife. Also, there were snazzy horror flicks on the coach's overhead screens, setting the atmosphere for blood lust and a frightening future. Although the rides at times seemed long, arrival at the next fascinating town made the trip worthwhile.
The first evening in Bucharest, we had a good buffet dinner at the Rin and really got a chance to get into some good conversations about Romania and its past history. Radu was gracious enough to share some of his life experiences during the communist times of Romania. It was something worth listening to and learning about. After dinner, Radu had advised that we all get plenty of rest but a few of us had other plans! Joe and Rebecka checked out the Rinís large live Casino. I believe they won a bit. They would be the couple that hit a casino in almost every city and they even got a casino worker to take us to the local strip joint in our next city. I had other plans and decided to head out into Bucharest as a single gal and check out the local flavor; but first I stopped by the concierge to find the best and safest places for me to go by myself. I soon tasted the local brewed beer at Becker Braun, a local beer hall. There you have two choices of tasty beer -- filtered and unfiltered. At one of the tables I met a group of guys (two Romanians and one Macedonian), and one gave me a crash course in how to properly pronounce the cities I was visiting. This was the beginning of meeting some very kind, fun, and interesting people. After good conversation and a little necking(!), I was able to get a ride back to my hotel where I fell asleep anticipating the next day in Brasov.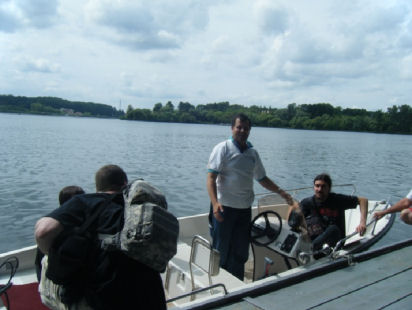 The next morning, after a tasty breakfast, we boarded the bus. We were making our way to Brasov. But first, we were off to see the crazy monk on Snagov Island where Vladís body lies. When we arrived at the broken dock, the long war between the gypsy men and the crazy monk ensued. Supposedly, the fight was over who gets to take us to the island. Radu tells us this will be going on for many days to come. We found it fascinating to hear a fight in a foreign language -- and from such eccentric personalities! Group by group, we made it to the isolated island and were able to enjoy its beauty and freely roam the grounds Öexcept we were warned to stay away from the dog with rabies. Was this possibly the beginning of a Cujo movie sequel in Romania? After Snagov Island we headed onto Brasov. Viva Brasov!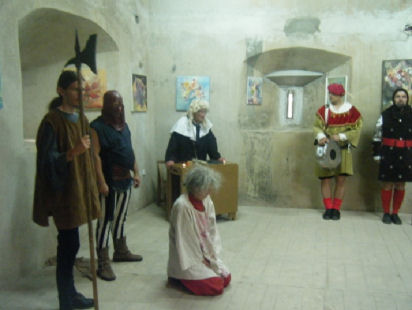 The next day we ended up at Sighisoara, the birthplace of Vlad. Here we were able to see a witch trial re-enacted. It was a great performance put on by a group of enthusiastic Romanian actors who tried to get us all involved in the act. In fact, one of us was made to kneel and make accusations against the witch, while I had an ax held to my neck for pictures. Come to think of it, Nat and I were probably grabbed for something at almost every event we attended.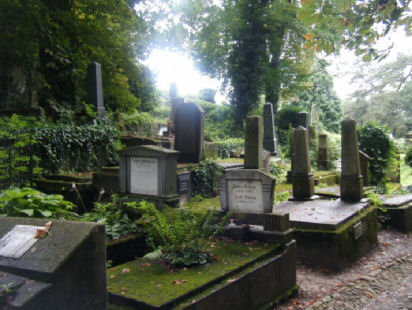 After the trial, we visited the weapons and torture room and learned that torture was really an art form back in the day. I still think we should have been allowed to try out a few of the devices! Afterward, being left to look around at the top of the clock tower, we were able to grab some food on our own. There were some gorgeous views from the top of the clock tower. Lastly, we all journeyed up to the haunted graveyard and enjoyed seeing the beautiful old moss-covered graves.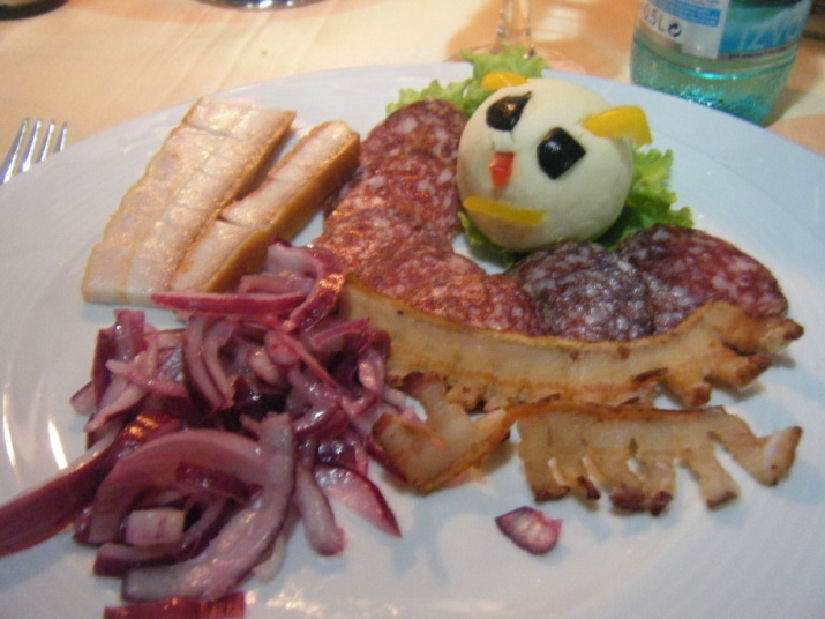 We also had a great time at our candlelight dinner at the Golden Crown. The person serving us that evening was Mr. Lucifer, as one of the Gabor sisters named him. He was well dressed in a cape and devil horns and definitely understood us when we asked for beer. A good man, that Lucifer! He also was the one to deliver to us some very tasty robber steak, just like Jonathan Harker. This followed our lovely vampire cheese ball appetizer.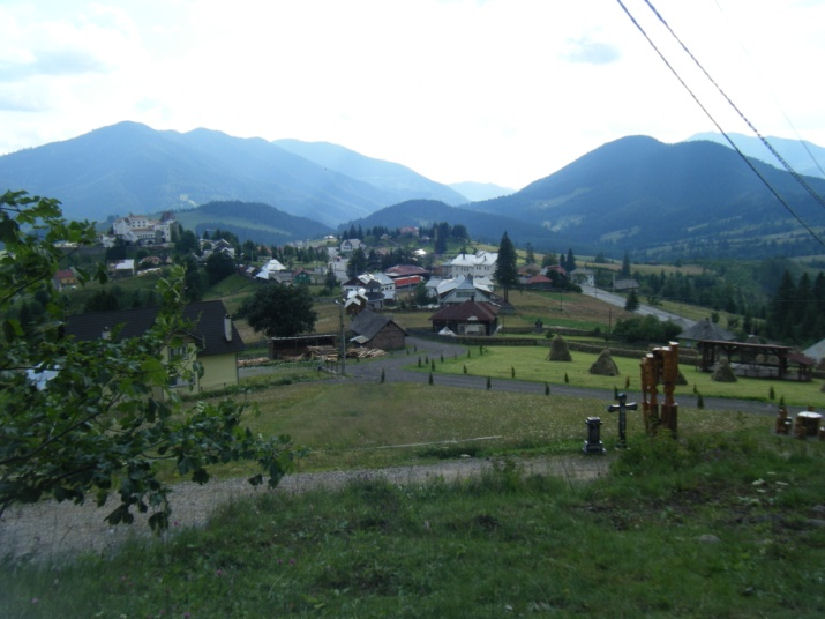 What followed next was our ascent into the Carpathians Mountains atop Borgo Pass. An ominous aura came over the group as we passed numerous houses in Transylvania with crosses fastened to their roofs. Some even held their breaths in anticipation of seeing garlic strung up in the house windows. Finally in the Carpathians, we were exposed to the most beautiful views and landscapes possible. It was breathtaking and my favorite part of the entire trip. Pictured below you will be exposed to a view of some breathtaking mountains.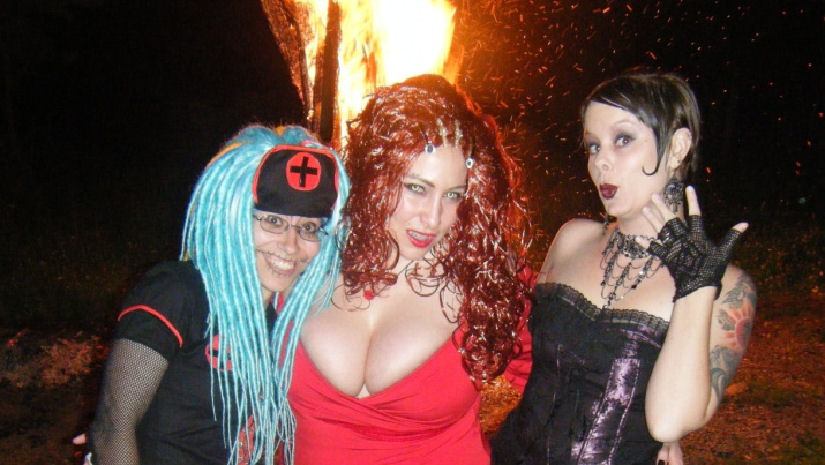 That evening outside Dracula's castle, we cooked our steak appetizers on mini pitchforks held over a blazing bonfire. Sounds of gypsy music could be heard as we downed our plum brandy. We all were bedazzling in our costumes and ready for a night of fire, food, and drinking.
At some point we found ourselves in the cellar with Draculaís coffin. A spector appeared and managed to get friendly with all the ladies present. When the lights came on no one knew who had grabbed what and to where the spirit had vanished. We each took our turn in the coffin and were working up a voracious appetite. Before dining, though, we posed outside the castle for a group photo.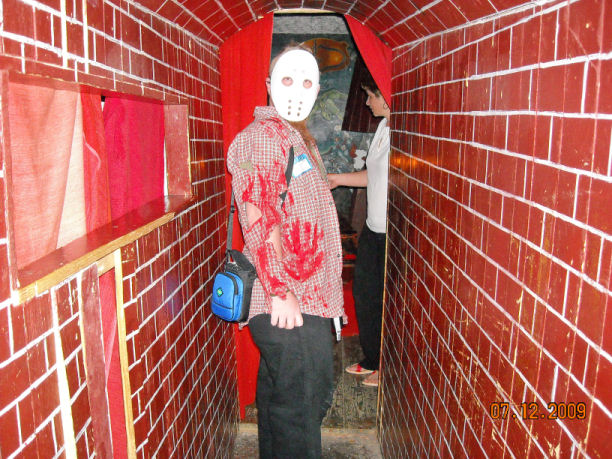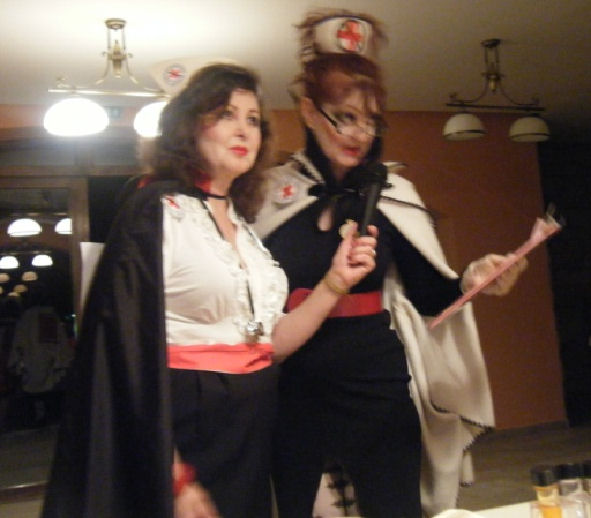 Dinner was fantastic and we were graced with a bloodyful skit presented by the Gabor sisters for all of us. The trip would not have been the same without these twisted sisters. They really added spice to this adventure.
Sadly, we had to leave the Carpathians, the one place that had stolen a small piece of my heart. As we drove along, we enjoyed the passing horse-drawn buggies and slow-moving cows in the road. In Sibiu, our next destination, we were able to view the real Frankensteinís family tomb, and enjoy a naughty manís last wish to create his own headstone there. Later, our entire group made it to the top of Poienari Castle by climbing all 1500 stairs.
It was such an empowering feeling to know that your body could carry you that far. The views from the top were completely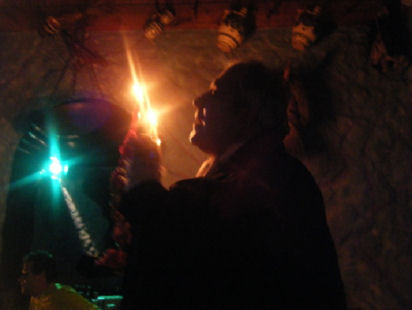 worth it, and something everyone should do on their trip to Romania. It is a once-in-a-lifetime experience.
Our last night was spent in Bucharest at the Dracula Club. The menu was delightful in the way they arranged the food to look like real flesh, rat, and blood. The genial staff impressed us with their service. We enjoyed a thrilling and dramatic Count Dracula show and a tour of a very kitschy vampire hang-out.
Overall, the Romanian experience was like nothing else Iíve ever experienced.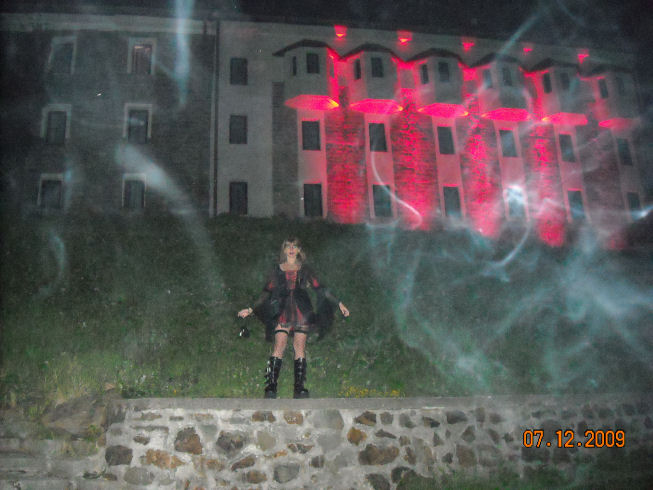 Tel: (203) 795-4737

Fax: (203) 891-8433

DracTours@aol.com

or

DraculaTours@earthlink.net
Copyright © International Tours & Events LLC. All rights reserved