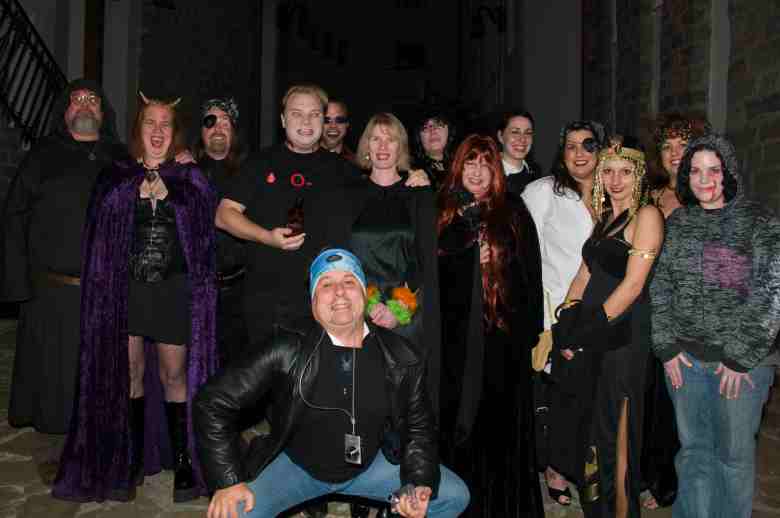 Tuesday, Oct. 27:
Today was a day of traveling. My travel buddy, Susan, and I left for JFK airport where we had some time to kill before meeting the rest of the group. Susan set off an emergency exit alarm while trying to find Air France in Terminal 1. We finally found everybody and Charles ("Cryptmaster Chiller Chucky") met us there at the airport to give us our goodie bags and send us on our way.
Wednesday, Oct. 28:
I actually can't really recall what time it was when we got to Romania. At the Bucharest airport we met three more of our fellow travelers who joined us after touring other parts of Europe. Or Romanian tour-guide, Radu, found us quickly and right away we knew we were in for a treat. He is a hero! He knows EVERYTHING, was really funny, and took very good care of us. Our driver, Stefan, drove us through Bucharest (beautiful in the evening) to our first hotel, the Rin Grand, where we ate our welcome dinner there as a group. It was about 10pm Romanian time, 4pm Buffalo, NY time, so we crashed.
Thursday, Oct. 29:
This morning we had plans to walk to the Carrefour next to the hotel to exchange our U.S. dollars into lei (Romanian currency) before traveling to Snagov Monastery, but it didn't open until 10am. Radu saved us and personally let all of us borrow lei for the day until we could exchange our money. Very kind of him! We traveled to Snagov and watched "Young Frankenstein" on the bus! With a smaller-sized group like we had, the bus was extra luxurious, there was plenty of room and we all had a window seat. Also, we got to pick the films we watched as we went.
As we approached Snagov, Radu called the "crazy monk," as he referred to him (affectionately, of course) so he could get the boat to take us over the moat to the island. We walked over the planks, yes planks, not bridge, and got on the boat. The island was fantastic! There were lots of animals, which reminds me that a few lucky travelers were able to capture photographic evidence of a dog humping a cat. Chuck commented how unusual it was that none of the kittens on the island looked like their father, haha! We named that doggie "Benji," he looked just like him.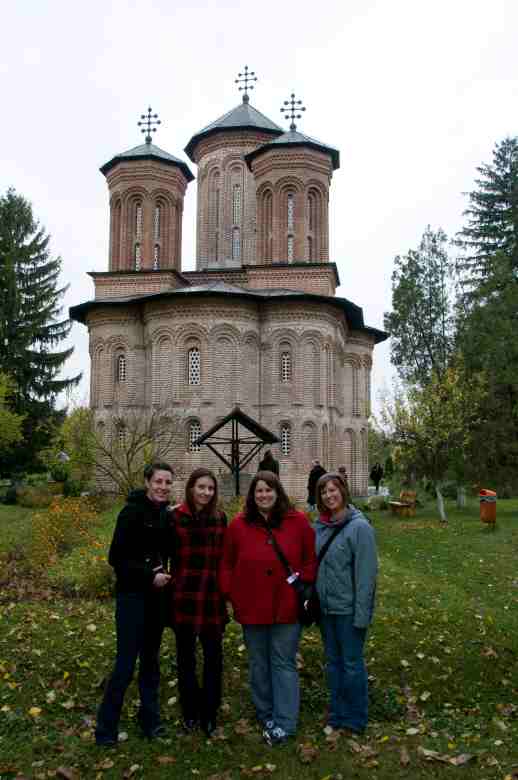 The monastery itself was so cool, and there was a candlelight tribute to Vlad on the floor. Inside, a nun and some art students from a university were touching up the frescos on the wall, so we weren't allowed to take pictures of them. After crossing back to the mainland, Benji followed us to say goodbye on the dock.
We got back in the bus and traveled to Castle Bran. SOOO AWESOME!! It's just amazing to be standing in something that is so old and yet so well-kept. You could wander the rooms and winding staircases for hours. Outside, the market-place is a great place for shopping. Rick told us later in the trip that he fell at the castle (fall #1 for our trip) but that he was fine and nobody saw! After this, Radu took us to a restaurant in the mountains for dinner. It was beautiful inside, big and open with warm lighting and a fireplace. Radu made us eat polenta for dinner. I have mixed feelings about this! We all photographed this meal. And then he teased us and said he will take us to McDonald's in Brasov.
We made it to Brasov that evening (Radu's home base) and most of us went out to explore and have drinks or desserts after checking into the hotel. We stayed at Capitol Hotel. In all seriousness, the lights were turning on and off in mine and Susan's room periodically throughout the night. It figures we got the haunted room (is that good or bad?). Definitely weird . . .
Friday, Oct. 30:
In the morning, Radu took us on a walking tour of Brasov. We finally got to exchange our money and pay him back for his generous loan. My $200 American got me 572 lei! Brasov is surrounded by mountains, which on this day were covered in frost and snow. So beautiful! We visited the Black Church and experienced a Radu history lesson in the sanctuary. After this, we got back on the bus and traveled to Sighisoara, the birth place of Vlad. One of my favorite places! The best-preserved medieval city in Europe, it just looks like going back in time. They were renovating the streets, so we had to walk in mud, but it was no bother! Here we saw the torture museum and climbed the clock tower. We also saw the witch trial re-enactment. Susan got the whole thing on video. We ate lunch in the basement of an awesome hotel. It was like being in a dungeon! We had bean soup in giant, yes giant, bread bowls. This was another heavily photographed meal.
Then we got to climb the creepy, haunted, wooden-covered staircase (my photos of this have orbs everywhere!) and wandered through the cemetery until dusk. We met a nice local man walking his beagle through the graveyard. He didn't speak English, but Susan was able to communicate enough to show him a picture of her beagle at home. He tried to get his beagle to pose for a picture, but the little guy wouldn't turn around. Susan dubbed him a Transylvanian Were-beagle. We left after the cemetery and watched "Dark Prince," filmed in Sighisoara, on the coach.
We arrived in Bistrita and checked into the Coroana de Aur. Here we had dinner in Jonathan Harker's saloon. It was creepy at first! The room was dark and we were armed with a clove of garlic and were escorted one-by-one down a haunted path to our seat at dinner. A spooky guy was grabbing our feet under the table! It was really fun. (Note to future travelers: I hope you like taxidermy). Scott was interviewed here for a local newspaper! The topic was why we like Halloween so much . . .
Saturday, Oct. 31 HAPPY HALLOWEEN!!!!!!!!!!!!!!!!!
BEST DAY EVER!!!! We walked through Bistrita in the morning on our own just for fun and then piled in the bus to drive to Hotel Castle Dracula!!!! We drove through the Borgo Pass and I almost died of happiness. The mountains are so magnificent. Traveling in the bus for a few hours was always just as much fun as visiting the places we stopped. For me, good music on your I-Pod and staring out the window at the villages and mountains and rivers was a highlight of the trip! Mesmerizing was the word we chose. We arrived at the hotel at about 1pm and wandered until we found our rooms. It's huge and awesome! We had room 213. Oh, and once again, I hope you like taxidermy. A bunch of us had lunch in the hotel restaurant where I had the best soup of my life, and then wandered around. There is a little graveyard and bazaar to shop at, but other than that you are surrounded by farms and mountains. It was great! Photos don't do it justice.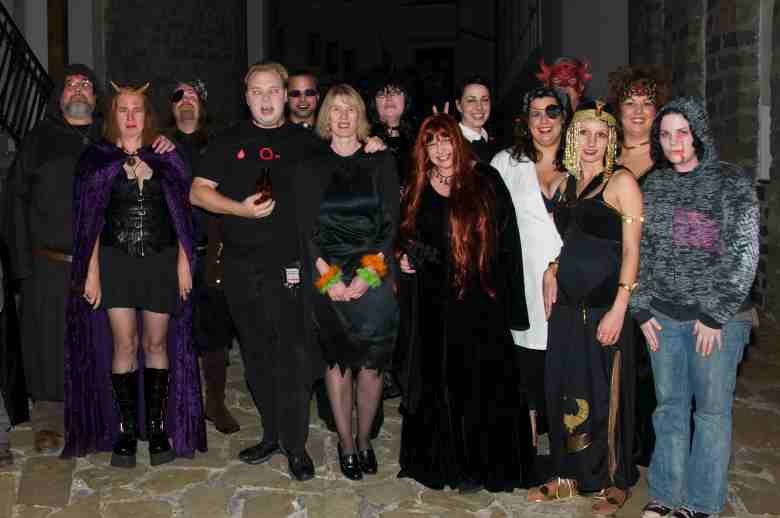 We got ready for the Halloween party at about 6pm and met as a group at 8pm. I was Wednesday Addams! My roommate Susan was a dead version of herself. Donna and Janet were witches. Chuck was the devil (in costume and in plain clothes haha) and Brett was a Vampire King. Jayson was a FREAKY vampire with white contacts and Rick was a pirate-pire with fangs. Emily was a pirate nurse Scallywag and Amanda was Medusa (FABULOUS hair that night). Our pregnant traveler Kelly (5 months, you go!) was the Egyptian Goddess of Fertility and her roommate Nancy was a spooky witch. Mrs. Denise Herman was a sexy devil lady and her husband Scott was a cool pagan/druid/warlock.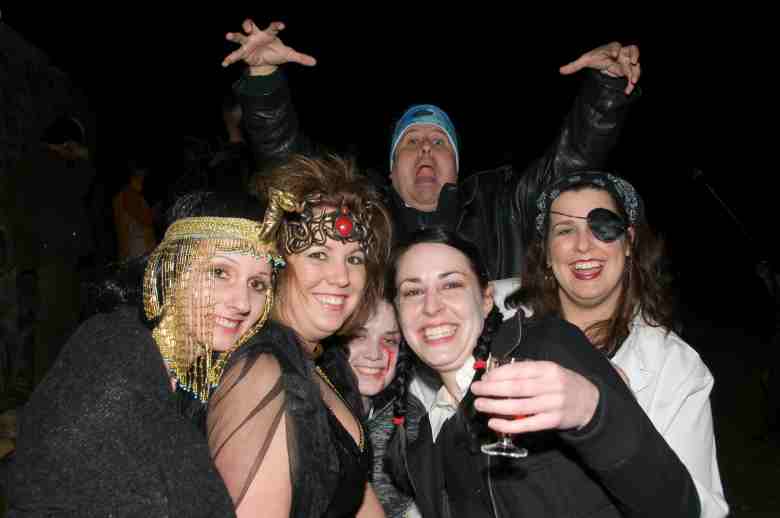 When we met in the lobby there was another group from Kazakhstan/Russia and they were in costume as well. The local news crew was there and Kelly and Brett were video interviewed. We were lead outside by "Death," lighting our path with a torch, as local gypsy musicians played for us. IT WAS A CLEAR NIGHT WITH A FULL MOON!!!!! Need I say more? And although it was about 20 degrees out, the bonfires and happiness kept us warm. A local farmer whose field came up to the hotel was outside with his dogs and sheep cheering us on.
Then we went inside for dinner and dancing. After dinner, we went to the crypt in the basement with the vampire coffin. This was the most scary and fun thing of the trip! We had to descend down a tiny staircase, which Radu turned the lights off on us, of course, and then traveled through a tiny hallway light by candle only. Once we got in the crypt, five of us girls were lined up against the wall innocently listening to out tour guide. And then the candle blew out...It was pitch dark and we all screamed!!! When the lights came back on we had gone from a line of confident travelers into a pile of scaredy cats clinging to each other. I thought Kelly was kidnapped, but she was just crouching behind Emily! The ambiance and your imagination can do funny things! All of us took turns lying in the coffin, except Kelly because of her pregnancy and we all agreed it was too spooky. Then we headed back upstairs (some information was left out intentionally as not to spoil it for future travelers. Go see for yourself!).
TBrett won the costume contest and he got to dance with a Russian beauty queen for his prize (seriously, she came in 5th in a beauty contest a few days earlier. Radu said, but he thought she should have won. He loved her!). Now if you heard legends of our group being intoxicated, they originated on this night! Some people were gone! And someone was knocking on my door all night...I was fairly sure I knew who it was, but I didn't answer just in case it was a vampire wishing to be invited in.
Sunday, Nov. 1:
Today we did a lot of traveling on the bus, but we needed a rest and as I said, I loved looking out the window! Chuck was awarded a prize from Radu and Stefan for being, overall, the friendliest and most entertaining member of the group. His prize was a specially selected Romanian Hustler magazine. HAHA! We stopped along the way at a castle (on a hill of course) and climbed another covered staircase. I won't lie, I have no idea where we were (HAHA) - somebody else can identify that. This place was great though and I was ready to move in! I took a lot of photos here. Many of them were looking down at the village below. There was a small cafe here and we had coffees and hot chocolates.
After this, we drove a little longer and in the evening we stopped at a cemetery along the road. Radu explained that in Romania, they celebrate All Saints Day by visiting their deceased relatives and lighting candles at their graves. The entire burial grounds were candle-lit in the dusk and it was another clear, full moon. It was beautiful. That night we arrived in Sibiu and checked into the Ramada. FANCY! It was the prettiest Ramada I have ever seen, and the most normal (translation - American style) beds I had seen all week. We were released to wander Sibiu on our own and find a place for dinner. Romania is a dog-lover's country, but particularly in this city! We had a pair of dogs who joined our group and wandered with us. If we entered a store they would curl up outside and wait for us to come out. I loved it!
Monday, Nov. 2:
AIn the morning, we took a walking tour of Sibiu. We found our dog friends again and then some! Our most faithful follower had joined us in the evening as well as in the morning, so a few of us found it fitting to name him. We named him "Vladdie." We toured two churches, and wandered in the burial vaults where Prince Mihnea the Bad (Vlad connection) and Valentini Frank (Frankenstein connection) are located. We saw Liar's Bridge and the Cat Eyes of the city. Sibiu is a great place to take pictures, and there is a post office easily available if you are looking to mail post cards.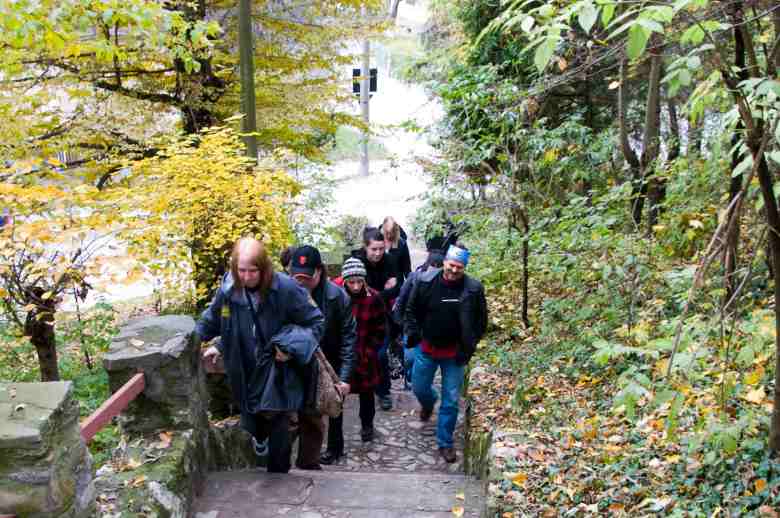 After this, we boarded the coach and drove to Poenari Castle, the true Dracula's castle - Vlad's fortress. Ok, I know I have said this before, but this was DEFINITELY my favorite. My eyes must have bugged when I saw how high we had to go because Radu laughed when he saw my face. The trick to the 1500 stairs is to take your time and take frequent breaks. If you just go slowly, it's really not so bad. Every one in our group made it except two, but it is completely understandable because it was frozen and slippery in parts. Rick fell (fall #2) because the stairs were slippery. Brett went to save him and then he fell too. THANKFULLY, they were both fine. The higher we got, the foggier and more snow-covered it became. Reaching the top is an indescribable feeling. We were fortunate, in my opinion, to have this foggy, cold atmosphere. Most past tours climbed to the ruins in warmer weather. This was super gloomy!
This was another place I was ready to move into. We couldn't get pictures of the land below because of the fog, but it was almost better not to know how high we really were! This is where my memory card filled up. I had to hurry and delete other pictures to get the photos I wanted. Future travelers: take two memory cards! Oh, and a special shout out to Kelly. She and her pregnant belly made it to the top! We just had to take the coolest pregnant woman belly shot ever up in Vlad's castle. After the somewhat easier, but still slippery, descent, we got back on the bus and traveled back to Bucharest for our last evening.
WWe passed the border marker between Transylvania and Wallachia, but I had no pictures left. Dinner was at Club Dracula! This is one of the greatest places on earth! So cool! The dinner is interesting....and we were joined by the Count. Donna was kidnapped by him and was bit in front of an audience in the basement. Most of us were bitten by this vampire.
We checked back in to the Rin Grand for our last night and a few of us had our farewell party with drinks in the lobby together. Thank you again to Chuck for buying drinks! Rumor has it that Rick and Brett were in the hotel nightclub until 5 AM!
Tuesday, Nov. 3:
We slept in today and had breakfast at the hotel. We met at 11am and traveled to the airport to go home. Donna and Janet left us early because they had an earlier flight to Edinburgh, so we said goodbye the night before to them. Nancy was staying in Bucharest for a few more days, so she remained at the hotel. It was sad. I wanted to stay. At the airport we said goodbye to Stefan, who had been good to us, safely maneuvering a giant luxury coach through the mountains. Radu stayed with us until we were checked in, and through security. He was so great! We all couldn't thank him enough. Rick and I chatted the whole way from Bucharest to Paris and we went through his photos of the trip. Three cheers for digital cameras! Then, I had good luck from Paris to JFK and had the whole row on the airplane to myself! I slept. At JFK, my buddy Susan and I had to shout goodbye and run because our flight back to Buffalo was leaving in an hour and a half and we had to get our bags, go through customs, and travel from terminal 1 to terminal 5. We checked into our flight with 1 minute to spare...
This is my point of view of our trip, but I think all of our group had similar experiences and loved every minute of it. Thanks for reading!
Tel: (203) 795-4737

Fax: (203) 891-8433

DracTours@aol.com

or

DraculaTours@earthlink.net
Copyright © International Tours & Events LLC. All rights reserved