"I read that every known superstition in the world is gathered into the horseshoe of the Carpathians, as if it were the center of some of imaginative whirlpool; if so my stay may be very interesting."
From the diary of Jonathan Harker
October 27, 2006
Today I leave the mundane world of New Hampshire to begin my journey to Transylvania. I have decided to keep a travel journal in the style of Jonathan Harker and as my plane leaves Manchester I can only hope my journey is half as interesting.
I arrive at JFK airport in New York and easily spot my adventure loving companions. Our tour host, Charles, approaches and quickly realizes I must be a Drac Pack member from my Stephen King t-shirt. Judging by the attire of my companions I have come to the right place. Charles hands out our goodie swag bags to provide us with entertainment and refreshments for the journey ahead. The excitement is mounting as soon we will arrive in Romania.
October 28, 2006
We land in Romania and board the bus where we meet our tour guide Radu. Radu begins explaining some basic facts about the land in which we have arrived. He tells us that Romania will join the European Union on 1/1/2007. Radu and his colleague Razvan also make the first of many attempts to help us understand how the money works here, but our travel weary brains just can not compute. Charles tells us that the Hotel Lebada, where we will spend our first night, is reputed to be haunted. It has served as a prison and a convent and is located on an island, which gives it a remote feeling despite the fact that it is located in the bustling community of Bucharest.
We are lucky to have Radu, Charles and Razvan as our guides/tourhosts.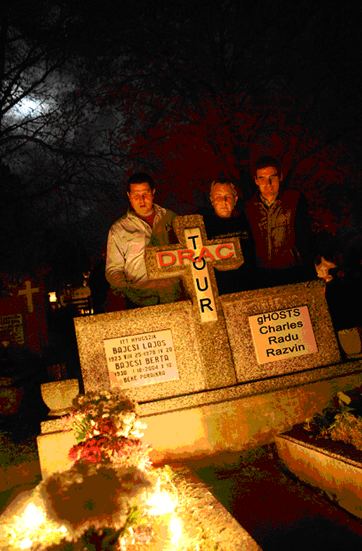 The bus pulls up to the Hotel Lebada and we disembark and head for the showers to clean up a little before our group's welcome dinner. I walk down the empty and dark corridors of the hotel to find my room. I know this hotel has about eighty other guests from our tour group, so just where did everybody go? Hopefully people stayed out of the hotel's haunted basement...
Below is an artistic view of the grand Lebada Hotel lobby, complete with staircase and chandelier.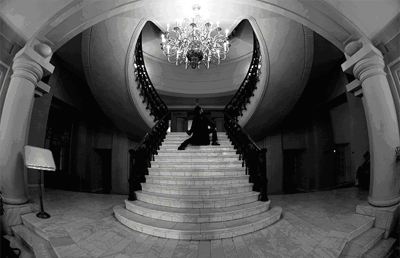 Everyone gathers for the welcome dinner. Many of us (appropriately enough) could quite competently pass for the living dead. We all introduce ourselves and explain just what led us here. For many it has been a lifelong dream to come here and some are just adventure seekers who desire a different kind of vacation. How many times can you really have your picture taken with Mickey Mouse? We are introduced to our two wedding couples who will be married on Halloween night, as well as those celebrating anniversaries and honeymoons. After dinner many of us gather to watch some Vlad related videos and enjoy some after dinner "spirits." Although I arrived thinking this would be an early night, I find myself outside getting to know some of my travel companions. We stay up way too late and explore the creepy grounds of the Lebada. Two individuals from our group have a paranormal encounter in the sub-basement of the hotel which was clearly marked "no admittance." We find out that this is the second year in a row where people on our tour saw ghosts down here -- where we probably shouldn't have ventured.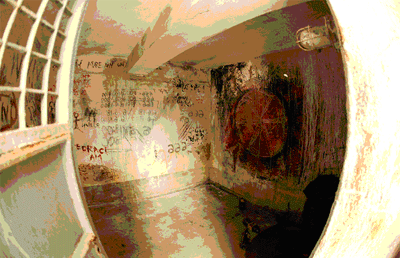 Some of us descend to the hotel's hidden theatre room where some rare videos and features on Transylvania and Vlad are screened.
October 29, 2006
Despite the fact that I am sleep deprived, I am anxious to visit Vlad Tepes tomb on Snagov Island. Since it is Sunday, we take a tour of the city first to give the crazy monk who runs the Snagov monastery time to complete his mass services. We learn that Bucharest was built on a swamp in 1469 and is populated by approximately three million souls. We are quickly learning that our guides, Radu and Raz, are fountains of knowledge and my foggy brain fights to keep up with the facts they give us. The bus stops at the Romanian Parliament building for a quick photo op.
We arrive at Snagov where members of our group converse with a group of Romanian teenagers who are visiting the island. We board the small rowboats that will take us to the tomb of Vlad Dracula. We all know that in reality when Vlad's tomb was excavated in 1928 only animal bones were discovered. His head was rumored to have been sent to the Turk as proof of his death, but just where is the rest of his body? Perhaps after night fall anyone left behind on the island may find out. To describe what it's like to be in a place I have so often read about would be futile... the beauty and reality of the moment is indescribable.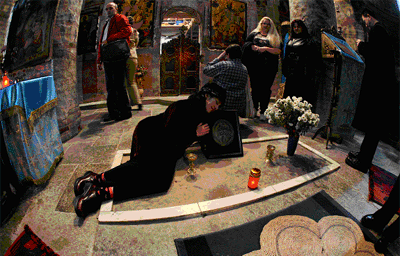 From Snagov we head north toward the Carpathian Mountains leaving Wallachia and entering Transylvania. We arrive at Bran Castle in the late afternoon. We explore this fortress often referred to as Dracula's Castle, although Vlad actually only spent six months here, and that was as a prisoner. The castle is in a picturesque setting and we all explore the market stalls located below the castle where all manner of Dracula memorabilia may be purchased.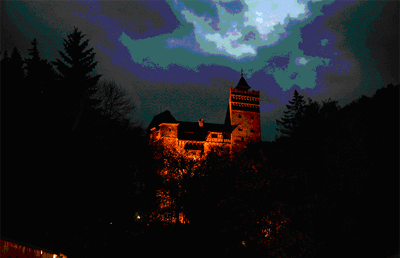 From Bran we head to a local restaurant to experience an authentic Romanian meal. Shots of plum brandy await us at the doors to chase away the evening chill. After dinner, we take a horse drawn cart ride down the dark and chilly streets, for those of us weary from an action packed day this is the perfect pick me up.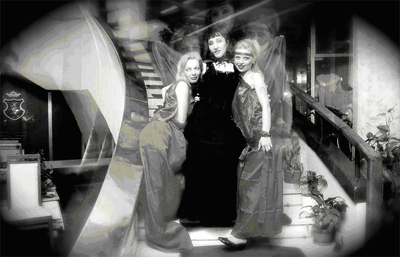 We spend our second night in Romanian at the grand and impressive Aro Palace hotel in Brasov. Those of us seeking to get the most out of our Romanian experience head out to sample the local nightlife.
October 30, 2006
We awake to the harsh morning's light and shake of last night's disco dancing (though rumor has it some members of our group experienced a whole other form of exotic dancing). What happens in Brasov stays in Brasov. It is cold and raining, but we all set off to explore Brasov by the light of day. We tour the Black Church, so called due to damage caused by a fire and not because of any nefarious happenings. After imparting more of their seemingly endless knowledge, Radu and Raz set us free to experience Brasov on our own. For some a trip to a McDonald's or Kentucky Fried Chicken is a must. We also discover a small church in a narrow courtyard, which proves to be a hidden treasure. Then it's back on our comfy luxury coach for some classic vampire videos and to meet our next adventure.
The afternoon found us exploring the streets of Sighisoara, the birth place of Vlad Tepes.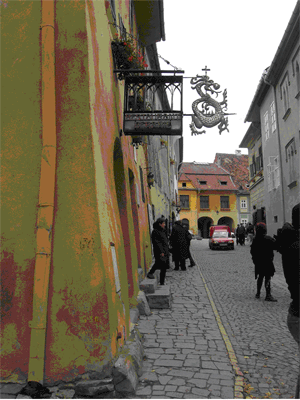 Each hidden corner of the streets led to another discovery of old world beauty and charm. After some time to explore the very European and enchanting streets on our own, Charles leads us to the entrance of the haunted staircase.
Charles explains that legend has it that if you stop before reaching the top of this long steep staircase, the stairs will steal your soul. I start up with high expectations of reaching the top soul intact, but who really needs a soul any way? At the top we find a breathtakingly beautiful gothic cemetery and thoughts of lost souls are left behind as we explore and photograph this visual treasure. Some of us, especially our professional photographers, Bloom'n Gloomers Curtis and Andrija, amaze us with their creativity and images.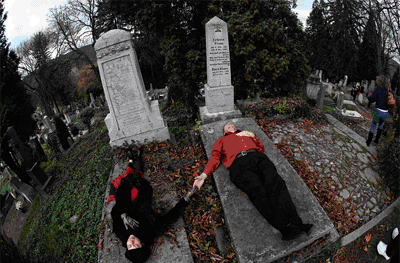 With wobbly legs I board the bus and we set off for our next destination. At the Coroana de Aur in Bistrita, we all head to our rooms to freshen up for our pre-Halloween party at the Jonathan Harker Salon. We are following the footsteps Jonathan Harker from the "Dracula" novel, and this is where he stopped for Robber Steak and Bloody red plum brandy. A group photo is taken on the stairs before we make our way into the salon.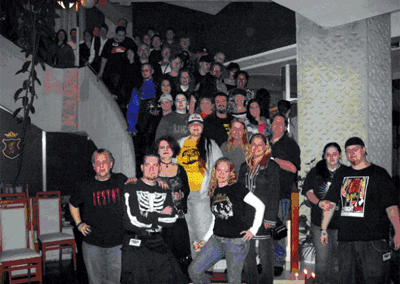 We have a lavish meal, and use every prop and painting in the banquet room for photo opportunities.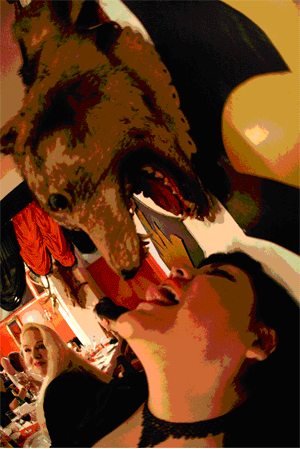 A long and eventful night finds us drinking blood brandy, eating Robber Steak, and playing party games, organized as always by our energetic host Charles. The games and debauchery continue for hours. The sun is coming up very soon which means bed time for vampires.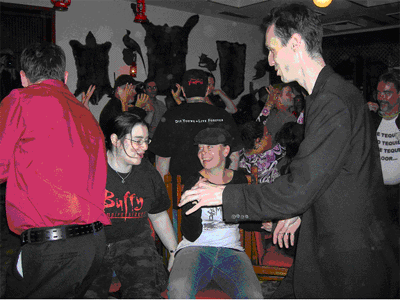 October 31, 2006
Morning comes too early, but we are invigorated by the realization that Today is Halloween! The coach brings us on our long and very windy journey through the Borgo Pass up the Carpathian Mountains and toward the destination shared by one Mr. Harker. We arrive at the majestic Hotel Castle Dracula, and some of us shop at the outdoor bazaar while others make the hike up to the nearby monastery to discover its hidden treasure. The surrounding countryside is breathtaking and we all drink in its scenic treasury.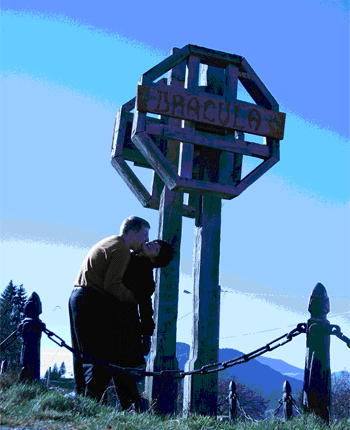 Some of us explore the lovely Romanian mountainside, while others rush to their rooms to get into costume.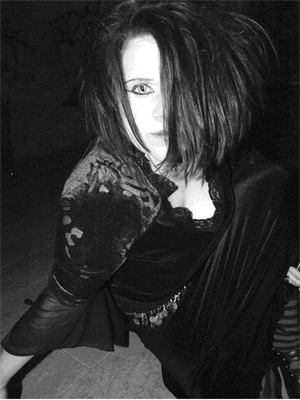 After searching the hidden corridors we all locate our rooms and prepare for the wedding ceremony. We have the unique distinction of experiencing two ceremonies this year, not to mention our group providing the music by ominously humming Here Comes the Bride. Both couples, Lisa & Richard and Danielle & Robert, are ready to become husband and wife with us as witnesses and guests.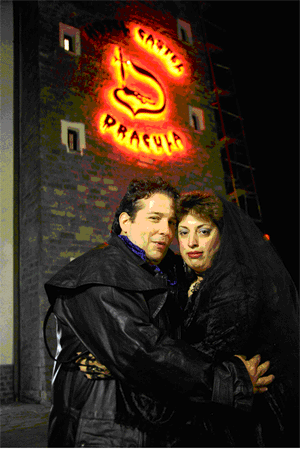 After the official ceremonies from the priest in Romanian, Charles leads them through the exchange of rings. Our couples are officially wed and its time to party.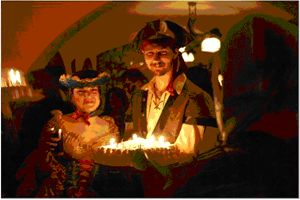 Following a touching anniversary speech invoking some dialogue from Bram Stoker's Dracula which bring ardent tears to our eyes, it's time to head up to change into our costumes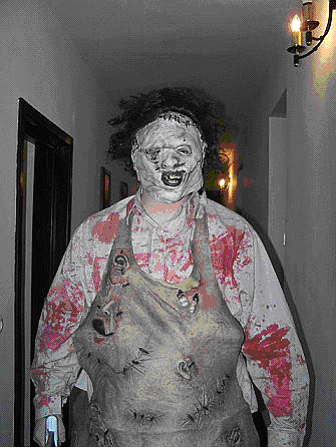 The group meets in the lobby and takes the first of its many photos of some really cool, scary, funny, and sexy costumes. After some ooohing and ahhing, the ghosts, goblins, and vampires head out to the bonfire.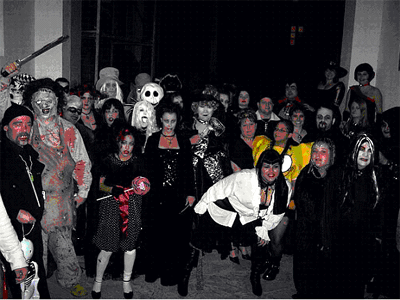 The locals have come out to photograph and gape in amazement at our seeming loss of sanity. Many members of our group are interviewed by local television crews.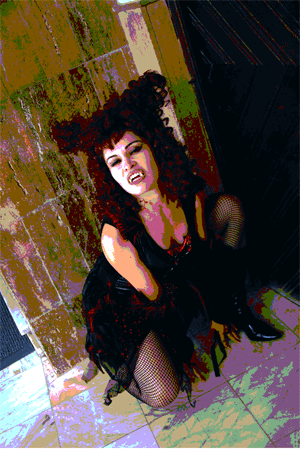 A gypsy band of musicians provide the soundtrack to the beginning of a long and storied Halloween extravaganza.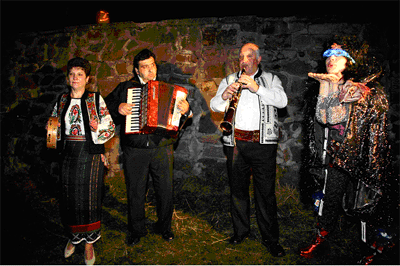 After roasting some meat on the open bonfire we head down to the dungeon for THE party.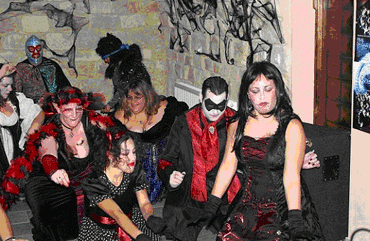 You've never seen a garter & bouquet ceremony like the one here.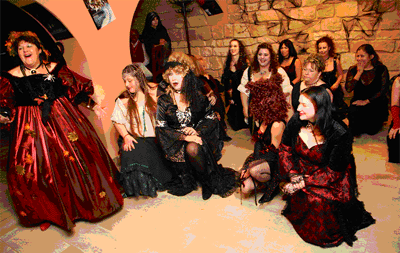 Much of what went on this night must remain only in memory and not be placed into written word to protect the identity of the innocent. Although... after this evening, I doubt many left with their innocence intact!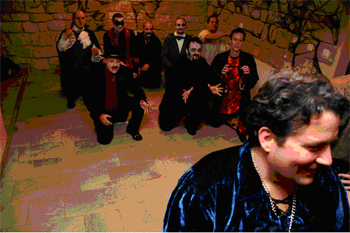 Some things are best left to the imagination, but much merry making, dirty dancing, and carousing was experienced by all.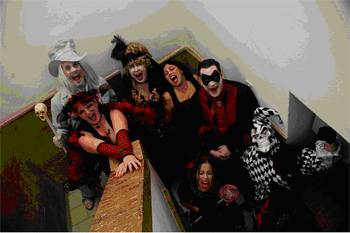 And reader, whatever you do, do not let them take you to the crypt in the basement. This is doing Halloween up right!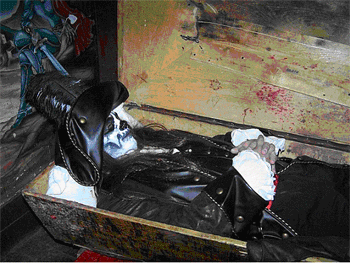 November 1, 2006
Why is everyone talking so loud this morning? Back on the coach we steal extra sleep as we make our way back to Sighisoara to watch a well-acted witch trial. Much to our chagrin, the witch is proven innocent and one member of our party is almost dragged off as well. Somehow we depart with our group intact.
On the bus to our next destination, Charles tells us the winners of last nights Halloween costume contest. The winners include a scary zombie of the living dead (Patrick), a terrifying ghost from the Grudge (Jason, who joined us from England), some un-dead pirates (Todd & Lori), a woman with a lifelike growth coming out of her neck (Michelle), a couple of weird wrestlers (Curtis & Andrija) and very sexy vampire with a clean-shaven head (Corrado).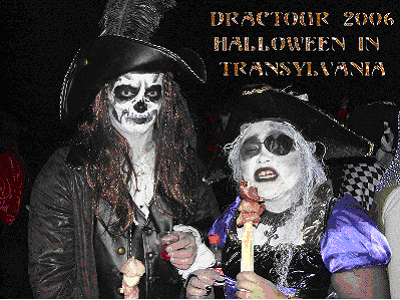 After exploring an ancient but well-preserved citadel, we have dinner in a medieval-themed restaurant, and head off to our evening destination at the Hotel Continental in Sibiu. Radu has warned us that after four nights of partying, tonight would be a good night to turn in early and rest up for an arduous climb that awaits us tomorrow. Many of us, however, want to make the most of every single night in Romania so we hit the streets in search of a local watering hole. A group of us follow some locals to a roof top club, Romanians sure are found of disco. Others visit the internet café, and some even find the famous park filled with bats.
November 2, 2006
The morning was spent exploring the streets of Sibiu as well as the church that contains the tomb of Vlad's son and the tomb of the inspiration for Mary Shelly's Frankenstein. We discover the history of the liar's bridge, the legend of the Pied Piper and the mystery behind the windows that look like cat's eyes. Sibiu is a fascinating and beautiful city and Radu and Razvan once again prove themselves to be a wealth on knowledge on its history.
We make a quick return stop to Sighisoara to witness a witch trial. In the midst of the trial, to our amusement, one member of our group is shocked when they try to accuse her of being witch. She is somehow released.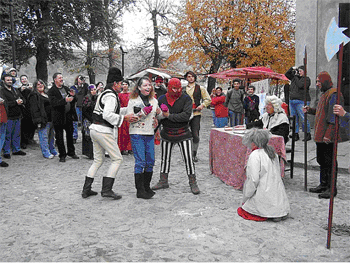 Back on the coach, we leave for our journey to Poenari, where we visit the majestic castle ruins built, owned and lived in by Vlad. The ascent includes a climb of fifteen hundred steps (boy do I need to get back in gym when I get home). Most of the group sets off for the climb up to the castle, and soon we all reach the pinnacle and pose for photos at the top.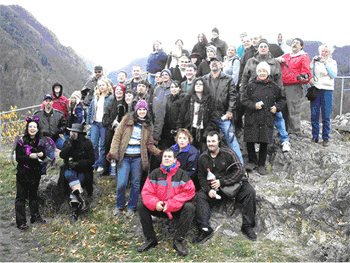 Tina is first to reach the top. The group takes a moment to appreciate how far we have journeyed to get to this place and many of us can almost see Vlad walking down the corridors of his former domain, an icy breeze blows across the mountain top and sends a shiver down my spine. It feels almost as if Dracula wished to remind us of his presence and of just who is in charge around here. Our guides remind us that nightfall is upon us and we need to start our climb down before dark. I say my respects to Vlad and head back down to the bus and to reality.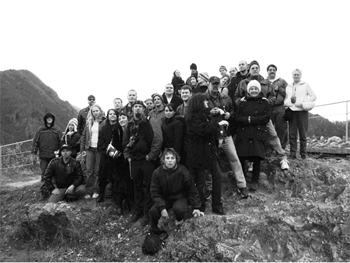 Sadly it is time for our gala farewell dinner and we gather at Dracula's Castle Restaurant for a meal as action packed as the rest of the trip. The food is delicious, and we are treated to a visit by The Count himself!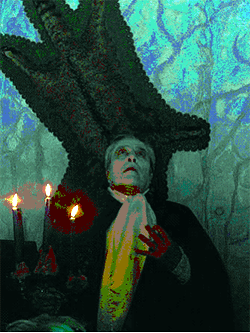 We spend our final night in Bucharest. Needless to say, many of us head out for a final celebration before returning to our aforementioned mundane lives.
A last glance at the moon over Romania: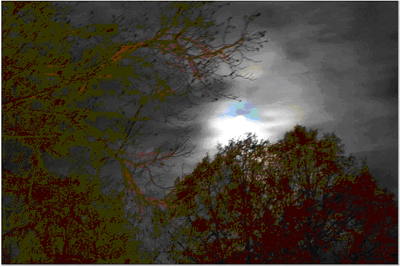 November 3, 2006
I awaken to my final few hours in Romania. A small group of us convince Radu to lead us on an impromptu walk through the city streets to learn about the guilds that once divided the city among job classification, and to visit a castle ruins hidden within the city streets. Of course the castle was once owned by Vlad Tepes. After a little last minute shopping, we all board the coach one final time for the ride to the airport.
Many of us have forged lasting bonds with our tour mates and bid each other fond farewells with the hopes that once again our adventures will cause our paths to cross. In leaving my home a mere week ago I knew I was going on a journey that few take, however, I never envisioned sharing it with such an eclectic and fascinating group of fellow travelers. As we all return to our home lands we carry with us priceless memories of an adventure that few experience. No trip to Magic Mountain could ever hold up to the journey we have all just shared. "Let's never lose the happiness we shared here for a while although I know I'll sometimes miss the pleasure of your smile. I feel like I just met you, and I feel like we're old friends, so merry meet, merry part, and merry meet again."
Copyright © International Tours & Events LLC. All rights reserved