Going to Transylvania was the closest thing to a dream come true.
The charms of Transylvania are far more diverse than my initial visions of haunted castles laced with legends of vampires and werewolves. The incredible mountain scenery speckled with scores of rural villages that time forgot are memories that can never be erased. For those who don't know, Transylvania is the central-most province of Romania, bordered by the Carpathian Mountains. It is located on the Black Sea north of Turkey, south of Hungary and east of Serbia, Croatia and Albania. I was very surprised by its large ethnic diversity: Romanian, Hungarian, German, Gypsy, Ukrainian and Dutch.
But the best thing about our trip was the company, all interesting, all like-minded. I made good friends with those whom I intend to stay in touch with, for a long time. Our diverse group was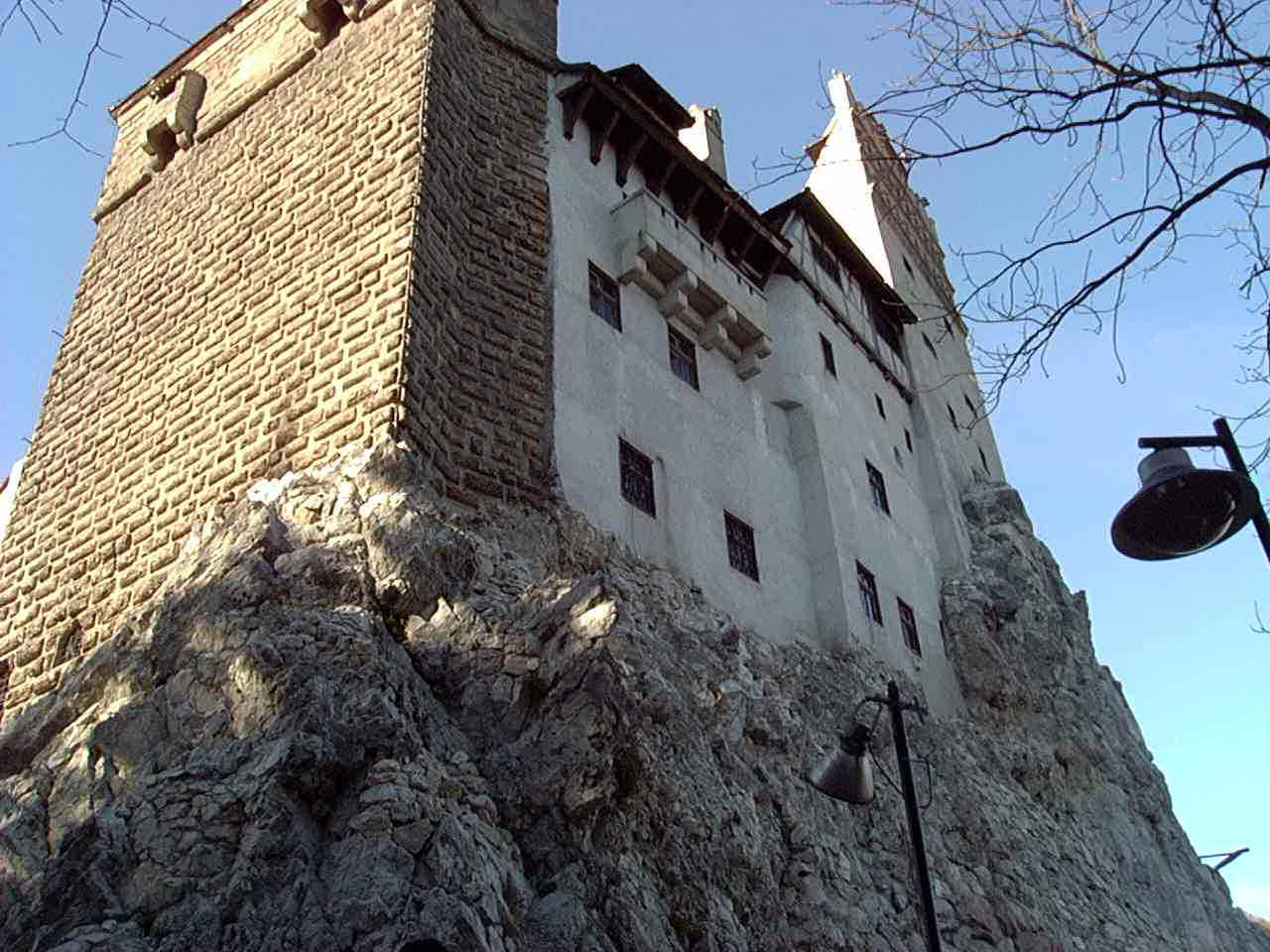 composed (or
decomposed
, as the case may be) of several true Goths, a teacher, a DJ, a dance instructor, a tattoo artist, a photographer, a chef and, basically, travelers from every walk of life.
Radu, our terrific tour guide, relentlessly recounted tales of each town we passed, sharing with us the not-so-well-known gory details we all craved. The enthusiasm and savoir-faire of our tour organizer, Charles, was key in making our tour of Transylvania a total success. He even brought a collection of classic horror films to make travel time more enjoyable. I don't think I'll ever forget 'the tortured undulations of the unwanted virgins...' but that's another story <lol>.
The weather was wonderful. Upon our arrival, we were snow was expected. Fortunately the fair weather gods prevailed - there was neither snow nor extreme cold; during day hours a light jacket was just fine.
Day 1: Departure
Our departure was scheduled for Saturday evening out of JFK airport in New York.I packed my passport, camera, extra warm clothes, the dictionary, the guide to Romania, my wooden stake and left for the unholy land of Transylvania in search of Vlad Tepes! Recognizing our tour group at the airport was not difficult. We were all quite prepared for a Transylvanian excursion, in a dark-clad sort of way. Our transatlantic flight was quite uneventful and we landed safely on Romanian soil ready for our Vampire Vacation adventure.
Arrival
At Otopeni Airport officials gave us the Romanian equivalent of a VIP welcome; we were escorted through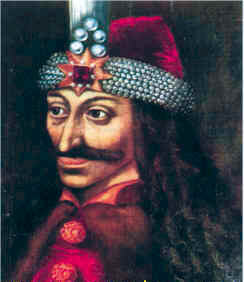 customs and directed to our noble 'coach of many horses.' Without delay, our tour guide Radu (a popular name, coincidentally named after Vlad's evil brother!) introduced us to this foreign land of many mysteries by delving into Romania's history. Most of us were quite exhausted, but those who managed to stay conscious learned quite a bit about the Wallachian Prince, Vlad Tepes. I was entranced by the striking landscape. There was so much land, rolling hills that faded into the faraway mist, glistening snow peaks on arid mountain tops, picturesque villages embraced by evergreen expanses, steep drops of rocky mountain escapes right outside my window, and the narrowest downhill roads tamed only by countless tight hair-pin bends. We soon came to realize that it would be our noble driver who would be providing the 'real' scares on this trip.
Before I embarked on this trip, I prepared myself with the 'Lonely Planet Guide' to Romania and a Romanian/English dictionary. I hardly used the dictionary, since I stayed close to Radu, who spoke both languages perfectly. Romanian, a Latin-based language, was relatively easy for me to understand, since I speak other romance languages; but I had to be careful not to misinterpret ' the water bottle label read 'contains positive ions', not 'caution positive iron content' <big grin>. I found the handy 'Lonely Planet Guide' very educational, but took some exception to the constant use of the term 'Dracula freaks' to describe those, who like me, visited Transylvania to learn about Dracula lore. I also found it a bit outdated; I had no problems finding fully functioning bathrooms. However, Romania still has a long way to go in order to perfect its toilet paper; I recommend bringing your own. The 'guide' was also right about stray dogs, there were plenty of them, usually in small packs, but they kept to themselves - I think they too were sightseeing!
Brasov
Our first stop in Transylvania was Brasov (pronounced 'Brash-off'). We stayed at the Aro Palace, a 4 star hotel, where we had our first Romanian meal. Several of us had special dietary needs but throughout the trip, and the restaurants always did their best to accommodate us. Even though it was late and we were quite tired, we ventured out to explore this cobblestone paved, 13
th
century German-built City. The atmosphere was thick with history; ancient shadows loomed around every corner. The braver ones in the group dared to enter the 'Heroes' Cemetery' where among those buried, are 62 people that died in Brasov on 12/23/1989 during the revolution; those grounds are said to be haunted. We headed to an Internet café, 'The Aurora,' where we enjoyed Turkish coffee and a cheese delicacy called 'cascaval'. The friskier members of the group ended up investing US dollars at 'Bimbos' a-go-go. Yes, they do have go-go-bars in Transylvania. It turns out that three of the women on our tour who went to the 'go-go' club actually wound up dancing on stage into the wee hours (no word on if they kept their clothes on).
Torn between checking my e-mail or getting some well-deserved sleep, I opted for the latter, discovering that the rooms were actually quite comfortable but the sheets were rather odd; they encased the blankets and had a large hole in the center?!
Day 2: Brasov, Bran & Targu Mures
Brasov
We woke to a wonderful day and an amazing view of Brasov from our balcony. After a full breakfast we headed out to the Piata Stafuli, the central square lined with baroque facades, pleasant cafes and vendors. The first Romanian word I used was 'negru', meaning black, essential when shopping. Towering above the town was the Black Church or 'Biserica Neagra', 1383, named after a fire in the late 1600's. Now it is no longer black due to recent renovation. This very large Gothic church is the home of a Buchholz organ, 1839, with 4000 pipes (wow!) remarkably preserved and still operating. Equally impressive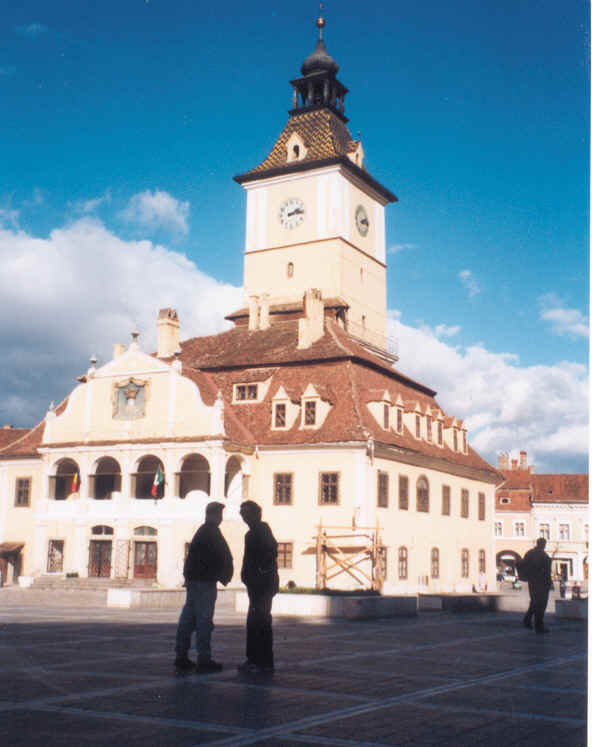 is the church bell, weighing 7 metric tones. In the square's center stands the old council house or 'Casa Stafuli', 1420, presently Brasov's history museum. It was there that Vlad Tepes met with other royalty to propose laws, hold court, address subjects and be judged himself.
In the 15
th
century, a 3km protective wall was built against the Turks. Catherine's GateHouse, or 'Poarta Ecaterinei' was one of the 7 bastions erected, another was on Tampa Hill immediately over the town. It was there, that Vlad Tepes held his infamous meal whilst impaled men slowly died on stakes around him. Regrettably we didn't have a chance to hike to the top. Beautiful churches of various faiths are scattered throughout Brasov. Radu invited us to visit an Orthodox Church where he could provide us with a better explanation of the various beliefs. In that awesome setting it was easy to understand why Romanian people are still so closely knit to their mythology.
We broke for lunch. Some wanted the not-so-gourmet cuisine of Macdonald's, but the majority opted for a restaurant with a more local flavor. We tried our discerning taste buds to the infamous 'mamaliga,' a soft, bland-tasting cornmeal mush served with pork stew, which happened to be my favorite dish of the entire trip. To aid digestion, a few of us went shopping before leaving the walled city of Brasov.
Bran
30 km south of Brasov is Bran with its luxury villas and private cottages, quite beautiful, yet not very representative of rural Romania. Bran Castle, 1377, with its whitewashed fairy tale turret walls was <unfortunately> far from menacing but still quite beautiful. It is breathtaking, with numerous rooms and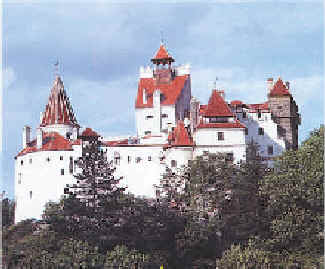 countless corridors and passageways. A well in the courtyard conceals the entrance to a labyrinth of secret underground passages. Queen Marie (1875-1938), aka 'The Warrior Queen' imported much of the original furniture, which is still in there. Contrary to popular belief, Bran Castle used in Bram Stokers' movie, 'Dracula', was not built by Vlad Tepes, but by the people from Brasov to defend the Bran Mountain Pass from the Turks. Vlad's connection with Bran Castle is the few months he spent imprisoned there by his half-brother Vlad The Monk, in a small alcove endowed with a 3'x15' window, where he supposedly continued his impaling fetish, but this time with rats & birds. Before leaving Bran Castle, we posed for a group shot on the steps leading to the entrance and we did some extensive shopping in the bazaar outside the castle gates.
Our money went a very long way in these markets. For $100 U.S., the exchange rate was 2,500,000 Romanian lei. In this country, we were all millionaires! The local joke is that if you're a millionaire in Romania, you're either a soccer player, a rock star or an American. One night, we bought a five-course gourmet meal for 4 including a bottle of wine for only $20 total. Someone bought a leather vest plus 3 woolen sweaters for $16. Needless to say, we shopped whenever possible.
Targu Mures
We arrived just in time for dinner at the Continental Hotel in Targu Mures (pronounced "TEER go miu REZ"). Some of the items on the menu included steak tar-tar and calf's brains... <gulp> none for me thanks. The sun had set, the night air was inviting, plus there was a large Roman Catholic Cemetery just waiting to be explored. The five of us who went to this graveyard to 'dig up' some mischief weren't disappointed. We had to climb a fence to get in, and we took many photos near some of the more elaborate tombs and mausoleums. Much happened that night in that eerie cemetery. A ritual fire beacon was lit as if welcoming us, there were disembodied growls in the far & near distance, glowing eyes following us, statues seemingly moving, while bizarre screeches compelled us to do unthinkable deeds that are better left unsaid. I still don't think it was a good idea to give the gypsy boy that set of fangs...
Targu Mures was first established as a garrison city, later becoming a prominent center. It seemed to be a placid yet interesting city with many cathedrals, plazas and schools well worth further exploration.
Day 3: Bistrita, Borgo Pass, & Piatra Fantanele
Bistrita
It was here that Bram Stoker's leading character, Jonathan Harker, stayed the night before continuing his journey to Dracula's Castle. Following in Harker's footsteps, our group stopped at Bistrita, at the Golden Crown Inn or the 'Coroana de Aur,' for lunch at the 'Harker Restaurant.' We were very impressed with the detail of the meal, the same as Harker enjoyed in the novel. Just before dinner, a gypsy woman presented us each with a clove of garlic for our journey onward. We accepted the clove with the right hand, according to tradition, to ward off the vampire, known as the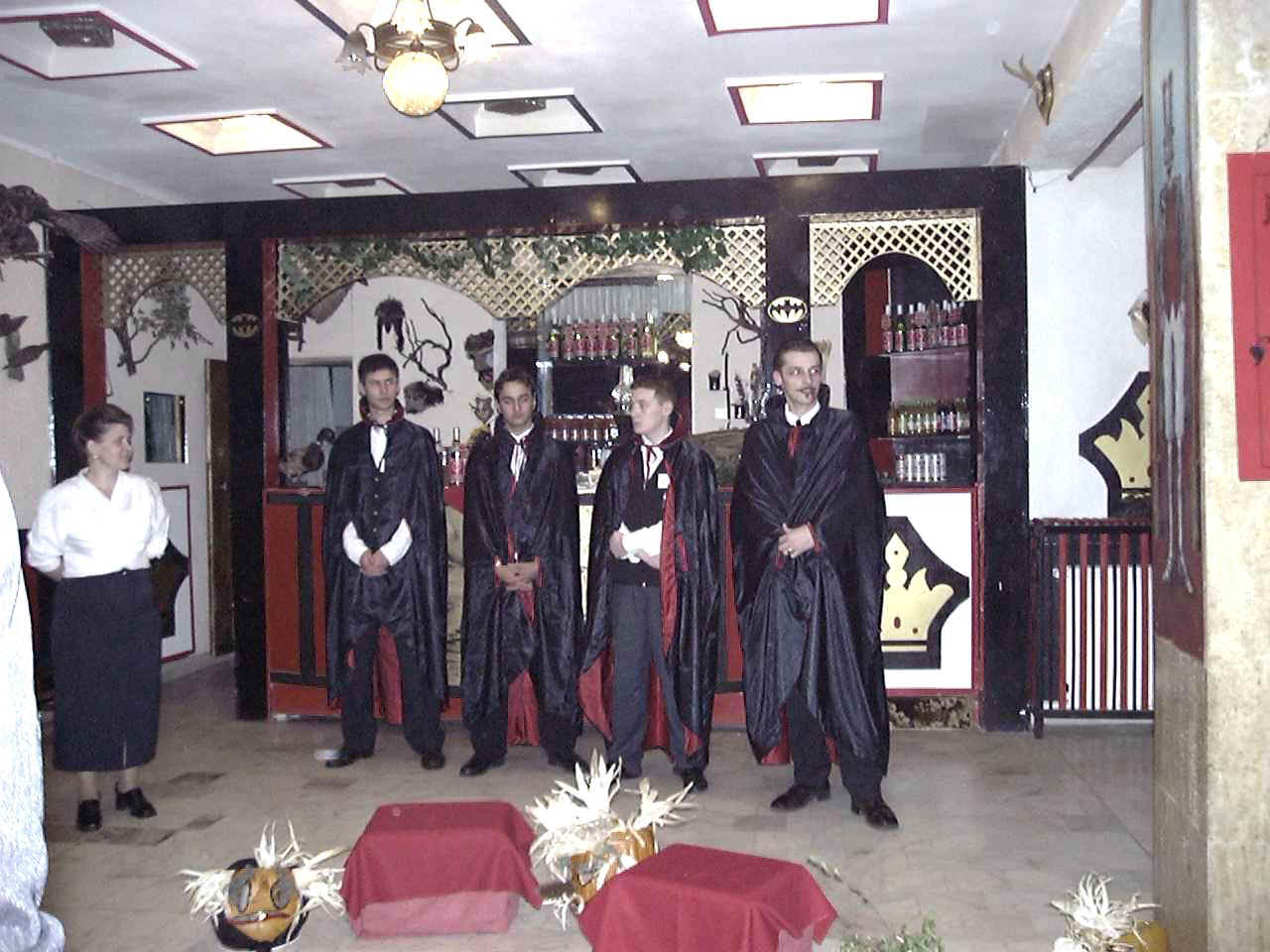 ' strygoi' in Romanian tongue. The 5-course grandiose meal was as delectable as it was meticulously decorated, the centerpieces were quite the embodiment of Halloween and the staff was curiously adorned in black capes. We took turns toasting over the native 'blood liquor' (an incredibly potent plum brandy), and it was here that the group started to really gel, with everyone getting to know everyone's names. One of our tour-members, Linda, may still be hung-over from her brandy intake.
Borgo Pass, aka Tihuta Pass
How I fretted to find Borgo Pass on the map. I was beginning to think we were heading into lands unknown. But finally after struggling with my guidebook, I discovered its official name: Tihuta Pass. Once again the scenery was breathtaking, but here even more so. We came across seemingly endless forests occasionally split by deep chasms lined with snaky rivers, there were swamps, and dangerous mountain trails, that truly captured the essence of Harker's perilous trail fitting Stoker's description perfectly. Here I felt very, very far from New York.
Hotel Castle Dracula at Piatra Fantanele
At the highest point of Borgo Pass there was Hotel Castle Dracula. Once a modest castle at the highest point in the Borgo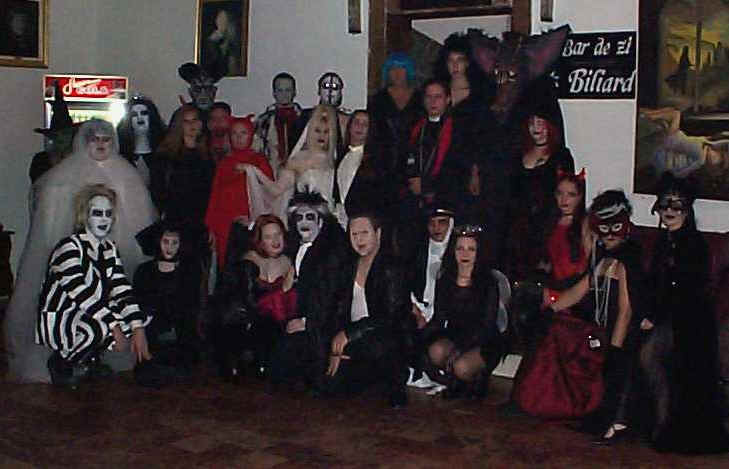 Pass, this is now a four-star hotel, and our home for All Hallows Eve. The sunset view from the top was magnificent. I was pleased to find the hotel decorated in good taste while the staff was very courteous. Upon arrival, everyone in the group made their way to their rooms to prepare their make-up and outfits. Before long we were in the reception area comparing costumes. The Romanian post office was wise enough to issue a special Vlad stamp for the occasion (we figured it was prepared exclusively for
us
), and they set up a display so that we could purchase individual stamps, commemorative sheets, first-day covers and other philatelic collectibles. Some of us also purchased 'after-life' insurance policies from the hotel receptionist, plus postcards and other souvenirs. We began our celebrated masquerade dinner party and the costumes were really great!
This year nearly everyone won a prize. There were two sets of honeymooners, and one of the couples (Jennifer and Erik, who had wed just a few days prior on Friday the 13
th
) was lifted in chairs in a ceremonial Eastern European wedding dance. They were voted 'most beautiful' couple. 'Scariest couple' went to two brothers, Tom & Kevin, who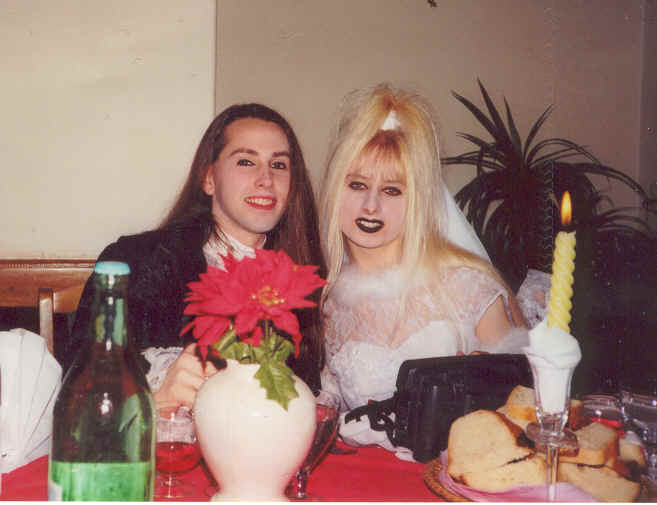 designed their outfits so they looked like mutilated zombies. 'Scariest individual' was our green witch, Angel, who was totally unrecognizable under her brilliant make-up. Vanessa was a close second as a ghostly vampress in white. Although Roberta and Tina exude sexuality and beauty, it was Nicole and Amanda who won in the 'Sexiest' category, with clever use of plush velvet, Elvira sensibility and the ample display of cleavage. 'Best Overall Costume' winners were Martin and Lori, with their recreation of Beatlegeuse & Lydia from the film 'Beatlejuice.' Other outstanding costumes were John and Heather as Xander and Willow from the 'Buffy' episode, 'I Wish.' Everyone got into the spirit of things, in more ways than one.
The dinner party was accompanied by live Gypsy musicians as well as a local DJ. He didn't know what we liked, so we took over, with music brought along by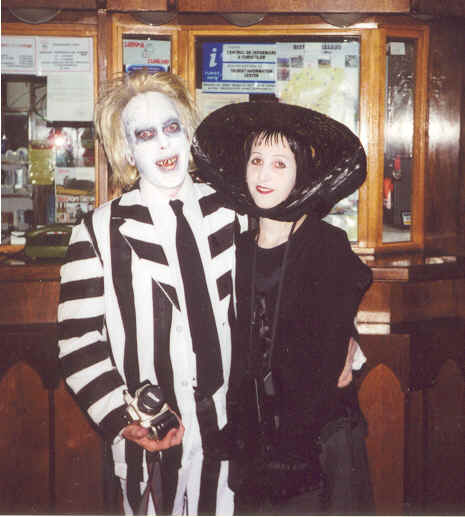 our pro DJ Paul with choices by our new pro DJ, Heather. In-between our five-course meal, we danced to cuts from the soundtracks of 'Phantom' & 'Rocky Horror' along with favorites by the Cure, Meatloaf, Warren Zevon, Sisters of Mercy and just about every genre of music. Yes, we did the 'Monster Mash' and the 'Time Warp.' At midnight we adjourned to the outdoor courtyard for The 'Witches Bonfire.' It was quite something; the gypsy musicians continued playing, and while we drank hot, mulled wine, some of us danced in circles 'hora' style. We were drinking, chanting and dancing under the stars until the fire was no more. But the night did not end there. Back at the hotel, we were led through a secret passage on a short candlelit tour of a rather under-done Dracula's Dungeon, not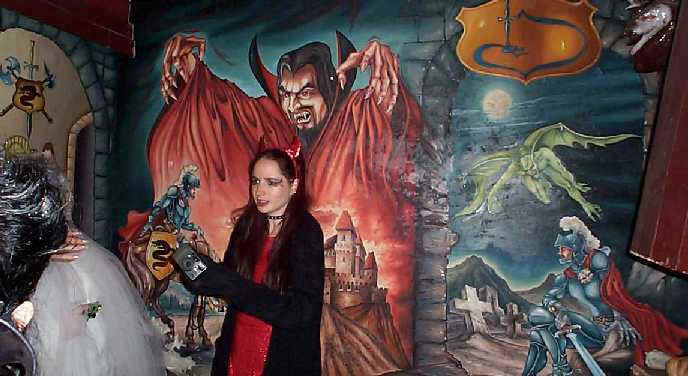 recommended for the faint of heart, with macabre murals of Vampyres surrounding us.
We took turns posing in the coffin while merry-making continued through the night in the main hall. The festivities continued until past 3AM. That night I slept with my window open <sigh>. I haven't been quite the same since.
Day 4: Sighisoara & Brasov
Sighisoara
We left Hotel Castle Dracula at about noon into our descent trip through Borgo Pass, past Bistrita to our next destination: the perfectly preserved medieval town in a charming hilly countryside called Sighisoara (pronounced 'szigy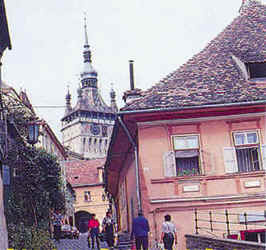 so AR a'). A 14
th
century wall with nine towers remaining out of the original 14, encircles sloped cobbled streets, burgher homes and a myriad of beautifully aged churches. Sighisoara, the birthplace of Vlad Tepes (in 1431), survives graciously untouched by time. The citadel's main entrance is the archway of a massive 'glockenspiel' clock tower. After a perilous climb to the top, we found the clock to contain a pageant of German figurines. The tower is now a history museum displaying among other things a large collection of rustic ceramics, various occupational tools, a scale model of the citadel, as well as a magnificent view from the 7
th
floor balcony. We were invited to enter an original torture chamber with ceiling and walls still stained by the original black soot of prisoners burned alive. There were diagrams depicting various methods of torture plus a few original punishment (behavior correction) devices; one of them a heavy public-display collar stone that read, 'Don't be a wicked person like me'.
The Central Plaza, or Piata Cenatil, is the heart of Sighisoara. It was getting late and it was quite deserted, but it was there that markets, public executions, as well as witch trials took place. Across the way is the house where Vlad Tepes was born in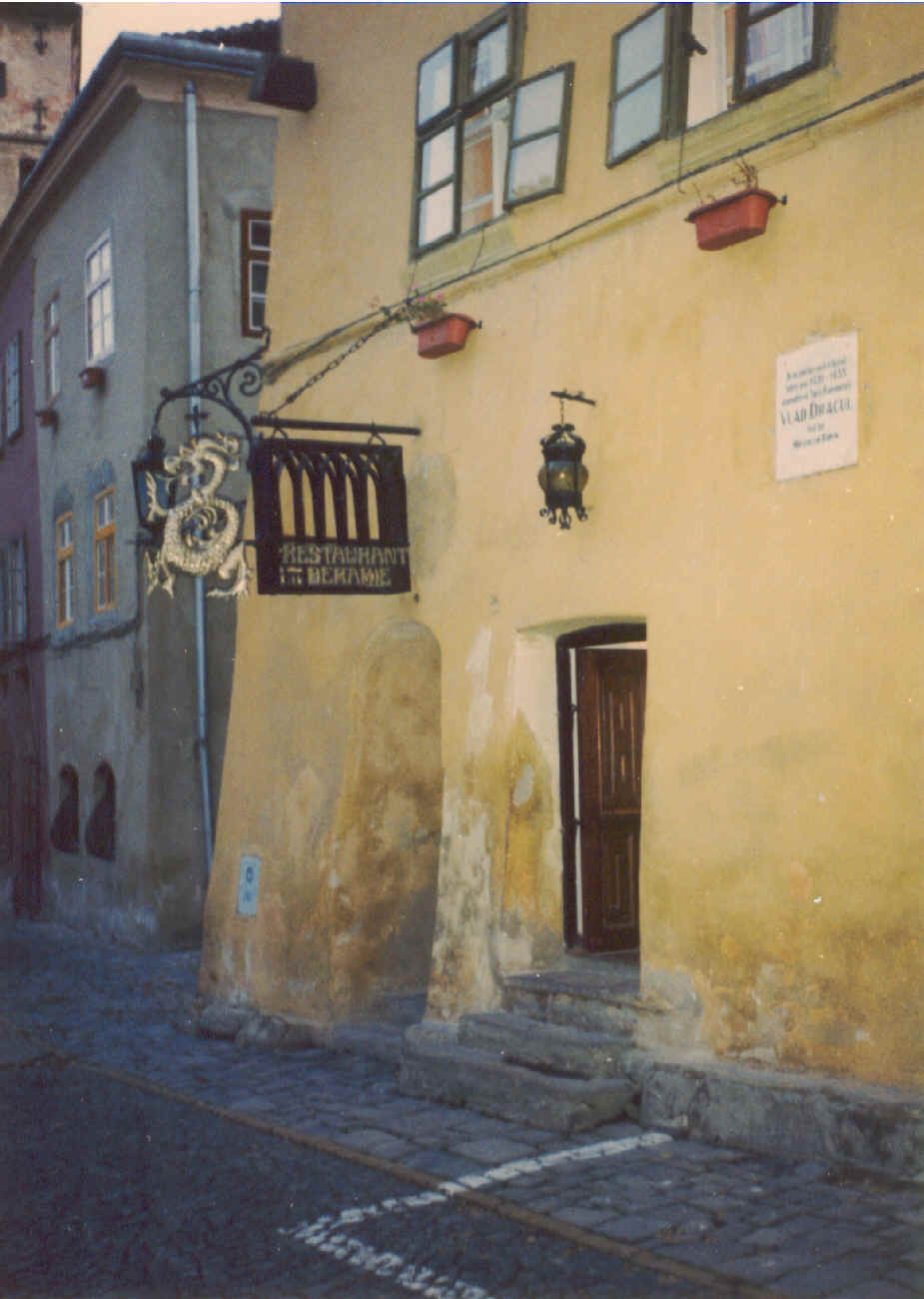 1431, and lived until the age of 4. It is now a restaurant where we had our first meal of the day, indulging our ghoulish hunger on chicken liver stew <
ugh
> (none for me thanks). The Dracul House not only maintains the original river-stone floor, but also reveals a fresco fragment under the ceiling of an ever-vigilant Dracula, or perhaps it's Dracula's grandfather.
After dinner, with the help of flashlights we climbed the 172 uphill steps of a haunted covered stairway 'scara acoperita', 1642, to the Gothic Lutheran Church 'Biserica din Deal,' 1345, adjacent to a large German cemetery unlike any other. Even though I crossed it at night in practically pitch dark, just the other day I glanced at the TV and recognized the cemetery on the screen; I watched a little longer and I was right, it was Sighisoara! We took strength in our numbers and were not accosted by any of the undead.Brasov
That night we stayed at Brasov, at the Aro Hotel once more, and we were all quite restless. Some chose to go beer tasting, while a group of us gathered in the plaza across the way to share paranormal stories: the tale of the Grandfather's ghost, the vanishing little girl, the waiting pink lady, the lost puppy, the dead landlord, poltergeist activity, even bizarre, unexplainable dreams. It was a creepy night, but a nice way to cap a full day.
Day 5: Targoviste, Snagov Monostery & Bucharest
Targoviste
The next day we set out for Targoviste (pronounced 'teer go VISH tuh'), whose main attraction is the Princely Court of Dracula or 'Curtea Domneasca', now a mass of crumbling ramparts with a few better-preserved sections. It was there that Vlad Tepes committed many of the cruelties attributed to him in historical documents. The 'Sun Tower' was built by Vlad in 1468. It was here that he watched from the balcony as Turks were put to death by being impaled on tall spikes. Nearby the ruins is a large stone-carved bust of Vlad VI. While the group had lunch at a local pizzeria, I set out to explore the town. There were chapels as well as a large 18
th
century orthodox church right in the middle of the Central Park. I found many bookstores, boutiques and an art gallery with fabulous woodcarvings. According to our guide Radu (who by now we were calling Ragu, as in the spaghetti sauce), there are only three places in all of Romania that have documented, factual connections with Dracula: the Sun Tower in Tirgoviste, Vlad's birthplace in Sighisoara and the third is Bucharest, named by Vlad in a document written by his hand.
Snagov Monostery
When we finally found our way to the mysterious island of Snagov the sun was slipping away. The adventure was well worth it, the majority of us concurred, and this was one of the best
parts of the tip. We took rowboats across the lake to get to the island, where the holy ground is marked by a large wooden cross. In his day, Vlad Tepes built fortifications around this monastery: a bell tower, a new church, an escape tunnel, a prison/torture chamber, and a not very sturdy bridge from the lake to the mainland. Today all of these are gone, except for the church, presently undergoing serious restoration. This church, 1456, houses the tomb believed to contain Dracula's remains, it is now topped with concrete, marked only by a humble portrait. We posed by this unadorned stone slab in front of the altar. The waters are said to be haunted by the spirits of the 60 plus prisoners who drowned when Vlad's bridge collapsed. Also, Vlad's treasure yet to be discovered, is said to lie somewhere at the bottom of Snagov Lake. It was getting dark so again on the rowboats we returned back to the mainland with big <fangy> smiles.
Wow! The Boulevard Hotel was quite something. Ostentatious chandeliers, marble staircases, archway entrances, columned hallways, ballroom-class dinning rooms, French Provincial/Louie the XV furnished rooms...very regal and impressive. That night we had a much welcomed roast chicken dinner at the Club Count Dracula, where there were secret passages to hidden rooms, genuine animal skins, gourds, masks, and photos from Dracula movies adorning the walls, skulls and chains hanging from the ceilings, with candles and taxidermy everywhere. Without warning, a very dramatic Count Dracula emerged from his dungeon tomb and welcomed us to his home. His voice was strident, his demeanor eerie and peculiar; actually not a bad Dracula. He decided to abduct one of our group, April, I guess he didn't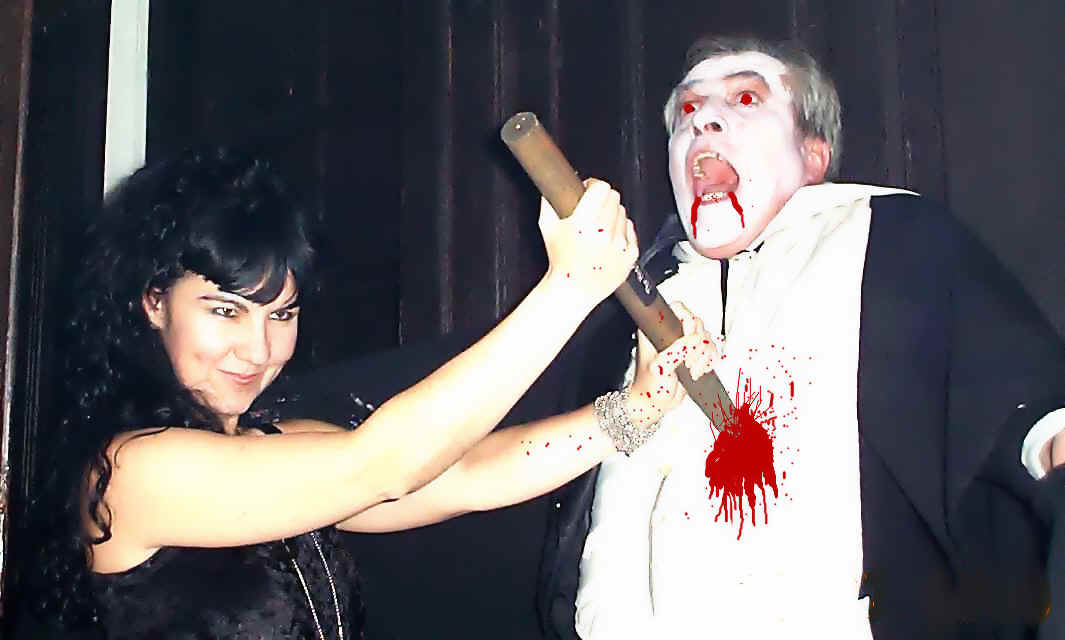 care she was on her honeymoon, and her new husband Dustin didn't dare rescue her, she was having too much fun. The Count led her down to his dungeon and was about to sink his fangs into her neck. Fortunately, I was there with my wooden stake, 'Mr. Pointy', and without hesitation, I properly applied it deeply into his chest. Dracula was slain... but I have a feeling he'll be back.
After dinner we set out to explore Bucharest's nightlife. Some of us went to the many casinos, while others just simply walked around town sightseeing. My little group discovered a covered road lined with quaint little restaurants and bars. We opted for a nice little pub called 'The Blues Club' where we spent the rest of the evening sitting outside drinking 'Ursus' bear and sipping red wine.
Day 6: The Last Day
Bucharest
What do you mean we are leaving today?? I could have sworn we had a few more days left. In a bold attempt to see and lean a bit more about Bucharest, a few of took the subway with Radu to the National Art Museum or 'Muzeul Natinal de Arta al Romaniei' where we did some more souvenir shopping. On our way to the airport, Radu squeezed in a proper panoramic sightseeing tour of the metropolis. Our coach stopped in front of the Palace of Parliament, 1984, a huge building (length: 270m) constructed primarily of marble. As ostentatious as seems from the outside, I can only imagine its lavish interior. From the Parliament Plaza we could view the Romanian version of townhouses. Romanian president Nivcolae Ceausescu erected this extensive housing development in the 1980's. It was Vlad Tepes who first established Bucharest as his princely residence and military post. Having survived several severe earthquakes, much of Bucharest's architectural history has been lost, however it is quite obvious that they have attempted to preserve a certain antique aesthetic even with the newly erect buildings. Bucharest's tree-lined boulevards, flaunty public monuments, with its many Orthodox churches give it a certain air of mysticism.
A last glance at Bucharest concluded our grand tour. We headed back to Otopeni Airport where we talked about our next visit to Romania and did some more souvenir shopping. We transferred to Amsterdam, where we lost a few members of our group to that beguiling city, and continued uneventfully to onto JFK.
Not bad for 6 days that will live forever, and what better way to spend Halloween than in the 'land of Dracula?!' I had a wonderful time, as most of you already know. Fangs for the memories.