by Melody Stevens


They say that a Journey of a 1,000 miles begins with but a single step. For my sister, Michelle, it was a trip of a lifetime.
"Romania? Why do you want to go to Romania? Adopting a child? The only thing in Romania is dirt and peasants."
Undaunted by the jeering crowds, and with little lead time, we decided to "go for it."
The Journey
It was still dark when we woke -up and got dressed to make it to the airport before rush hour. Vampires are still awake I thought. It wasn't registering that in a few short hours we would be in the air to Romania. We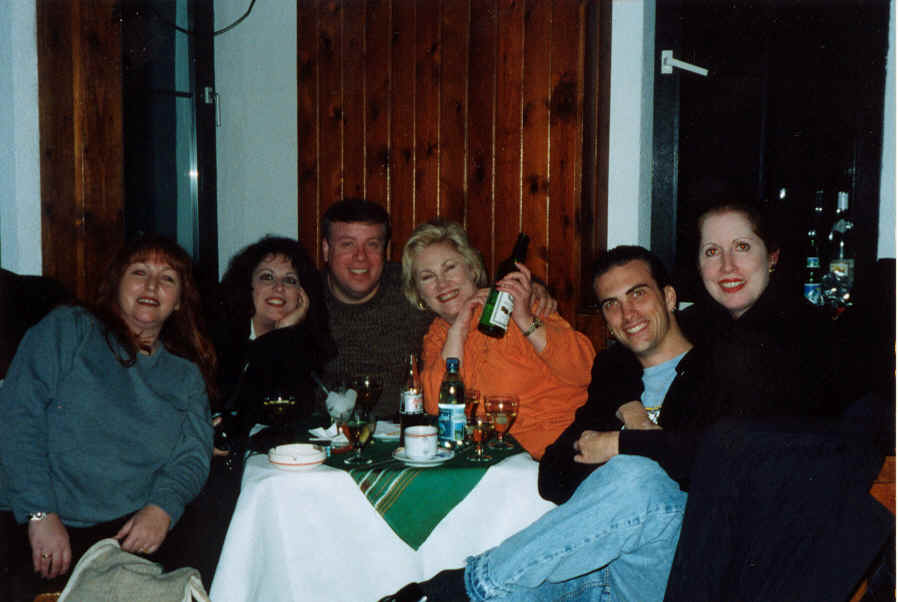 arrived in New York a bit early and waited for our traveling companions on our dark journey.
We met John & Joann first wearing the traditional monster shirt garbs and Scott and Diane, who were looking for some food (didn't have enough blood last night). Our other traveling companions arrived and we were handed our plane tickets by Danny (our fearless tour guide host) along with complimentary monster cookies as a gift from Charles (Danny's partner) for the Journey. I keep thinking of Jonathan Harker taking a Boeing 747 instead of a ship and a coach.
We landed in Bucharest, and met our local tour guide, Ishmael and our bus driver Stephano. We took a luxury coach to Brasov and checked into our hotel. My legs had gone to sleep hours prior. By the time we arrived, we were all so tired and silly; we were even laughing at my lame jokes. It was then and there I decided we would be great friends with Diana and Kay.
We were taken to our rooms in the Aro Palace and were told to meet everyone for dinner. I had been in my clothes for what seemed like a century, now I really know how a vampire feels. I changed my clothes and had a nice dinner. A local Romanian band serenaded us for about an hour and then exhaustion set in We headed up to our room to rest up for our trip to Castle Bran the next day. Rumor has it that several of our groups went out to a disco (hey Richard!).
Sunlight
We slept the night before and we were wide awake. Watching the countryside I kept wondering where the sidewalks were. It's weird how your mind works. All the houses are right up to the road, one road, which seemed to be the major highway. The houses had German, Turkish, what looked like Swiss influences and even the concrete slabs built during communistic rule gave a distinct flavor of both the vital time in history and a dismal time in architectural styles. Ishmael told us that many of the Romanians wish communism were back since everyone had jobs. Unemployment is about 12 to 14% in Romania. So much for the democratic way of life.
We arrived at Castle Bran and hiked up to the top. We took our first group photos from the roof where centuries ago, archers stood watch over the valley for invaders. (P.S. Future travelers - don't ever let Danny take the cameras. It takes him forever). This was the first site where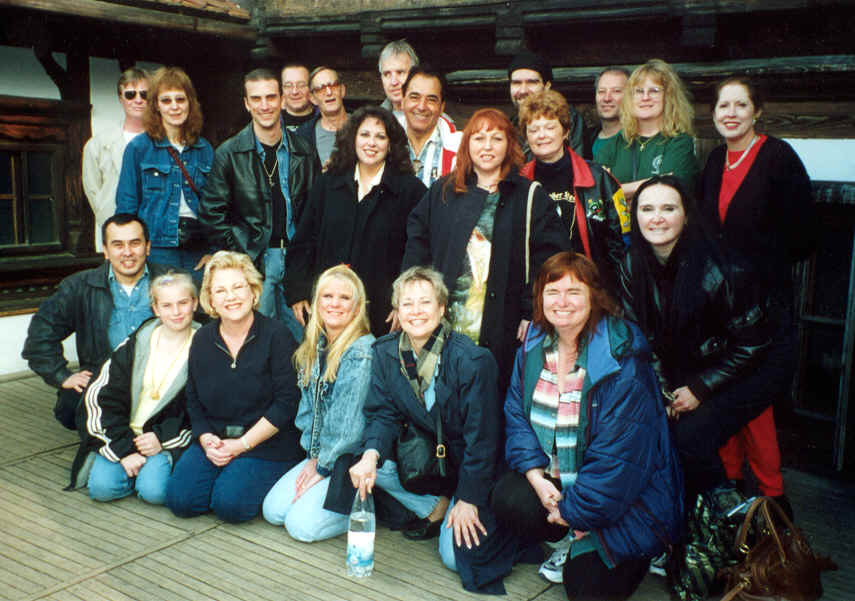 Danny requested a virgin sacrifice. Everyone was polled, no takers, no virgins either. Bran is a beautiful castle, as is the woodwork and furniture, especially the ornate chaste carved in the thirteenth and fourteen centuries. After we visited every room. stairway, corridor and walkway, we went shopping in the little bazaar outside of the castle. Most everything was beautifully done, knit items especially, and not expensive at all.
Back on the coach, our tour group took time out to stop at a wayside market, reminiscent of the Amish markets. Wagons filled the beautiful countryside as they bartered the price for pigs, horses, cows, etc. We were certainly the center of attention. Diane found a leather coat for less than $10.00. How about that!?
We stopped at a quaint restaurant for lunch, and then made our way to Sighisoara, the birthplace of Vlad the Impaler, or Dracula.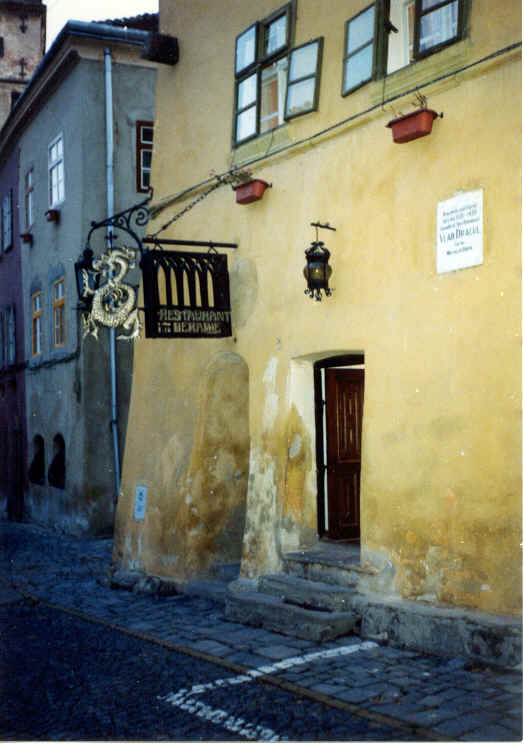 This is the best-preserved medieval town in Romania. Any of us who had any wind at all walked up the winding steps to the top of the tower for breathtaking pictures of the town below. In case you don't know it, Vlad the Impaler is a national hero, so his "head" or statue is in the town square. Vlad Dracula drove back the invading Turks in the fifteen century. But, it wasn't until we saw his birthplace that it really sunk in. The place Vlad was born is a plain building with a plaque marking this distinguished or extinguished citizen depending on how you look at it.
As the sun was going down, we ascend to a local cemetery. Once again, am I looking down upon Sighisoara, and I could imagine the city just as Vlad had seen it, minus a few cars, centuries ago. Driving out of Sighisoara a chill went through us all on the bus as we passed Timpa Hill. This is where thousands of victims were impaled courtesy of Vlad the Impaler. Ishmael went into a pretty disgusting verbal picture of impalement, what a guy! Gives new meaning to the word backyard party.
A few brave souls went out late in a local graveyard to raise the dead (or was it to "raise some hell?"). Fortunately I was still alive and did not hear a thing. What went on and for how long in a topic for discussion. Disco on Richard. By the way, the running joke of the tour was Transylvania Night Fever!
Our accommodations that night were at Continental Hotel in Targo Mures. I fell asleep knowing that in the morning we were headed for the legendary Borgo Pass and Dracula's Inn
Halloween Day!
There is absolutely no way one can describe how it felt driving up the Carpathian Mountains that crisp autumn day. The weather couldn't have been more pleasant for late October. The sheer beauty, the sheer cliffs, the amazing countryside. I kept hoping that Stephano knew his stuff... one false move and we were all air borne. Well, vampires don't worry, but of course we mortals do.
We, comrades, would be following the course set followed Jonathan Harker as per Bram Stoker. One quick stop for lunch at the Romanian Coroana De Aur. I wasn't sure whether the Inn was decorated for Dracula with red and black furnishings or for Norman Bates, since there were multiple dead animals stuffed and mounted, a la Psycho. Maybe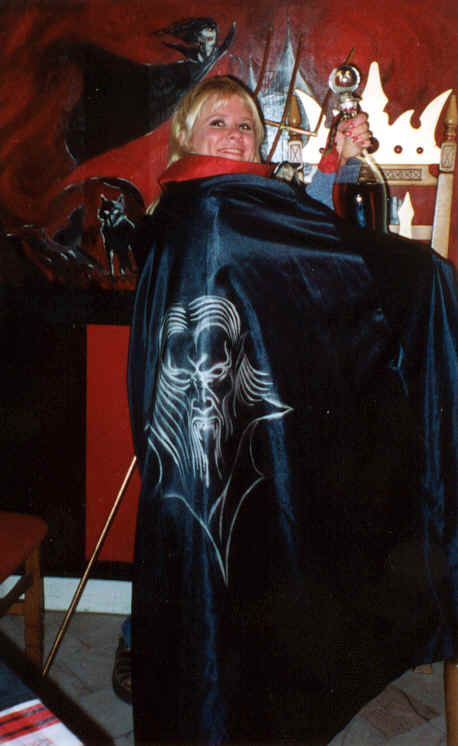 a little of both. I wonder if Drac loved his mother? Anyway, we all ordered lunch. There was a cape in the lunch room and Tuica, a Romanian wine, in a Dracula glass flank. Everyone tried on the cape including Ishmael. Tuica by the way is Romanian for paint thinner. Just kidding. By the way, no one told us not to go up to Dracula's Inn. Every great Dracula movie has the same scene where everyone crosses themselves and tries to talk the poor shmuck out of going on to Borgo Pass.
Our dark journey up the Borgo Pass continued as the sun was going down across rivers, great forests and the ever rising mountains. Ishmael said we were at 15,000 feet. I could imagine it by coach with the wolves howling and mist swirling about the wheels. At the highest point of the Carpathian Mountains is Dracula's Inn or Castle. Now mind you this Is not the real Dracula's Castle, but we were all psyched and ready for Halloween.
Halloween Night!
We had a few hours before the party so we walked about a bit taking pictures and visiting the gift store. We met up with Eve and Diana. Kay and Tina shopped for a while and just took pictures of the sun going down on this breath-taking mountain. Then, we all went in to take a nap, and get ready for the celebration of the undead.
I had given a lot of thought in the making of my costume. Really now, how many chances will you have to celebrate Halloween in Transylvania? I went all out and went as Elizabeth Bathory, the Blood Countess. My sister dressed as her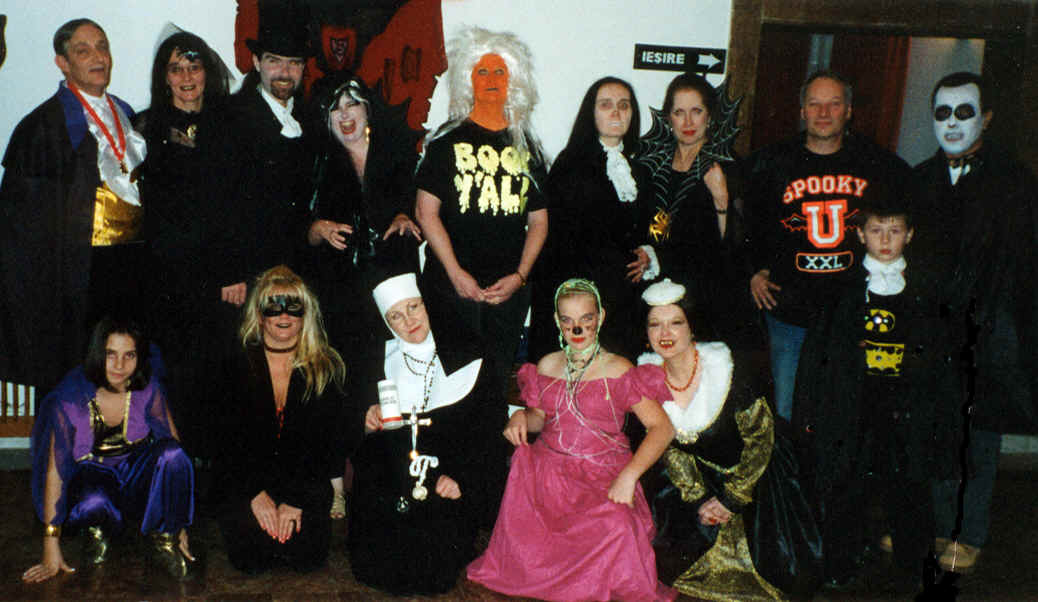 husband, Franz Nadasdy. We went out into the courtyard and the castle for pictures before the party. It was the most fun I have ever had! Everyone was looking at us and we were playing it up, for all our worth. I even got my gold vampire tooth to stay in with good ole poligrip. We even got spied on by the Romanian Dracula Society and were recorded for Romanian television, since the society was celebrating in the castle as well.
By about 7pm everyone started to arrive for the big dinner in the dungeon, which was decorated with cobwebs at a great banqueting table. The group was diversely dressed. Count Dracula, Dr. Jekyll, a vampire-slaying nun, a martian, a wiccan, several various vampires, a spider lady, and somebody who came in curtains (no names please, well you get the idea). Everybody had a ball, so to speak. A several course dinner was set, with wine and a local Romanian band entertaining us. Our group danced. We did the Monster Mash & the Transylvania Twist. Everybody, that is, except Disco-dancin' Richard.
Then, we split into smaller groups to go down into the bowels of the castle to see Dracula's coffin. I guess poor Joe had been in that coffin for about an hour waiting for us for the big scare. It paid off - Joe won 1
st
prize in the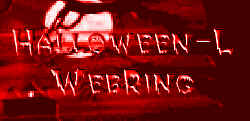 costume contest! This sub-basement area had scenes of Dracula painted on the walls and the local guide told us the story of the paintings.
Everybody grabbed a sweater or coat for the bonfire outside the castle walls. I kept hoping we were not going to sing Kumbaya or Michael Row Your Boat Ashore. The musicians had followed us down to the bonfire and Stephano grabbed me as his partner. What a joy he had for music, and what a truly happy person. It was pretty late and we all were pretty much tired (fired) out. We fed a stray white dog that had befriended our group from the bonfire. All in all we had a great day.
All Saints Day
The dew was on the fields when we awoke and went down to breakfast. Unfortunately, the waiters did not speak English, so it was some time before we all discovered we were in the wrong room for breakfast. Lining up outside the bus, we all took what I referred to as Danny's Disaster Fan Photos. This means Danny takes at least 20 cameras and makes us stay in place for what seems like hours while he trying to focus each shot of "the photo shoot." By then we all wanted to shoot Danny! We said goodbye to our white dog (he was a dog, wasn't he?) and headed back down the Carpathians. Meanwhile, to keep us In the Halloween frame of mind, Danny whipped out the video goodies. One of these films I swear I saw in the "Turkey of the Year" Film festival: "Nosferatu" with Klaus Kinski. The best part was Danny's (mis)pronunciation of nosferatu. We all loved seeing the original "Dracula" with Bela Lugosi. It was downhill with "Son of Dracula" starring Ringo Starr. Some of us loved the "coming attractions" video best, which was packed with trailers of countless horror movies.
We were returning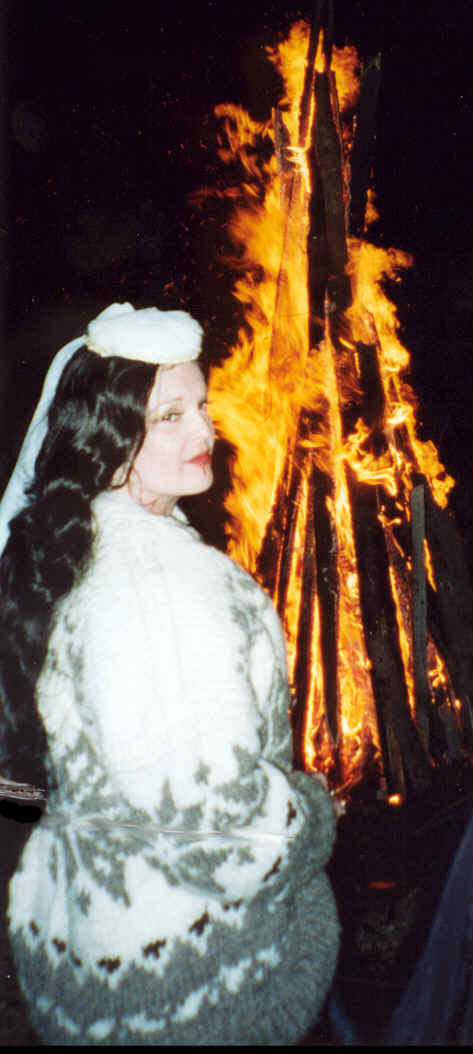 to Brosov and the Aro Palace when the bus was stopped by construction work along the side of the road. The gentleman holding the 2"x2" octagon stop sign was kinda anal (how do you say "anal" in Romanian?). Anyway, Stephano stopped the bus and had to back up a few feet for this guy. When Stephano started up the bus again he drove toward the poor guy, literally scaring the living Piss out of him. His eyes rolled right back in his head. What a moment. I still laugh. That's why I loved Stephano so much. I could tell that deep down he was twisted like we were. He laughed too.
A poll was taken on the bus to see how many would like to see Dracula's tomb the following day. This wasn't on the itinerary. All the hands shot UP.
The Day Aafter
Before we headed off to see the famous monastery, our bus stopped so we could all see the Black Church, so called because there had been a fire which caused the stone to turn black from the moot and ashes. The tapestries were magnificent.
We headed to Snagov Monastery. Dracula had built this monastery and the story was that him body was buried in the floor of the monastery. Ishmael had arranged for us to have lunch on the bus so we would not have to stop, and we arrived and parked the bus by a church. We probably waited about a half an hour and then decided to walk up the road to the pier... You see the monastery is on an island! One of the villagers offered to give us a ride in his wagon. My butt will never be the same (from the bumpy ride, that is). I rode down in the wagon or cart so I did not see how we came in or out. This will be important to the rest of my diary at the end of the day.
Children started to mingle at the pier, and we gave them candy. They wanted cigarettes of all things. Thank God I didn't smoke The rowers were taking us over about five or six at a time. It was a beautiful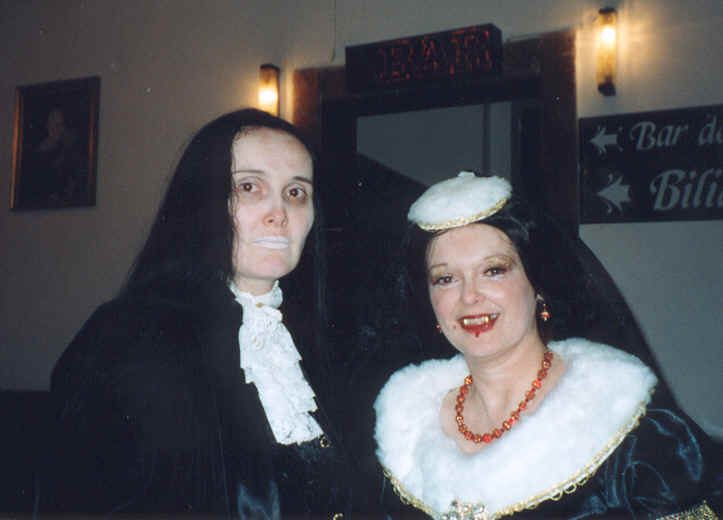 trip across the lake. I was told that the dictator of Romania had a summer home on the lake and that many famous Russian party members had stayed there and also, Michael Jackson, of all people.
A Christian Orthodox Priest met our boat and we went into the church. How small it was. There is just a small grave in the floor with a picture of Vlad sitting beside the grave. It was very quiet for a moment. Everyone kind of crowded around and stared at the site, breathlessly. Here was this great prince of Wallachia, Vlad the Impaler, a fierce warrior feared by his enemies and loved by his country as a hero. But if you are a student of history. you understand that in his time rulers were deposed regularly and swiftly often by members of hie own family or trusted friends. And we, in the dawn of our Twenty First century, are we really any more civilized than Vlad the Impaler, with our mass murderers, serial killers and random acts of hatred and violence perpetrated everyday in any city in the United States? If Vlad opened our newspaper, I wonder would he feel right at home or would Vlad be horrified, I wonder?
I guess that's why his grave had such an impact and me. And when I looked around at our group, I saw a great bunch of people. You know, it reaffirmed that there are nice people in the world. It's crazy what goes through your mind.
We walked outside and drew water from Vlad's well. You could still see where his seal had been. The water is in my coke bottle in my refrigerator as a permanent souvenir. The water is still drinkable.
The boats were loaded and we left the pier. When we reached the other side, a group of us decided to walk instead of ride. Well, we tried, anyway. Remember when I said I did not see how we came In. If it had not been for thin nice Romania gentleman, I probably would be in Russia right now. Walking down that dusty road, everybody came out of their front lawns to watch us like a parade. I did feel like an attraction since I was the only one wearing a Marvin the Martian jacket. I don't think any of them had ever seen Americana. We eventually found our way.
Creatures of the Night
We bid adieu and headed to Bucharest for our last night with the group. I think this was the best meal we had in a quaint Dracula Restaurant with Romanian masks on the wall. I had seen these masks in the movie "Subspecies": masks that were made to scare the evil spirits away. The chickens were served on a large spit, like a Christmas tree, and they were delicious.
I think some of us had a crush on our waiter, a cute Romanian with long hair. It finally sunk in that this would be the last time we would be all together in a social situation. Ishmael was moving on to another tour. We would see him briefly the next day. Stephano would drive us to the airport.
Dawn of the Dead
Michelle and I did some quick shopping before the bus left for the airport. We were always moving and had little time to shop. At the airport, my greatest memory is hugging Staphano for the last time, my soul mate on the trip. I would truly miss him. Then, we left Romanian soil, I had two rocks in my pocket so I kind of took it with me, and the rest in a memory. I think when our life is done and we can look back on what meant the most to us, it sure won't be the history lessons, or the trinkets we picked up or even the great snapshots of everybody standing in front of something famous, it will be the friendships and the happy moments or private jokes that made everyone laugh that made it memorable.
The people of Romania were most gracious, from the shopkeepers to the hotel clerks. Even with their broken English and our lack of the knowledge of Romanian lore, they laughed and worked out a gesture system that just seemed to work out. My thanks to all those who extended kindness to our group, and I trust we were good diplomats for the United States. Thank you Danny, Charles, Ishmael and Stephano and all our traveling companions for a wonderful trip. Fare thee well, Vlad!!
Copyright © International Tours & Events LLC. All rights reserved