By ???

The first-ever DraculaTour, billed as the "Haunted Horrific Halloween Holiday," began no differently than any organized tour package. Travelers from all over the country, and from various walks of life, met at Kennedy Airport in NY to fly to a foreign land. The only difference between us and the thousands of people flying out of JFK, was that this was a "Tour of Terror",a fantasy vacation amongst the backdrop of vampires, werewolves, hunchbacks, gypsy fortune-tellers, and legions of the unknown in a land that time literally forgot.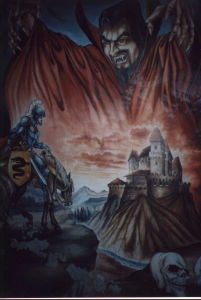 We were an eclectic group, and some of us made friends quickly aboard our KLM flight. We hoped they'd be showing "John Carpenter's Vampires" onboard (but that wasn't out quite yet) or, for that matter, any horror movie. We stopped in Amsterdam, where one of us actually went gambling and won $200 in the airport casino. We landed in Bucharest, Romania, waltzed right through customs, and a luxury Mercedes coach with bar stools in the back was waiting for us. Bucharest is the capital of Romania, first mentioned by this name in a document signed by Prince Vlad Dracula himself in the year 1459. Over 500 years later, we find ourselves in the same "unholy" land. There is no turning back now!
We were greeted by our local tour-guide Ismael, our bus-driver (whose name none of us could pronounce) and some very pleasantly surprising weather under a rather warm sun. At the airport, the main group from New York was joined by travelers from other parts of the U.S. Our tour-group was made up of horror-files aged 18 to 50. We had writers, travel agents, DJs, airline stewardesses, lawyers (not to be confused with those other bloodsuckers, the Vampires), a fireman, a t-shirt manufacturer, a tire store owner, a 7-11 store manager, a student, an interior decorator and a warlock or two. The trip from the airport to the hotel gave us an opportunity to get to know one another, but most of us caught up on some desperately needed sleep (since most of us were too excited to sleep on the plane). We listened to the soundtrack from the film "Beetlejuice" on the way, courtesy of one of our travelers, Loretta (who brought along such other appropriate music as Black Sabbath, the Misfits, the Cramps, Marilyn Manson, etc.).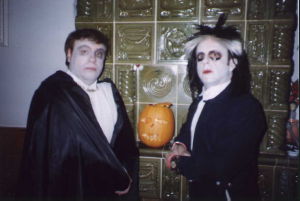 We couldn't believe we were here. We weren't in Kansas anymore... we were in blood-suckin' Transylvania, land of Dracula, the Wolfman, and home to the undead! It was too good to be true. We checked into the four-star Aro Palace Hotel in Brasov, a glorious hotel facing a large (but spooky) park. Rumor had it that one of the members of the group immediately put up garlic and crosses in her hotel room window. We were treated to a traditional Romanian supper with accompanying live music provided by a pianist and violinist. Too elegant for our group? Hardly. The more cultured among us appreciated the stained glass murals, the chandelier-filled corridors and expansive panoramic view from our quaint terraces, with the city surrounded by vast mountains as its background palate. Others were more excited by the all-you-can-eat lavish breakfast the next morning and the on-premises casino.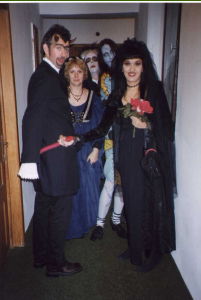 Most of us were too tired from our journey to do anything but crash in our rooms. Others took a quick walk around the immediate area, while a few of the more adventurous actually went graveyard hunting. The half-moon was engulfed in a mist worthy of any classic Universal monster movie. There was the occasional flurry of howling dogs (it was dogs, right??). We soaked in the atmosphere of the city at night. Two members of our group, radio station contest winners from Detroit, discovered an underground nightclub in our hotel, where they enjoyed a Vegas-style burlesque revue at midnight inclusive of a bottle of wine. This midnight show will be part of the official tour for years to come!
We departed the next morning at 9AM for our first official day. A few of us got up early to do some vampire slaying but came up empty-handed. Our tour-guide gave us a brief history of Transylvania, which means "the land beyond the forest" (not to be confused with Pennsylvania). He explained how Germans established seven cities in the area and still refer to Transylvania as the "Seven Cities Land." In essence, this was our history lesson and our brief, educational introduction to the region, its people and its legends. In 1377, the Hungarians built Bram Castle, conquered by Dracula's ancestors. This is where Vlad/Dracula's bloody beginnings started. He was Romanian but Bram Stoker fictionalized him as a Hungarian count. His evil thirst for blood (via killing, impaling, torturing) led to the story of him being the first Vampire. A third of Transylvania consists of the mysterious Carpathian Mountains, which we passed on our way to Bram Castle. The mountains are breath taking, and seem to go on forever. Thank goodness we didn't have to venture into those mountains.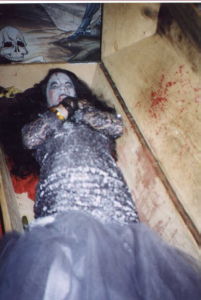 We arrived at our next destination, walked past a small marketplace, and made our way up to the entrance of Bran Castle. The castle literally reeked from its ominous history. The dark edifice towers over a bed of stone, with a dried-up moat at the base, gruesome yet beautiful as a preserved fortress. Castle Bran remains an important national monument and landmark of Romanian tourism, due not only to the majestic beauty of the structure and uncanny landscapes, but also to the legend of Count Dracula. Once inside, we explored every imaginable single nook and cranny, including the hidden chambers and the claustrophobic alcoves. Some restoration was being done on the outside, but it was inside one of the dimly lit chambers where we had one of our first true scares. Danny, one of the leaders of the tour, sneaked ahead into the room where he hid himself under a full-sized lifelike bear rug. As each of us entered the chamber, the life-like bear indeed came alive... to our shrieks and screams. We enjoyed every inch of Bran Castle and took rolls of film from every angle. On the way out, we stopped into the Castle's totally non-commercial souvenir shop, where one could buy everything from talismans to candleholders to picture postcards. This was probably the first time the store had so many customers. Before we boarded our coach, we literally invaded the marketplace, cleaning them out of hand-woven sweaters, woolen scarves, hats, craftwork and other gifts to wear on the trip or to bring home.
Our afternoon began with a stop in Brasov's city-centre, typical of a higher-class Eastern European shopping and cultural center of activities. Brasov, by the way, is one of three major centers in Transylvania established in Vlad's time. It was in Brasov where Vlad enjoyed his meals while hundreds of villagers died on stakes at the base of Timpa Hill. We entered the Black Church and Ismael gave us a complete history of the building, an enormous temple that nobody would ever want to enter alone at night. It contains the largest pipe organs in Eastern Europe as well as the largest collection of Turkish, Persian and Oriental rugs on display. We spent about an hour at Black Church - named for the soot which accumulated on its facade after it was burned in a hostile takeover - with a little time left over to grab lunch or to visit the businesses. Many of us exchanged our dollars to leis, where we found that our money went a very long way.
Our next stop was Sighisoara, the best-preserved medieval town in all of Europe. It is the home of "Clock Tower," the "Square History Museum," the Scara graveyard (with its never-ending stairway) and it is a town where witches were punished at the stake and where there could be danger around any corner. More importantly, it is the actual birthplace of Vlad Dracula. Our one-hour visit became a three-hour adventure (which wasn't even enough, as we returned here later on in the tour). We broke into smaller groups. As it was twilight time, a few of us started out by going up "Scara," the covered out-door wooden stairway, which leads up to Cemetery Hill." The stairway lights weren't yet turned on, so this was our next major scare, having to ascend up the outdoor stairs in nearly complete darkness. The journey back down was no less spooky, and far more dangerous, but for another totally different reason. The bulbs were turned on (believe me, they didn't generate that much light), but waiting for us two-thirds of the way down was some sort of canine. Was it a wolf? Was it a devil-dog? Was it possessed? Was it vicious? Was it rabid? Was this the end of us? Fortunately, it was a hungry but friendly mutt. We won him over with some snacks and he accompanied us as our personal guard-dog down the rest of the way.
In front of "Clock Tower," which by now was closed for the night, our tour-guide Ismael was bent down and was scrounging around in a bushy area between a grass lawn and a newly pebbled walkway. We thought he was kidding when he held up some pieces of bone. We thought he'd planted it there. But it was no joke. In restoring the nearby monastery, actual skeletons had been inadvertently unearthed. These remnants of 12th century Transylvanian peasants (could they possibly have been Vlad's victims?) were scattered about, there for the taking. Much of the skulls and fuller bone segments were long gone, but if you searched close enough they were there. Whereas many in our group were afraid to touch "dem bones," or others were stopped by superstition, or a few felt it sacrilegious, one or two of us jumped at the opportunity to take home a few of these treasures. Talk about the ultimate souvenir of a "Tour of Terror" - bones from Transylvania. Tour leaders Danny and Charles carefully wrapped chunks of skull and a rather large leg bone to present as a gift to tour sponsor Kevin Clement of Chiller Theatre for display in his New jersey shop. The store was always unique, now it's truly one-of-a-kind. What other proprietor can boast of his shop possessing (no pun intended) Dracula-era bones direct from Vlad's home-soil in Transylvania? It will be interesting to see if Kevin himself and special-guest tour host Zacherle find any pieces of skeleton on next year's tour. Unbeknownst to those who took home pieces of bones as souvenirs, others had a similar idea. Along with visiting "Cemetery Hill," some took Transylvanian soil with them. It warms the heart (as well as the heartless) to see that some of us thought in advance to bring along little empty sandwich baggies specifically to bring back earth from Dracula's birthplace.
We were very disappointed that the "Clock Tower" and the "Square History Museum" were already shut down for the night, and we were under the impression that the latter, a museum of torture devices, was closed for the season (?), but we would return here again later on in the tour. Instead, we instinctively made our way into an inviting pub where we reunited as a group. This was the actual site of Vlad's birth! We celebrated as any true tourists would... we bought rounds of beer! Our intended one-hour visit to Sighisoara turned into a three-hour stay by the time we left the pub. Some reasons why we stayed a bit longer were: 1) the massive golden Vlad bust (at least two or three times human size) which we all posed with, 2) a local young villager who had been playing some Romanian folk songs on guitar until our group took over the pub, 3) the kind bartender who ran the establishment and went out of his way to quench our thirsts, but, perhaps most importantly, 4) the price of the beverages! Bottles of Coke were a mere 35 cents, bottles of wine were about two dollars and large steins of beer were just over 30 cents! A few of our tour-members may have stayed there all night if we let them!
We finally left Sighisoara and boarded our bus to our next hotel, the Continental Hotel in Tirgu Mures. It was the most modern of our accommodations. We had a late, lavish meal and told the hotel's front desk manager to arrange taxis to take us to a cemetery that would be open at midnight. We thought they just didn't understand us because we had to repeat what we wanted about 10 times. They understood is all right; they just thought we were nuts! They were right, of course. We assembled in the lobby at 11:30, where there were three local scream queens sitting at the hotel bar. We referred to them as scream queens, but we weren't too surprised to find out that they were the "other" kind of ladies of the night (and we don't mean Vampiras). We are happy to report that nobody in the group took advantage of this optional activity available here (as far as we know, that is).
The taxis arrived on time but they were puzzled. Ultimately, only one agreed to take us to the graveyard, a scant ten minutes away from the hotel. The same taxi went back twice in order to bring about eight of us there. The rest of the group either went to sleep, or were afraid to be part of our little adventure. The scenario was nearly perfect. Dogs were barking in every direction, the air was musky and the ground was muddy. There was a slight chill in the air but it was far from cold. Any shivering was more out of fear than weather condition. The only thing that could've improved the ambience was a full moon. The 3/4 moon served as our only light source. We brought with us candles, incense, wine, a giant blanket and the coup de grace, the human bones which we had dug up earlier. As we made our way to the deepest part of the catacombs, one of us was dragging behind. We didn't realize that someone from our group up ahead had circled back to hide behind a large, garish mausoleum. It was dark so we couldn't see much. But we heard the dogs continue their howling. All of a sudden, the person who was dragging behind let out a wicked scream as a mad dog jumped out of the shadows at him. We almost had to bury him right there! As you could've guessed, though, it wasn't a dog at all, but the person who circled behind to scare him. He succeeded in scaring the rest of us too, because we couldn't tell what jumped out in the dark! Lucky none of us was weak of heart.
We finally settled down in a part of the burial ground where we all fit on a slab in front of an old, rotting tombstone. Our original intent was to have a sťance to raise the spirit of either the person buried there, or the people whose bones we had brought with us. Before long, the gathering turned into a ghost-story-telling session, with some scares but mostly laughs. We were having so much fun, we didn't realize that it was already Halloween! As of midnight, when we arrived at the graveyard, it was officially October 31st!
The next morning we had a huge breakfast, checked out of our hotel and returned to a neighboring cemetery so that everyone could take pictures of the ancient headstones and do some pencil and crayon rubbings. The cemetery was packed! At the gates were peddlers selling flowers, candles and chestnuts. We thought it was because of Halloween, or some Romanian holiday we didn't know about. In actuality, the denizens were there in preparation of the next day, Nov. 1st, which was "mourning day" as observed in this country on the first of the month. It was daylight, and we all felt safe, as we walked around. Amazingly, there were many tombs with the names "Bela" but, alas, none with the names "Boris," "Lon" or "Vincent."
This was a great way to begin Halloween, and the tour was really kicking into full gear as we set out for our pilgrimage to Dracula's Castle. On the way, we followed in the path of Jonathan Harker as described in the notes of our hero's diary in Bram Stoker's "Dracula." Accordingly, we stopped for lunch at the Romanian Hotel Coroana de Aur, just as Jonathan Harker did on his way to Dracula's Castle. Here, Harker stayed over at the hotel and ate the traditional "Robber Steak" typical of the Counts domain and the mystery of the times. The private restaurant is nestled near the historical center of Bistrita, and is decorated with ghoulishly stuffed animals and birds, paintings of Dracula and other eccentricities to set the proper mood. We expected to be greeted by the President of the local chapter of the Transylvanian Society of Dracula, but he was nowhere in sight. He wasn't really missed, as we ate, drank delightfully bad blood-red liquor) and took many photos. We boarded our coach again and were getting more excited by the minute as we continued through Borgo Pass. To the right and left were rivers, abandoned huts, mammoth trees, swamps and mountains galore. We passed the great Carpathian Mountains, all the while following Harker's "Dracula" trail. We were afraid that at any minute we would have to get off the bus to be whisked by horse and buggy to the Castle as ordered by Dracula himself. The weather was changing as we were ascending up the mountainside, where the peaks were now covered with snow. We passed small homes with no running water, villages lined with dirt roads, and small farms filled with sheep, cows, oxen, goats, horses and other animals. We passed areas of mountains that were filled with bears, and even saw a bear in a cage on the way.
There was snow on the ground and the temperature had dropped somewhat when we reached Dracula's Castle at the very top of Borgo Pass. Had we reached our holy-land, or was this really the most unholy land? In any case, we had arrived, and this is where we would spend the night. We each went to our rooms to prepare for our Halloween Masquerade Ball. This was the place to break out the garlic and crosses. We were to meet in the lobby at 8PM.
Tour leaders Danny and Charles decorated our Halloween party banquet room with yards of simulated cobwebs and hundreds of little facsimiles of creatures such as spiders, mice, insects and bats. Dwight Frye would have been in seventh heaven. Candle-filled carved pumpkins and the moonlit from outside the windows supplied the only light in the room, aside from a single faux fireplace and a television which was showing Halloween cartoons courtesy of the Cartoon Network. It was a surreal scenario, but the room looked absolutely terrorific.
Everyone filtered in at around 9PM, and it was truly a sight to behold. Everyone's mood was higher than a flying bat, and the costumes were simply spectacular. We had vampires (who would've guessed?!), ghouls, demons with tails, an undead witch, a seductresses, and even a transvestite zombie. The best costume, hands down, was a living replica of Sally from "A Nightmare Before Christmas," complete with matching contact lenses. Words can't describe how cool everyone looked - this was truly the ultimate Halloween Ball - and we were actually partying inside Dracula's Castle! Growing up as a Dracula fan, a monster maven, an appreciator of the genre, and someone who always loved Halloween and dressing up for the occasion, I would never have believed that I would ever be here in my lifetime. This was a dream (no, not a nightmare) come true... and I think all of us felt the same way.
A Romanian ensemble provided the music in the corner. After a comprehensive photo session, we all sat down for a great meal, including some fine red beverage of which we couldn't quite determine its origin. We constantly interrupted our dinner by running out and scaring other guests at the hotel, as well as the staff. I don't think this castle, despite its name and dubious history, had ever been over-run by crazy Americans in full costume before this unforgettable night. We took dozens more pictures with other guests. The Romanians seemed to enjoy our antics as much as we did.
After all of us finished our meal, the staff brought out an anniversary cake. One married couple on the tour (most of us came on our own) were celebrating their 1st-year anniversary (yes, they got married on Halloween one year prior). The band played the "Anniversary Waltz" and we coerced the "honeymooners" to dance.
We were then invited down to the Castle's dungeon, where a "Vampire Show" was staged for our morbid enjoyment. The paintings on the wall were grotesque and the chamber was confining. We were somewhat jaded by then, so we felt nothing could scare us. Come to think of it, I won't tell you what happened in this dungeon in case you decide to ever go on this tour in the future.
The snow was falling gently but that didn't stop us from partying. Halloween night at Dracula's Castle climaxed with a haunted bonfire outside. We threw on some coats (and, in one case, thermal underwear) and made our way outside, where the band continued to play, and where guests and staff joined us for a ritual bonfire feast. Instead of cooking marshmallows, the locals decided to sacrifice the virgins in our group. As fate would have it, there were no virgins around, so the sacrificial lamb was meat on stakes which we broiled in the bonfire ourselves and ate when ready (I was just kidding about the virgin sacrifice part). The fire kept us warm and we actually started a circle dance around the flame. It was the strangest ritual dance you'd ever seen: part hora, part tarantella, part zorba. One of our tour-members, Suzanne, looking utterly ghastly in her ghoulish garb and rotting make-up, seemed as if she was ready to be burnt at the stake. It was scary just looking at her. When the bonfire started to lose its spark, and the musicians finally began to tire, we finished our stake steaks and made our way back inside the castle.
Some retired to their rooms, others remained in the bar, while a few spontaneously planned a great practical joke, which turned out to be the most hysterical scare of the trip. One of the tour-leaders, Charles, had made his way back his room that he was sharing with Kenny. Kenny was a real character... a high energy, non-stop chatterbox. Wind him up and he keeps on going and going. Charles heard Kenny creating a ruckus out in the hallway (nothing unusual for Kenny, except by now it was probably 2AM in the morning, and most everyone had retired to their rooms), and decided, in a moment of great inspiration, to teach Kenny a lesson for his "loudness" by endeavoring to scare him. Poetic justice served, Charles had the lights off and popped a balloon just as Kenny walked in the room. Kenny screamed and hit the floor. Everyone in their rooms must have known what had happened, because you could hear laughing throughout the hotel. Charles thought that was a sufficient scare. But that wasn't the end of it. Loretta (the 1st prizewinner in the best overall costume competition as "Nightmare Before Christmas" Sally) somehow managed to hide under Kenny's bed. Following her cue, Charles pretended to go to sleep, shut all the lights except for the television, and handed Kenny the remote control as Kenny went to his bed. Just as Kenny flicked the remote to turn off the TV, Loretta reached out and grabbed Kenny's leg. The entire hotel heard Kenny's shrieks of panic. Charles' partner Danny burst into the room to take a quick snapshot of Kenny in his moment of dread, and Kenny, still in a state of shock, accused Danny of being the one under his bed (which was physically and logistically impossible). Now came the best part. Lulled into a false sense of security, Kenny sat down on his bed once again to try and compose himself. Charles and Danny stood there, still laughing, while Loretta reached out and touched his leg one final time. With a look of terror that will forever remain etched in the minds of those who witnessed it, Kenny let out the loudest blood-curdling scream of utter fright that ever everberated throughout the castle. It was worthy of a damsel in distress' best scream in a Christopher Lee Hammer Horror classic. He then hit the ground one more time. Any other less-hyper human may have had a heart attack then and there. Kenny just sat, defeated, and finally quiet for the first time on the tour.
Our next full day of activities began as the entire group met after a hearty breakfast outside Dracula's Castle for some final group shots. We waved farewell to our hideous home-away-from-home. There was still snow on the ground, but it was a sunny day. A pack of dogs saw us off. On the road back we stopped to take photos with a gypsy family and their oxen & buggy. They were more than willing to patronize us as we snapped pics with them. We showed our appreciation with gifts like baseball caps, hand lotion and some cold hard cash. If the elderly gypsy woman didn't smile, we would've sworn she was a witch. She had all the stereotypical looks.
We returned to Sighisoara early enough to venture inside and to the top of "Clock Tower." "Square History Museum" was closed, but we bribed the people there to unlock it and let us in. We were glad we went back, because the museum fit our macabre taste of the unusual: it housed the largest collection of antique instruments of torture in all of Europe. It would have been a bit more chilling if there were photos or illustrations of all these torture items in action. Knowing our group, it's good everything was locked up. Under glass was a fine printed genealogy that traced the family tree of Prince Vlad and his Dracula legend. We couldn't leave this town without visiting our favorite tavern one more time and we grabbed a mug of brew for the road, toasting Vlad and the giant bust on the way out.
We hit the road again for our coach-trip to Bucharest, making a much-needed shopping stop at a small roadside souvenir stand. We bought masks, slippers, sweaters and just about every bargain in sight. We had a late lunch at a place you may have heard of -- McDonalds! Once back on the bus, Charles and Danny conducted a madcap Monster Movie trivia contest. This was won, hands-down, by perhaps the most sinister member of our group, Bob. Sinister on the outside perhaps, but definitely lovable on the inside.
Most of us napped until pulling into a restaurant where we had our gala farewell supper. Although it wasn't promised in the original promotion of the tour, we got three full dinners included in the package. A full five-piece band with vocalist got us dancing up a storm. They didn't know how to play the "Monster Mash," but we did our version of the Transylvania Twist. We were the last ones out of the place, and we then drove into downtown Bucharest for our final night as foreigners in the land of Dracula.
We checked into the regal but antiquated Capitol Hotel, which was home to more than a few chills over the years. Some of us had enough gumption to find the nearby casino for some last minute late-night gambling, although most of us literally dropped asleep. After all, we were too busy too have slept much in the days and nights before. Those days and nights flew by too fast, as is the case with any great vacation. I've never before been on a tour that was so unusual, yet so much fun. Unless I return to Transylvania, which I plan on doing, I doubt I'll ever experience such a unique tour package again.
Thanks to our tour-guide Ismael, our bus driver DeWhat'sHisName, our fearless leaders Danny and Charles, to all the Romanians who treated us like family (blood brothers?), and especially to all the new friends I made on the first-ever "DraculaTour." We were bonded by forces stronger than just normal friendships, and we have taken with us memories that will last a lifetime... if not beyond.
Fin
The top 10 things heard on "Dracula Tour `98"
10. "You Suck!"
9. "what do you mean that wasn't a German Shepherd I was petting????"
8. Kenny screaming after being scared
7. "You mean this isn't a tour for Umpires?"
6. "Crosses have no effect on me, I'm a Jewish vampire!"
5. "that wasn't a scream of fear, that was just those newlyweds next door"
4. "Where's Buffy when we really need her?"
3. "there's more sucking going on here than in the oval office!"
2. "but there was that pale-looking villager standing next to you when I snapped the picture!"
...and the number one thing heard on "DraculaTour '98"...
1. "Bite Me!"
Tel: (203) 795-4737

Fax: (203) 891-8433

DracTours@aol.com

or

DraculaTours@earthlink.net
Copyright © International Tours & Events LLC. All rights reserved