Whenever anyone travels on my Dracula Tour or GHOSTour for the first time, we refer to them as "vampire vacation virgins." Once they take one of our tours, they usually go on another, so they don't stay "virgins" for long. When it came to visiting Salem, I was a virgin myself.
People never believed that I'd never visited Salem. After all, they know I love the stuff, and I live in neighboring Connecticut. I guess always figured you had to go over Halloween, and I was always busy during that time hosting tours to Transylvania or, more recently, running the Fright Haven haunted house attraction. But since so many of our DracPack & GhostGang alumni "axed" us to do a mini-tour to Salem, we thought we would comply - but do it at times other than Halloween, so we wouldn't get swallowed up by the ridiculous crowds. Admittedly, you go to Liverpool during BeatleWeek and to Graceland for Elvis's birthday, but, like Salem, all these places are worth visiting year-round, not just during obvious times. So we decided to produce the first "
Weekend of the Witch
", a new vacation getaway to Salem to explore the wonderful and mystical world of witches and the supernatural.
We promoted it mostly to past "Tours of Terror" travelers as a truly unforgettable weekend to the "Witch City." It was open to all ages, ideal for couples, families and single travelers. Our first weekend adventure to Salem was in the month of July, since the 19 witch-hangings were held in the month of July in the year 1692.
Salem, Massachusetts
is an amazing city filled with rich history and unique stories. It is a place where the old mixes with the new and traditional stands alongside contemporary. Founded in 1626, Salem offers more than 400 years of American history has been preserved and existing today in museums, historic sites, and attractions. If you find one attraction too serious or historical, turn the corner because the next thing to catch your eye could be a bit more macabre, amusing or bizarre!
Our group checked into the hotel at different times on Friday, and we all gathered in the lobby at 6:30pm to begin being bewitched. There are numerous city walking tours offered nightly, and for our first, we randomly picked the one offered by "Spellbound Tours." It began at 7:30pm, and before we knew it, we were whisked away on a walking history lesson detailing what happened in Salem, speculations to why it happened, and most importantly, where it all happened.
We visited Old Salem Jail, due to be demolished, and a church with displaced tombstones. We passed Salem's 2nd oldest cemetery where Giles Corey was buried. Born in England about 1611, Giles Corey was one of the six men to be executed during the Salem witch trials of 1692. He was crushed to death as an accused witch who wouldn't confess (that's the short version), and with his last breath he cursed the sheriff and the city of Salem. Giles' ghost is said to appear in the cemetery before any city horrors or tragedies, including the great Salem fire of 1914. We moved on to a bank which was the original location of the witch dungeon. Instead of recognizing that this was the site of the dungeons, there's an obscure plaque which reads "Old Witch Jaol". We walked down St. Peter's Street, formerly known as "Dungeon Road", and it was explained that the public executions were parades; the hangings were carnival-like attractions.
Next we visited the locale of the Lyceum Restaurant. Lyceum means "meeting place," and this was believed to be the original location of Bridget Bishop's tavern - she was the very first to be hanged as a witch. It is thought to be still haunted. We took pictures at the whimsical statue of Elizabeth Montgomery as Samantha Stevens from "Bewitched" (2 episodes were filmed in Salem). We stopped at an office building amongst private residences which used to be the Joshua Ward House. In the 1700's, it became a rooming/boarding house, and is haunted by "The Woman in Black." Does every town have a woman in black who haunts somewhere? In 1692 this was the home of sadistic Sheriff george Corwin, who privately tortured people in his basement, where he was eventually buried. Should we believe that this house was haunted? Let's ask this question: would you believe George Washington, our first president who could never tell a lie? Well, Washington stayed in this rooming house, but would never return there again because he felt it had phantasms in it.
At that point, our guide showed us photos of the Woman in Black, examples of apparitions, orbs, orbs in motion, and he fielded questions from the group. He explained the difference between witches (good) and warlocks (bad), and analyzed photos we took.
About midway on the walk, we stopped at Salem City Hall for other reason but to hear a talk about vampires. Although there were no vampires in Salem, when consumption hit Exeter, RI, people all over New England believed it was because of vampirism. Our only gripe with this tour was with this one thing. The vampire story was fine, the tourguide who told it made it interesting and informative, but the tour was promoted as a "Vampire & Ghost Hunt Tour." Granted, it's a great marketing title, but it's really a "Witch & Ghost Hunt with one Vampire Story unrelated to Salem Tour."
It was about 10pm when we finished the walk, too early to end the night for most of us. So we did something which won't be a feature of future tours. We found a movie theater, and picked the only horror film playing, "The Orphan," to cap out first evening.
**********
On the second day of Weekend of the Witch, we had breakfast at the hotel before returning to Salem. Our day started at the "House of Seven Gables," an obligatory cultural and historic sightseeing attraction. Horror/genre fans may recall the film with Vincent Price and George Sanders. The coolest part of the home, made famous by the 1851 Nathanial Hawthorne novel, were the "secret steps," which was the passageway to the attic where a murderer once hid.
http://www.7gables.org
We moved on to Pickering Wharf, where a tiny haunted house was located inside a strip mall. How could we resist a joint called "Dracula's Castle?" We should have. It was the worst part of the weekend. Fortunately, we got it out of the way quickly, and it was all uphill from here. Our next stop was to "Count Orlock's Nightmare Gallery," Salem's only monster museum, and a not-so-distant cousin to Cortland Hull's "The Witches' Dungeon" (in Bristol, CT). This attraction is packed with life-size figures of dozens or horror legends from Lon Chaney Sr. as "The Phantom of the Opera" and the original "Nosferatu" through Bela, Boris, Christopher Lee and Peter Cushing right through the more modern monsters as "Pinhead" and even Sissy Spacek's bloody "Carrie." Worth every penny, "Count Orlock's Nightmare Gallery" is a must-see in Salem. The owner and curator, James, should be very proud of his creations. We look forward to visiting there again. Until then, visit the website:
http://www.nightmaregallery.com
.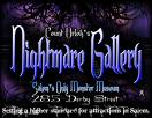 Next it was time for some history combined with witchery, at the "Witches Dungeon Museum." We entered a small theatre shaped to replicate a courtroom, where we experienced the re-enactment of the 1692 witch trial of Elizabeth Proctor, accused of being a witch and sentenced to be hanged, but was saved only because she was pregnant. In the basement/dungeon below, were recreated underground witches cells and depictions of the hangings. Website:
http://www.witchdungeon.com
.
Right across the street was "The Witches Cottage," a live production on ghosts and witches in a small theatre with a great set, some nice lighting and decent special effects. Normally a two-person show, we saw it with one actor who worked mighty hard to keep us entertained. After the show, he came out to answer questions, but by then we had a good grasp of the history of the Salem witch-trials. Although not an absolute must, it's certainly worth visiting if time allows. Of course, you could always visit the website:
http://www.witchescottagesalem.com
.
We walked as a group down Essex Street and checked out some of the shops and street kiosks along the way. On the street, we made our way into the "Witch History Museum," which is probably the place to go if you have time to visit only one witch location. A partner of the "Witches Dungeon Museum," here the horrors of 1692 are represented through a historically-accurate live presentation, followed by a tour downstairs, where we walked through the forest, met the characters from the time and viewed 15 life-size scenes depicting the stories of old Salem. The narratives seemed the most complete, and everyone loved this visit. Visit the website:
http://www.witchhistorymuseum.com/witchhistory.html
. Even their gift-shop was excellent.
We wish the "40 Whacks Museum" was presented the same way. Everyone was very excited to see this Lizzie Borden attraction, which got national press over some lawsuit with the Lizzie Borden Bed & Breakfast Museum in Fall River, MA. "Lizzie Borden took her axe/Gave her Mother forty whacks. When she saw what she had done/She gave her Father forty-one." Thus the name of this 3,000 square-ft storefront museum, which tells the story of the bizarre brutal axe-killings of 1892. Through enlarged photos and even larger pages of text, the entire story unfolds before our eyes. We only wish it unfolded with some narration, some actors, and something to add some more pizzazz. One of the owners and creators of this museum, Leonard Pickel, is a master designer of some of America's greatest Halloween haunted attractions, so perhaps we expected some scares and surprises. In any case, if you're in Salem, you need to give this place a whack. Until then, for those who were axing, check out the website:
http://www.40whacksmuseum.com
.
The need to do some quality shopping was overcoming us by now, and we didn't have to go very far. "Witch Tee's" was in the Museum Place Mall -- overflowing with shirts -- and we were buying like there was no tomorrow.

In the same mall, we put on the 3-D glasses and entered the "Nightmare Factory" haunted attraction. It was far superior to "Dracula's Castle," and it was good for a few jumps, screams and laughs. Most impressive was that the owner was the sole actor, and he really did everything he could to make his haunt scary and fun for all. We couldn't imagine this without him, a demented Bobcat Goldwaithe, running from room to room and scene to scene, screaming and carrying-on. I smile just thinking about it. There may be more haunts during the Halloween season, but in the summer, this was unquestionably Salem's most entertaining haunted attraction. The haunt is far better than the website, which mistakenly spells itself "The Nightmard Factory":
http://www.draculathecastle.com/nightmarefactory.htm
.
We grabbed dinner at the seemingly haunted but very refined Hawthorne Hotel. Our jeans and t-shirts were a stark contrast to the formal wear of the guests of the wedding taking place in the hotel's grand ballroom. After supper, we gathered inside the Life and Death Store, which housed "The Ghastly Gallery of Torture Instruments," imported from the Castle of Nurenberg, Germany.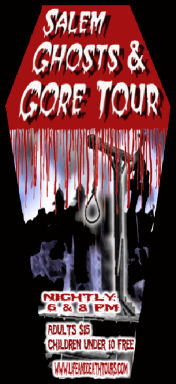 The shop was fairly new, and they plan to offer different galleries in the future. Nichole and Rhys, the proprietors of the store (
http://lifeanddeathinsalem.com
), were also tour-guides for the "Ghosts and Gore Tour," and we couldn't resist a walking tour with "gore" in the title. Our lantern-lit walk was very different than the one from the night before, and that was ideal. Our guide had no cloak, no top hat and no rehearsed, theatrical script. He was nice, natural and relaxed -- a total contract to the material presented, which was dark, gory and insightful. With lanterns in hand, we made numerous stops, and learned much about Salem's sordid and sinister past. We learned that in those days, a jail was the place people congregated to get the local news of the day, and they usually had a tavern inside. He said no executions were held in the prisons, but there were many deaths. He did refer to Essex Street as Execution Blvd., and he told us many ghost stories. We discovered that Harry Houdini was booked at the Essex Playhouse, and that the Boston Strangler killed a victim in Salem and in nearby Lynn, MA. We learned why never to put one's hand into a thresher (a device that first separates the head of a stalk of grain from the straw, and then further separates the kernel from the rest of the head), and why one should never walk down railroad tracks after drinking too much. The walk concluded with the story of 1944's "The Burning Man," a true example of spontaneous human combustion. The tour (
http://www.lifeanddeathtours.com/lifedeathtourdisc.html
) served as a nice alternative to the other walks, which seemed similar, and focused on the witch-trial sites of Salem.
It was a long and very full day. No late-night movies tonight; we were ready to crash. Besides, tomorrow would be day three and we still hadn't seen "The Salem Witch Museum," "The Salem Wax Museum," "Salem Witch Village" and "Frankenstein's Laboratory."
Our first two days in Salem for our "Weekend of The Witch' were indeed wicked, wonderful and beautifully bewitched. We discovered quickly why Salem would appeal to so many, but it had that extra pizzazz for those of us who appreciate the more macabre aspects of such a locale. It seemed as if we squeezed a week's worth of historic haunts and fright sites in such a short period.
After breakfast on Sunday, day three, we checked out of our hotel and, to put it bluntly, we were ready for more witchcraft.
Our first visit of the day was to the "Salem Witch Museum." This was probably the best of the bunch, and if one were to only be able to visit a single Salem's museum attraction, this might have to it. We entered a large room where all the names of those accused of practicing witchcraft were listed in a large red-lit mosaic-style circle on the floor. Through a dramatic audio/visual presentation, here the story unfolds with raised scenes. After the main show, we descend to a lower level for even more visuals, and on the way out there's an original "header beam" from over the front door of the original 1692 Salem jail. The gift shop here is terrific too. We were glad we arrived early, because the lines to get in grew quickly.
http://www.salemwitchmuseum.com
.
"Salem Witch Village" is a low-budget narrated walk-through on a side-street across from the "Salem Wax Museum." The "Village" walk starts in the Dark Ages, moves into the settlement of Salem, piracy, shamans, paganism, depictions of hangings, through modern witchery and wicca. We learned the genesis of the witch's broom. We expected to actually NOT like this attraction, but it turned out to be really fun. Everything was neatly summed up, and presented very naturally and casually by our guide Phylicia. When she saw me taking notes, she remarked that "they always got bad reviews." Not this time! The "Salem Witch Village" had a decent gift shop, and for sale was "Witch's Brew" ice tea and lemonade. This facility turns into a haunted attraction during Halloween.
http://www.salemwitchvillage.net
On the same side street, a rather unassuming fašade housed "Frankenstein's Laboratory," which was a fairly fun, but not very scary, walk-through two-man haunted attraction with no Frankenstein monster but plenty of typical effects. It was about as good as the one-man 3-D "Nightmare Factory" we'd visited one day prior, through heads & tails (and other body parts) superior to the "Dracula's Castle" joke of a haunt.
http://www.salemwaxmuseum.com/frankensteins_laboratory/frankensteins_laboratory.html
Rounding on the attractions on this side street was the "Salem Wax Museum," with re-creations of the witch history in wax figure scenes. Once you got past the amateurish descriptive cards (with typos) and the scenes of everything we had already experienced in the other museums and attractions, there wasn't much here to recommend, until the very end. The best part of the "Salem Wax Museum" is on the way out - there's a kid-friendly area with interactive sections such as replica gravestone rubbings, knot tying, wax hands, spin art, candle art and sand art (some cost extra $).
http://www.salemwaxmuseum.com
Down the street, we returned to "Count Orlok's Nightmare Gallery," as gentleman James allowed our group VIP access to take photos (not normally allowed).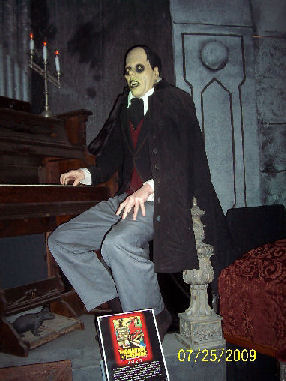 We ended our official weekend tour package with a visit to the Old Burying Point Cemetery. Old Burying Point is also known as the Charter Street Cemetery, and it is the oldest cemetery in Salem, and the second oldest known cemetery in the country, started in 1637. It is located on Charter St. next to the Witch Trials Memorial, and contains the graves of many famous individuals such as Jonathan Corwin and John Hawthorne, who were Judges in the Salem Witch Trials, Samuel Bradstreet who was a Governor of Massachusetts and many more interesting historical figures. There are currently 347 entries for this cemetery. Many of the victims were not given gravestones and were buried in unmarked graves near the site of their hangings. For them, in a separate area, is the Salem Witch Trials Memorial.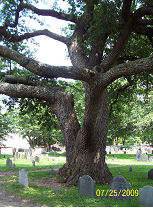 Our weird and wonderful weekend adventure wound down with an informal lunch. The group returned to the Hawthorne Hotel, and afterwards some of us returned to do more shopping on Essex Street. We bid farewell, and wished one another "best witches."
We learned a lot more about Salem and the witch trials than we ever knew before, and we parted ways knowing we'd return here someday. Amidst all the history, we enjoyed some fun-filled & fear-filled excitement and scares, and we all agreed that these fright-seeing tours are always more fun when traveling with groups.
For more info on "Weekend of the Witch", email DracTours@aol.com, or phone (203) 795-4737 (or toll free 866-T-E-R-R-O-R-T-O-U-R).
This review can also be found in three parts, accompanied by a list of some the best witch-filled films, here:
http://www.examiner.com/x-9764-Horror-Happenings-Examiner~topic300207-Tours-of-TerrorVacations?selstate=topcat#breadcrumb