Last winter, Judie and I were offered the opportunity of a lifetime to attend the Liverpool Sound Concert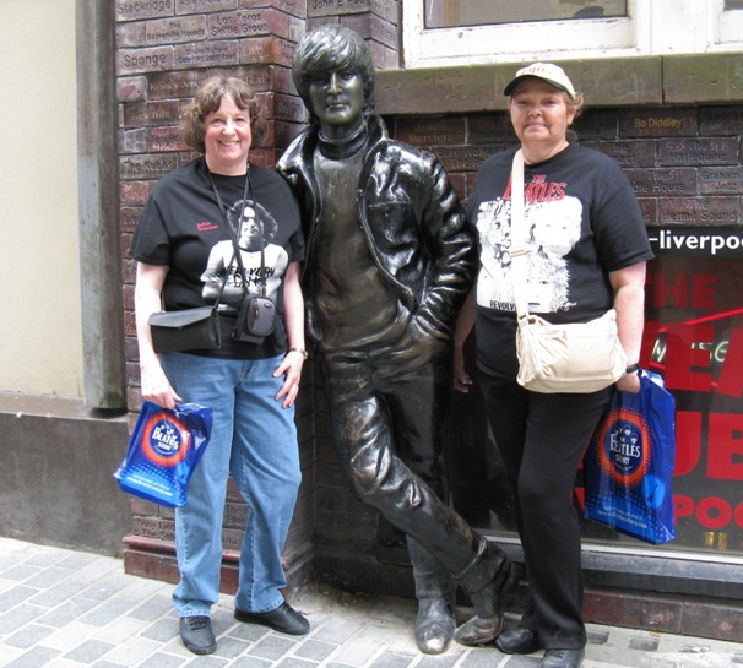 in Liverpool which was being headlined by Sir Paul McCartney on June 1st, 2008. Needless to say, we immediately began planning for our trip to England. The Liverppol tour inluded visiting Beatle sites in Liverpool, along with other Beatle happenings that week in the European City of Culture. Accordingly, after saying good-bye to our husbands and families, we headed across the "big pond" the end of May.
The Magical Macca Tour started on May 29, 2008 at the Premier Inn on Albert Dock, where the tour group was residing for the Liverpool expedition. The inn was very comfortable, and we were pleased with it being situated between the Beatle Story Museum and the Beatle Store. It was also positioned between two coffee shops, so we felt we were well equipped for the upcoming activities. In addition, there were pubs and restaurants, along with unique gift stores along the pier to explore during our free time. That evening our group met with Danny, the tour director, and we received the itinerary and tickets for all the Beatle related activities planned for us during the upcoming week. The first activity was a Beatle imitation band playing at the Cavern that evening, but Judie & I didn't attend it because our traveling fatigue had caught up with us.
The next morning, Friday May 30th, we had the customary wonderful English breakfast then went through the Beatle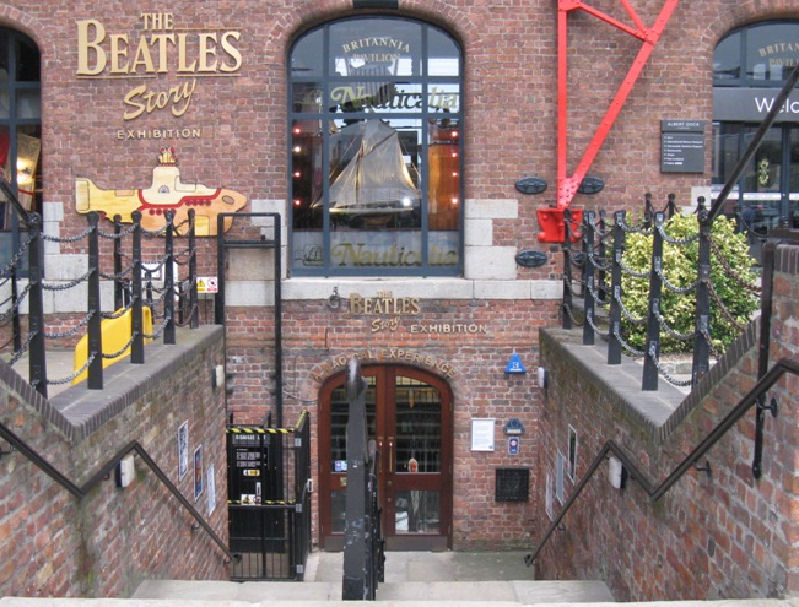 Story Museum & Exhibition. It was entertaining, but there was not much in there that we hadn't seen or heard about before. The Beatle Store was great fun though; the customers inside were looking through the Beatle memorabilia while singing along with the Beatle music drifting from the store's speakers. Everybody was being pleasant and polite to each another, regardless of all the different languages being spoken. We enjoyed visiting the Beatle Store many times throughout the week, although it seemed to cause our suitcases to bulge! Later that morning Judie and I, along with several other group members, went on the National Trust Tour to see John and Paul's childhood homes. It was a mystical experience to walk in the homes where the two musical geniuses grew up. That evening the entire tour group went to the FACT Cinema for the premiere of "All Together Now", about the making of the Cirque du Soleil's LOVE production in Las Vegas. It was very touching, especially concerning George's part in creating it. Judie and I spent most of Saturday shopping in the City Centre, which was short walk from Albert Dock. In the evening, the tour group headed back to the FACT Cinema for the premiere of the "Concert for George". Olivia Harrison gave a short speech at the beginning, which made the whole movie experience exceptional. Afterwards we were privileged to see Olivia, Yoko Ono, and George Martin arriving at the theatre for the second showing. Unfortunately, we missed the Sgt. Pepper Anniversary Show at the Cavern that played right after the movie, partly because we misunderstood the time it was to start.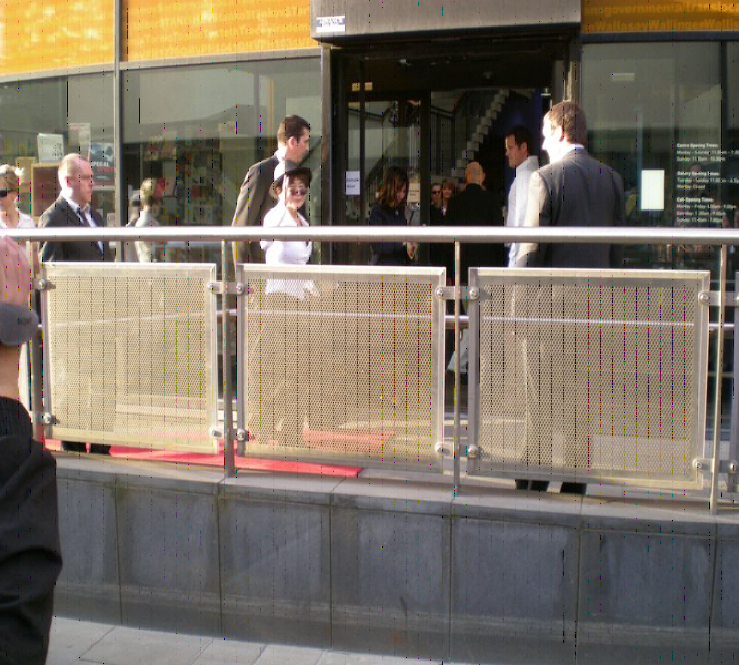 Yoko entering the FACT Theatre


Sunday, June 1st - Paul McCartney Concert Day! This was the only day during our entire trip that it rained, which was worrisome because the concert was to be held in an outdoor stadium. The rain stopped by evening though, and since we discovered our seats were under an overhang, there really wasn't anything for us to worry about after all. In the afternoon before the concert, we went to a conference and book signing with the author Paul Du Noyer, who spoke about working with Paul McCartney in recent years and also about the background effort of putting the Liverpool Sound Concert together. Judie and I both bought copies of two of his books, We All Shine On and Liverpool, which he signed for us.
The Magical Macca Tour group rode to the Anfield Stadium in the Cavern's 'retired' Magical Mystery Tour bus,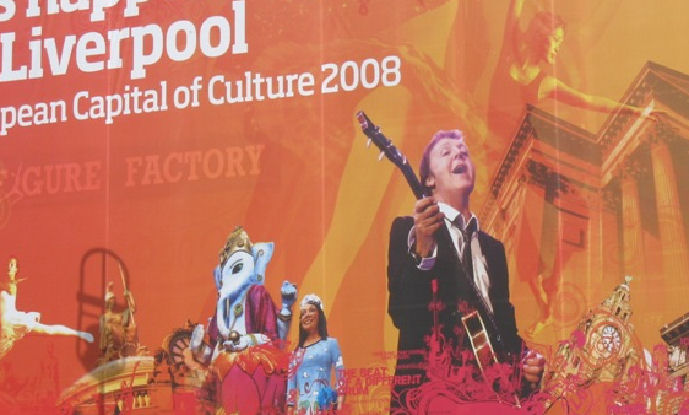 which was a magically mysterious way to start the evening. The concert was emceed by Peter Kay, a well known and liked British actor, and it opened with a couple of English groups that we weren't familiar with: the Zutons and the Kaiser Chiefs. The spectators seemed to really like them, but they were too loud for our taste, so we slipped out until it was time for Paul's set. It was a surreal occasion to be in Liverpool watching Paul McCartney, from the Beatles, perform in his hometown. He sang a lot of his regular concert fare, but there were a few different songs also. A big surprise was "Day in the Life", where Paul sang both parts, and "Give Peace a Chance". He also sang "In Liverpool" and had his usual fireworks during "Live and Let Die". As a special surprise, three of the Beatle songs were accompanied by Dave Grohl of the Foo Fighters (previously a member of Nirvana). The concert ended before 11 pm (because of noise ordinances) with several minutes of fireworks. When riding back from the concert, we were in the Magical Mystery Tour bus singing Beatle songs with windows down, while people on the streets waved and took pictures of us. The entire evening was the ultimate magical phenomenon!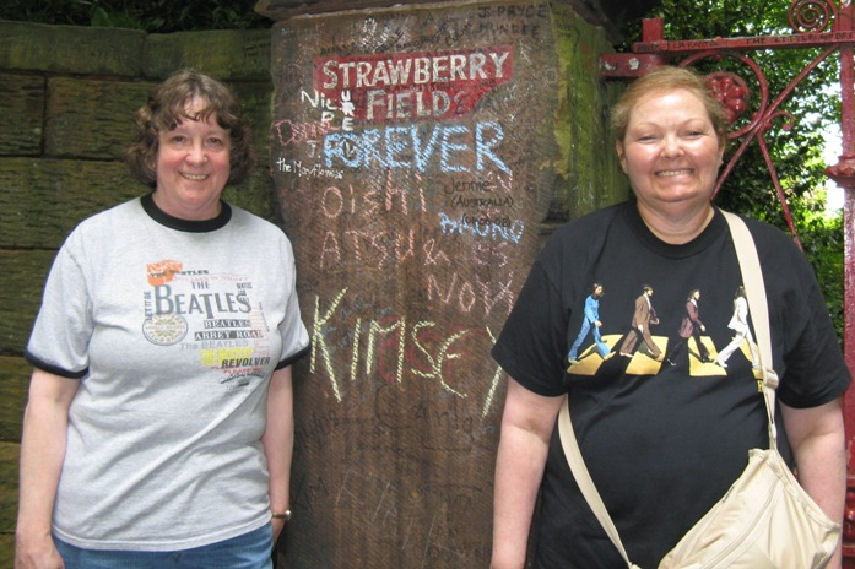 The last day of the tour, Monday, June 2nd, was spent on a coach (bus) touring the rest of the Beatle sights. Some of the places we visited were both Ringo's and George's childhood homes, Penny Lane, Strawberry Field, Woolton's St. Peter's Church, where John & Paul first met and Eleanor Rigby's grave. We even attended a very special tea and biscuits event put on by the ladies of Cheshire's Barnston W1 Hall, where the Beatles had played in 1962, the first time with their new collarless suits. It was a remarkable day, full of amazing Beatles sites and people. The evening hours consisted of our farewell party at the Cavern with Denny Laine, from the Wings, singing exclusively for the tour group. We left after a couple of songs and that signaled the end of our memorable Magical Macca VIP Tour in Liverpool, and the beginning of our week of exploring Beatle haunts in London.
Leslie Baker
Nikiski, Alaska


Photos from the Liverpool MACCA Tour 2008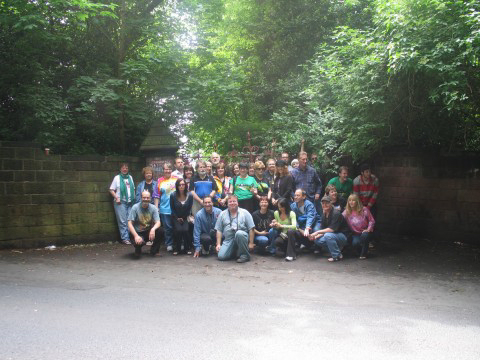 Group Photo in Front of Strawberry Field (Nanci Davis photo)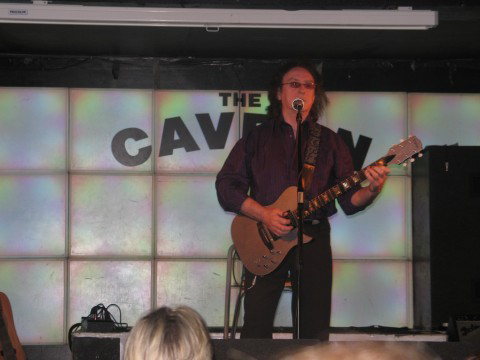 Denny Laine Live at The Cavern (Nanci Davis photos)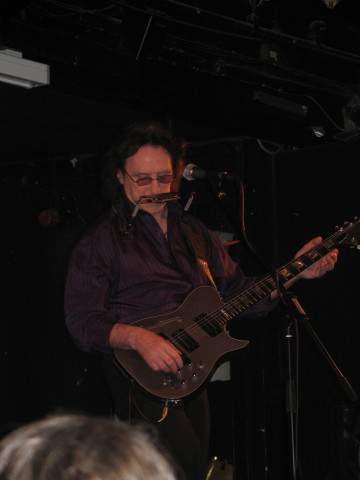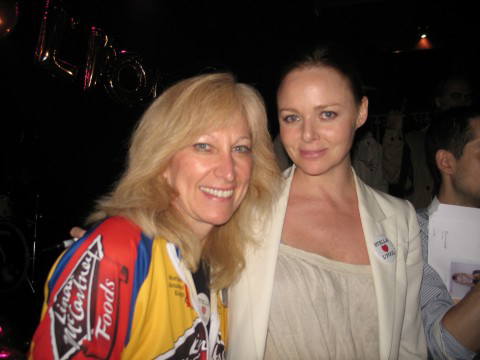 Nanci Davis meets Stella McCartney (Nanci Davis photo)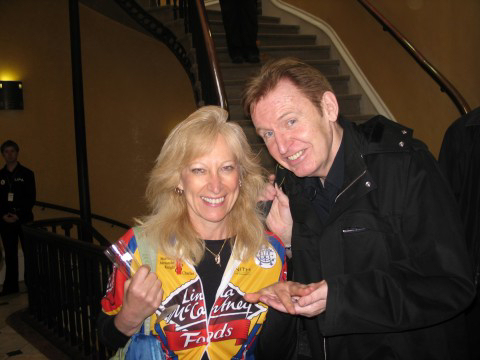 Nanci Davis meets Mike McCartney (Nanci Davis photo)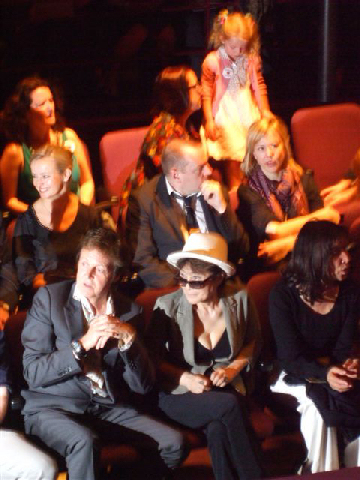 Paul Yoko Olivia (Cathy Motyka Photo)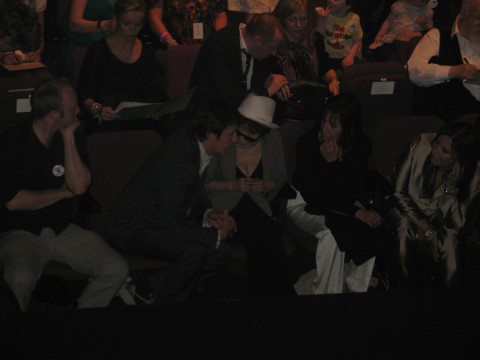 Paul Chats Up Yoko & Olivia (Nanci Davis photo)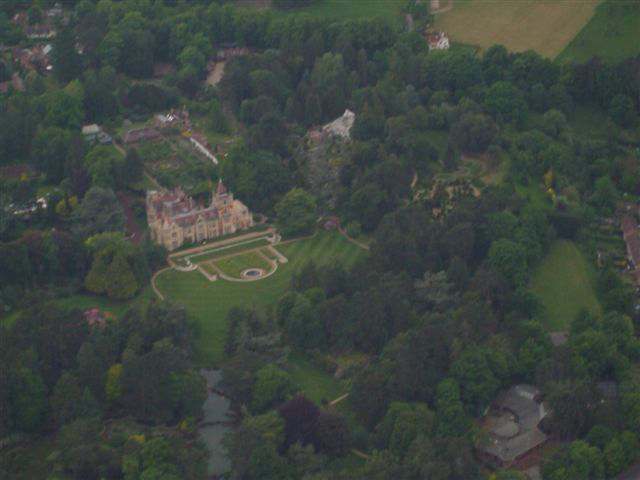 Friar Park Aerial View by Cathy Motyka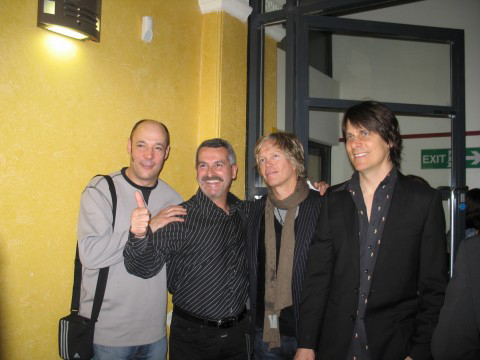 Paul's Band (Nanci Davis photo)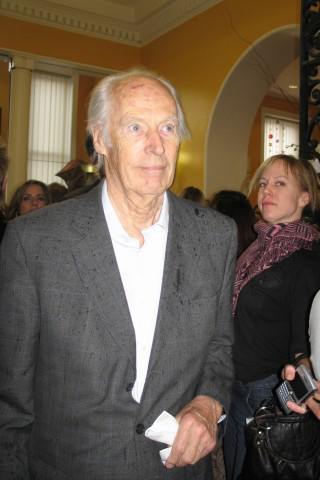 Sir George Martin (Nanci Davis photo)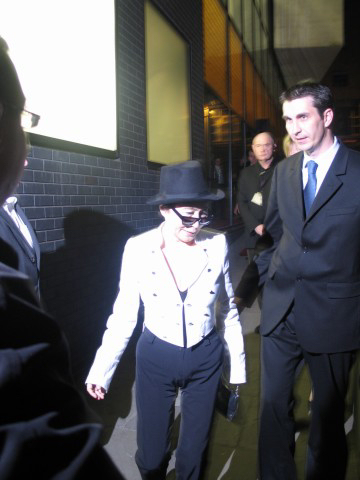 Yoko Arrives in Style (Nanci Davis photo)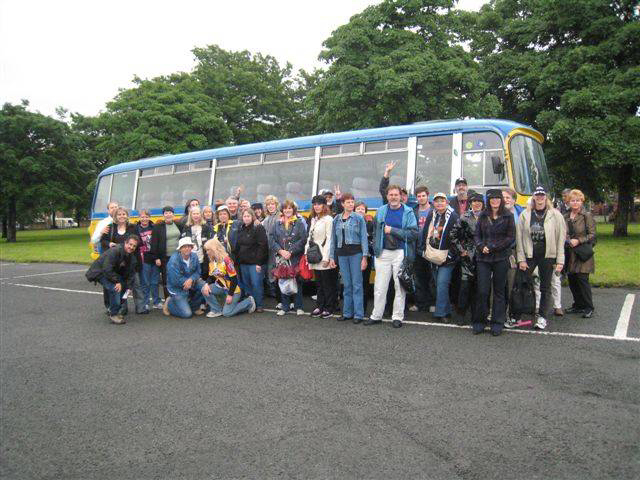 Macca Tour Group in Front of MMT Bus (Nanci Davis photo)
---
It's happening in Liverpool!
[Posted by Katie Hickox on Thursday, 05/29/08 7:02 pm]
I'm in Liverpool, with the help of Liverpool Productions and Cavern City Tours, for the Magical Macca VIP Tour! Over this very special weekend, I'll be seeing two UK film premieres, a Denny Laine concert, a giant Beatles collectables convention, and on Sunday, Paul McCartney live at the giant Liverpool Sound concert at Liverpool FC's Anfield stadium!
I arrived in Liverpool today to be greeted by Paul McCartney, himself! He's front and center on this huge billboard for Liverpool's European Capital of Culture 2008 that faces Albert Dock. 36,000 fans will hear Paul's only gig in Liverpool Sunday night and hotels are packed this weekend.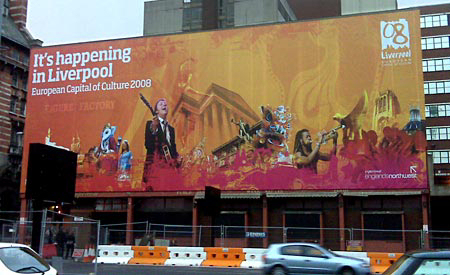 Liverpool has undergone major construction in preparation for this year's European Capital of Culture 2008 award, including today opening up the largest new shopping center in England (and possibly Europe). Liverpool has become a major center of culture with the opening of the Tate Liverpool museum, along with other art galleries, and major Gustav Klimt exhibition opens this weekend.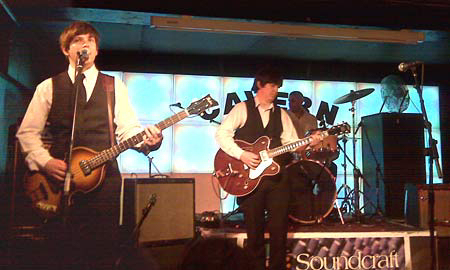 We walked from our hotel to the Cavern Club, where the Mersey Beatles played 3 sets tonight! The music was very loud and the audience was filled with Paul McCartney and Beatles fans! Now I know what it must have been like all those years with the Beatles in the original Cavern!
---
Visiting Mendips
[Posted by Katie Hickox on Friday, 05/30/08 6:29 pm]
Colin Hall is the caretaker of John Lennon's Mendips home and gave an informative tour to our tour group today. He spoke for just over 20 min and then allowed our group to visit the rest of the house.
Colin recently won an award from the BBC for his recent radio interview regarding when Paul McCartney met John Lennon for the first time at a nearby Woolton fete.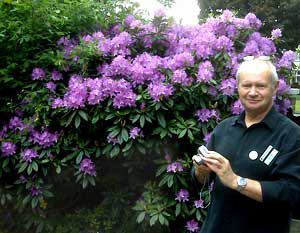 Take a look at the gorgeous blooming purple rhododendrons in front of Mendips house. Colin says they only bloom a few weeks out of the year and is the same rhododendrons from when John was living at Mendips. There is another similar large plant now blooming in the backyard near what used to be where John had his treehouse.
---
Olivia, Yoko and Giles Martin at All Together Now screening
[Posted by Katie Hickox on Friday, 05/30/08 6:47 pm]
Olivia Harrison and Yoko Ono introduced the UK premiere screening of "All Together Now" at the FACT theater in Liverpool on Friday night. Several Beatles figures were there, including Giles Martin, son of George Martin, Mike McCartney, Bill Harry and several top executives from Apple and EMI. The new documentary is 90 minutes long and covers how the Cirque De Soleil production of "LOVE" began as a project that the late George Harrison envisioned but died before development could begin. Developing "LOVE" and producing it took nearly 5 years and Olivia Harrison was instrumental in getting the production off the ground to realize her husbands' wish to see this happen.
Back