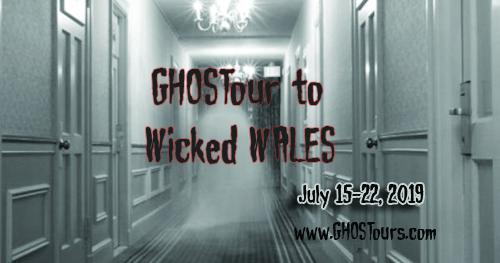 Good Evening Dear Castle-dwellers, Ghosthunters, Ghostbusters, Zombies, Witches, Warlocks, Ghouls, Gothlings, Kindred Spirits, Demented Demons, Erotic Exorcists and Fellow Spirited Travelers:
Thank you for your interest in GHOSTour to WALES, our Haunted Vacation for travelers of all ages. Join us for what is one of the ultimate spooktacular, unforgettable and week-long adventures to one of the scariest and most notorious locales in the United Kingdom, if not the planet. We have toured England, Ireland, Scotland and now we take on Wicked Wales! Hosted by Charles F. Rosenay!!! ("Cryptmaster Chiller Chucky") GHOSTour to WALES from July 15-22, 2019 promises to be an unadulterated Week of Haunted Horrors for travelers of all ages!
Few places in the world are as spooky as WALES, often referred to as "the land of the ghost." The country's murky past involved clan battles, hundreds of years of war and the siege of grim-looking castles in almost every part of the country. Stories were told and traditions established. There are tales of ghosts, many of whom were said to be the spirits of real people who died in tragic or horrific circumstances, of apparitions that appear at certain times of the night, or certain periods of the year - perhaps when they were murdered, and of strange, eerie sounds that pierce the chilled Welsh air. The hauntings seem to have no set boundaries. Ghosts have been reported on bleak roads, in old theatres, within the walls of corner pubs and in the earth of ancient graveyards. Join us as we pay some of these spirited sites a visit and judge for yourself … if you are brave enough!
Combine the sight-seeing with independent late-night séances, visits to graveyards, on-board classic ghost & genre films, a mad monster mash masquerade ball farewell party and other surprises, and you've got what is one of the most memorable macabre tours in haunted history. Be sure to visit the GHOSTour website for further information, and to read past tour reports.
The trip is a deluxe travel packages valued at $5,999 per person for only $2499 per person including luxury coach transportation, deluxe hotel accommodations, all advertised attractions, admissions, events, parties, special guests & entertainment. Expect to stay overnight at castles along with hotels! Want to add airfare? We fly out of a NY Airport, where people from all over the world meet as a group to travel together to the United Kingdom. Add only $500 (plus airport departure taxes). If you are not joining our flight from the U.S., or you wish to arrange your own airfare, you may take part in this adventure by booking a land-only package (where you fly on your own). If you are traveling from other cities in U.S. or Canada, we can assist with your travel plans and air accommodations. We are now accepting reservations. Past Dracula Tour travelers ("DracPack") and GHOSTour travelers ("GhostGang") please ask about early-bird alumni discounts.
We hope you join us. You'll have the time of your life ...even if you're part of the undead!
Click here for your reservation form
Click below to remit down payment by PayPal TOURS OF TERROR
Phone: 203.795.4737 Fax: 203.891.9433
www.ToursandEvents.com www.DracTours.com www.GHOSTours.com
Back